Plan an in-state getaway, and make your way to Albuquerque. From scenic byways to iconic pit stops, these in-state road trips are affordable and fun. Located at the crossroads of I-25 and I-40, all roads lead to Albuquerque. Whether you take a weekend or a week, Albuquerque is a getaway that's not far away. 
Northwest New Mexico to Albuquerque
As you make your way from Farmington, hike among ancient Anasazi communities at Aztec Ruins National Monument and Salmon Ruins. Travelers heading south from Farmington will come upon the Bisti/De-Na-Zin Wilderness first. The eerie mushroom-shaped rocks you'll see here were once underwater, and fossils abound. Just a few miles away is Chaco Canyon; between A.D. 850 and 1250 it was a major political, economic and religious center; the Chaco Culture National Historical Park preserves its legacy. For a truly immersive Chaco Canyon experience, book a stay at Hotel Chaco, and try a Heritage Inspirations day tour or glamping tour. 
Traveling along the state's western edge, you'll reach Gallup, a major trading center for Native American arts that hosts tribal ceremonial events throughout the year, and the Red Rock Museum, which chronicles local history from the Ice Age to the present. On your way back toward Grants, stop in Crownpoint for exquisite Navajo woven rugs. Grants--which has been a railroad camp, carrot-farming community and uranium-mining town--is home to the New Mexico Mining Museum and is the gateway to El Malpaís National Monument, an ancient lava flow and National Natural Landmark. 
Get your kicks on Route 66 at Route 66 Casino Hotel, located on the outskirts of Albuquerque, before making your way into the city. Once in Albu-quirky, discover one of the city's iconic neighborhoods by taking a self-guided tour. If you're into the public art scene, try a downtown mural mosey. To really reach new heights on your road trip, take a hot air balloon ride, and see the city from a new perspective. Did you know that Albuquerque is the Hot Air Ballooning Capital of the World?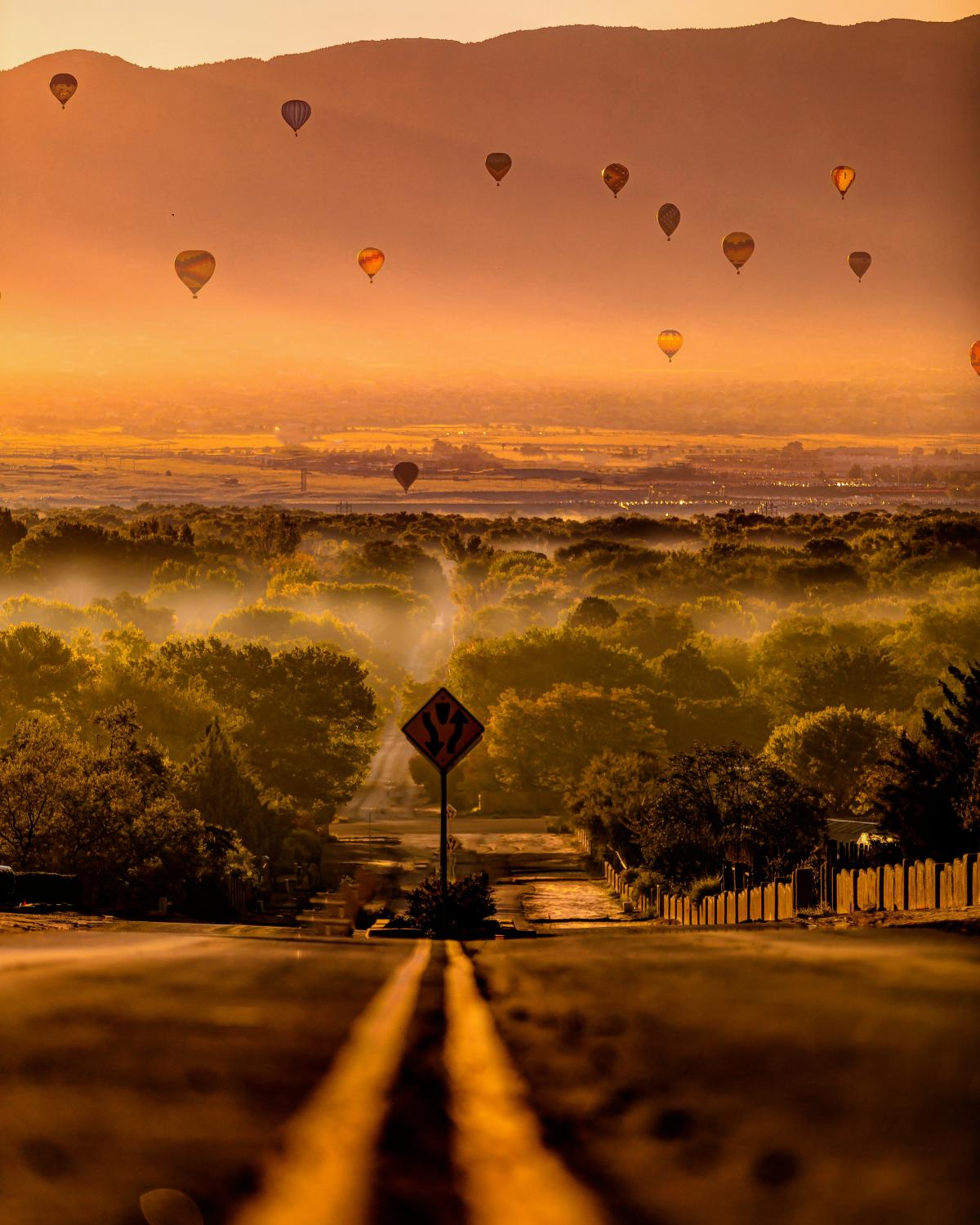 Image Source: Erik Conteras 
North Central New Mexico to Albuquerque
In Taos, visit the Harwood Foundation Museum, the Kit Carson Home or the Millicent Rogers Museum. East of Española, experience sacred history at El Santuario de Chimayó and woolen works of art at the Ortega Weaving Compound. As you continue to make your way to Albuquerque, make a day of Santa Fe. 
In Santa Fe, explore the quirkiness of Meow Wolf, or take a stroll through the 400-year-old plaza, the heart and soul of the city, and a great place to pick up a snack or go window shopping. If you're into art and history, pay a visit to Museum Hill which boasts four world-class museums. Don't be surprised if it looks like a Georgia O'Keeffe painting; many of her most famous works were inspired by the scenery and landscapes here. The highway west from Los Alamos leads to a rugged landscape of red rocks and pines. At Bandelier National Monument, explore wooded trails and ancient cliff dwellings, and in Jemez take a dip among natural rock formations like Soda Dam and Battleship Rock.
Once in Albuquerque, plan to enjoy delicious cuisine and fabulous restaurants. Take a bike ride down the Paseo del Bosque Trail, or enjoy a sunset at one of the most picturesque spots around the city. Either way, there is no shortage of things to do around the city, and there are a multitude of unique places to stay to accommodate every traveler and budget.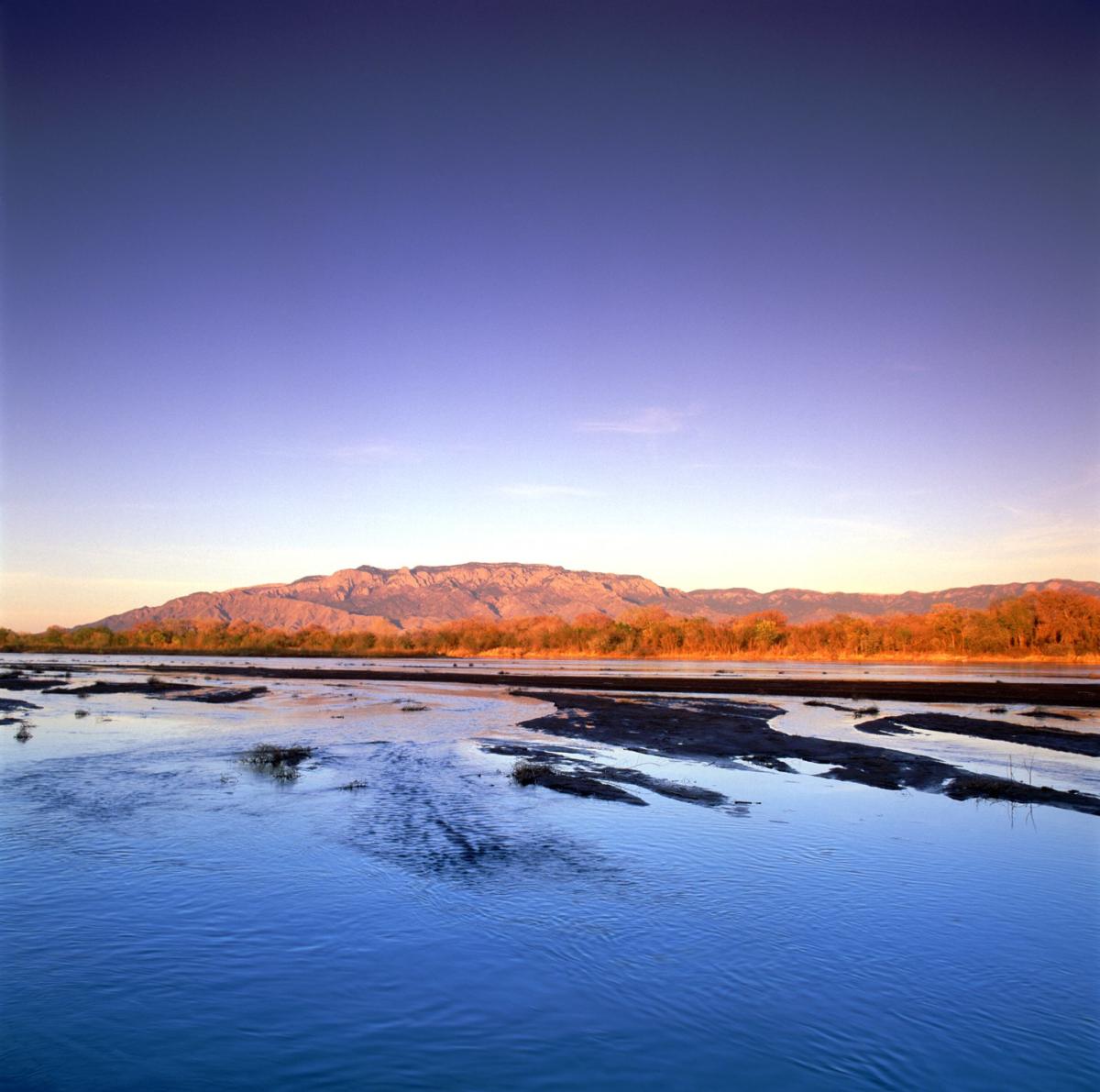 Northeast New Mexico to Albuquerque 
Historical sites and fascinating landscapes make the Dry Cimarron Scenic Byway a fun and educational trip for the whole family. The Raton Museum commemorates the miners, railroaders and cattlemen of the 1800s. As you make your way south toward Las Vegas, you'll pass the Fort Union National Monument, which dates to the Civil war, and the Wagon Mound was the last great landmark on the Trail. The Las Vegas area boasts nearly 1,000 historical sites, including the Rough Riders Memorial and Montezuma Castle--plus a National Wildlife Refuge. 
Make a slight detour on the Mesalands Scenic Byway which loops among colorful rock formations and clear, cool lakes, with stops on old Route 66. Scuba dive in Santa Rosa's famed Blue Hole or visit the site of Coronado's Bridge near Puerto de Luna. Then head east along the red sandstone cliffs known as the Caprock, and north to Tucumcari, home of the Tucumcari Historical Museum and the Mesalands Dinosaur Museum. On your return, you can fish, swim and windsurf at three state parks: Ute Lake, Conchas Lake and Santa Rosa Lake.
Final stop, the Duke City. In Albuquerque you'll find an abundance of things to do, including an ideal mix of urban activities and outdoor adventures. Stay a few nights and explore the Sandia Mountains and explore the amazing craft brewery and winery scene. Fun fact: New Mexico is the oldest wine producing region in the U.S.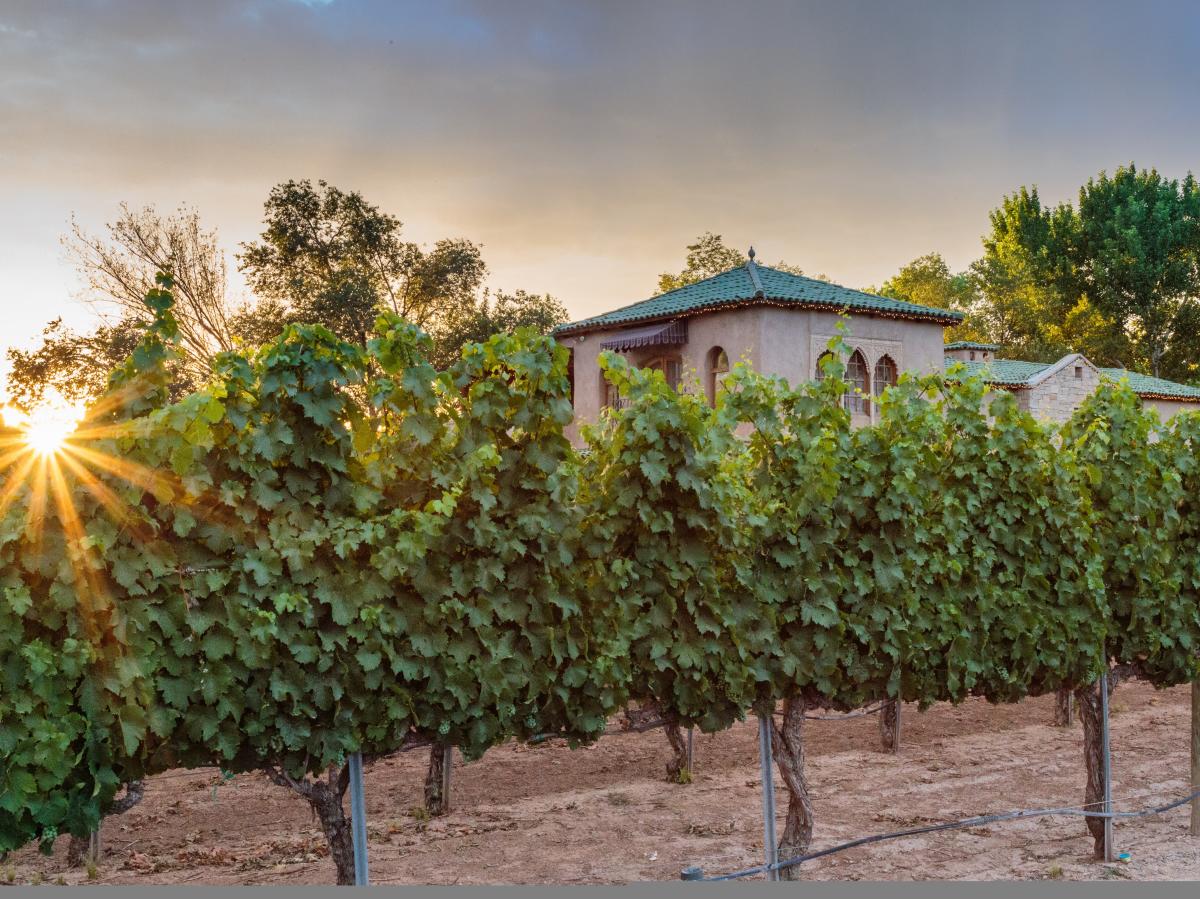 Southwest New Mexico to Albuquerque 
Follow the highway that retraces an old stagecoach route, leading from the Organ Mountains west to the Mesquite Hills. Sample local wines at D.H. Lescombes Winery & Bistro in Deming and hunt for minerals at Rockhound State Park and the Geolapidary Museum. As you leave the desert behind, you'll climb among the tall pines and rocks of the Gila National Forest. Tour the Victorian homes of Silver City and visit its two museums and the nearby town of Pinos Altos. Fish and swim at Lake Roberts and marvel at the Mogollón ruins of Gila Cliff Dwellings National Monument.
Two-lane roads follow the course of the river, so travelers who want to avoid the highway can explore at their leisure. The Quebradas National Backcountry Byway loops out through the badlands, and the Bosque del Apache National Wildlife Refuge is a stopover for migrating birds. State-of-the-art research facilities share the mesas with native wildlife, attesting to New Mexico's science history. The Sevilleta National Wildlife Refuge is one of the nation's largest. Stroll around historic Socorro Plaza and check out the Mineral Museum while you're in town. 
Have a few extra days on your road trip itinerary? Why not embrace the scenic outdoors and explore the Turquoise Trail or an uncommon day trip from Albuquerque. On the way to your next stop, see how many must-see roadside attractions you can spot throughout the city. 

Image Source: Travis Householder
Southeast New Mexico to Albuquerque 
Some of the state's most famous locations make this road along the Pecos River a must-see. The history of the Wild West comes alive at the Old Fort Sumner Museum and Billy the Kid Museum, while Fort Sumner State Monument recounts the Long Walk of the Navajo people. A mysterious 1947 crash is the main subject of Roswell's International UFO Museum; also see local art at the Roswell Museum and Art Center. Bitter Lake National Wildlife Refuge and Bottomless Lakes State Park offer natural wonders, and Carlsbad Caverns National Park is home to spectacular underground vaults. 
Making your way back to I-25, visit the Hubbard Museum of the American West. Take a few runs at Ski Apache in the winter or go hiking in the White Mountain Wilderness during the summer. Fort Stanton and the Smokey Bear Historical Park lie close to Historic Lincoln; from Carrizozo, head west to the Valley of Fires Recreation Site or south to the Three Rivers Petroglyph Site.
After arriving in Albuquerque, spend some time exploring with a hike on one of the best hiking trails near the city, or take a leisurely walk or bike ride on one of the city's numerous multi-purpose trials. If you're looking for a guided tour, try a themed bike tour with Routes Bicycle Tours. Did you know Albuquerque has over 400 miles of bike paths?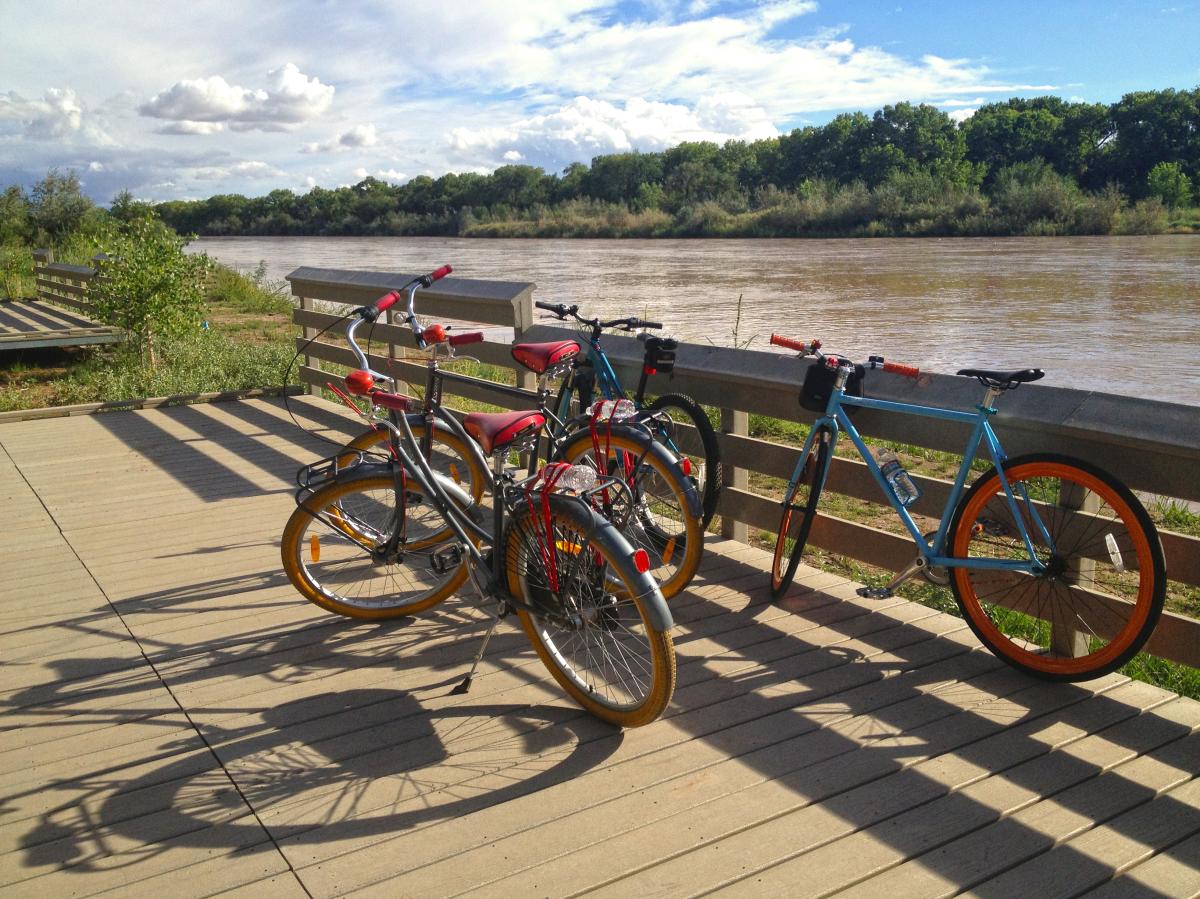 Image Source: Routes Bicycle Tours & Rentals