Did you know Albuquerque is the Hot Air Ballooning Capital of the World? Home to the Albuquerque International Balloon Fiesta® (October 7-15, 2023) and a robust year-round hot air ballooning culture, it's easy to see why. Discover all the ways you can enjoy this spirit-lifting hobby in Albuquerque, any time of year.  
Hot Air Ballooning and Fiesta History
Hot air ballooning was born in 1783 in France at the hands of two brothers named Montgolfier. After developing a design that would take unmanned flights into the air, eventually the King of France funded a project for larger balloons that would take noblemen into the air in 1783. Understandably, the unexpected landings of the first hot air balloon flights were quite terrifying to the unaware dwellers in the areas chosen for landing! Hot air balloons also were used in the United States during the Civil War, as both sides would use the balloons to determine the exact location of opposing troops and again in WWI, when barrage balloons would dismantle the wings of military aircraft. 
In the 1950's Edward Yost developed the modern hot air balloon that we know and love today with propane burners and nylon fabrics. He is known as the Father of Hot Air Ballooning!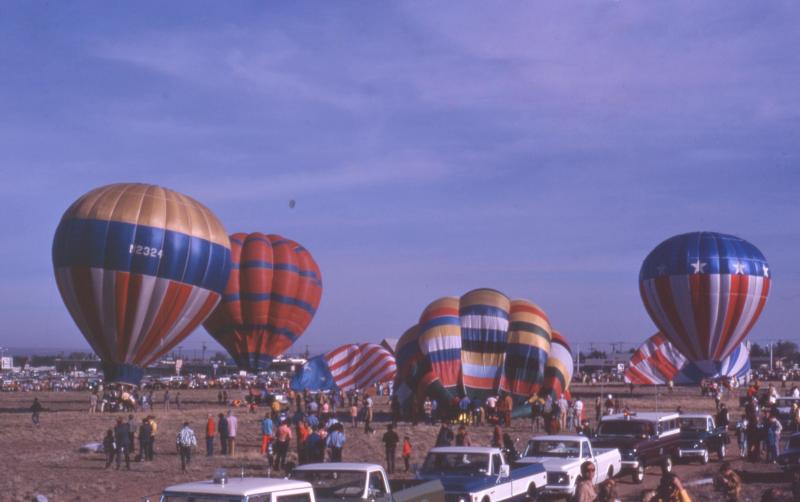 Photo Credit: Credit: Brown/Albuquerque International Balloon Fiesta
Ballooning made its name in Albuquerque in 1972 when a local radio station, KKOB, was looking to celebrate their 50th anniversary in a memorable way. They invited Edward Yost with his hot air balloon, and 12 other balloons made their appearance that year as well, for what was considered the first of what would become the Albuquerque International Balloon Fiesta, held at Coronado Center. In the following year, the first hot air ballooning World Championship was held in Albuquerque, sealing the deal for the event and the culture to call the city home and to set the stage for the Hot Air Ballooning Capital of the World. The Fiesta has grown with each passing year, proving time and time again to be the most recognized ballooning event in the world.
Book a Private Hot Air Ballooning Flight
Have you ever heard of the "Albuquerque Box"? It's a weather phenomenon found only in Albuquerque where the wind moves in a box-like pattern as the air warms and cools, taking any and all colorful, floating orbs along for the ride. With a hot air ballooning environment this perfect, the opportunity to book private flights exists year-round. Explore local hot air ballooning companies that offer unique flight experiences here. 
Pro tip: If you are looking for a romantic date idea, or even a creative way to propose to your significant other, a memorable and breathtaking balloon flight has been known to be a big hit! Make sure to clue your pilot in on the details, so that they may plan accordingly.  
Take a Virtual Tour of the Albuquerque International Balloon Fiesta
Immersing yourself in a 360-degree virtual Balloon Fiesta experience might be the second best thing to attending the event in person. Take flight in a balloon from the comfort of your own home, and see the sights of the Fiesta from a bird's eye view, just as a spectator would. From either perspective, you're sure to be amazed!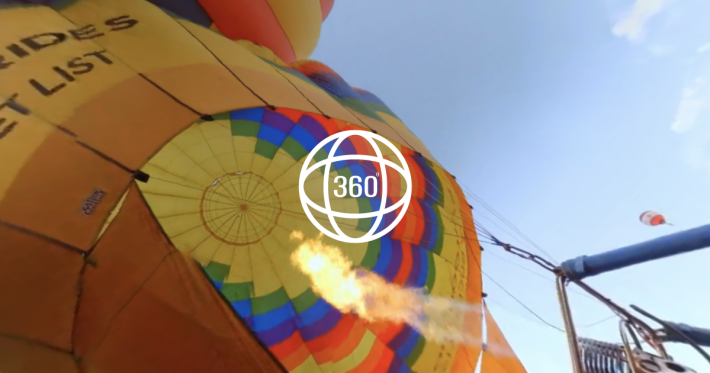 Visit the Anderson Abruzzo Albuquerque International Balloon Museum
Learning about the past, present and future of hot air ballooning is easy in a facility that is dedicated to hot air ballooning itself! The Anderson Abruzzo Albuquerque International Balloon Museum is the only one of its kind. The museum has something for everyone, including fascinating exhibits, themed events, historic memorabilia and a plethora of kids' activities. You can also learn more about the extensive history of ballooning culture in Albuquerque at any one of the museum's permanent exhibits, which you can find information on here.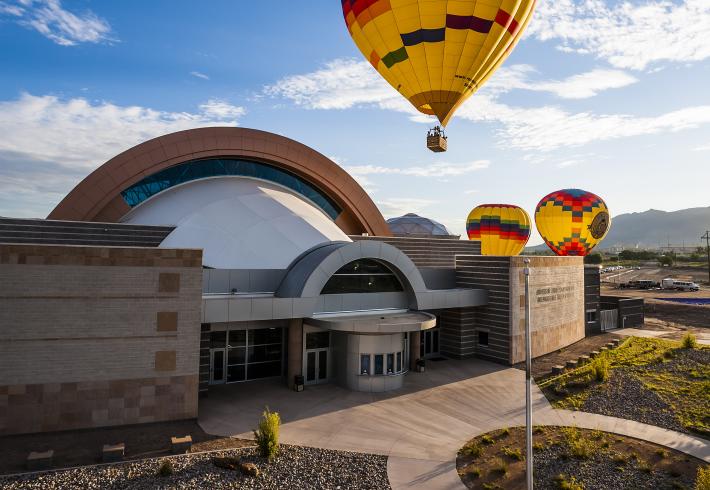 Attend the 2023 Albuquerque International Balloon Fiesta
Albuquerque is excited to welcome you to the 2023 Albuquerque International Balloon FiestaⓇ, October 7-15, 2023! This one-of-a-kind event brings in spectators and pilots from all over the world for a nine-day ballooning experience during the first full week of October that will leave your head in the clouds for the rest of the year. It is also the most photographed event in the world, so don't forget your camera! 
If you'd like to experience the spirit of Balloon Fiesta past, check out their list of live streamed events that live on for you to enjoy at any time!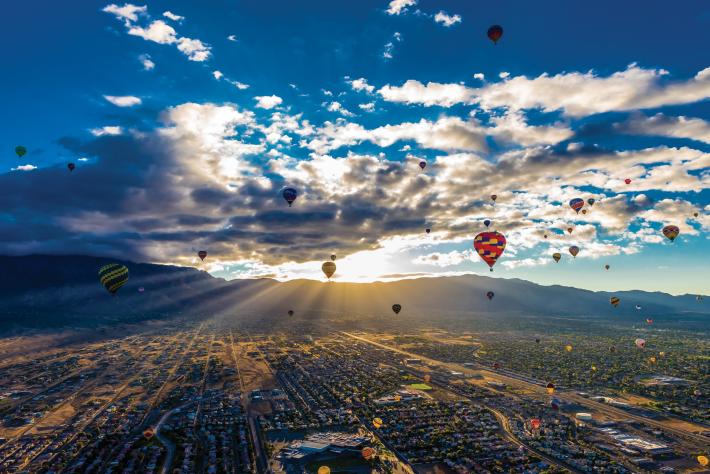 Sip a Hot Air Balloon-Themed Brew
Albuquerque's local craft brewing scene is undoubtedly elevated, but several breweries are taking its beer to new heights. With names like "Mass Ascension" from Ex Novo Brewing and "Special Shapes," from High & Dry Brewing, you're sure to find some exciting foamy flavors, only worthy of the Hot Air Ballooning Capital of the World. Cheers!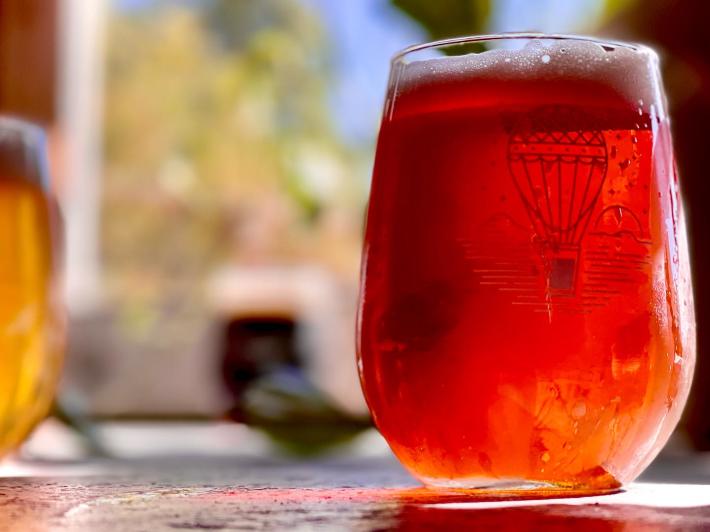 Photo Credit: Facebook
Munch on a Hot Air Balloon-Shaped Cookie
Local cookie shop Rude Boy Cookies makes special order hot air balloon themed batches of cookies! Make sure to call ahead; these special shapes are available year-round, but only upon request!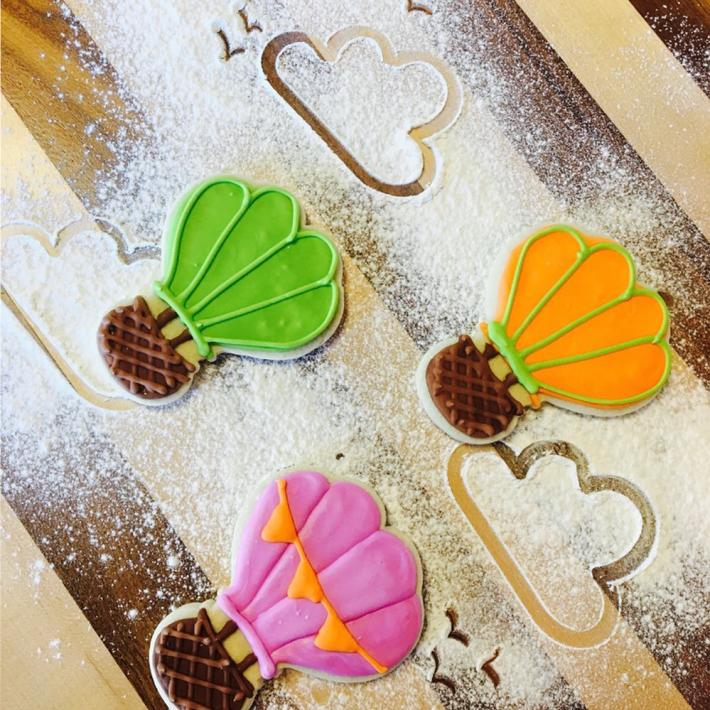 Photo Credit: Facebook
Shop for Hot Air Balloon Trinkets in Historic Old Town
Albuquerque's Historic Old Town features a number of local shops and storefronts that sell the perfect hot air balloon souvenirs to take home with you. From wind chimes to patio ornaments, you're sure to find something that will help you to remember your balloon ride when you return home.