Downtown Albuquerque has a lot to offer in terms of food and entertainment. But it was its growing body of street art that inspired a group of ABQ locals to spend a Sunday afternoon moseying through Downtown in search of outdoor artistic inspiration.
Some of Downtown's best murals can seem a little hidden to someone unfamiliar with the area. Luckily, MurosABQ has done the legwork for us to identify some of the city's most marvelous murals for moseying.
We decided to make a day of it and schedule our mosey to coincide with the Moonstone Pop-up at Downtown's Sister Bar. The monthly pop-up features curated local vendors selling everything from vintage clothing to pottery, candles and all-natural bath and body items. Sister Bar often features a drink to coincide with the monthly pop-up theme as well as surprising and interesting food that is, in my opinion, one of Albuquerque's best-kept secrets.
We picked a mosey route that kept us in the Downtown area and that we could complete in about 1.5 hours walking. Our sidetrack to Sidetrack Brewing added a little bit of extra time to our mosey, but was well worth the detour. We created a map, which might be helpful if you decide to mosey in ABQ, but the MurosABQ website map may work even better.  And don't be surprised if you see some unexpected bonus murals during your outing, unexpected murals are one of the most charming parts of the entire experience.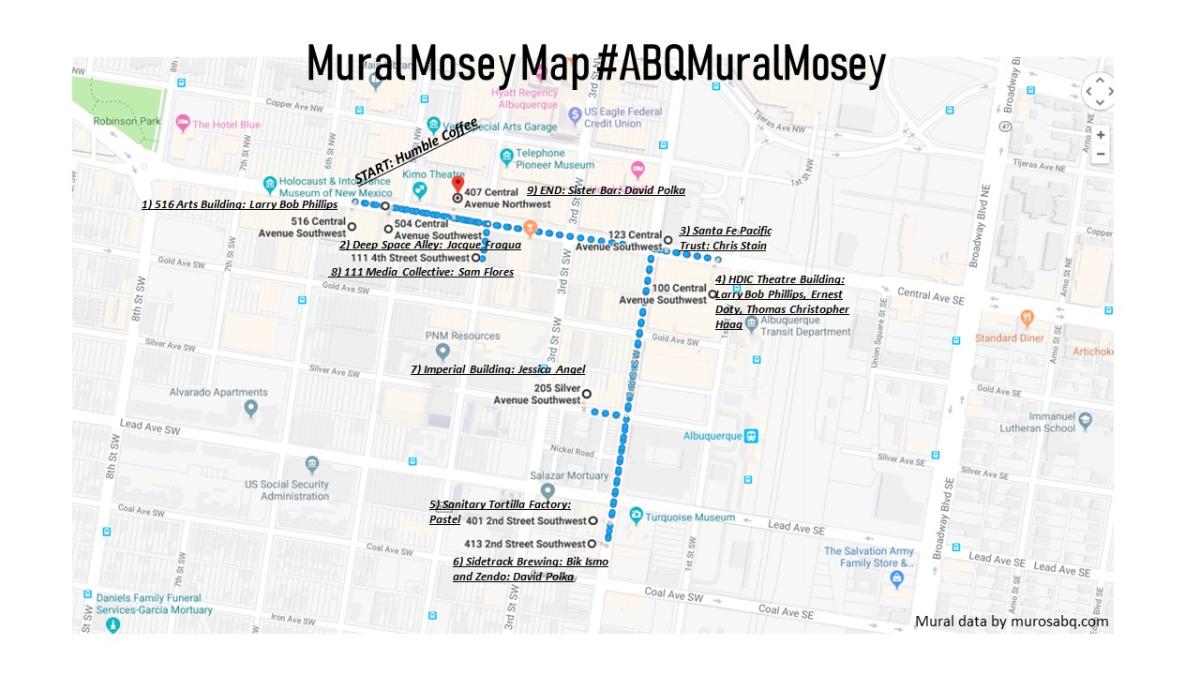 Our mosey began at Humble Coffee Downtown as even the moseyest-mosiers needed to fuel up for the adventure.
We ventured across Central Avenue (better known outside of Albuquerque as Route 66) to an alley less-travelled to check out our first murals.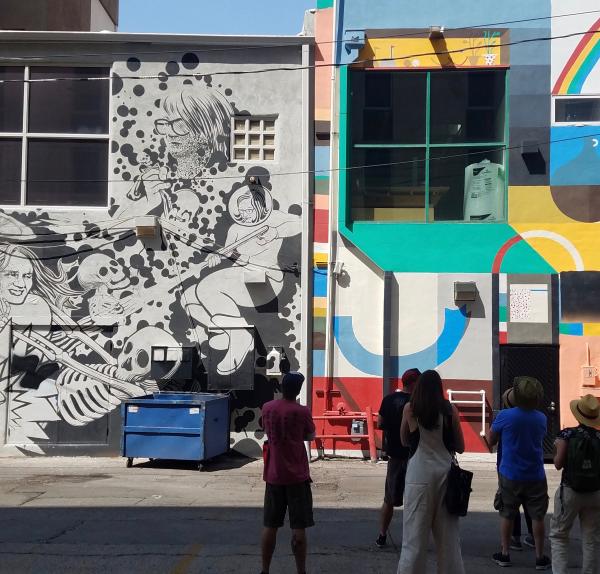 Photo by Mark Baker
Mural by Larry Bob Phillips. In this piece Phillips created a mash-up of high and low culture, art history and comic books. Learn more.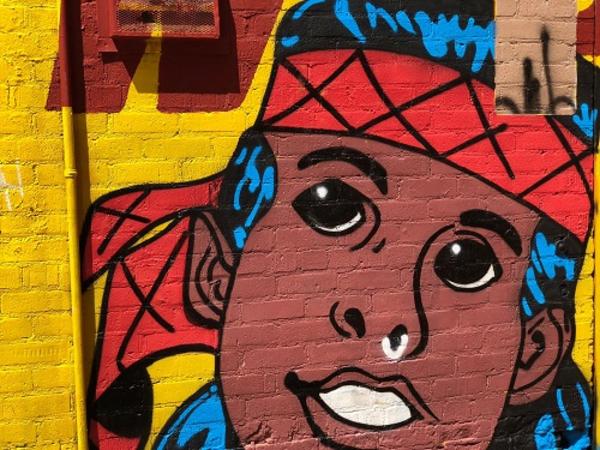 Photo by Alexis Tappan
Mural by Jaque Fragua. Also in the heart of downtown, this mural is presented by Warehouse 508. Learn more.
Next up on our mosey were some larger-scale murals near the entrance to downtown.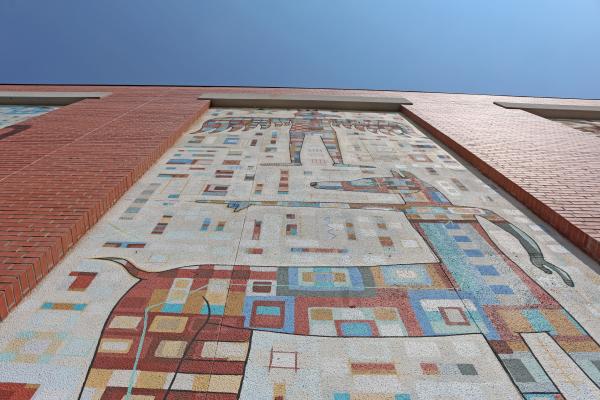 Photo by Jill Guarino Brown
Mural by Thomas Christopher Haag. This mural lives on the exterior of the HDIC Theatre Building and is titled "Totem of the Ancient Ones." Learn more.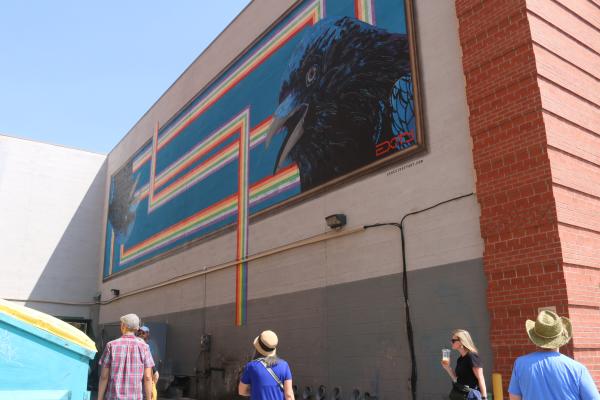 Photo by Jull Guarino Brown
Mural by Ernest Doty. This mural is also on the exterior of the HDIC Theatre Building. Its title is "We Exist Somewhere Between Limbo and Purgatory." Learn more.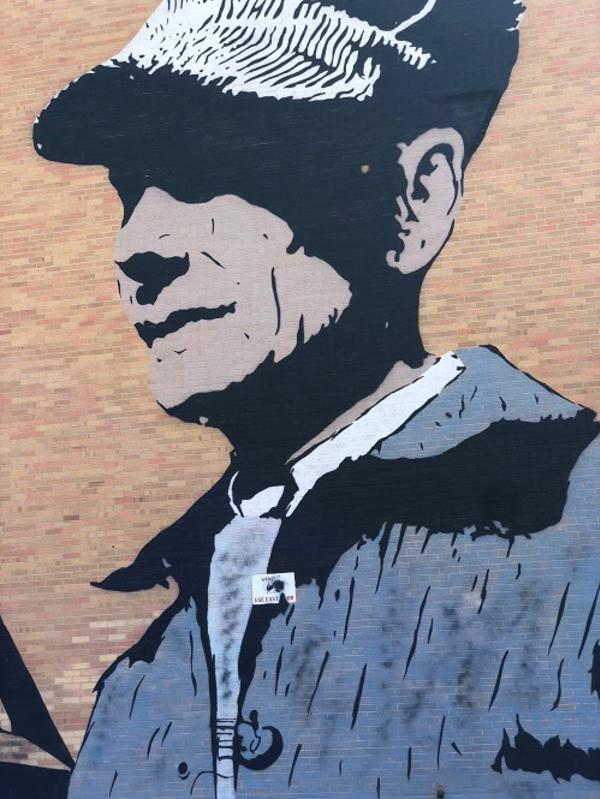 Photo by Alexis Tappan
Mural by Chris Stain. On MurosABQ.com, Chris Stain says, "Although I come from a traditional graffiti background, stenciling and screen printing have been my media of choice for their graphic strengths and simplistic methods that allow me to convey exactly how I feel about particular issues." Learn more.
What quickly became clear to us was that, although we had individually and collectively spent many hours Downtown over the years, we'd never taken the time to really look at the murals that have become such a gorgeous part of the fabric of Downtown.
We then made our way south. And after a tough hour of moseying, we decided to take a break for one of Albuquerque's legendary local beers at Sidetrack Brewing. The Sidetrack building and patio both have murals so we felt justified in our decision.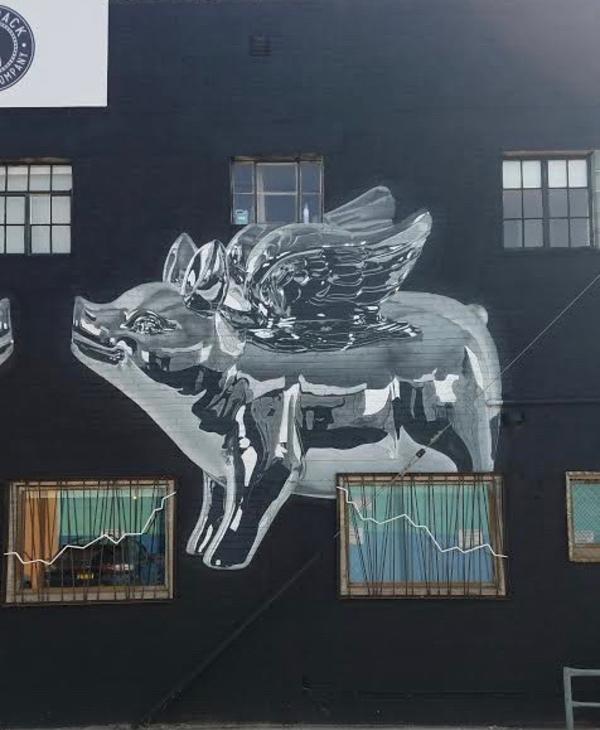 Photo by Mark Baker
Mural by Bik Ismo. Joshua Santos Rivera, also known under the pseudonyms of "Bik", "Ismo" and "Bik-Ismo," was born in Arecibo, Puerto Rico in 1981 and has worked as a graffiti artist for 16 years. Learn more.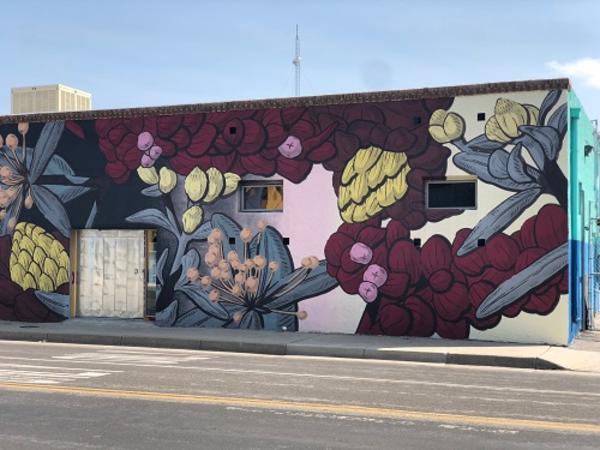 Photo by Alexis Tappan
Mural by Pastel. The Botanical Mural Project features two new murals in Downtown Albuquerque by renowned artist Pastel from Buenos Aries, Argentina. Learn more.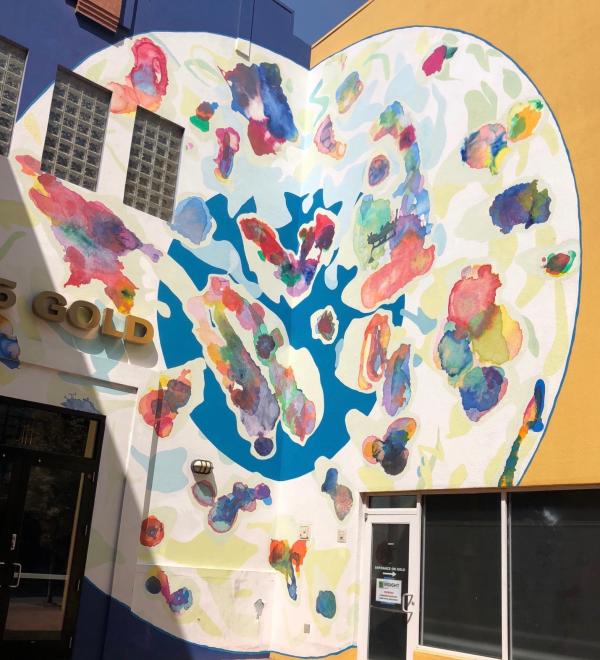 Photo by Alexis Tappan
Mural by PA System. Color Sphere plays to its 115 Gold Ave SW corner location's right angles by introducing a large round form. Learn more.
After a well-deserved beverage we finished up our mosey at Sister Bar, the site of the Moonstone Pop-Up and our last mural for the day.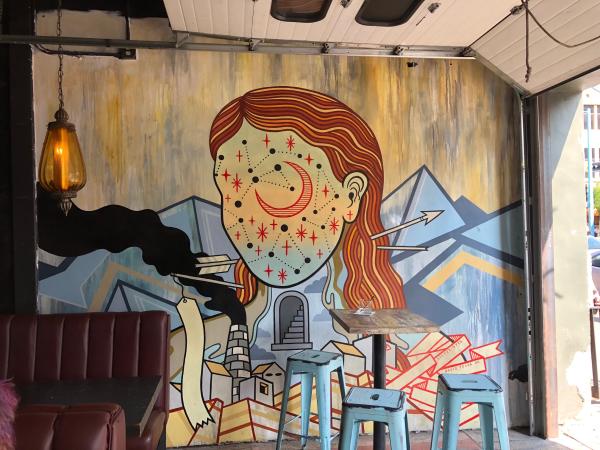 Photo by Alexis Tappan
Mural by David Polka. Originally from Las Cruces, New Mexico, the artist moved to the East Bay six years ago to immerse himself in the area's thriving art scene. His practice includes illustration, large scale public murals and installation. Learn more.
We all decided our mosey was a great use of a Saturday afternoon. Albuquerque's murals really stand out as part of a desert southwest color palette and making an afternoon of it gave us a chance to really explore and celebrate Downtown. Use our map or make your own and have fun moseying!