Many have heard of the iconic sights and attractions around Albuquerque, but there are a number of under-the-radar places that add to the city's unique character. Created by the hand of history, creative artists and passionate residents, these offbeat spots should be added to your Albuquerque bucket list. 
1. Turquoise Doors 
Ancient peoples believed in the power of the color turquoise to protect, give wisdom, provide calmness and pass along good fortune. To this day, Southwestern tribes still believe in its power. They wear turquoise amulets for personal protection from harm, sickness and evil spirits and it has often been integrated into Southwestern building design. ⁠Next time you're driving around or exploring the city, see how many turquoise doors you can spot! Read more about the history behind this powerful color here.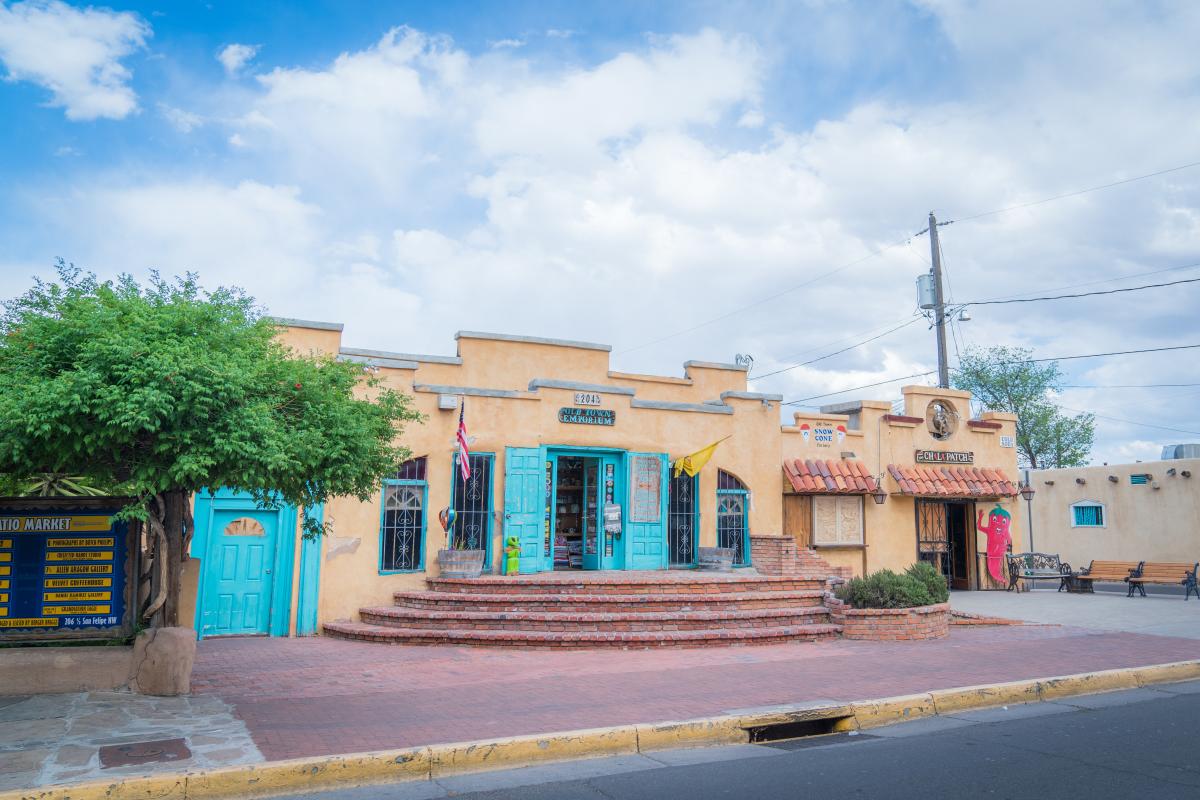 2. Center of the Universe at UNM
While not the actual center of the universe, this abstract, walk-through art sculpture is located on the University of New Mexico's Main Campus. The concrete tower stands between Mitchell and Ortega hall, and can be entered through four different points. In the center of the sculpture, a plaque denotes its status as the "Center of the universe."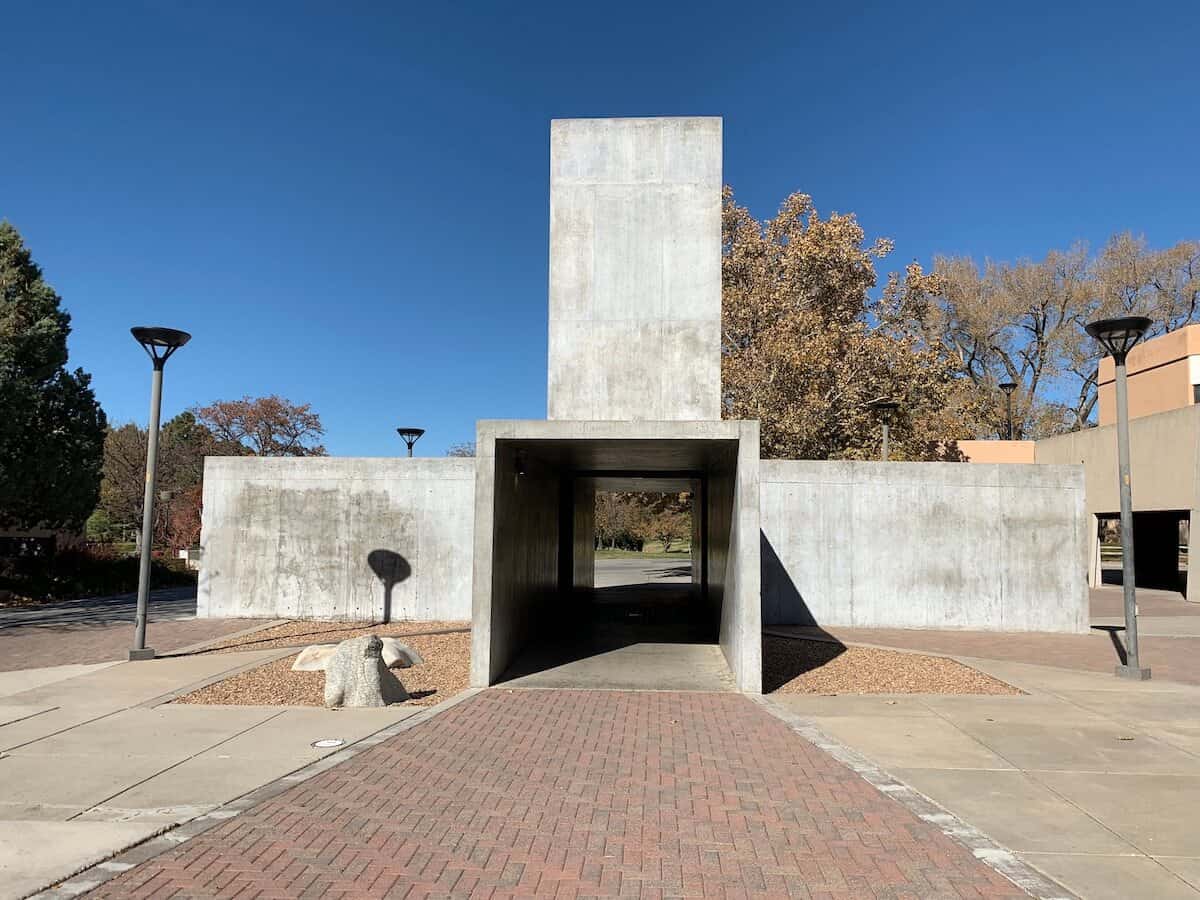 Image Source: Pattern New Mexico
3. Rattlesnake Museum 
Tucked away in Historic Old Town, the American International Rattlesnake Museum is home to the largest variety of live rattlesnakes in the world! Nestled behind a quaint storefront filled with rattlesnake-themed souvenirs, the museum also has a large collection of historical artifacts and memorabilia.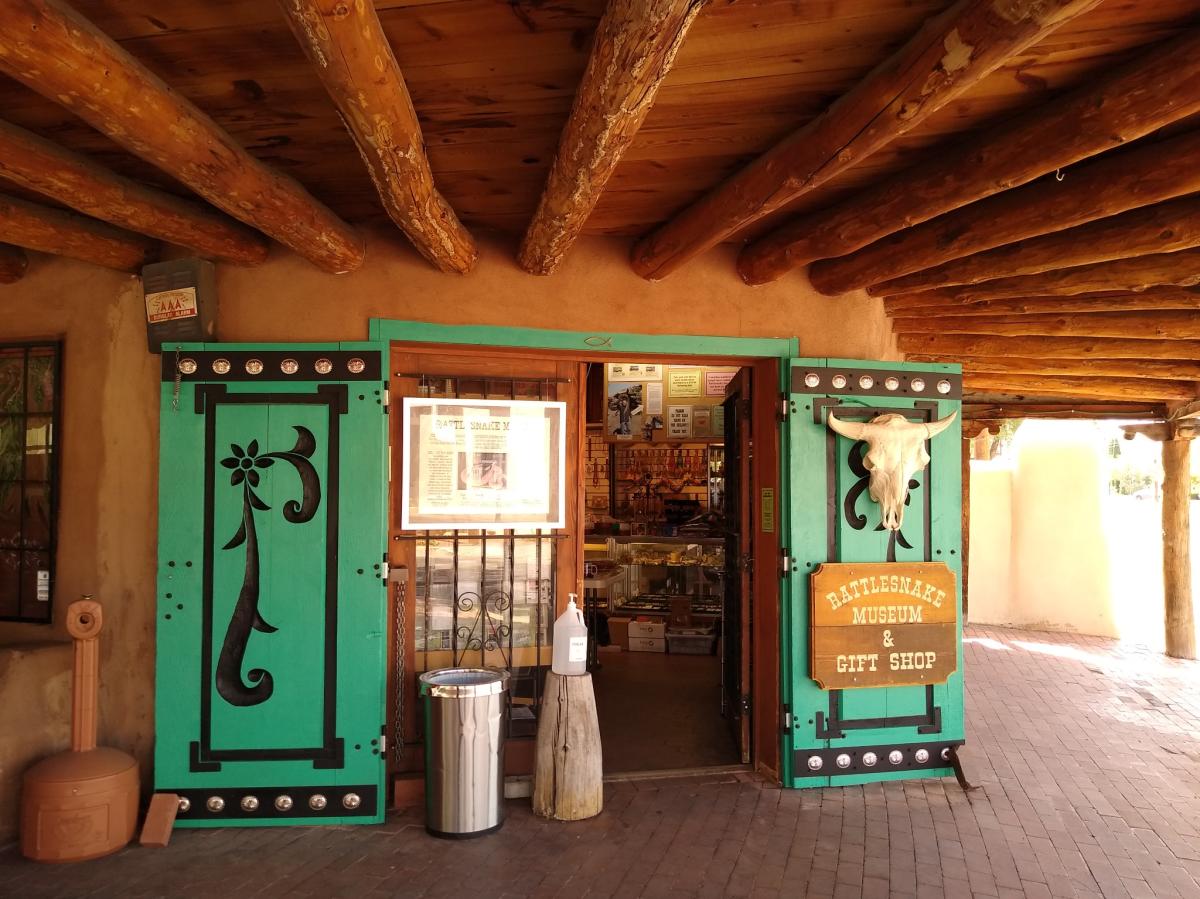 Image Source: Facebook
4. Pueblo Montano Sculpture Garden 
Created by local firefighter Joseph Mark Chavez, the Pueblo Montaño Sculpture Garden is located at the Pueblo Montaño Picnic Area off Montaño Road west of the Rio Grande. Chavez had the idea to create the garden after a large fire destroyed the area in 2003, leaving numerous fire-damaged trees. Chavez has since turned many of these trees into beautiful works of chainsaw art. 
Image Source: AtlasObscura.com
5. Spot an Exotic Animal or Two
The Paseo del Bosque Trail is not only a great way to take in the city's greenscapes throughout the spring and summer, but it also offers a viewpoint to spot a few of the animals at the ABQ BioPark Zoo. While you walk along the paved path or go for a bike ride south of Tingley Beach, you may see a polar bear perched on the exhibit's large rocks or an elephant playing with its favorite water toy.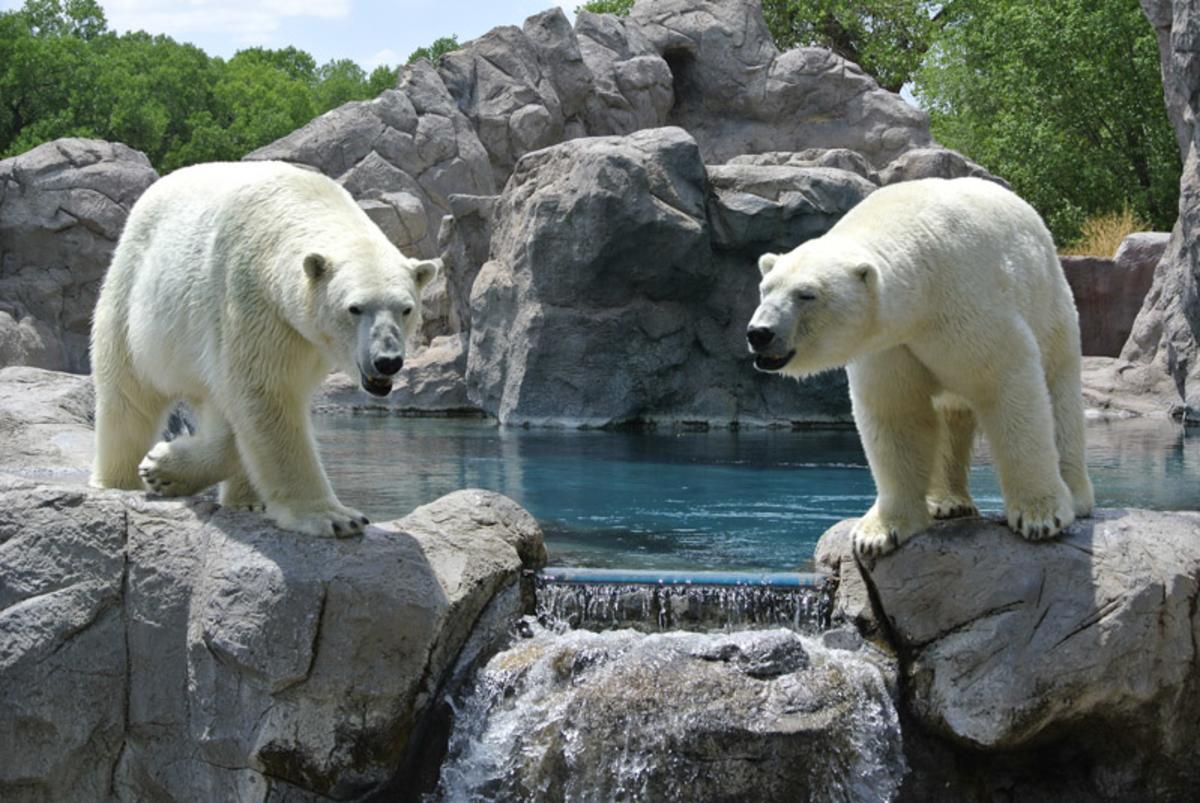 6. Turquoise Museum 
A massive gothic-style mansion in the center of a busy metropolis may not be "hidden," but it sure is a gem. Once the private residence of jewelry maker Gertrude Zachary, the mansion now boasts a one-of-a-kind museum devoted to turquoise, as well as a gift shop, flower shop and café. The Turquoise Museum is home to an expansive turquoise collection, tours and classes.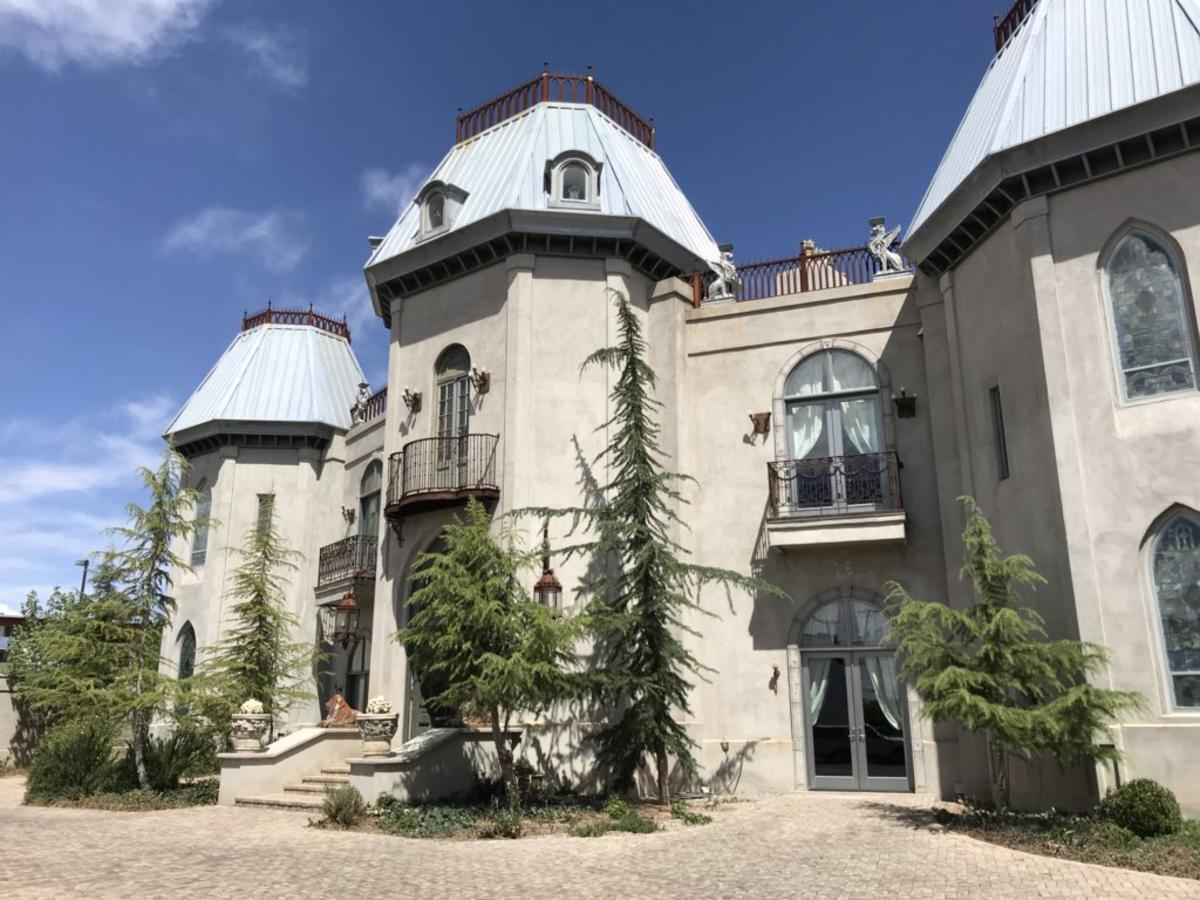 7. Tumbleweed Snowman 
Standing tall in all its glory once a year, a famous snowman made entirely of tumbleweeds pleasantly greets passersby heading west on I-40. Each winter since 1995, the Albuquerque Metropolitan Arroyo Flood Control Authority has been collecting gigantic tumbleweeds for this classic and beloved roadside installation which is located west of the Carlisle exit on I-40 and northeast of I-25.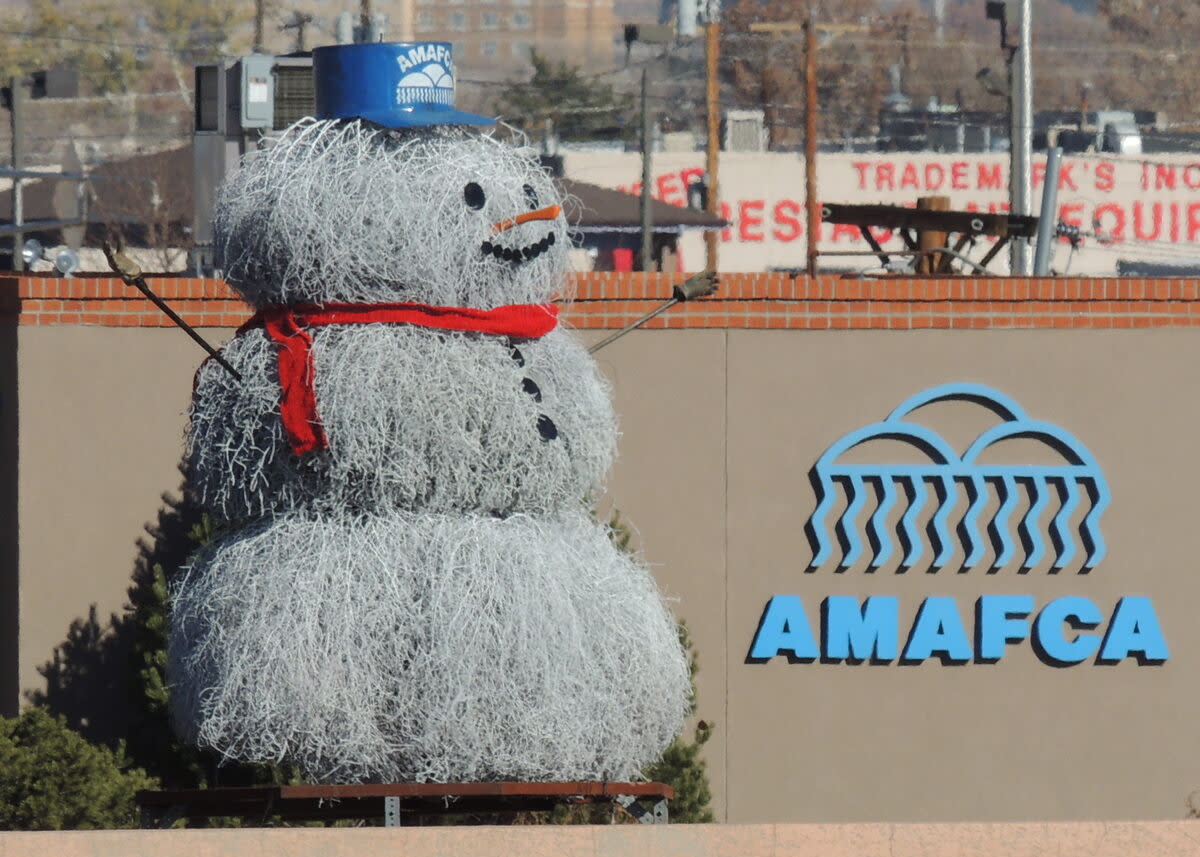 Image Source: AtlasObscura.com
8. KiMo Theatre 
A staple in the community since 1927, the KiMo Theatre is a historic landmark in the heart of downtown Albuquerque. Inspired by the flamboyant Pueblo Deco architectural style, it was initially opened as a place for vaudeville acts and continues to be a popular spot for a variety of theatrical and film productions. 

9. Auto Hawk 
An eye-catching sculpture created with colorful scrapped car doors, this 24-foot-tall sculpture represents the feathers of a hawk. Created in 2017 by artist Christopher Fennell, the piece is a tribute to Albuquerque and encapsulates his love for hiking in the Sandia Mountains and watching the birds fly up and down the mountain. It is located Downtown near the Alvarado Transportation Center.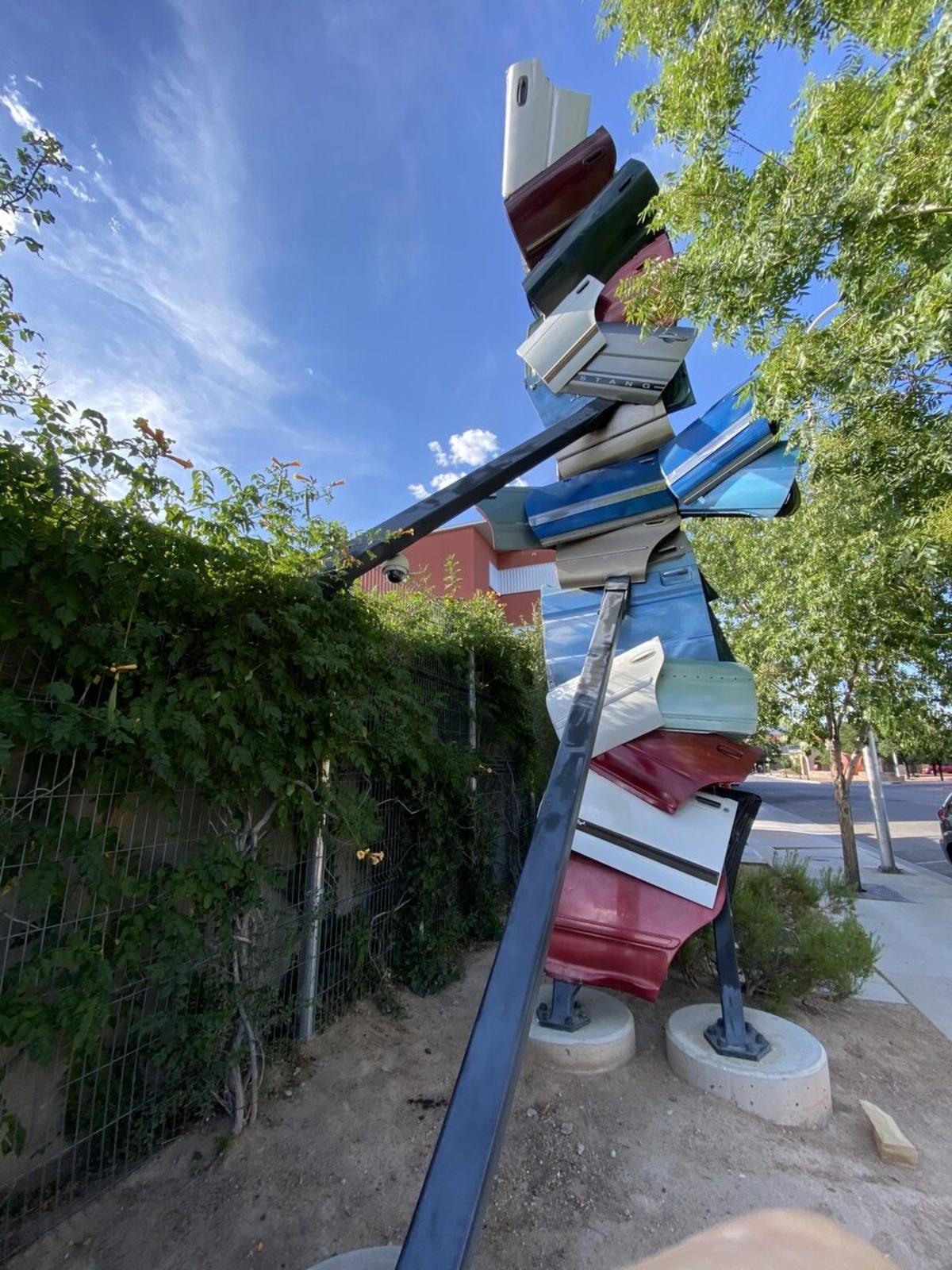 Image Source: AtlasObscura.com
10. Bart Prince Residence and Studio
Resembling something you may see in outer space, this home's unique appearance gave rise to its nickname as the "Spaceship House." Once the residence and studio of architect Bart Prince, there is nothing quite like it in the area. You can drive by the home on Monte Vista Boulevard in Nob Hill, but it remains a private residence today.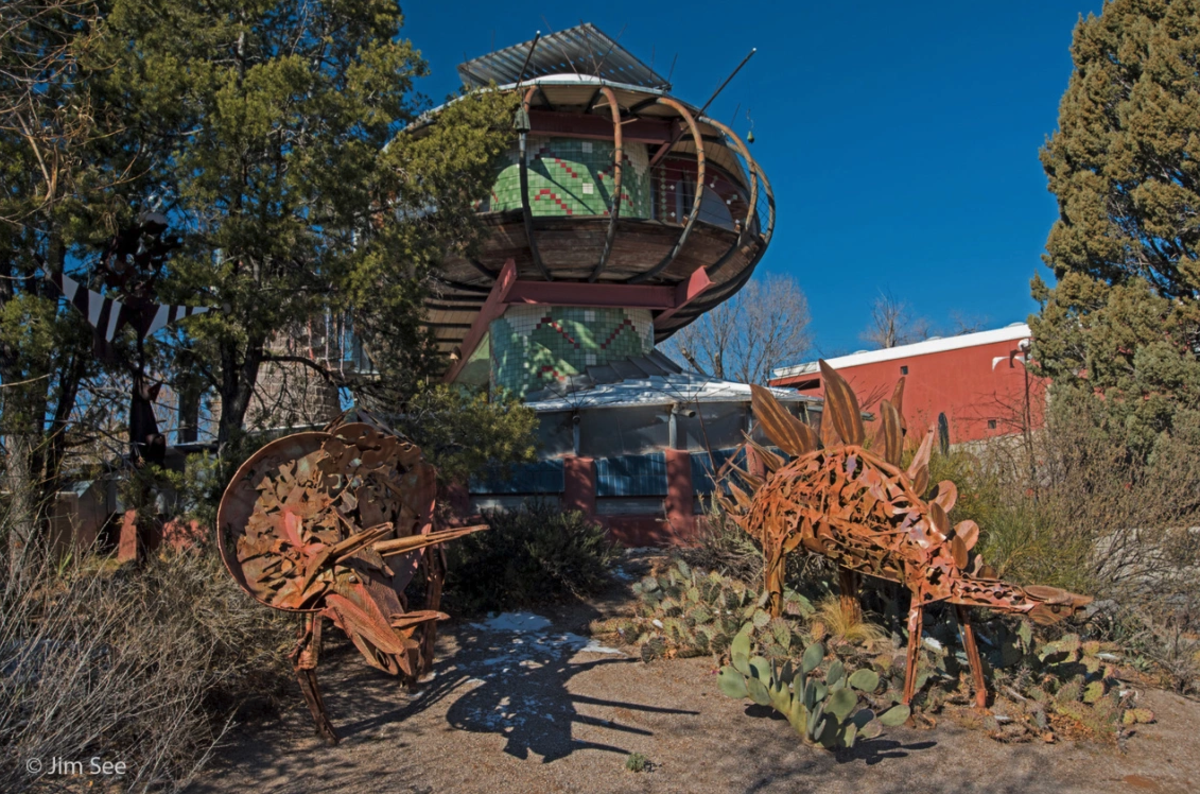 Image Source: NMArchitectureGuide.org
11. Tinkertown Museum
Tucked away on the Turquoise Trail in the East Mountains, the Tinkertown Museum is a true marvel, an ode to the imagination – and the perfect embodiment of "Albu-quirky." The 22-room collection started as a hobby in 1962 by a man named Ross Ward and now includes walls that incorporate over 50,000 glass bottles, unique miniature carved characters that fill every room and a variety of fun collectibles and fun sayings that line the walls. 

12. Calabacillas Arroyo Artificial Fossils
Incorporated into the arroyo itself, the Calabacillas Arroyo Artificial Fossils was created by artist Michael Wallace and a team of around 300 volunteers and school students as a large-scale art installation complete with fossils and human artifacts cast in white. The installation was inspired by New Mexico's timeline of natural history.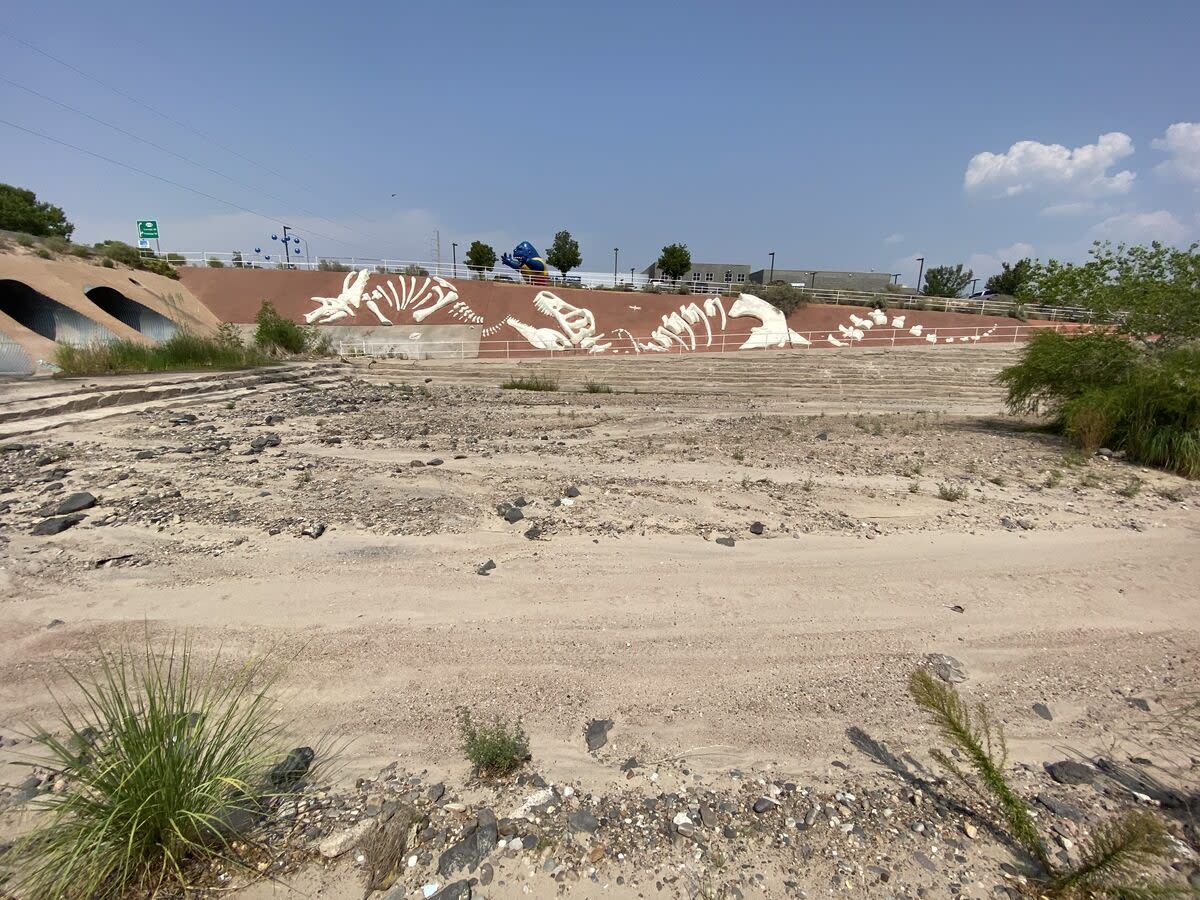 Image Source: AtlasObscura.com
13. Grave of Walter White
It wasn't easy for fans when the hit show "Breaking Bad" ended in 2013, but locals found a way to memorialize and pay tribute to the show's main character Walter White. Initially located at Sunset Memorial Park, the tombstone was moved and installed on one of the outside walls at Vernon's Speakeasy in Los Ranchos.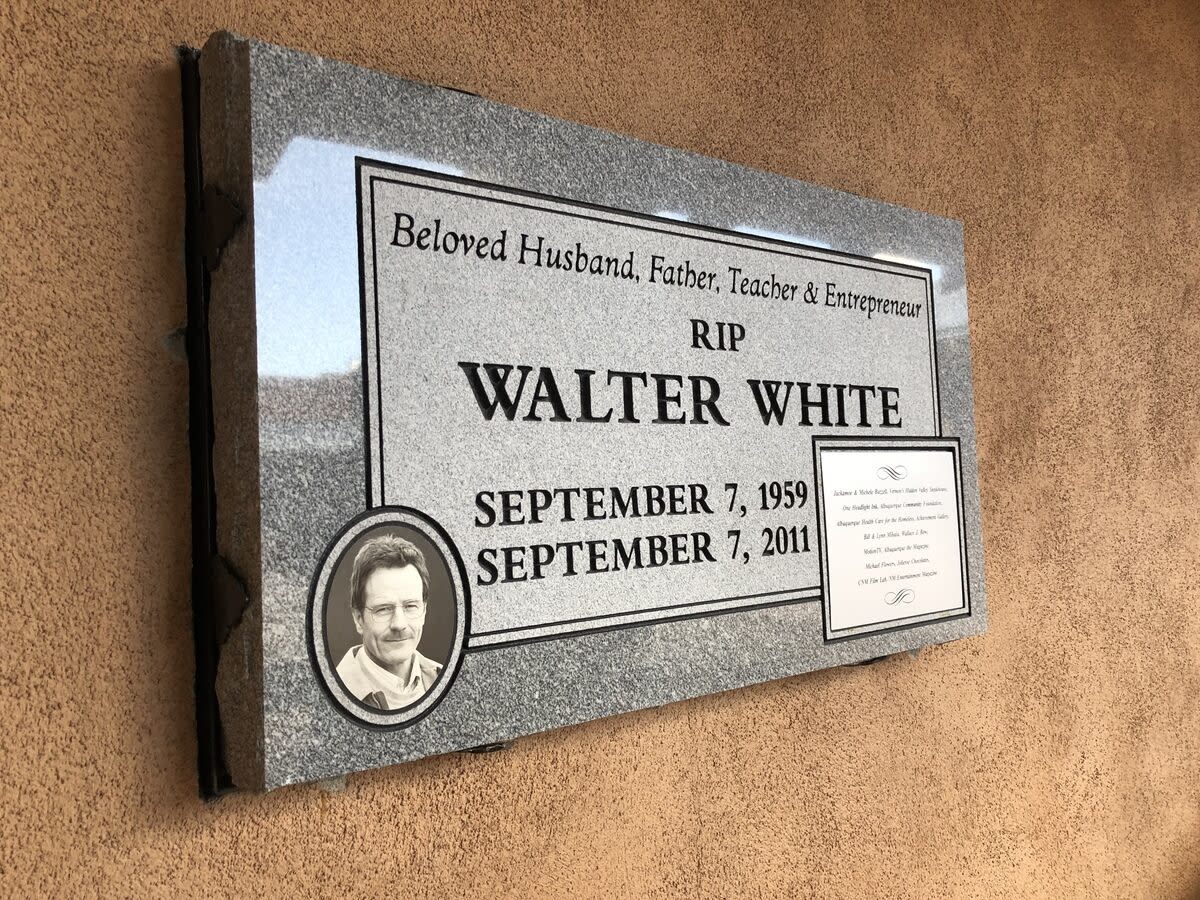 Image Source: AtlasObscura.com
14. Giant Red Arrow
If you're headed south on Carlisle Boulevard, there's no way to miss the giant red arrow sticking out of the ground on the corner of Carlisle Boulevard and Indian School Road. Standing approximately 20 feet tall, it's worth a quick pit stop for a photo op.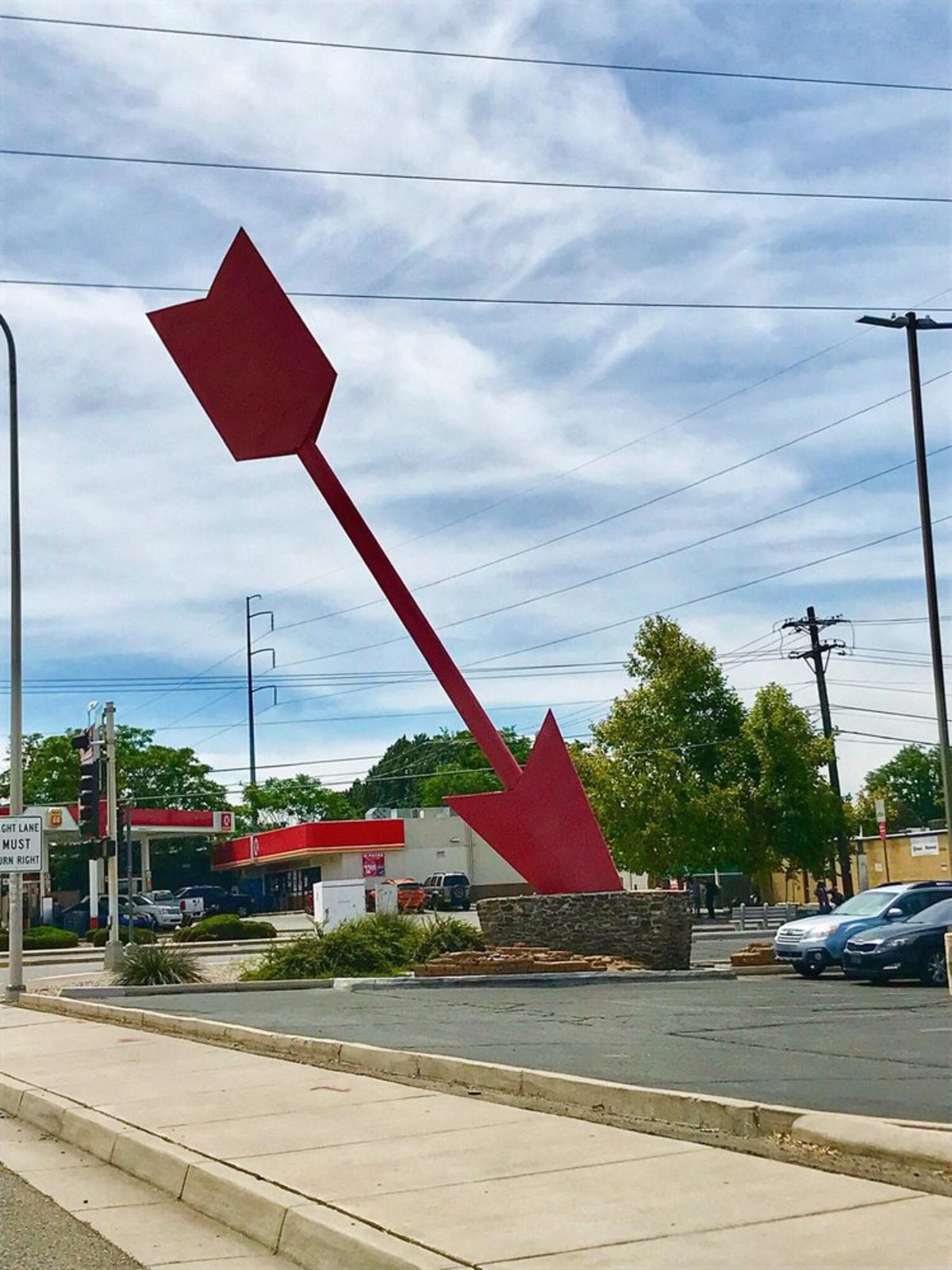 Image Source: Yelp.com
15. Medallion Trees 
Scattered on trails throughout the Sandia Mountains are trees with attached silver medallions. Each small medallion is engraved with information that commemorates an event that occurred on or around the tree's germination date. Some say there are nearly 100 documented medallion trees, each with a different historical date ranging from the mid-1400s to the 1960s. How many will you find on your next hike?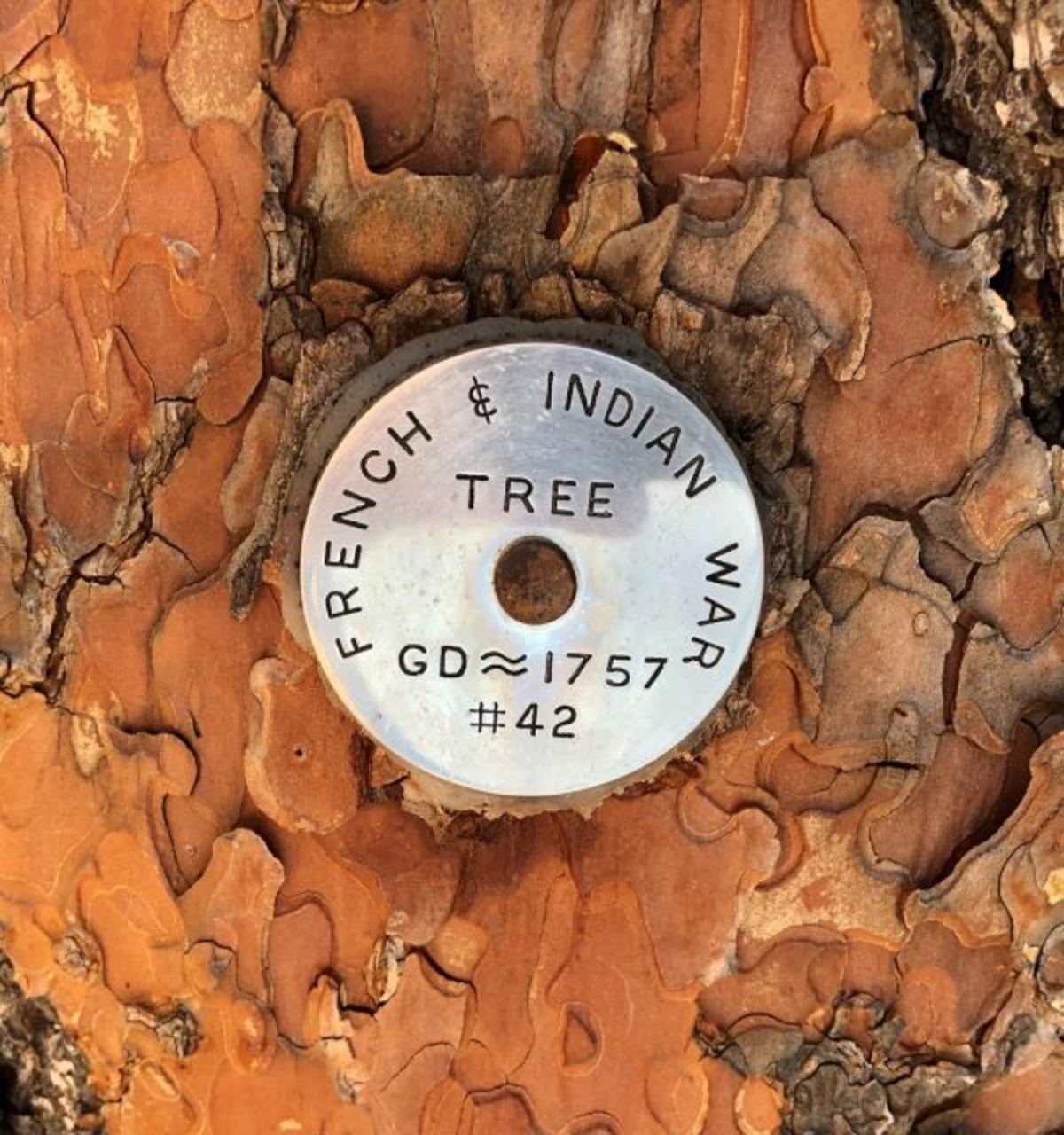 Image Source: GentleArtofWandering.com