The holidays are a special time in Albuquerque. Deep crimson chile ristras, brilliantly illuminated storefronts and walkways, and unique events spreading cheer and holiday magic are just a few highlights. If you're looking for a unique way to experience the holidays this year, Albuquerque is the place for you.
We've put together a guide to take you through ABQ's most memorable holiday and winter events, as well as some of our most unique and beloved seasonal traditions.
Holiday Events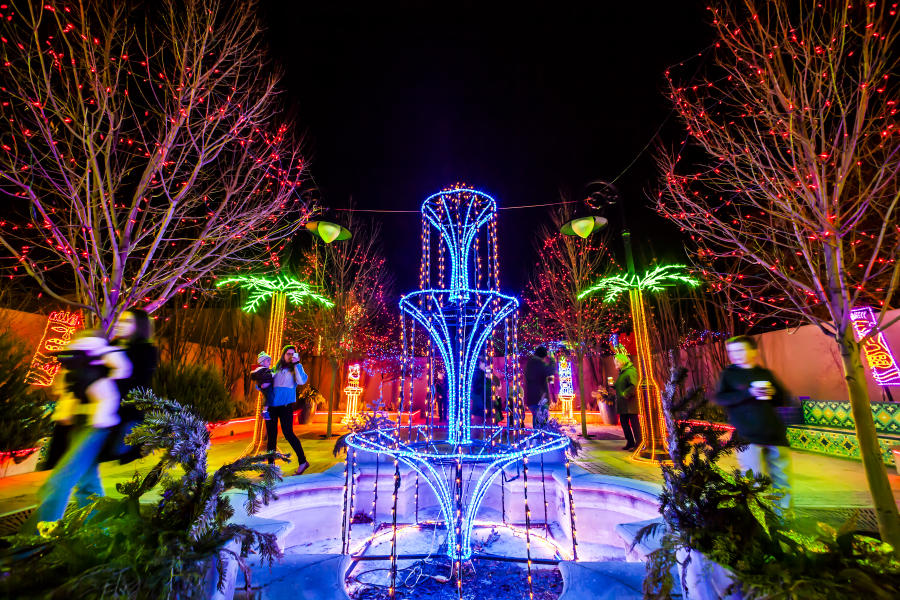 River of Lights
Experience millions of glowing, sparkling lights and over 150 dazzling light displays, animated sculptures, and a synchronized music light show at New Mexico's largest walk-through holiday production.
Each November – December at the ABQ BioPark Botanic Garden
Learn More 
Twinkle Light Parade
One of Albuquerque's brightest celebrations, the Twinkle Light Parade is a family-friendly holiday event. Featuring hundreds of floats, marching bands, cars, bikes and of course, Mr. Claus, this parade rolls through Historic Nob Hill on Central Ave.
Each December in Nob Hill
Learn More 
Old Town Holiday Stroll 
There's no better place to experience the magic of the holiday season than Historic Old Town for the annual Old Town Holiday Stroll. Live entertainment will fill the streets as you sip on hot chocolate and get your holiday shopping done. Be sure to take advantage of discounts and specials offered during this jolly event by local businesses, restaurants, and museums in the area.
Each December in Old Town
Learn More 
Festival of Trees
The Festival of Trees is a weekend celebration of the children served by the Carrie Tingley Hospital Foundation. With over 80 uniquely decorated trees and a variety of center pieces and wreaths on display and available for purchase, the Carrie Tingley Hospital Foundation's Festival of Trees is the largest in New Mexico. Complimentary coffee, hot cocoa, kid-friendly crafts, live entertainment and pictures with Santa are provided for children young and old.
100% of the proceeds from the Festival of Trees benefits the Carrie Tingley Hospital Foundation.
Each Thanksgiving Weekend
Learn More
Holiday Shopping Events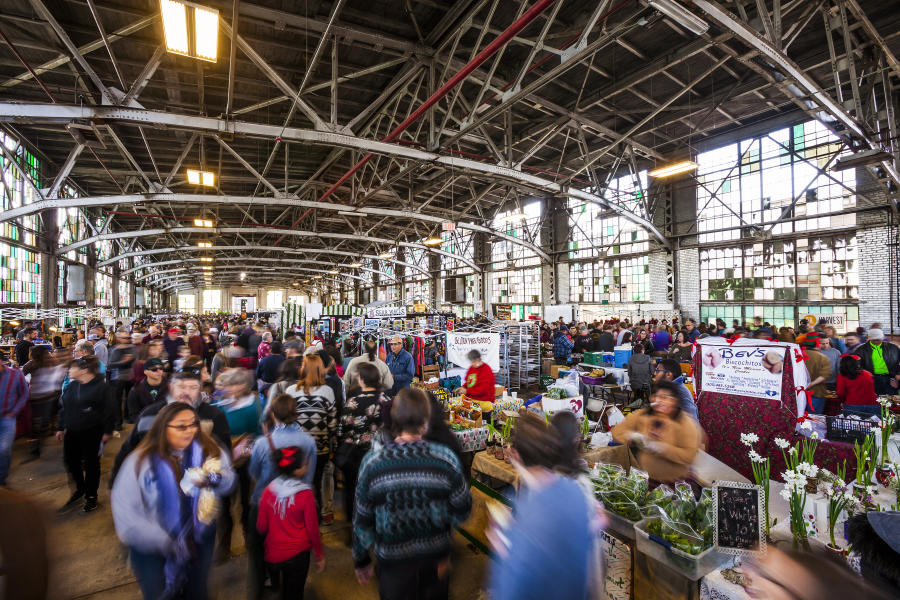 Annual Rail Yards Holiday Market
Keep your holiday shopping local! This event brings together food, art, and music together for the Holidays. Sample New Mexico's finest cuisine, peruse all the local gifts, create some fun in the Children's zone, participate in our famous ornament exchange, and give back to your community at our donation station. Nearly 200 vendors of made-from-scratch delicious food and quality handmade crafts will convene for Albuquerque's locavorian spirit this year for the annual Holiday Market.
Each December at the Rail Yards
Learn More 
Rio Grande Arts & Crafts Festival Holiday Show
Kick-off your holiday shopping and ease into the season at the Rio Grande Arts and Crafts Festival! Every November, this renowned festival comes to life at EXPO New Mexico to shake things up during the busiest shopping weekend of the year. Here, you'll find the most memorable and original gifts for everyone on your list.
Each November at EXPO New Mexico
Learn More
North Fourth Holiday Stop & Shop
Featuring more than 20 businesses and restaurants along North Fourth Street NW, this event provides the perfect opportunity to shop for the holidays. Enjoy local holiday specials, unique gifts, entertainment and sweet treats. Don't forget to include lunch or dinner at any one of the participating restaurants on North Fourth! Participating businesses will offer discounts, prizes, refreshments, entertainment, free gifts and other great shopping incentives. Drop in any participating business and pick up your map and plan your shopping experience.  
Each December
New Mexican Artisan Market
A newer addition to the vibrant New Mexico marketplace scene, this event creates a space where local artisans can gather together and showcase their custom crafted products and goods. The event's mission is to expand and build the creative economy of New Mexico by supporting and promoting the local creative talent.
Each November
Learn More
Barelas Shop & Stroll
This brand-new event showcases gifts that can only be found in the heart of Albuquerque. The Barelas Shop & Stroll encourages shoppers to support local businesses and keep money in the community.
Each December
Holiday Tours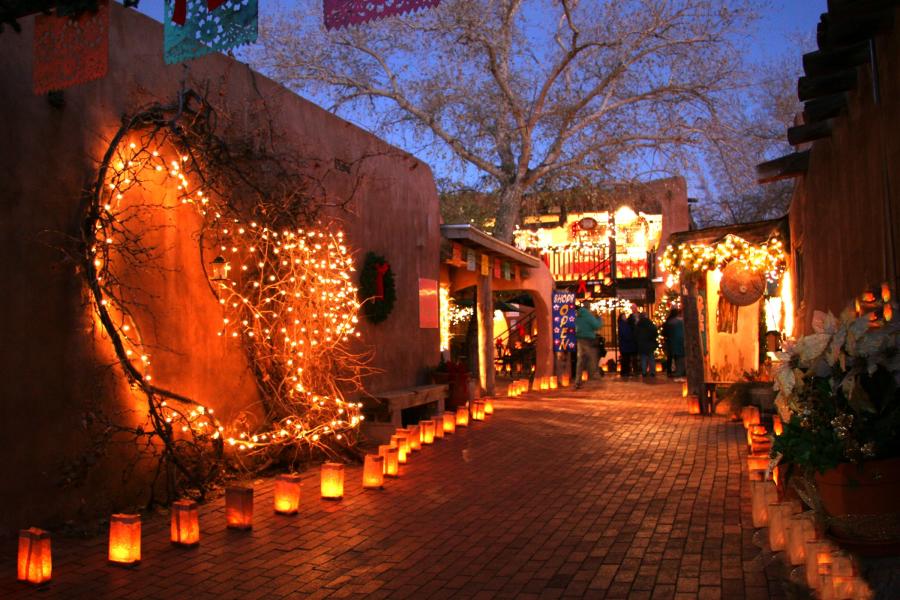 ABQ Trolley Co.'s Trolley of Lights Tour
Tis the Season for Christmas trees, luminarias, nutcrackers, eggnog and holiday lights! ABQ Trolley Co. presents: Trolley of Lights - a holiday lights tour. Join ABQ Trolley Co.as they head out to see Albuquerque's holiday lights aglow. The tour departs from Hotel Albuquerque at Old Town and includes highlights like Old Town Plaza Christmas tree and decorations, Rio Grande Blvd., and Village of Los Ranchos de Albuquerque
Each December 
ABQ RIDE's Annual Luminaria Tour
Take a magical ride with ABQ RIDE on its Annual Luminaria Tour. Enjoy this annual New Mexican tradition without worrying about parking, driving through snow, or traffic delays. The tour, which begins and ends at the Albuquerque Convention Center, takes approximately 45 minutes and travels through Old Town and the nearby neighborhoods.
Each December
Routes Bicycle Tours & Rentals' Lights & Luminarias Bike Tour
Join Routes Bicycle Tours as they take you through the heart of Albuquerque, down luminaria-lined avenues in Old Town and past some of the most impressive light displays in the Southwest. Their unique and intimate bike tours are the perfect way to experience the holiday sights, sounds, scents, and magic of New Mexico without the traditional headaches of heavy traffic and slow moving lines.
Each December
ABQ Holiday Traditions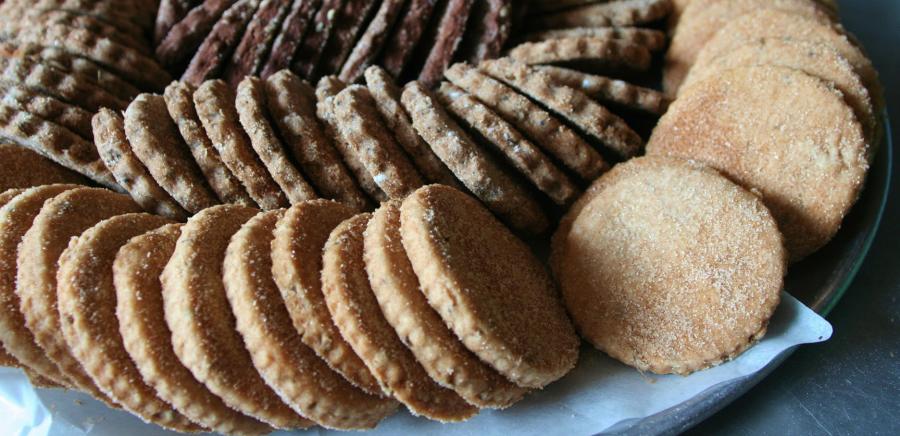 Cuisine
One of our most treasured holiday traditions in Albuquerque is our cuisine. The official state question of "Red or Green?" is always in season, but is especially fitting during the holidays. Several New Mexican recipes pass from generation to generation as a way to keep holiday traditions alive. Some of our favorite celebratory foods include tamales, posole, chile stew and biscochitos. You can even try some out for yourself! Find unique, New Mexican holiday recipes here.
Learn more about all of these foods and other traditions here.
Traditional Holiday Sights
Throughout New Mexico you will see vibrant red hanging chile peppers called "ristras." These decorations are especially common during the holiday season after a new chile crop has come in during the fall.
Many churches, families and neighborhoods around Albuquerque decorate their dwelling and business exteriors with luminarias for the holidays. The largest display takes place on Christmas Eve in the Old Town Plaza and Country Club neighborhood. Luminarias (sometimes called farolitos) or "little lanterns," are nothing more than hand-folded brown paper bags filled with sand and a single votive candle. When they line the walkways by the hundreds throughout the plaza, their simple light transforms into an impressive and welcoming glow, leading to the historic San Felipe de Neri Church and its Christmas Eve mass. Luminarias are often used to decorate homes before a holiday gathering or party.
You can find more about Albuquerque holiday traditions here.  
Enjoy your holiday season!