There is nothing quite like the experience of seeing nearly 600 hot air balloons colorfully painting Albuquerque's blue skies. The Albuquerque International Balloon Fiesta® is the world's largest hot air balloon festival, and for good reason, is the most photographed event on earth.
Every October thousands of visitors from around the world flock to Balloon Fiesta Park to experience the spectacular event.
While nothing comes close to experiencing Balloon Fiesta from the field itself, we know that you might want to take a few days to see the magnificently colorful sky from other spots around the city. We've rounded up the best places to watch Balloon Fiesta in Albuquerque.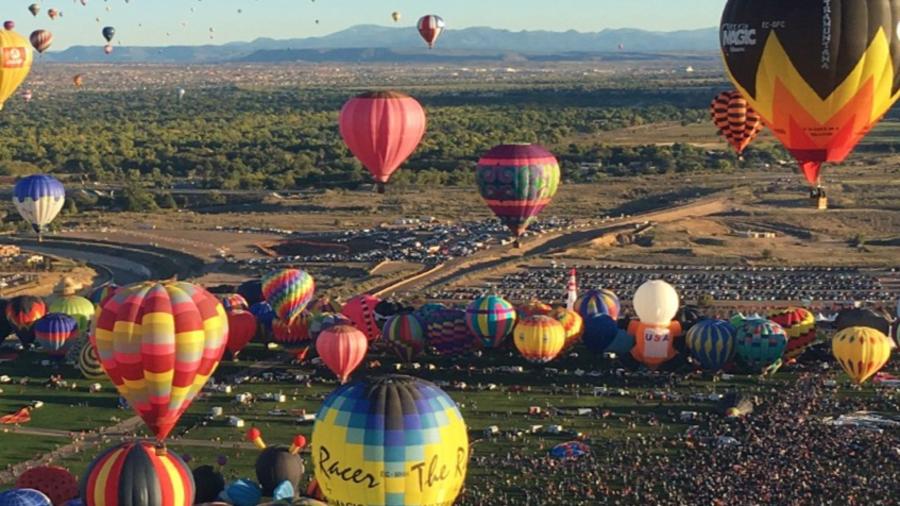 1. From Balloon Fiesta Park
We can't make a list of the best spots to see the balloons of the Albuquerque International Balloon Fiesta® without mentioning the event itself. Nothing can compare to seeing the larger-than-life balloons inflating all around you, the excitement of balloons taking off right in front of your eyes, and nearly 600 hot air balloons floating right above you at Balloon Fiesta Park. When you attend Balloon Fiesta, you have an immersive, multi-view experience. If you are in Albuquerque for the Balloon Fiesta, the event itself is an absolute must on the list to see balloons.
2. From the Albuquerque International Balloon Museum
Let your Balloon Fiesta experience soar to new heights with a variety of viewing and dining options at the Anderson Abruzzo International Balloon Museum. The museum's observation deck series lets visitors view Balloon Fiesta from a deck at the museum. Guests also get delicious food and other VIP amenities. Learn more here.
3. From a Hot Air Balloon
Seeing the Balloon Fiesta from 2,000 feet in the air offers a view like no other. Imagine seeing 600 hot air balloons surrounding you in all directions, while floating weightlessly through the sky. To book a ride in a hot air balloon, see our recommended ballooning companies here.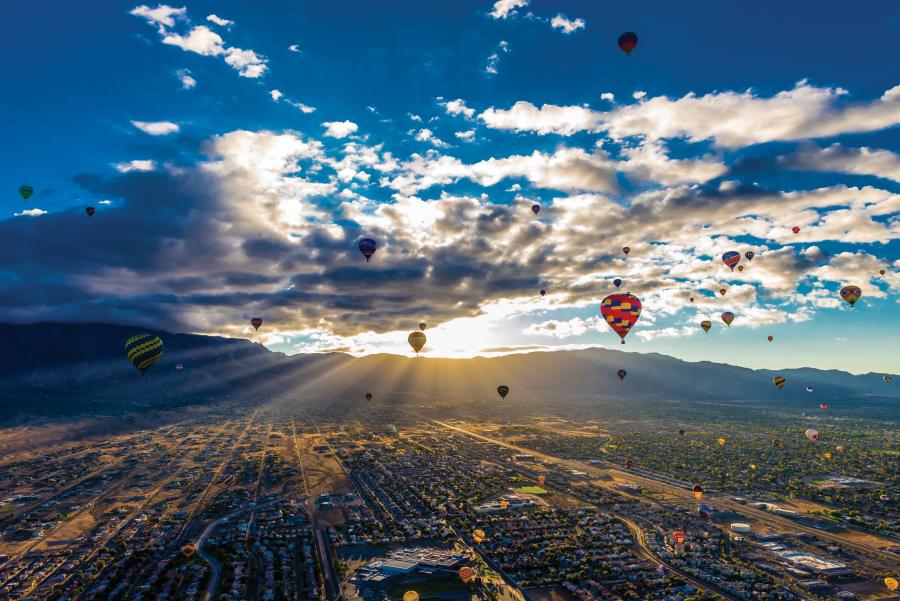 4. From the River 
One of the most spectacular ways to view balloons is from a kayak or paddleboard on the Rio Grande. Head out to the river to see the colorful balloons floating above, while you float on the waters below. MST Adventures offers special balloon-viewing kayak tours during Balloon Fiesta. MST Adventures also rents paddle boards and kayaks so you can extend your paddling fun beyond a tour. 
5. From the Bosque Trail
Head out to the Bosque Trail early in the morning, and enjoy a bike ride, walk or run under a balloon-speckled sky. If the winds are blowing in your favor that day, you may get one of the best views from around the city from this multi-use, paved pathway that runs alongside the Rio Grande. Rent a bike from Routes Bicycle Tours & Rentals or take the trail by foot. A few great starting points for this 16-mile long trail are the Rio Grande Nature Center State Park or Tingley Beach, which both offer convenient parking and trail access.
6. From the Top of Sandia Resort & Casino
Among Balloon Fiesta's most popular events are the famous nighttime Balloon Glows, during which the hot air balloons are tethered to the ground while they fire their burners in unison for a breathtaking show of lights. For a spectacular off-site spot to view the Balloon Glows, make a reservation at Bien Shur, located on the top floor of Sandia Resort and Casino. Not only does the restaurant offer views of the Balloon Glows during Balloon Fiesta, but you also will be hard pressed to find a better view of the Sandia Mountains at sunset. Don't forget to stick around to see the post-Glow fireworks show!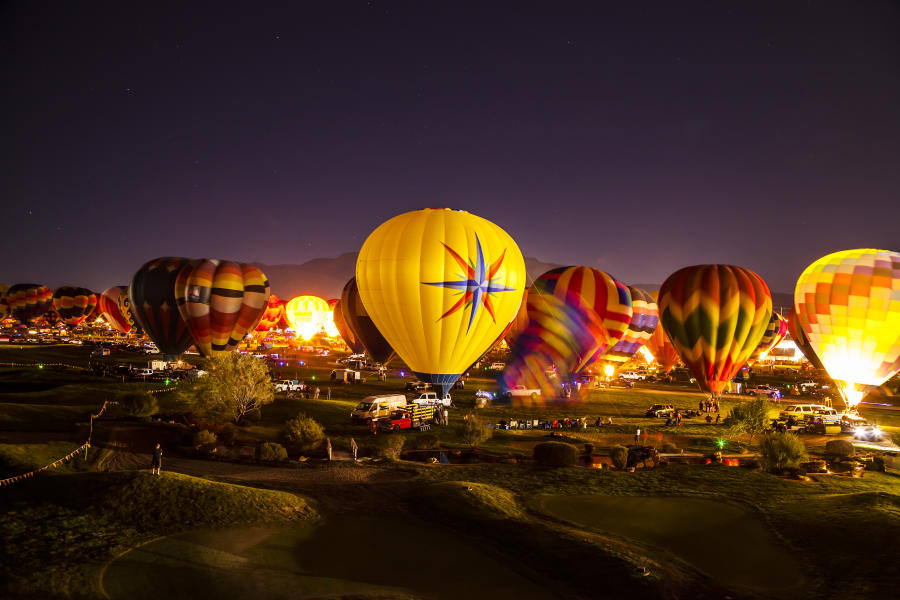 7. From a Park
Head to North Domingo Baca Park off Paseo Del Norte Blvd. and Alameda Blvd. for a great view of the morning mass ascension as the hundreds of balloons fill the sky. Bring along some hot chocolate and a breakfast burrito, and you'll have yourself a perfect picnic with a breathtaking view. For a chance to watch balloons land, head to Vista Del Norte Park off Osuna Rd., a popular landing spot, but stay out of the way of chase crews!
8. From Your Car
If parking your car and simply taking in a moment of awe is more your speed, you'll find the best off-site viewing locations west of Jefferson St., between Osuna Rd. and Paseo Del Norte Blvd.; or off the Pan American Frontage Road (off I-25 N), between Paseo Del Norte and Alameda Blvds. If you find a spot in any of these areas with a good line of sight, you'll catch a great view of the balloons rising above the city. If you choose to view from your car, you must pull into a parking lot and park your vehicle; stopping along the shoulder of a road is not permitted. Never let yourself get distracted by the beauty of the balloon-filled sky while driving.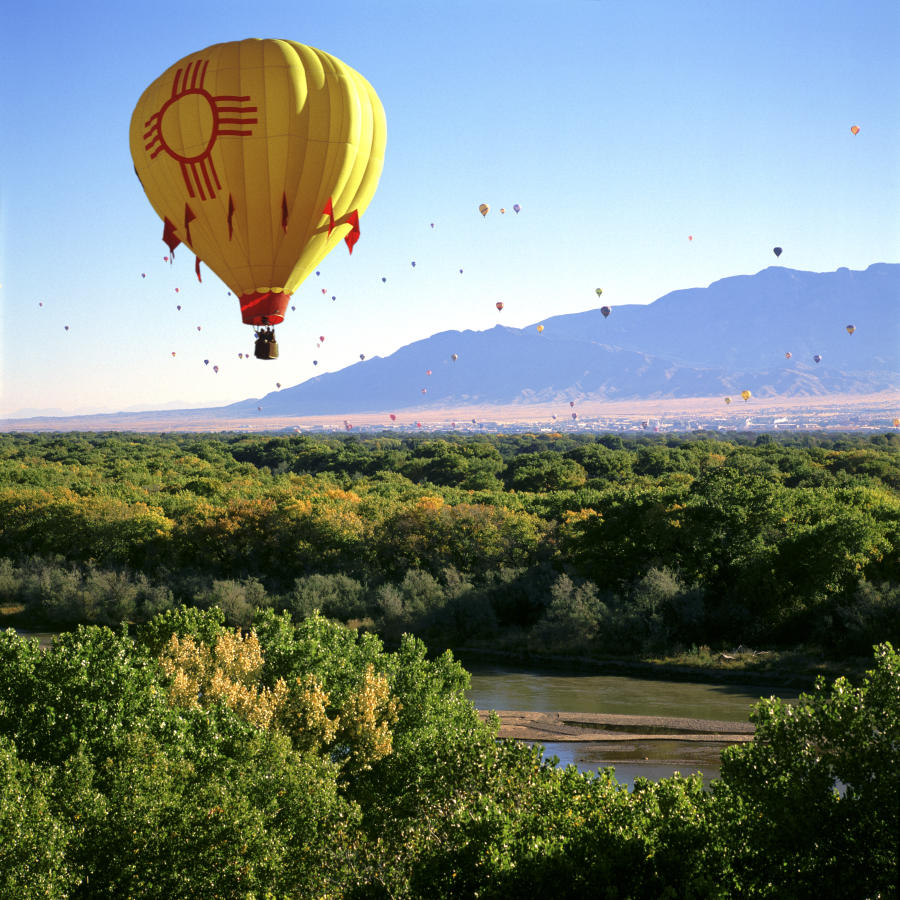 Learn more about Balloon Fiesta, find ticketing information and enjoy a virtual tour of the event here.