Albuquerque is known as the Flamenco Capital of North America and is home to the National Institute of Flamenco, which is devoted to preserving and promoting the art form, as well as the annual Festival Flamenco Alburquerque, the largest flamenco festival outside of Spain. With a rich history in the city dating back to the 19th century, attending a flamenco show is a must during any visit to Albuquerque. Two incredible venues that host flamenco performances on a regular basis are Tablao Flamenco inside Hotel Albuquerque and Casa Flamenca. I attended a show at each, and both were wonderful, unique experiences.
Casa Flamenca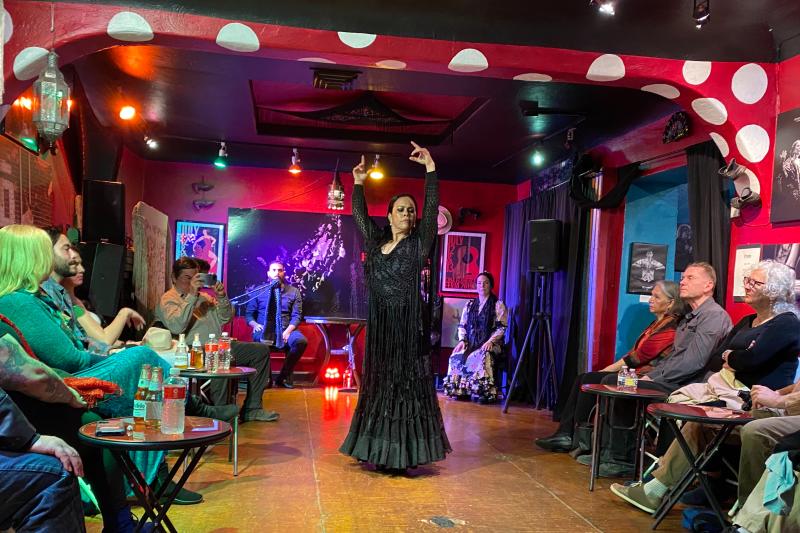 Casa Flamenca is located in a cozy house near historic Old Town, with artists in residence from Spain. With both an indoor and outdoor venue space, performances take place all weekend long during the summer. Casa Flamenca also hosts free family Sundays where families can learn about the basics of flamenco.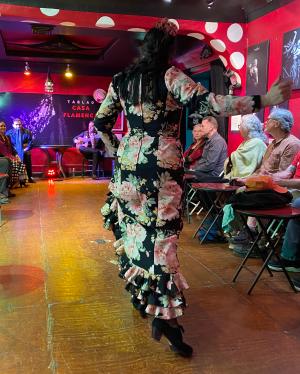 Since it was still a little chilly outdoors, the performance I attended took place inside. The intimate indoor space means the audience is right next to the performers. I had to move my feet a couple times to make sure I didn't accidentally trip any of the dancers! It was a stunning performance from the artists. One of the coolest things was feeling the floor vibrate while the dancers performed. I got chills multiple times because the performance was so powerful. It was also really fun to see the guitarist and singer play with each other and build off each other's energy.
There was a short intermission when audience members could walk around, browse the front shop and purchase a selection of beverages before the performance continued. Overall it was a fantastic experience. Watching a flamenco show sounds like a great way to spend a hot summer night, and I'm looking forward to returning.
Tablao Flamenco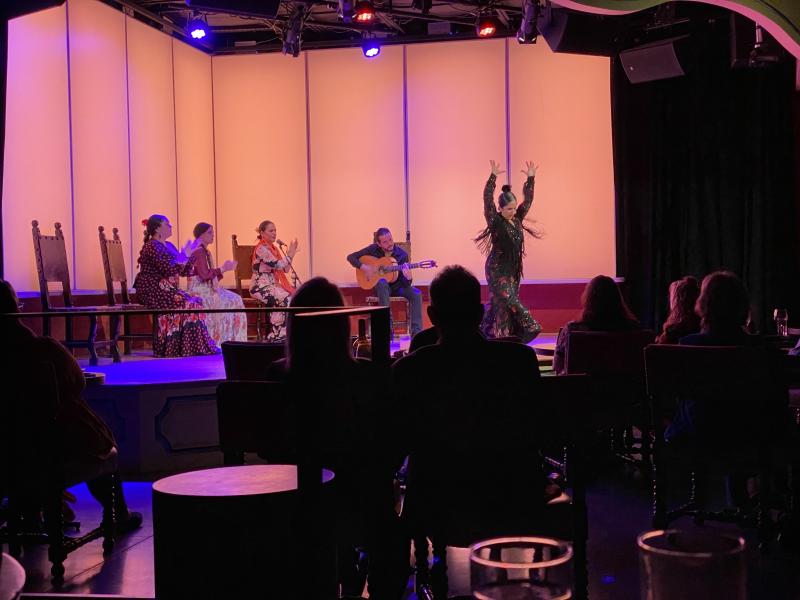 Tablao Flamenco hosts performances every weekend in its theater inside Hotel Albuquerque. Sunday matinee shows are less expensive than Friday and Saturday evening performances, which include a delicious dinner created by Hotel Albuquerque's chef.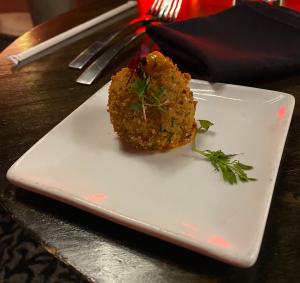 I attended on a Saturday night, so I got to indulge in the incredible meal beforehand. I was thrilled to find out how accommodating they were for vegetarians and vegans. The non-vegetarian entree was pork tenderloin, and the vegetarian option was cabbage steak with rice and grilled vegetables. The highlight of the meal was the appetizer, an aged manchego croquette. It's hard to go wrong with melted cheese, and this croquette did everything right. You can also enjoy a selection of wine and spirits.
The flamenco performance started about an hour after dinner was served. Some of the world's best flamenco dancers perform here, and their artistry is stunning. The musicians and dancers improvise every performance, so no two shows are the same. The performers are energetic and electrifying. The small space at Tablao Flamenco means there isn't a bad seat in the house. No matter where you are seated, it's easy to get caught up in the passion and beauty of flamenco.