Albuquerque is home to the Albuquerque Isotopes, a minor league baseball team. The name comes from an episode of "The Simpsons" where Homer tries to prevent his local baseball team, the Springfield Isotopes, from relocating to Albuquerque. The Albuquerque Isotopes are the minor league affiliate of the Colorado Rockies. The team is celebrating its 20th season in the city in 2023, and its games are now a staple for visitors and locals alike. Attending a game is one of the best ways to spend a warm summer evening.
About the Albuquerque Isotopes & What to Expect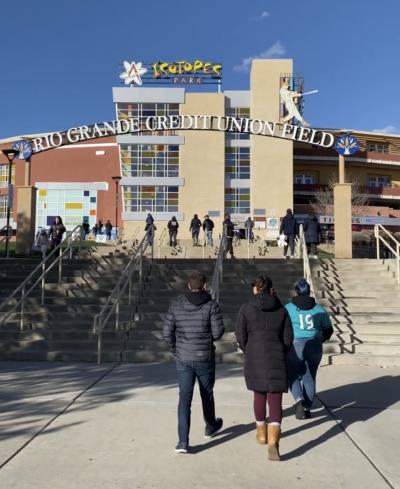 The Albuquerque Isotopes, who play at Rio Grande Credit Union Field at Isotopes Park, offer promotional giveaways at many games throughout the season. During the game I attended, the first few thousand fans received a cozy fleece blanket that my cat especially appreciated after I brought it home. After getting inside, we headed to our seats behind the Isotopes' dugout. It was a lot of fun to sit near the team and cheer them on between innings. The crowd erupted each time a player got a hit or scored on a run, and home runs were greeted with standing ovations.
Food Vendors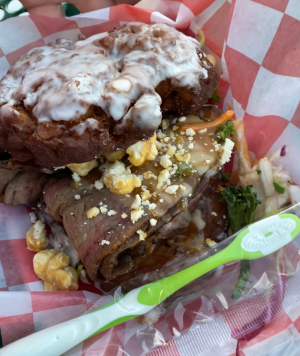 Aside from the game, everyone's favorite part of any baseball game is the food. There are a lot of new, delicious options for the 2023 season. The Dentist's Delight comes with a toothbrush and features brisket topped with apple coleslaw wedged between two apple fritters, and finished off with caramel popcorn. This ended up being pretty tasty, albeit hard to eat. Another new menu item, Pig Candy, is a twist on chicharrónes, with fried pork ends candied in maple syrup and sprinkled with red chile flakes. It's hard to say what was better: the food, or the Isotopes souvenir helmet it was served in. You can't go wrong with some baseball classics as well. You'll find everything from hotdogs and hamburgers to peanuts and popcorn to slices of pizza from local chain Dion's. For dessert, funnel cakes, donuts and ice cream complete an indulgent night at the ballpark.
Between-Inning Entertainment
Baseball traditions live on at Isotopes games, including singing "Take Me Out to the Ballgame" during the seventh-inning stretch and "Sweet Caroline" during the opposing team's first pitching change. Some traditions are unique to Albuquerque.One of the best parts about an Isotopes game is seeing the beloved mascot Orbit, who according to the Isotopes website is an unidentified creature.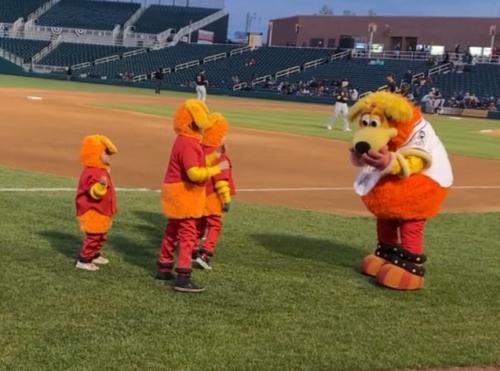 Fans are a little unsure exactly what Orbit is. Maybe part alien and part dog, maybe astro bear.
He comes out between innings to rally the crowd and give away free T-shirts. Orbit loves to show off his dance moves, and he often challenges security guards, kids and the grounds crew to a dance-off. Another between-inning highlight is the chile race, where people dressed in red chile, green chile, salsa and taco costumes run around the bases while fans cheer on their favorite.
Mariachis de Nuevo Mexico
Four times each season, the Isotopes transform into the Mariachis de Nuevo Mexico as part of Minor League Baseball's initiative celebrating Hispanic heritage and culture. The Mariachis games, which usually feature special entertainment and giveaways, always draw some of the largest crowds of the season. 
If it's particularly hot out and you're in need of some air conditioning (or just want to check out some cool clothes), head inside to the Isotopes Pro Shop. There you'll find shirts and hats to fit any style. You can also purchase special Mariachis merchandise.
Albuquerque Isotopes Schedule
The Albuquerque Isotopes play games in April through September. Many games include promotional giveaways. There are fun theme nights throughout the year and special postgame firework shows. View the Isotopes schedule for a full list of promotions.
Overall, attending an Albuquerque Isotopes game is a thrilling experience perfect for a fun family outing or to go with your friends. Put it on your summer bucket list today!