Albuquerque's layers of history make it a unique place to see historical landmarks, haunted and unhaunted. There are said to be numerous paranormal hot spots around the city, each with its own distinctive tales and ghostly characters. From hotels to iconic restaurants, there's a chance you may encounter a spirit or two.
KiMo Theatre
A notable Downtown landmark, the KiMo Theatre is said to be home to the spirit of 6-year-old Bobby Darnall Jr. In 1951, a water heater exploded in the theater, injuring a small group and killing young Bobby. It is believed that his spirit haunts the theatre, especially near the stage area, by messing with the electrical power and leaving or dropping things on the stage to distract performers. Over the years the theatre staff have come to realize that if the performers in a show do not leave a gift for Bobby, they might fall victim to his various practical jokes. To this day, it's not uncommon for actors and theatre troupes to leave a gift or two ranging from toys to candy.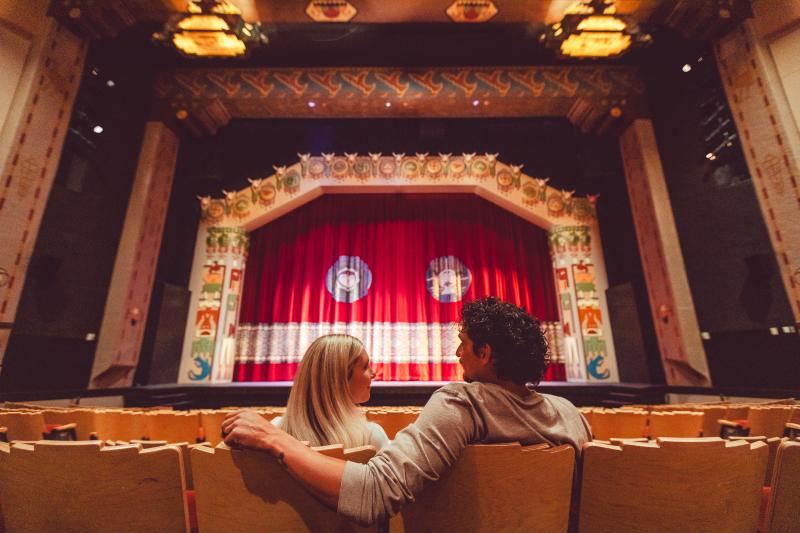 Albuquerque Little Theatre
Known by the Albuquerque Little Theatre community as "Manny," Manuel Jaramillo is known as one of the nicest ghosts around and was once the caretaker of the theatre. Crew members and staff believe he still keeps an eye on the building, as many have heard doors opening and closing on their own and can feel the lingering presence of Manny as he walks throughout the hallways.
Hotel Andaluz
Known as one of the most sustainable historic hotels in the nation, Hotel Andaluz offers a taste of southern Spain in downtown Albuquerque. The luxury hotel features a variety of high-end amenities ... and ghosts. Several spirits are rumored to roam the hotel, including a female apparition in 1940s clothing who nervously walks about on the seventh floor. There are also reports of an older woman who wanders the fourth floor in an old-fashioned pink dress. Guests report seeing her appear and then disappear around sundown.  
Haunted Historic Old Town
Albuquerque's Historic Old Town was established in 1706 and is filled with quaint adobe buildings, charm and sometimes the ghosts of occupants and visitors past. 
High Noon Restaurant & Saloon
Constructed in the 1750s and once a brothel, High Noon Restaurant & Saloon is now best known for its steaks, local cuisine and the Lady in the White Dress who is sometimes seen in the restaurant's Santos Room. There are also reports of a variety of unexplained sounds heard in the restaurant, and bartenders have seen glasses sliding across the bar and floating through the air at night. 
Image Source: Facebook 
Church Street Café
Local favorite Church Street Café was built in the early 1700s by the Ruiz family, which owned the 18-room hacienda for nearly 200 years. It wasn't until the final Ruiz family member, Rufina G. Ruiz, passed away in 1991 when a few spooky things began to occur. When current owner Marie Coleman purchased the property and began renovating the building as a restaurant, she began hearing a disembodied voice scream at her to get rid of the contractor, and items would be found in disarray. It was determined that the voice was that of Rufina's mother, Sara Ruiz. Employees over the years have seen the image of a woman in a long black dress disappear in the dining room after hours, and customers have reported feeling her presence as well.
Painted Lady Bed & Brew
A twist on the traditional B&B concept, Painted Lady Bed & Brew is a 19th century former brothel and saloon and the first of its kind in New Mexico, adding to only a handful of unique bed and brew establishments in the country. Completely overhauled in 2015 with the hopes of bringing people together over a beer, the property is also said to be haunted. From an unknown female spirit to a beer-drinking spirit, the bed and brew seems to be a hot spot for paranormal activity.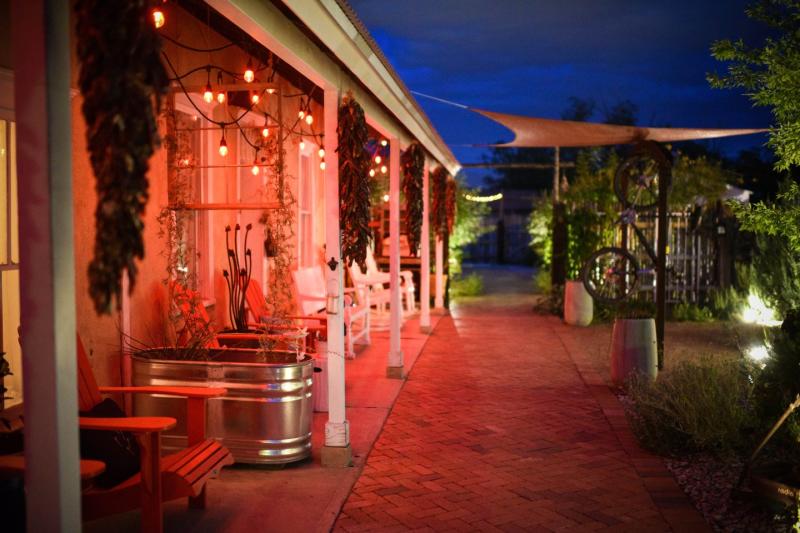 Chapel of Our Lady of Guadalupe
The Lady in Black is said to haunt the Chapel of Our Lady of Guadalupe in Historic Old Town, and some believe her to be the scariest ghost in Albuquerque. She appears in the chapel from nowhere and sits on a bench, dressed all in black. Those who have seen her say that she prays, meditates and sometimes sobs.
Arroyos
The Spirit of La Llorona, Spanish for weeping woman, is an urban legend known throughout the Southwest. La Llorona is said to wander along arroyos, ditches and other bodies of water in a long white gown, forever weeping as she searches for her children she drowned long ago. The legend is often told to children by their parents in order to get them to behave and to not wander off after dark.
Haunted Hill
Located at the eastern end of Menaul Boulevard in the foothills, this spot is where visitors have allegedly heard the sounds of screaming, phantom footsteps and bodies being dragged. According to the legend, a recluse who lived in a cave nearby would lure and murder victims here. Other reports tell of the apparition of an old man walking and the swinging of a lantern by unseen hands.