Albuquerque is a palimpsest of a city, with layers of history one atop the other, their vestiges quietly lingering amid our modern edifices. From Wild West shop signs to 21st-century street murals to centuries-old petroglyphs, our city mixes the old and new and older in complex ways.
Not everything from the past gets left there. That's true of our buildings and artifacts, and it may just be true of our people, too! Some of Albuquerque's citizens may have liked it so much here that they decided to stick around--even after they died.
To learn about Albuquerque's storied hauntedness, we spoke to Blake Starr of Albucreepy Downtown Ghost Walk, a popular local ghost tour. Mixing fascinating local history, stories that can't quite be explained and accounts of ghost hunting that will astonish even total skeptics--Blake and co-host Jordan Jonas are also professional ghost hunters--Albucreepy isn't just for horror-movie fans. It's a unique opportunity to see the city in a new (dark) light, taking you behind the scenes of some of Albuquerque's key monuments.
Spooky tours are also hosted by History & Ghost Tours of Old Town, providing the chance to learn about the history--both paranormal and proven--of the historic Old Town neighborhood, where Albuquerque was officially founded in 1706.
To explore some of Albuquerque's legendary haunts for yourself, try out ABQ Trolley Co.'s Trolley of Terror Tour… if you dare! Bring your own flashlight and paranormal investigating equipment will be provided for you as you hop on and off the trolley at each haunted location.
For a less spooky experience, put on your best costume and hop on the Halloween Pub Crawl trolley tour – a 3.5-hour experience, stopping at eight of Albuquerque's popular breweries. Don't miss out on special fall brews that are perfect for setting the Halloween mood. Prizes are awarded for the best costumes and trolley riders enjoy exclusive discounts at each of the breweries!
Below are a list of Albuquerque's ghoulish residents to keep an eye out for while exploring the spooky side of the Duke City:
5 of Albuquerque's Famous Ghosts
Bobby Darnall. Downtown's Kimo Theatre celebrates 90 years this year, and for most of its history, a little boy has allegedly haunted its interior. Six-year-old Bobby Darnall and his family visited the Kimo for a screening of an Abbott and Costello movie in 1951. When a water heater exploded in the lobby, it killed the boy. Bobby's ghost loves gifts of donuts; he doesn't love when they're taken away, as some of the Kimo's performers found out the hard way when their show was plagued by exploding lightbulbs and forgotten lines. A shrine to Bobby in the back of the building has odds and ends such as ballet shoes and toys. 
The Lady in Black is said to haunt the Chapel of Our Lady of Guadalupe in Old Town. Blake says she may well be the scariest ghost in Albuquerque. She appears in the chapel from nowhere and sits on a bench, dressed all in black. She prays and meditates; sometimes she sobs. Paranormal investigators have possible audio and photographic evidence--with EVPs (electronic voice phenomena) and orbs respectively--of the Lady in Black's ethereal presence.
The Albuquerque Press Club, built in 1903 as a family residence and today a member-owned private club with "a great spirit" according to its website, has a gin-loving ghost. According to the Alibi, Mrs. M. came to Albuquerque in 1916 as a caregiver for tuberculosis patients, and by 1920 she was calling the Press Club building her home (and bathtub gin distillery during Prohibition). After her death, whenever Press Club bartenders left a shot of gin at the end of the bar at closing time, they would return the next day to find an empty glass.
Lizzie McGrath was, according to Blake, such a successful madam that at the height of her career, she was the richest woman in New Mexico. She ruled Albuquerque's red light district for about 40 years after opening her brothel in 1885. Her ghost was believed to haunt the restaurant named after her, McGrath's Bar and Grill, formerly at The Clyde Hotel and across the street from her brothel's address. When McGrath's closed up shop in 2011, the hotel's employees staged a mock memorial service that honored both the restaurant and its ghostly presence. (Today The Clyde has Carrie's Restaurant, which has had no ghost sightings we've heard of.)
Two of Albuquerque's ghosts have specific targets: women in bathrooms. Entrepreneur Frank Bond, who founded the Wool Warehouse Company, is said to spend time at the theater of the Wool Warehouse (built 1928-29), chatting up the ladies in the audience. Someone, possibly his wife, doesn't take well to Frank's flirtations and supposedly likes to lock women in the bathroom. A ghost is also believed to haunt the women's restroom at the High Noon Saloon in Old Town, which is housed in a building dating to 1785.
There are many reports of other ghosts, from courthouse-jail prisoners to the ghost of Josefita at the Luna-Otero Mansion in Los Lunas, just south of Albuquerque. New Mexico also has an incredibly rich folklore, including the La Llorona ("The Weeping Woman") folk legend, which tells of a beautiful woman who, distraught after her husband deceives her, throws her two children into the river. She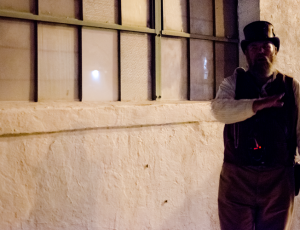 realizes what she's done, and ever since, she has wandered along riverbanks, wailing and looking for her children. (Many iterations of the legend abound.)
To learn more about haunted Albuquerque, we encourage you to join a tour. You will learn so much about the history and culture that make Albuquerque unlike anywhere else in the world.
Many thanks to Albucreepy for all your help with researching the mysterious side of Albuquerque!