Farm & Table's mission is simple: bringing locally grown and sourced food to the people of Albuquerque. Leading the charge is the restaurant's executive chef, Jens Smith. Raised in northern New Mexico, he has always felt comfortable in the kitchen. His father often cooked during the week, experimenting with different foods, and Chef Jens was always ready to taste and try it.
"I ate hollandaise when I was 8," Chef Jens said. "I didn't like it, but I got exposed that way."
As a young adult, Chef Jens began attending UNM, but ultimately decided college wasn't for him. He started working as a line cook at Coaches Sports Bar.
"I started learning what it was like to be in a kitchen and I kind of knew from day one that I wanted to be in a kitchen," Chef Jens said.
After culinary school in Switzerland, a stint in New York City and then returning to Switzerland to finish his schooling, Chef Jens landed back in New Mexico. Following a few different projects and ventures, he wound up the brunch sous chef at Farm & Table, and eventually became the executive chef.
"It's a restaurant in my home state doing what I want to do, so let me just keep pushing there," Chef Jens said.
Farm & Table opened in 2012 serving locally-sourced American cuisine. The on-site farm is currently being turned into a permaculture farm, which is a farm that works with the natural ecosystem to produce more crops. Up to 80% of the menu is sourced from local farmers and other producers. Its menu depends on what's in season and available, something that Chef Jens says helps with his creativity.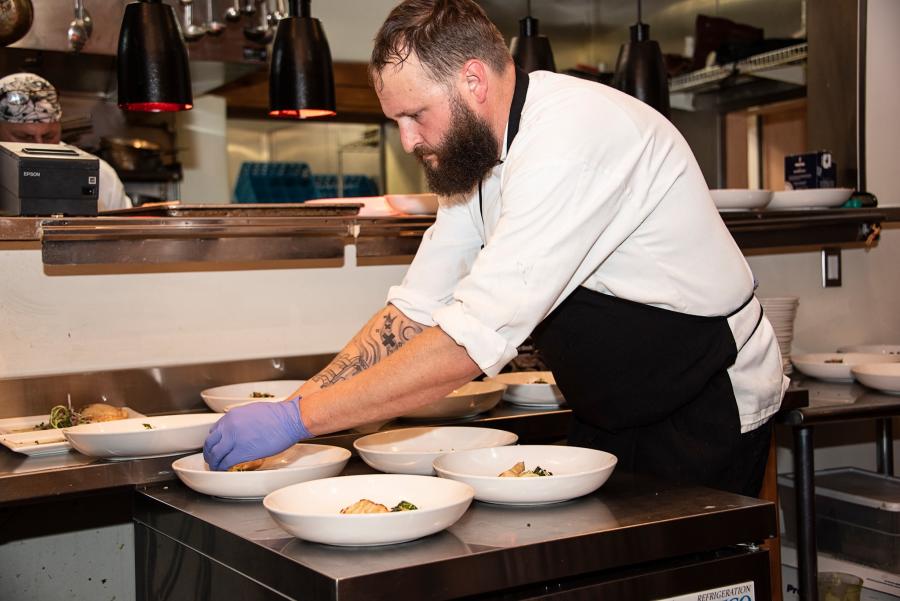 Image Credit: Facebook
"I find it's a lot harder to be creative when you're sort of given this open-ended thing like, 'Hey, make something.' And it's like, 'Well, about what? With what parameters?'" he said.
The more frustrating part for Chef Jens is preparing for the low season. It's one of the goals of Farm & Table to be able to "run in the winter with all local stuff that was preserved at the height of the season." It's something on Chef Jens's mind.
"I'm trying to do as much forward thinking as possible to be like, 'Well, I'm going to make all that into a jam, I'm going to make all that into a pickle and preserve all this,'" Chef Jens said.
One of the dishes that's in season now is the Heirloom Tomato Salad. Fried green tomatoes, heirloom and cherry tomatoes, whipped feta and pistachios two ways make up this delicious, fresh dish. With his creativity, it's not surprising that Chef Jens was recently named the best chef in the Albuquerque Journal's Readers' Choice Awards.
"I'm definitely humbled and appreciative," Chef Jens said. "I couldn't have done it without my team…if I didn't have my dishwashers, we wouldn't function. If I didn't have my garde manger cooks or my prep cooks or my sous chefs, we wouldn't function."
As long as he's spreading Farm & Table's message about farm-to-table food, he's happy.