With 310 days of sunshine, beautiful high desert landscapes and relatively mild winters, Albuquerque is truly a cyclist's mecca. Did you know Albuquerque has more park/open space than any city in the United States per capita, and over 400 miles of dedicated bicycle paths, trails and lanes to explore?
Your day's journey might take you from the banks of the Rio Grande, up into the foothills of the Sandia Mountains for a spectacular view, and then back down again across volcanic mesas on your way to Petroglyph National Monument – or from historic Old Town (established ca. 1706) up Route 66 to the vibrant Nob Hill neighborhood, and then out across urban landscapes to experience our city's burgeoning craft brewery scene! The possibilities for cycling in Albuquerque are endless.
We've put together a quick guide to a few of our favorite bike trails and associated activities for your enjoyment; you can also find a full city bike trail map online here.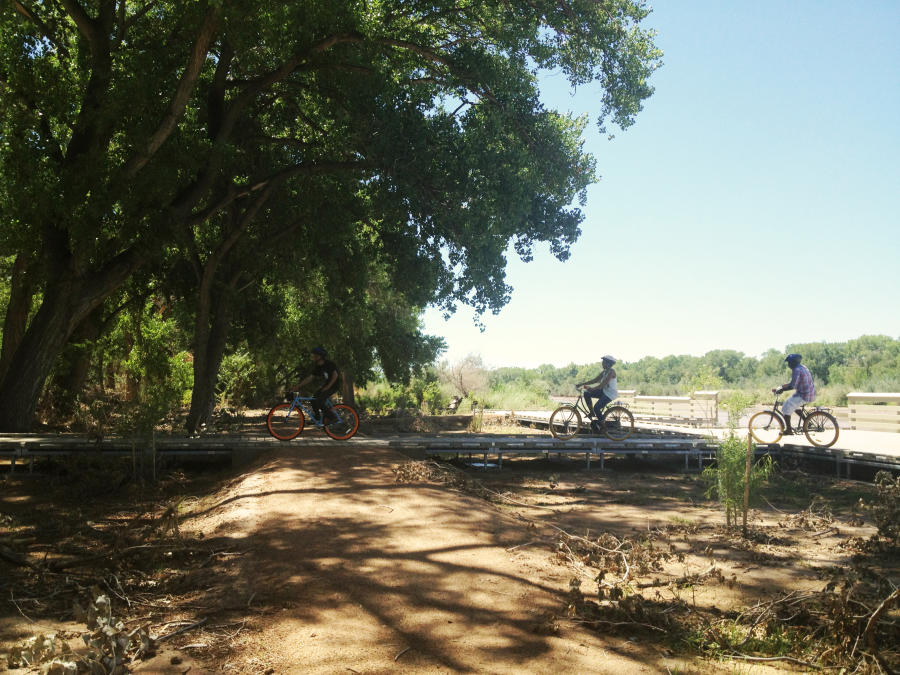 Image Source: Routes Bicycle Tours & Rentals
Paseo del Bosque Bike Trail
The 16-mile Paseo del Bosque Path is a highlight and connects cyclists to some of Albuquerque's most scenic, fun and interesting areas. This path stretches north-south through a state park (the "Bosque," or woodlands) along the Rio Grande, a beautiful area that features abundant wildlife and mature cottonwood trees. Highlights along the way include Los Poblanos Historic Inn & Organic Farm, the Rio Grande Nature Center State Park, The ABQ BioPark Zoo, Botanic Garden and Tingley Beach, Bike In Coffee, Sheehan Winery and the National Hispanic Cultural Center. You can also rent a bicycle or choose to take a guided tour with Routes Bicycle Tours of NM in nearby Old Town!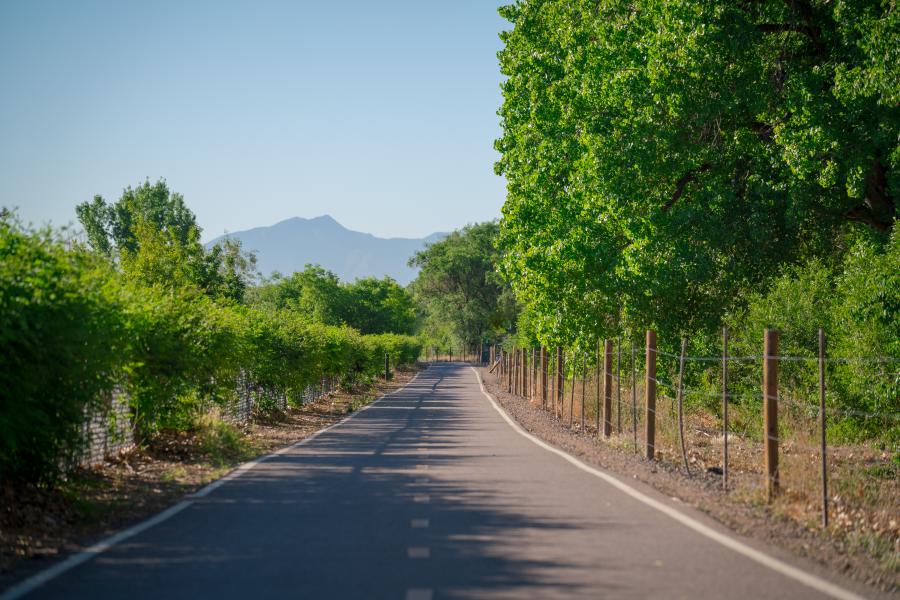 North Diversion Channel Trail
This urban trail connects north-south from Nob Hill and the University of New Mexico (UNM) to Balloon Fiesta Park (yes – riding a bike is an AWESOME way to get to the Fiesta!). This trail has a good amount of elevation over the Rio Grande Valley and offers expansive views. It also offers easy access to Albuquerque's new Brewery District area (check out Canteen Brewhouse, La Cumbre Brewing Co. and Left Turn Distilling), Green Jeans Farmery, Vara Winery, and Tin Can Alley.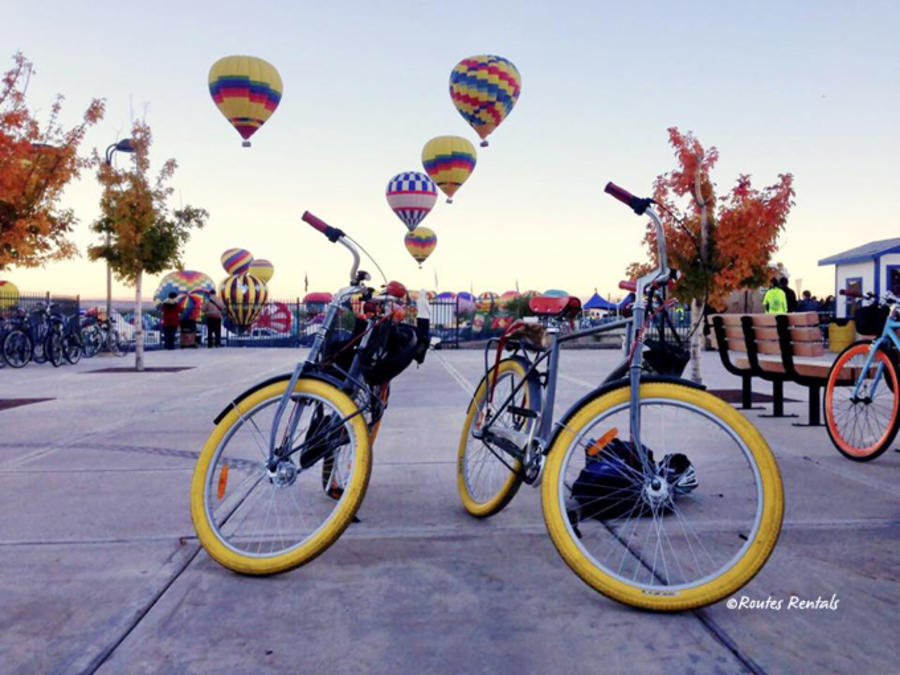 Image Source: Routes Bicycle Tours & Rentals
Tramway Bike Trail
This trail stretches across the foothills of the Sandia Mountains and its elevation above the city offers amazing panoramic views of the mountains, sunsets and surrounding desert. Tramway Blvd. features both a dedicated, off-street bike trail and on-street bike lanes for road cyclists. Use this trail to connect to attractions like the famous Sandia Peak Tramway, County Line BBQ, Boxing Bear Taproom and Elena Gallegos Open Space (great for mountain biking or hiking)!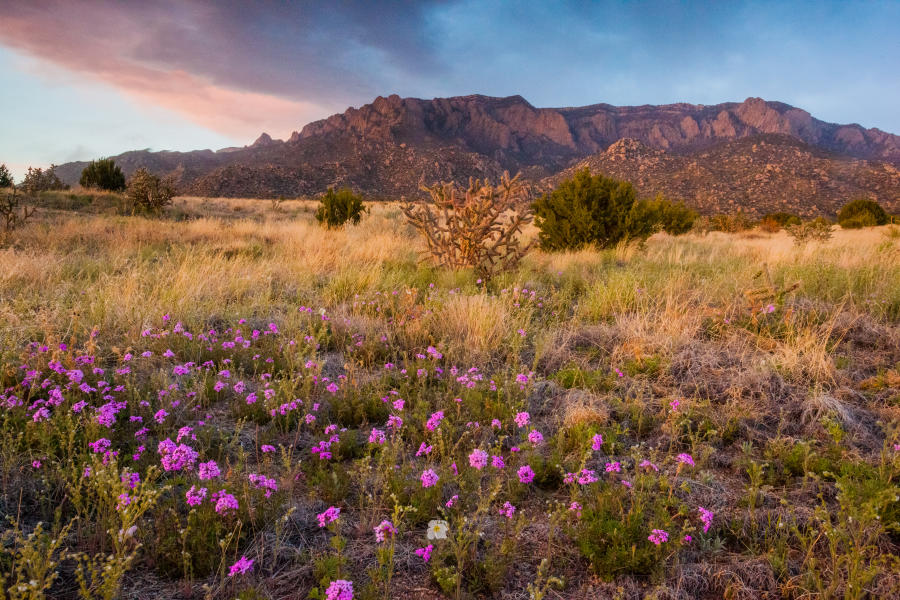 50 Mile Loop
For those who want a longer journey, ABQ is developing a designated a route known as the 50 Mile Loop that connects three north-south trails (and more!) via east-west bicycle paths and lanes. The loop is shown on the city's bike trail map and is also marked by new trail signs along the way. It's an excellent way to spend your day cycling!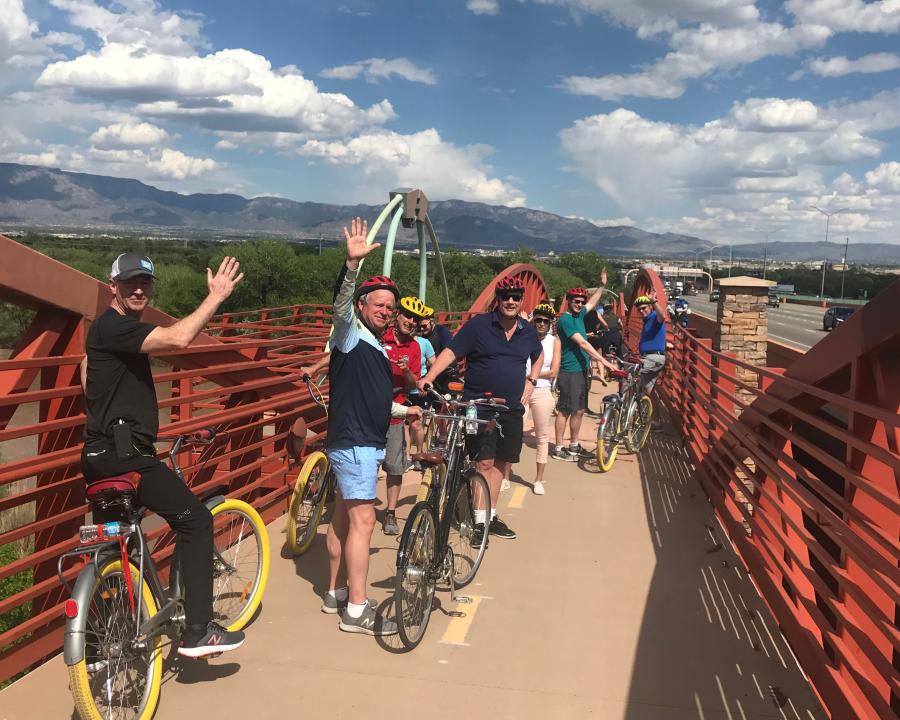 Image Source: Routes Bicycle Tours & Rentals