With 310 days of sunshine, it's no surprise that Albuquerque establishments have prioritized patios in their quest for the perfect dining and drinking atmosphere. Wineries, breweries, restaurants and motels alike all showcase Albuquerque's big blue sky and sunny disposition in their own unique way. When deciding on the locale of your next food and drink quest, consider these top spots for the ideal patios in ABQ. 
Marble Brewery
As one of the city's most well-known and beloved breweries, both the Downtown and Heights tap room locations offer patios perfect for any day-drinker. The Downtown location offers both an upper and lower level patio with an iconic mural-clad stage downstairs that is always featuring the city's top-notch local musicians and bands. Did we mention that dogs are welcome at both tap rooms? Additionally many of the city's favorite food trucks make their rounds regularly at the Marble patios and compliment the beer perfectly.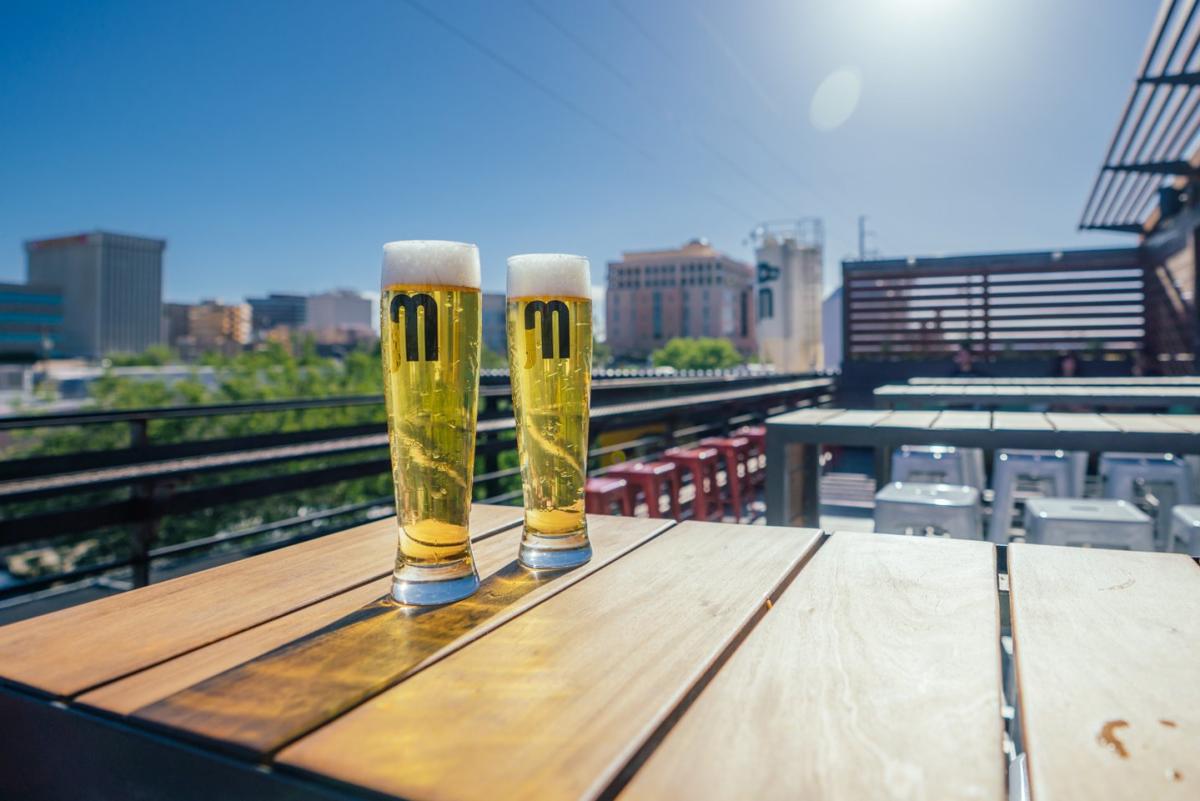 Image Source: Dirt Road Travels 
Bosque Brewing North
If you're looking for the perfect view of the entire Sandia Mountain range, look no further. This patio features gorgeous mountain views, the Rio Grande running alongside, and some of the best craft beer in the city. Order the fish and chips and a cold glass of the deeply pink-hued Elephants on Parade beer for a dining and drinking experience to remember.
El Vado ABQ
This old Route 66 motel recently got the facelift of the century! While still staying true to that classic Route 66 vibe, the newly-renovated motel now includes a hip and comfortable tap room, shops featuring local vendors, trendy food court, water feature and a gorgeous patio to tie it all together. Photos from this stunning patio are definitely going to up your Instagram following.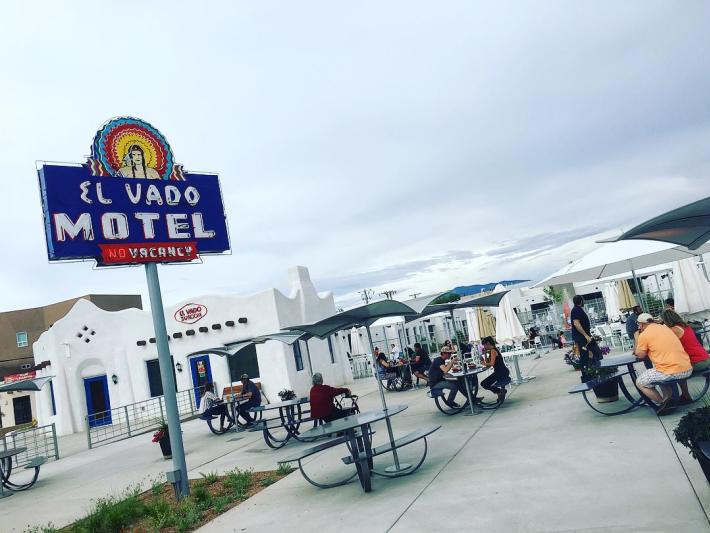 Image Source: El Vado
Gecko's
Two words come to mind when describing Gecko's patio - local favorite. Residing in the heart of Nob Hill in a small roundabout shopping center, Gecko's dishes up crave-able bar food, an honest drink, and the kind of patio that you could camp out on all day long. The friendly serving staff will also bring your patio pup a fresh bowl of water and a slice of crispy bacon! 
El Pinto Restaurant & Cantina
Relax and inhale tranquility and the smell of freshly growing honeysuckle on one of Albuquerque's largest and most well-known patios. This cantina brings both visitors and locals into several stunning, lush North Valley patios whilst serving up some of the city's best New Mexican food. The establishment used to be a private mansion and was converted into a restaurant years ago, allowing the public to enjoy this gorgeous property, both inside and out. Order the red chile rubbed rack of ribs, calabacitas, and a pitcher of margaritas - you'll never forget it.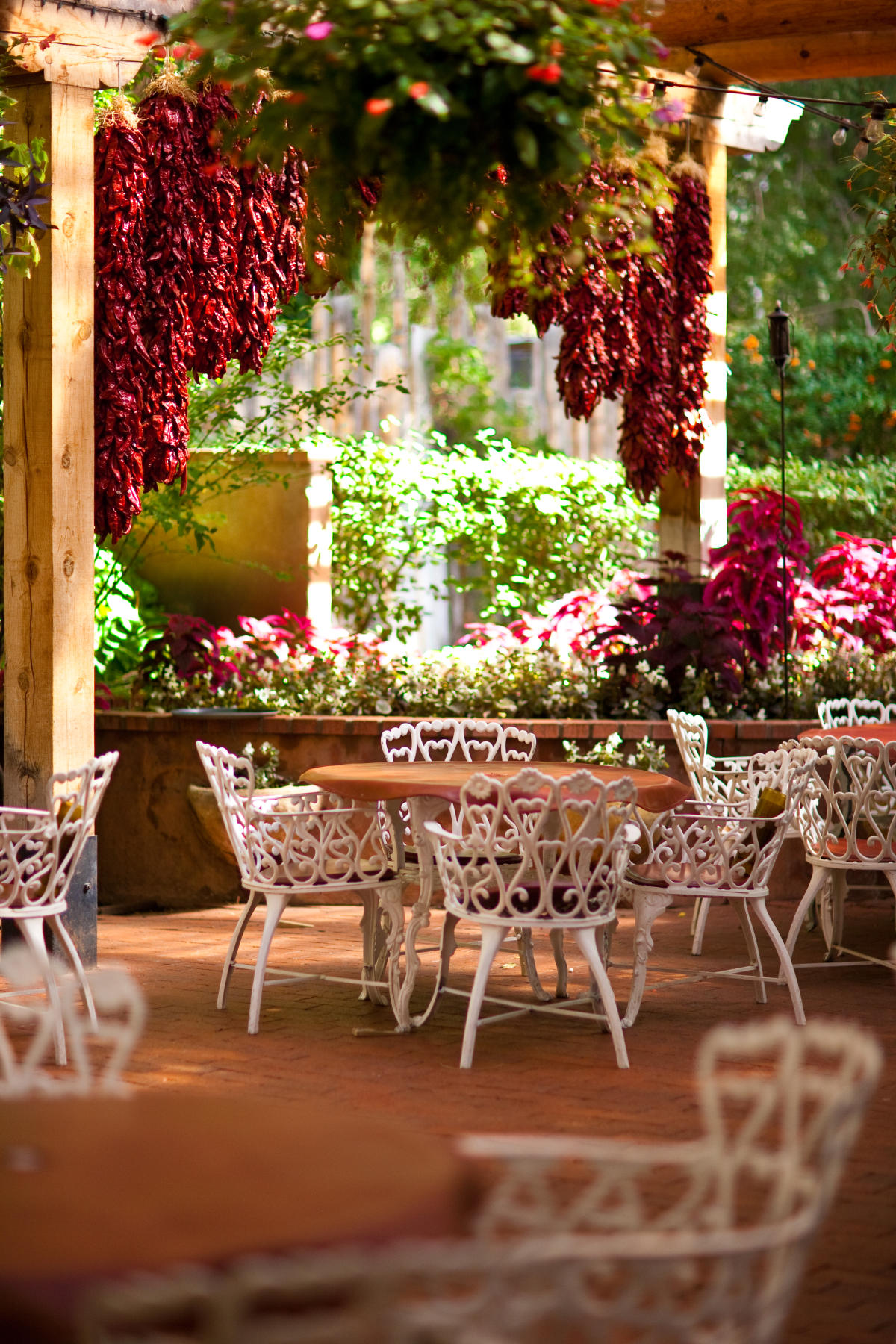 Image Source: El Pinto
Flying Star on Rio Grande Blvd.
This local staple has been around for over 30 years and has the loyal patronage to prove it. While each location of this local chain possesses a unique patio, this particular location touts one of the most captivating patios complete with fireplace and pergola. Sip on a perfectly-crafted latte and enjoy a slice of raspberry blackout cake for a perfect afternoon outside.
Casa Rondeña Winery
For those who prefer wine, but still seek a boast-worthy patio, Casa Rondeña Winery is your must-stop. String lights dance overhead as you sip on a glass of their chilled Viognier beside a beautiful, full-sized pond surrounded by aged Cottonwoods. The architecture of the winery itself is traditional Spanish-inspired and a number of grapes are grown right there on the property, only adding to the exquisite yet earthy ambiance.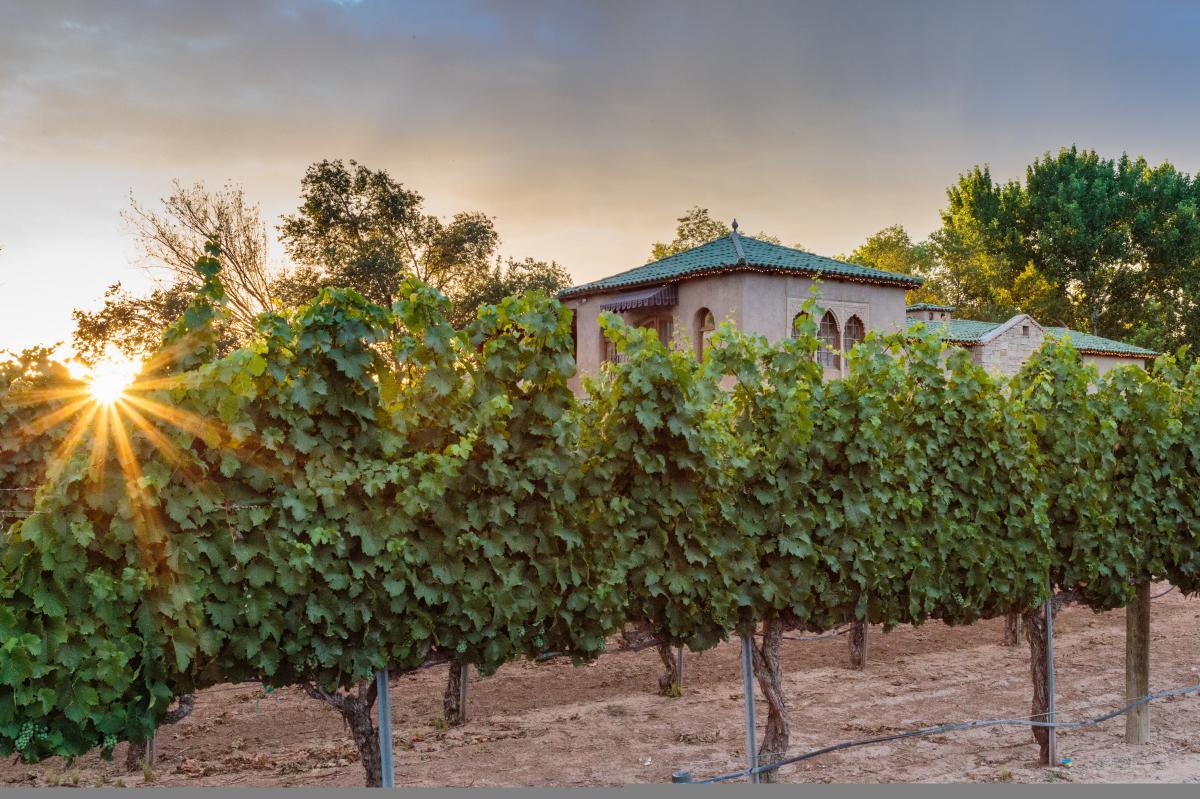 Image Source: Dirt Road Travels 
Steel Bender Brewyard
The most important part of this Albuquerque patio is that it's positioned at the perfect vantage point to enjoy the Albuquerque International Balloon Fiesta with a beer in hand. It's not often that you find a patio that brings over 500 hot air balloons into your lense with beer in hand, but this one does just that. And at 7:00am!
Sawmill Market 
New Mexico's newest food hall has gone outdoors and the experience is sure to be unique. Order a botanical cocktail, a plate of handmade, artisan pasta and a fancy waffle, and safely enjoy it all on their expansive outdoor patio as you soak up the beautiful Albuquerque sunshine!
Farm & Table
When the model is "farm-to-table" you know the restaurant is bound to have a breathtaking patio and Farm & Table is no exception. Sitting in Albuquerque's stunning North Valley, this outdoor dining experiences features the farmland that grew the produce on your plate along with a famous Albuquerque sunset. Come for brunch and mimosas on a Sunday morning or a date night evening with your special someone. Either way, this uniquely ABQ stop is one for the books.

Image Source: JAK Media
While there are so many incredible Albuquerque patios to choose from, your predicament of picking one actually becomes a "win-win" situation! With a backdrop as sensational as each of the city's one-of-a-kind neighborhoods, it's no surprise that every patio brings something special to the table - pun intended! Grab your sunnies, a smile, and enjoy the sunshine.