Travel has transformed in many ways since the pandemic: not only the frequency, or the style, but also the intention. More and more people are using travel as a tool toward self-actualization, and a way to heal from the demands of work, family and other stressors in their day-to-day lives. Wellness activities became a key factor in travelers choosing where to go and what to do.
Luckily for us, Albuquerque and the surrounding areas have always been a haven for health. With the dry climate, warm weather, focus on holistic health and abundance of outdoor activities, Albuquerque is the perfect place to plan your next wellness vacation. Here are some recommendations for a weekend of wellness to recharge, refresh and find peace. 
To Stay:

Los Poblanos
Los Poblanos Historic Inn and Organic Farm has always been known as a "getaway that isn't far away," with its location only 5 miles from Downtown Albuquerque. It boasts a sustainable lavender farm, an award-winning restaurant and a full-service spa. Take advantage of the Wellness Room Package, which includes a one-night stay at the Historic Inn, a $100 credit to the Hacienda Spa, brunch at the Campo restaurant, and yes, even yoga classes in a yurt.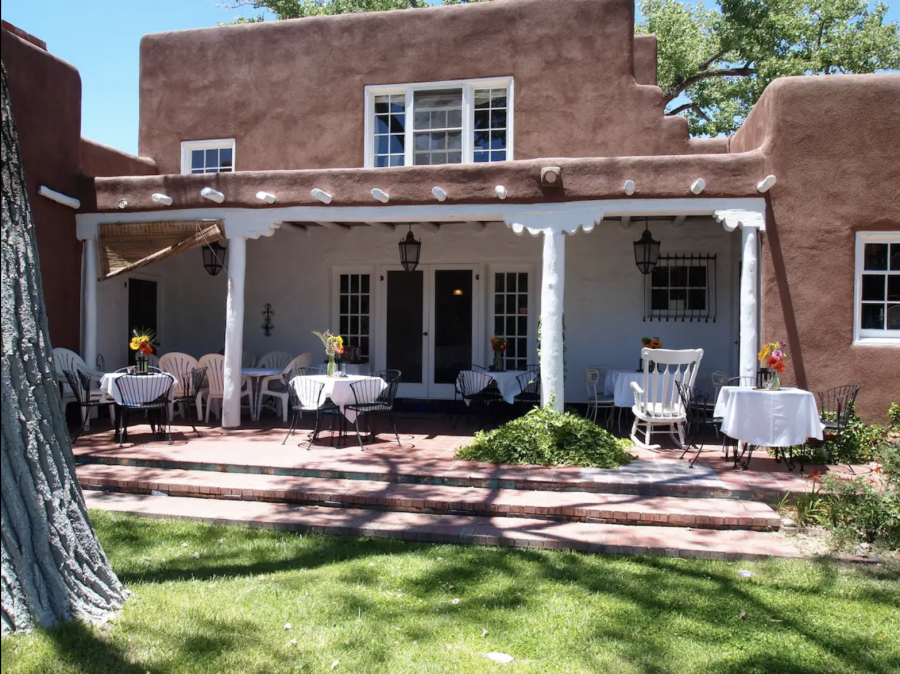 Image Source: Airbnb
Adobe Garden at Los Ranchos
This bed and breakfast, located in Los Ranchos de Albuquerque, is the perfect place to experience high-class New Mexican hospitality. Many guests repeat their stays due to the graciousness of the hosts. Being on the outskirts of Albuquerque, it is a perfect middle ground between all the offerings of the city and the slow quiet of a rural location. Adobe Garden is situated within walking distance of the historic Guadalupe Trail, perfect for morning strolls. The shaded courtyard and outdoor pool are a great way to spend hours relaxing.
Desert Harbor Retreat
Located in Sandia Park, about 40 miles northeast of Albuquerque, this secluded retreat center is perfect for people looking for a place to relax, become acquainted with nature, and see an incredible, unobstructed view of the New Mexico stars. Desert Harbor has one cabin available for lodging, so that when guests book their stay, they can be assured that they will be the only guests on the 34-acre estate. In addition to lodging, several amenities are included. Optional add-on experiences, such as massages, a private hot tub, spiritual direction sessions, and life coaching, are available to all patrons so that you may truly create the wellness retreat of your dreams.
To Eat: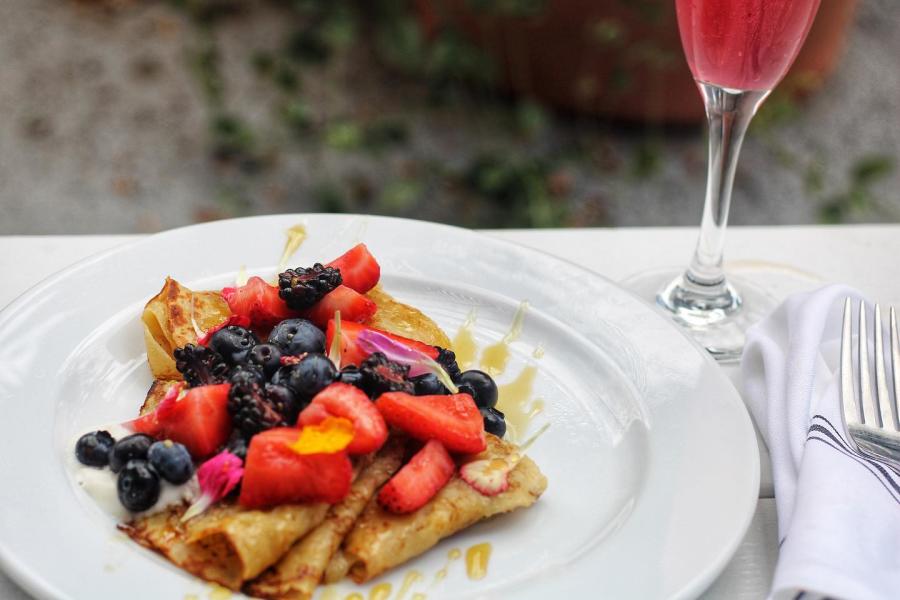 Image Source: Facebook
The Grove
Brunch, anyone? Dine like a local at this staple spot. You can't go wrong with anything on the menu, and many of the items are sourced from local farms. Some of the favorites are prosciutto and asparagus poached eggs, Grove pancakes and the golden milk latte. You might also be tempted to get one of their tasty handmade desserts, baked in-house, with a different selection every day. Sometimes, wellness means allowing yourself to indulge a bit.
Farm & Table
Farm & Table restaurant is perfect for the traveler that plans their trip around what local foods they want to try. As the name suggests, the restaurant sits on an expansive farm in Albuquerque's North Valley. It serves upscale American cuisine and its menu changes with the seasons to reflect what is growing in New Mexico at the time. This is especially important because 80% of the ingredients used in the restaurant's delicious dishes are sourced locally. 
Annapurna's World Vegetarian Cafe
Annapurna's World Vegetarian Cafe is so good, even non-vegetarian patrons sing its praises. The owner, Yashoda Naidoo, makes a commitment to serve "healing cuisine," that is free of complex processes. Their offerings are all made in the Ayurvedic tradition with fresh produce and organic ingredients and this really shines through in the flavor. The best part? You'll feel great after eating it. 
To Do: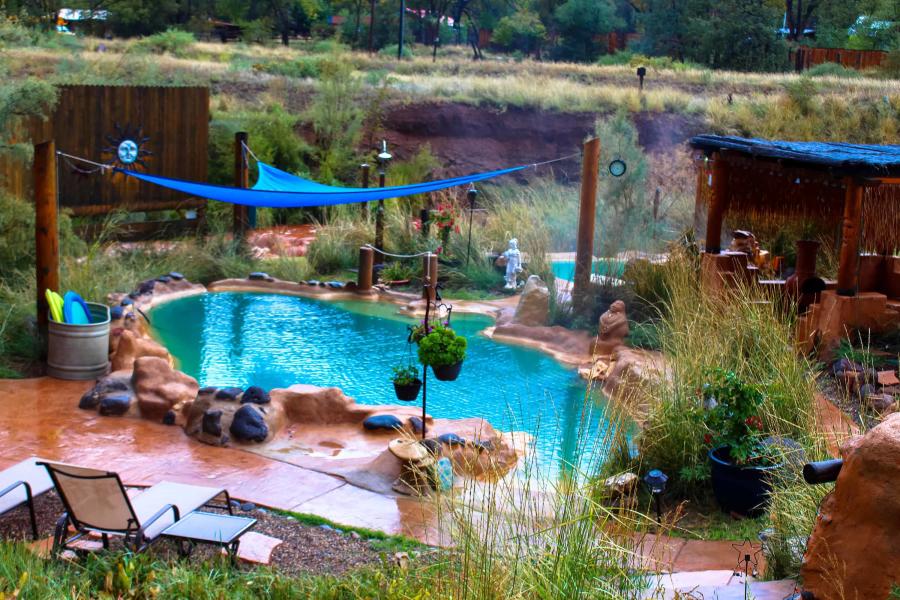 Image Source: Jemez Hot Springs
Jemez Springs
Located 60 miles north of Albuquerque, Jemez Springs is a hotspot for hot springs, and the perfect day trip. The drive from Albuquerque to Jemez Springs is nothing short of heavenly, with gorgeous views of incredible rock formations. Try soaking in the many tubs at the Jemez Hot Springs, right in the center of town, with temperatures ranging from 98-105 degrees Fahrenheit. For a more natural experience, check out the Spence Hot Springs. It's only a short hike to the springs, and you can access two pools and a cave with hot mineralized water bubbling out of the mountainside.
Image Source: Facebook
Betty's Day Spa
This spa is a full-service wellness center; offering hydrotherapy services, massages, facials and mind and body treatments. Think fuzzy robes and a day full of sweet, sweet relaxation. It truly is a choose-your-own-adventure experience. You can pick a single offering, like a private soak in one of their salt-water filtered tubs. Alternatively, you can choose different packages that include facials, massages, skin treatments and more. Betty's strives to use only natural and locally-sourced ingredients (if possible) in all their services.
Travertine Falls Trail
This quick and easy 1.5-mile trail (located east of Albuquerque, in the Sandia Mountains) is the perfect way to get your heart pumping, while being rewarded with incredible views the entire way. During the spring and part of the summer, you will even be able to see a small waterfall. You can continue your hike above the waterfall alongside running water while observing panoramic sights of the picturesque Sandias.