There are so many things to do in Albuquerque, sometimes it can be hard to pick! On our Instagram stories, we asked our followers to choose their own perfect day in Albuquerque. Here are some suggested itineraries based on their choices to help you craft your own Albuquerque adventure.
Wake Up Early or Stay Up Late?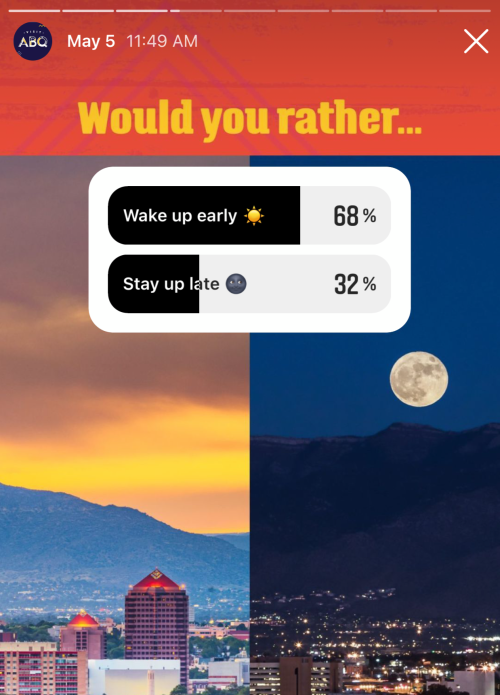 More than two-thirds of you said you preferred to wake up early. What better way to wake up than by going on a soaring hot air balloon ride with Rainbow Ryders or World Balloon? Get a brand-new view of the city from hundreds of feet up in the air. Once you're back on the ground, wake yourself up with a cup of coffee from one of the many local shops around the city. Humble Coffee is a great choice to unwind in the early morning. After getting your caffeine fix, head to The Grove Cafe & Market, Campo or another top brunch spot to grab some delicious food.
Active or Chill?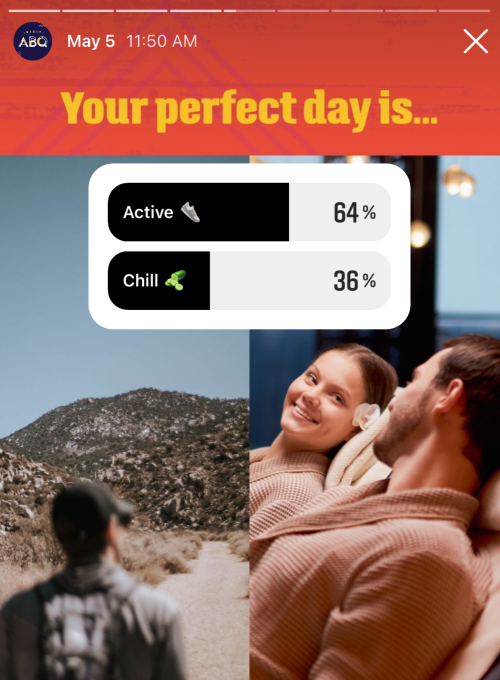 The majority of people picked spending an active day in Albuquerque. The Duke City is a great place to hike, with dozens of trails across the city to choose from. Head to the ABQ BioPark and take a stroll around the zoo, aquarium and botanic garden. Visit Routes Bicycle Tours & Rentals for a bike tour, or rent one and explore at your own pace. See the geography of the Rio Grande in a different way by taking a guided stand-up paddleboard trip with MST Adventures.
Appetizers or Desserts?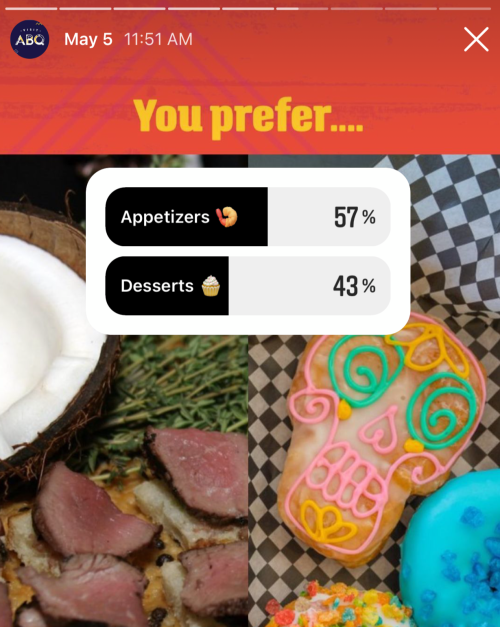 Appetizers won over desserts, and there are plenty of places to find delectable dishes to please your palate. Try Mediterranean-inspired tapas at Más Tapas y Vino in downtown Albuquerque. Choose from a variety of appetizers, including a guest-favorite charcuterie board at D.H. Lescombes Winery & Bistro. Nosh on a wide selection of appetizers from baked brie to spicy calamari at Sixty-Six Acres. Sip on a locally-distilled cocktail at Hollow Spirits while enjoying a shareable flatbread or a flight of French fries.
Art Gallery or Movie Location Tour?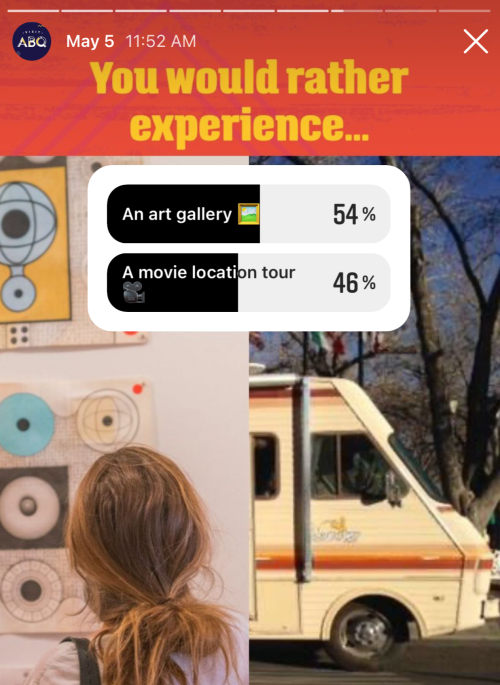 More people would rather visit an art gallery, and Historic Old Town is the perfect hub to find them! Yucca Art Gallery has contemporary and traditional art in a variety of mediums and jewelry. Land of Enchantment Photography Art Gallery specializes in landscape photography. Amapola Gallery houses the works of about 40 artists inspired by the southwest. Lapis Room is a contemporary art gallery with works from local New Mexicans and those influenced by the region.
Small Stage or Large Stage?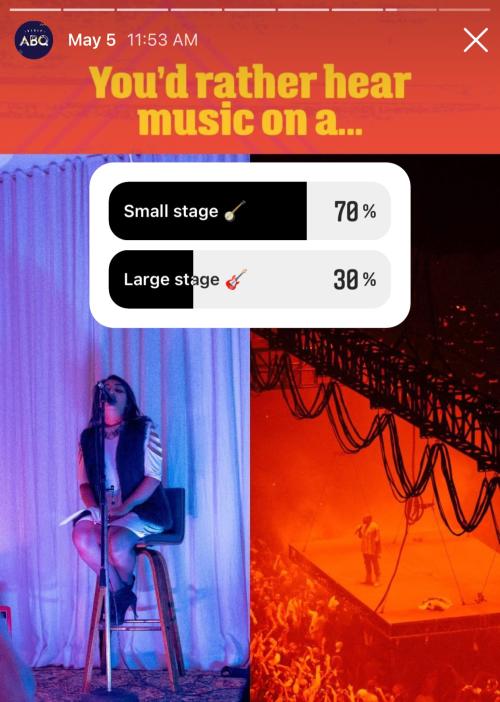 The overwhelming majority of you picked a small stage. An Albuquerque brewery is the perfect place to experience live music on a smaller scale. Marble Brewery has live music events at their Westside and Downtown locations. Canteen Brewhouse has Music at the Brewhouse, and Steel Bender Brewyard features a number of musicians as well. For a more family-friendly experience, check out Zoo Music and Garden Music every summer at the ABQ BioPark. Chatter Sunday features classical music in an intimate setting every Sunday.
Be sure to follow Visit Albuquerque on social media to participate in more interactive posts!