Looking for the best bars in Albuquerque? Head to any of these spots, where the drinks are stiff and the vibes are relaxed. From live music and craft cocktails to rooftop lounges and wine bars, Albuquerque has a nightlife and bar scene sure to satisfy any imbibing mood that might strike. 

Anodyne
A true dive bar, Anodyne is a dog-friendly pool hall and bar that embodies Albuquerque's "quirky" reputation. 
Apothecary Lounge
The indoor/outdoor lounge located on the Hotel Parq Central Rooftop serves up craft cocktails and a great view.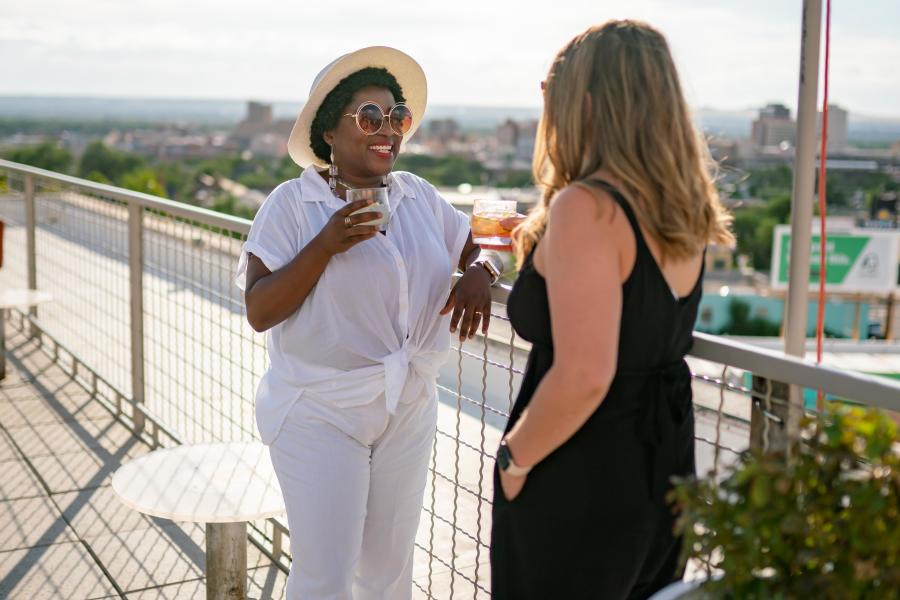 Apothecary Lounge 
Bar Uno
Self-proclaimed as the "smallest bar in Albuquerque," Uno is the perfect neighborhood bar for cocktails, brews, wine and more. 
Billy's Long Bar
Billy's is a casual hangout spot with a great selection of draft brews, pool tables, a patio, and a menu full of traditional bar fare. 
Bourbon and Boots Country Bar
Located on Route 66 in downtown Albuquerque, Bourbon and Boots serves an array of bourbon, beer, other spirits and a large dance floor perfect for breaking in those dancing boots.
Brixens
This fun restaurant and bar located Downtown offers creative, scratch-made cuisine, delicious craft cocktails, local beer and a great happy hour.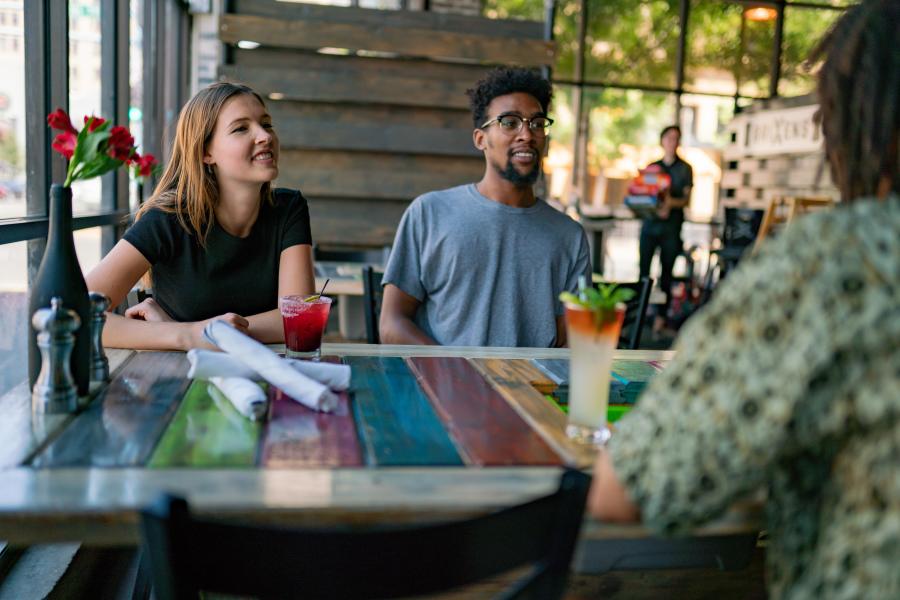 Brixens
Broken Trail Spirits
At Broken Trail, spirits are made with intentional connectedness to the local environment, using the best locally-sourced ingredients around.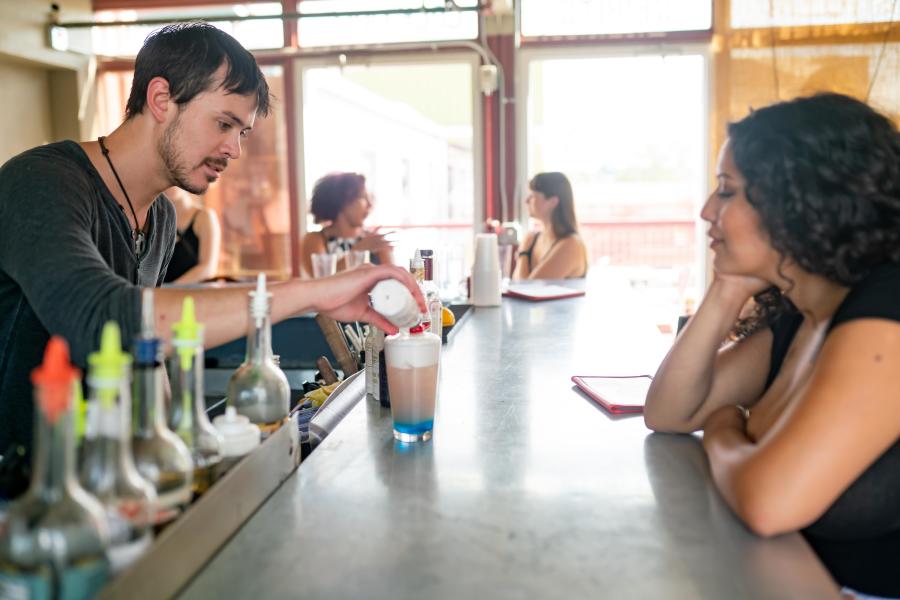 Broken Trail Spirits 
Copper Lounge
Classic drinks, themed nights, and modern, swanky vibes make Copper Lounge, located in the University area, the cocktail bar you don't want to miss. 
Crafted Wine & Spirits Tasting Room
Located in Hotel Chaco, Crafted offers New Mexico made wines and spirits with a mission to support local producers. 
Daydream Rum Bar
Described as a cocktail oasis in the desert, head to Daydream in Nob Hill for tropical drinks in ABQ. 
Dirty Bourbon DanceHall & Saloon
A true Western bar with live country music, an enormous dance floor and two bars full of cold drinks, Dirty Bourbon guarantees a boot-scootin' good time. 
Effex Nightclub
A LGBTQ+ friendly nightclub and bar, Effex features go-go dancers, a rooftop bar and DJs spinning Thursday through Saturday.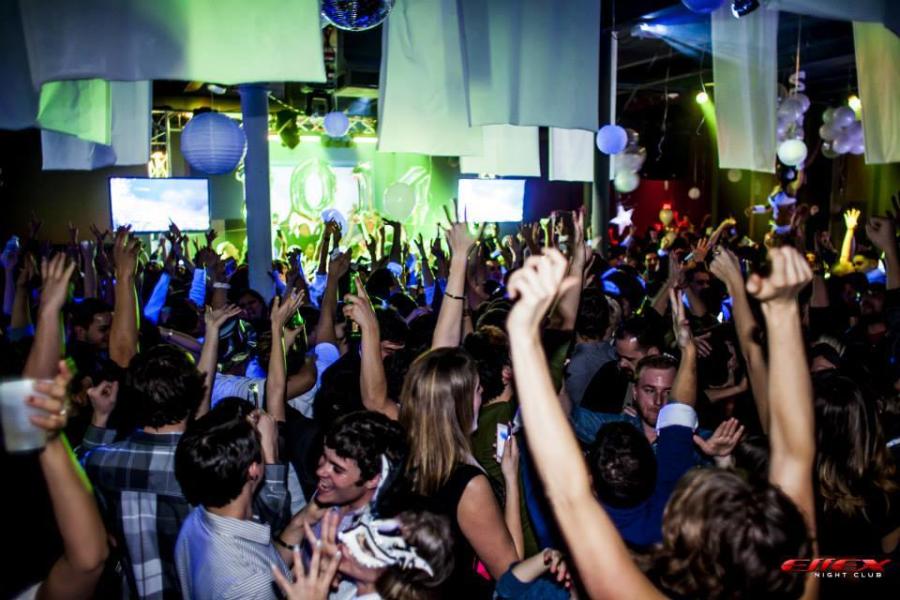 Effex Nightclub, Image from Effex
First Turn Lounge
For live music, daily happy hour and themed events, head to First Turn Lounge & Patio located at The Downs Racetrack & Casino. 
Founders Speakeasy
For a true speakeasy experience, head to El Rey Liquors in downtown Albuquerque and look for the hidden bar. Get your password for entry at foundersabq.com. 
Gecko's Bar and Tapas
Foodies and sports fans alike share a love for Gecko's Bar and Tapas, the first gastro pub in Albuquerque's Nob Hill neighborhood.
Hollow Spirits Distillery
Located in downtown Albuquerque and inspired by the diverse culture of New Mexico, Hollow Spirits serves up seasonal drinks in the laid-back brewery atmosphere.
Ibiza Urban Lounge
Head to Ibiza's downtown rooftop bar and patio, where you can sip on house-made sangria and tasty cocktails while enjoying tapas from the award-winning menu at MÁS Tapas y Vino.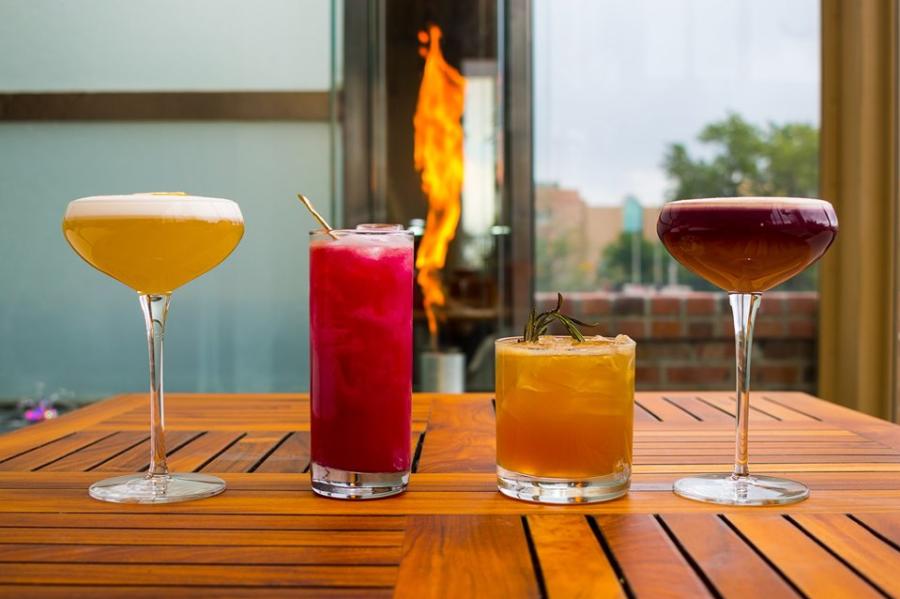 Ibiza Rooftop Bar 
Sister Bar
This hip spot downtown is known for its live music, video games and delicious bar bites.  
Left Turn Distillery
This hip, casual bar located in the Brewery District features locally made craft spirits including New Mexico Blue Corn Whiskey, Rojo Piñon Rum and La Luz Vodka. 
Level 5
If you're in the mood for an unbeatable sunset view alongside your cocktails, Level 5 Restaurant and Lounge, located on the rooftop of Hotel Chaco, is the place to be. Watch the sunset here and you'll see the Sandia Mountains turn pink and understand exactly why they have their watermelon namesake.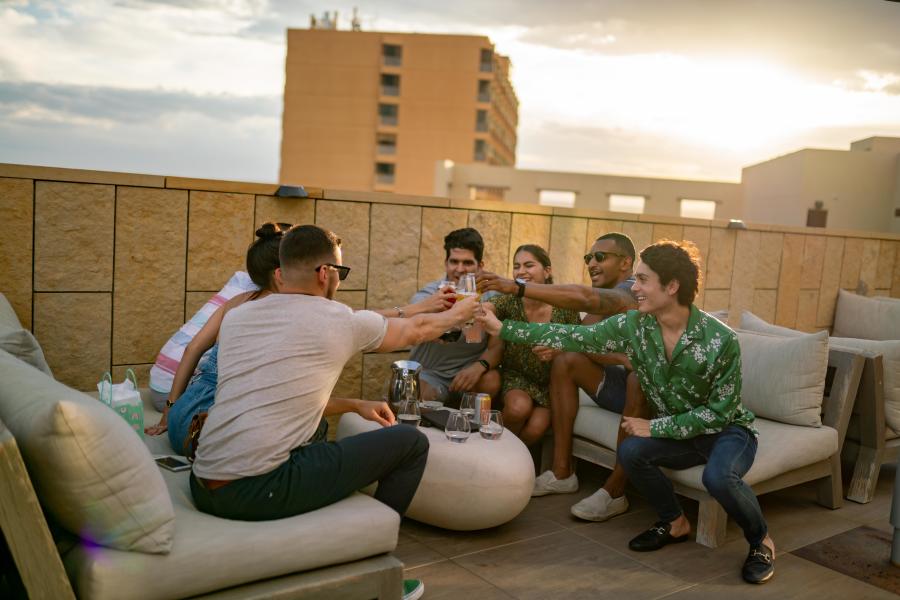 Level 5
Los Poblanos Bar Campo
For a true farm-to-table experience, head to Bar Campo at Los Poblanos Inn and Farm, and have a specialty drink crafted with lavender grown right there on the farm.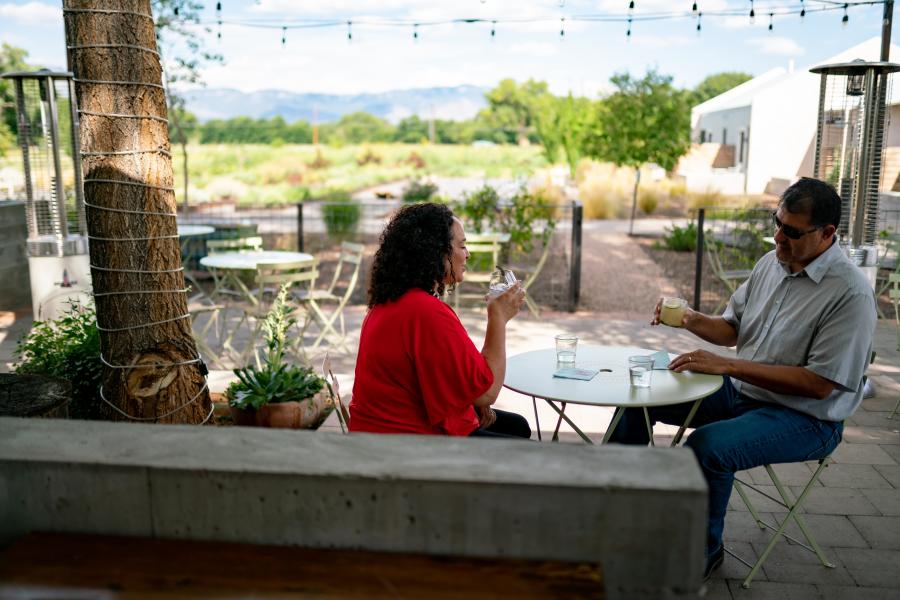 Los Poblanos, Bar Campo 
Matanza New Mexico Beer Kitchen
Featuring a massive selection of local craft beers and wines, Matanza also offers an extensive menu of cuisine inspired by New Mexico's melting pot of cultures. 
Monte Vista Fire Station 
Located in an old fire station building in Nob Hill, Monte Vista features great bar fare and free live music every Wednesday, Friday and Saturday. 
Nob Hill Bar & Grill
A sit-down restaurant by day and dance-bar by night, Nob Hill Bar and Grill is sure to serve amazing drinks anytime. 
Red Door Brewing Downtown
Red Door Brewing Company's Downtown location also features a full bar, chock full of unique and refreshing cocktails. 
Safe House Distilling Co.
Located Downtown, Safe House Distilling Co. delivers vodka, gin and whiskey products that are hand-crafted to focus on the essence of New Mexico's art, culture, landscape and cuisine.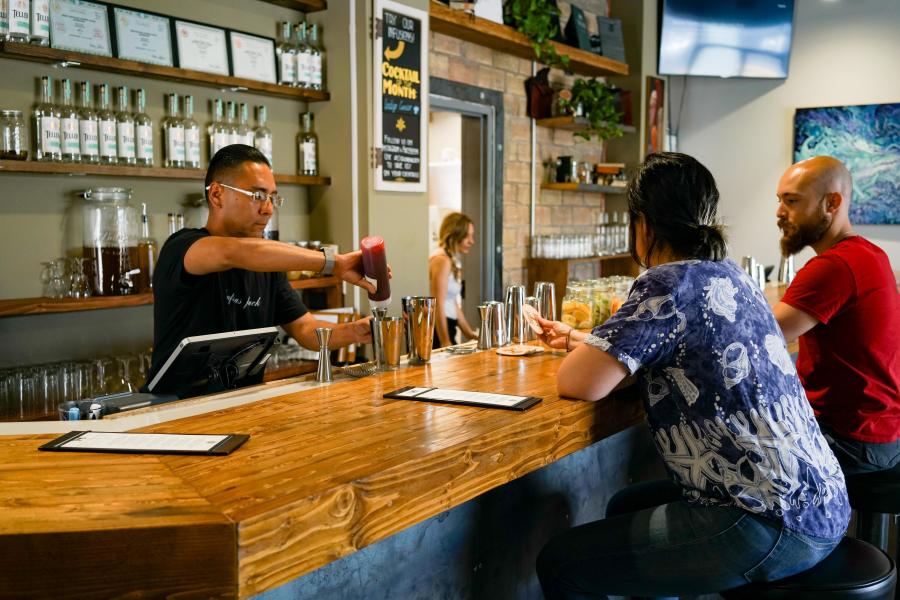 Safe House Distilling Co. 
Sidewinders
An LGBTQ+ friendly bar, Sidewinders offers something for everyone, from eclectic music and dancing, to karaoke and drag shows. 
Sixty Six Acres
Located across from the Indian Pueblo Cultural Center, Sixty Six Acres' modern decor, locally-sourced menu and craft cocktails offer the perfect spot to stop for a refreshing drink. 
Still Spirits Distillery
Don't let the nondescript, garage-like exterior fool you; Still Spirits features a trendy, modern and minimalist interior, friendly bartenders, and uniquely local cocktails with their own fruit-infused vodkas. 
Ten 3
For a truly elevated imbibing experience, head up the Sandia Peak Aerial Tram and have a drink at Ten 3's bar.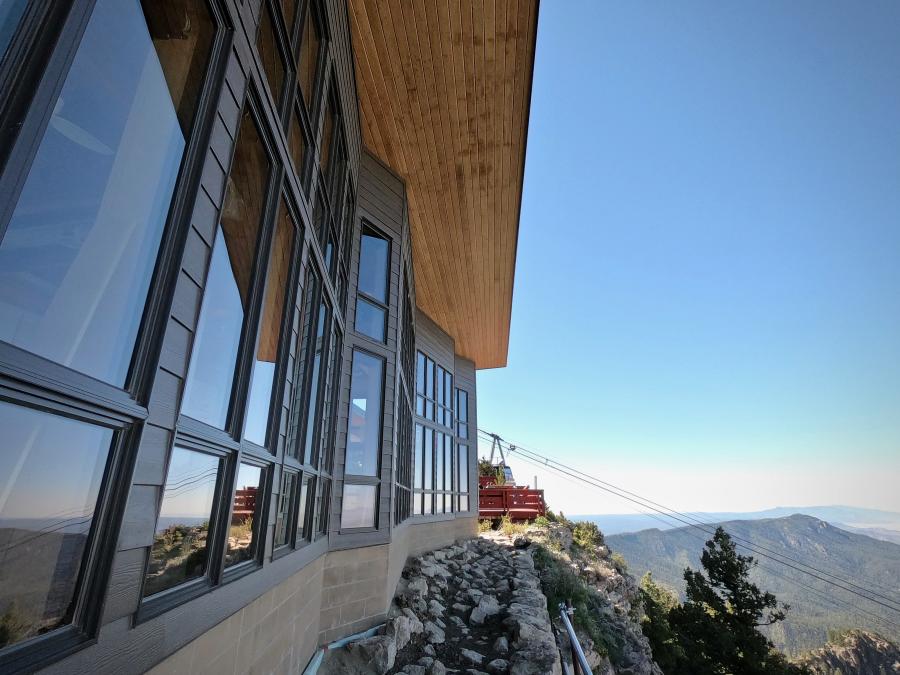 Ten 3, Image by Jay Blackwood and Sandia Peak
The Salt Yard
Known as an "adult playground," both of the Salt Yard locations feature games like cornhole and pingpong, live sports, and a full food menu. 
Two Fools Tavern
This traditional Irish pub located in the Historic Nob Hill neighborhood offers a low-key alehouse vibe alongside all your favorite Irish dishes. 
Uptown Funk Dueling Pianos
For an energetic experience, head to Uptown Funk Dueling Pianos for a full bar, lively entertainment and interactive singalongs and performances. 
Uptown Funk Piano Bar, Image from Uptown Funk
Vernon's Speakeasy
You'll feel like a real old Hollywood star at this romantic, vintage speakeasy (just call ahead for reservations to be let in on the daily secret password). 
Vintage 423
Moody lighting, plush seating and a lounge-like atmosphere makes for a swanky and tasty evening at Vintage 423. 
Zinc Cellar Bar
The Cellar Bar, located below Zinc Wine Bar & Bistro in Nob Hill, offers stellar drinks and an intimate, lounge-like atmosphere. 

Don't forget to take advantage of zTrip, Uber and Lyft rideshare services whenever you partake in drinking activities, and remember to drink plenty of water in the high desert heat and altitude.