New Mexico is home to one of America's most unique, delicious, and cherished regional cuisines. So, it's no wonder Albuquerque is becoming one of the nation's most popular foodie destinations.
Beyond our famous New Mexican cuisine, which incorporates Mexican, Native American and Spanish flavors – we're at the forefront of one of the most unique food trends in the country right here in ABQ: Pre-contact cuisine and Native American-inspired menus.                                                                                                        
Formerly known as Pueblo Harvest, the onsite restaurant at the Indian Pueblo Cultural Center, Indian Pueblo Kitchen, is among the first restaurants in the United States to offer pre-contact dishes – making Albuquerque a must on your next foodie-vacation list. For even more uniquely-Albuquerque dining, Level 5 rooftop restaurant and lounge at Hotel Chaco offers Native-inspired dishes, using only fresh, seasonal and locally-sourced ingredients.
Indian Pueblo Kitchen's pre-contact menu, featuring several dishes using only ingredients present in North America prior to European contact and colonization, serves as a meaningful insight into the wealth of flavors of an indigenous diet that are lesser-known to mainstream culinary audiences, while highlighting Native cuisine and tradition.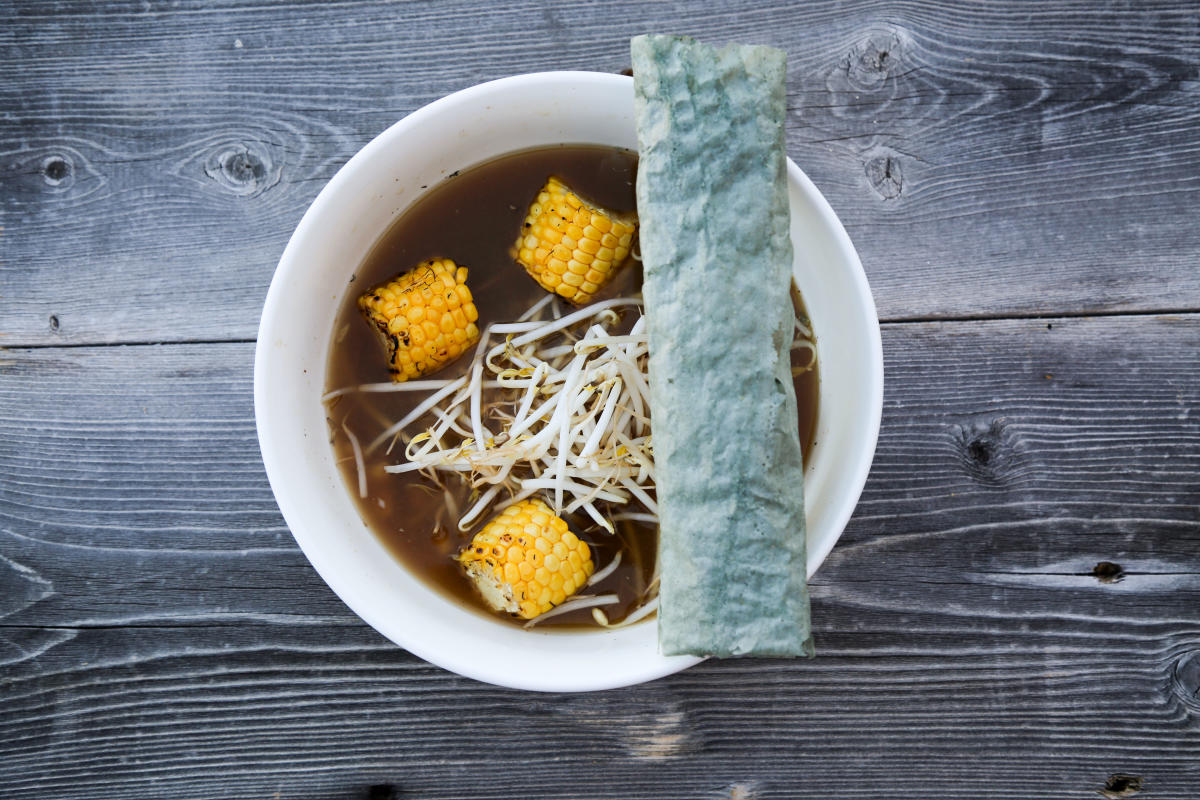 Photo by Caitlin Cano
Just a few examples of dishes from the pre-contact menu include Hazruquive Stew (pictured above), made with an earthy corn broth seasoned with herbs and cedar, filled with local white hominy, bean sprouts, roasted yellow corn, and served with piki bread—a paper-thin Hopi bread made from finely ground blue corn; game meats that were originally hunted by Native peoples, including bison, rabbit, duck (pictured below), and trout; and many plant varieties either cultivated or gathered during pre-contact times, including Anasazi beans, wild greens, prickly pears, yams, squash blossoms, blue corn, and manoomin wild rice.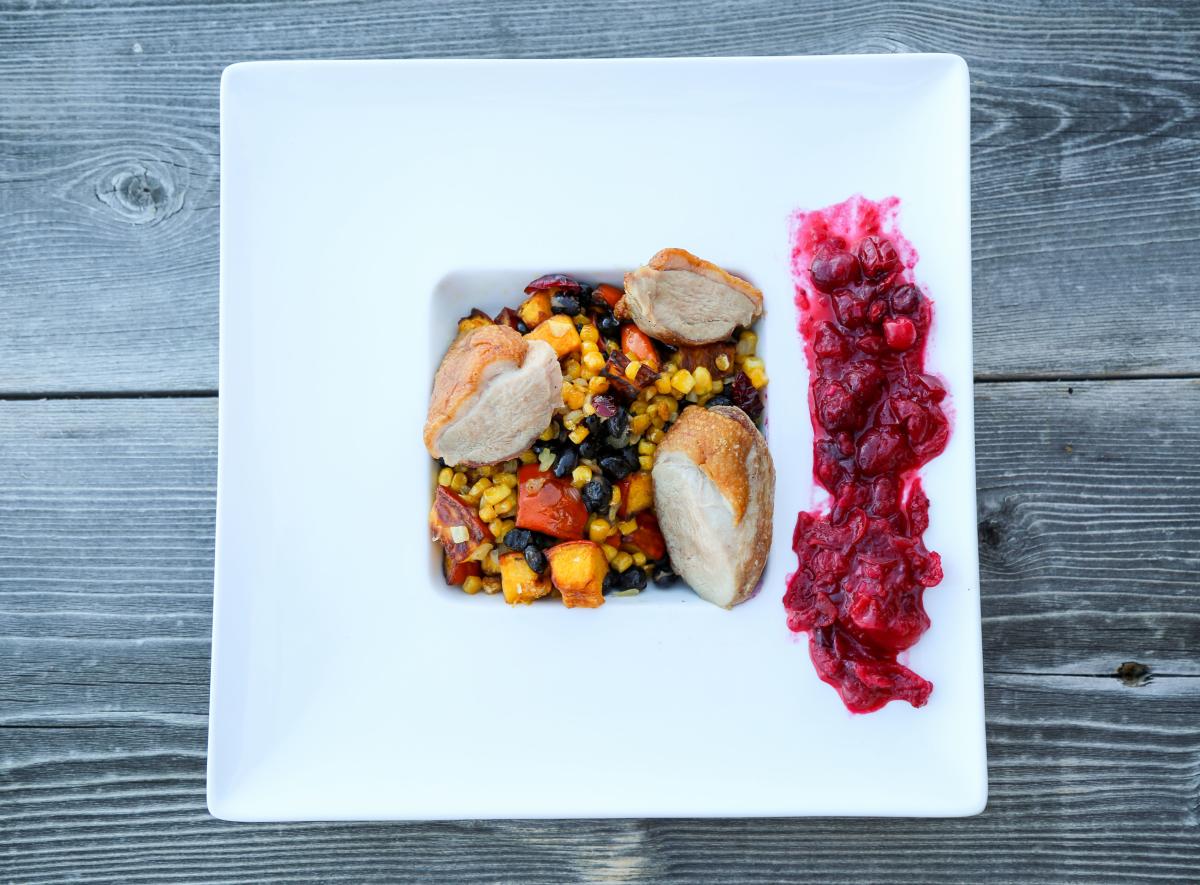 Photo by Caitlin Cano
According to Indian Pueblo Kitchen, this pre-contact menu also opens a cultural and educational dialogue about the origins of the foods that Americans do or do not consume on a regular basis, and why.
The menu at Level 5 features culturally alive, community-fused and environmentally sound cuisine. Their dishes are always seasonal and created around a core of native New Mexican and Latin American ingredients, with international flair and flavors.
Dishes are carefully crafted with ingredients that are regionally and responsibly sourced and/or in support of community cooperatives. According to Level 5, "the cultures celebrated at Chaco understand humanity's role as Earth's stewards; we strive to maintain that in our restaurant."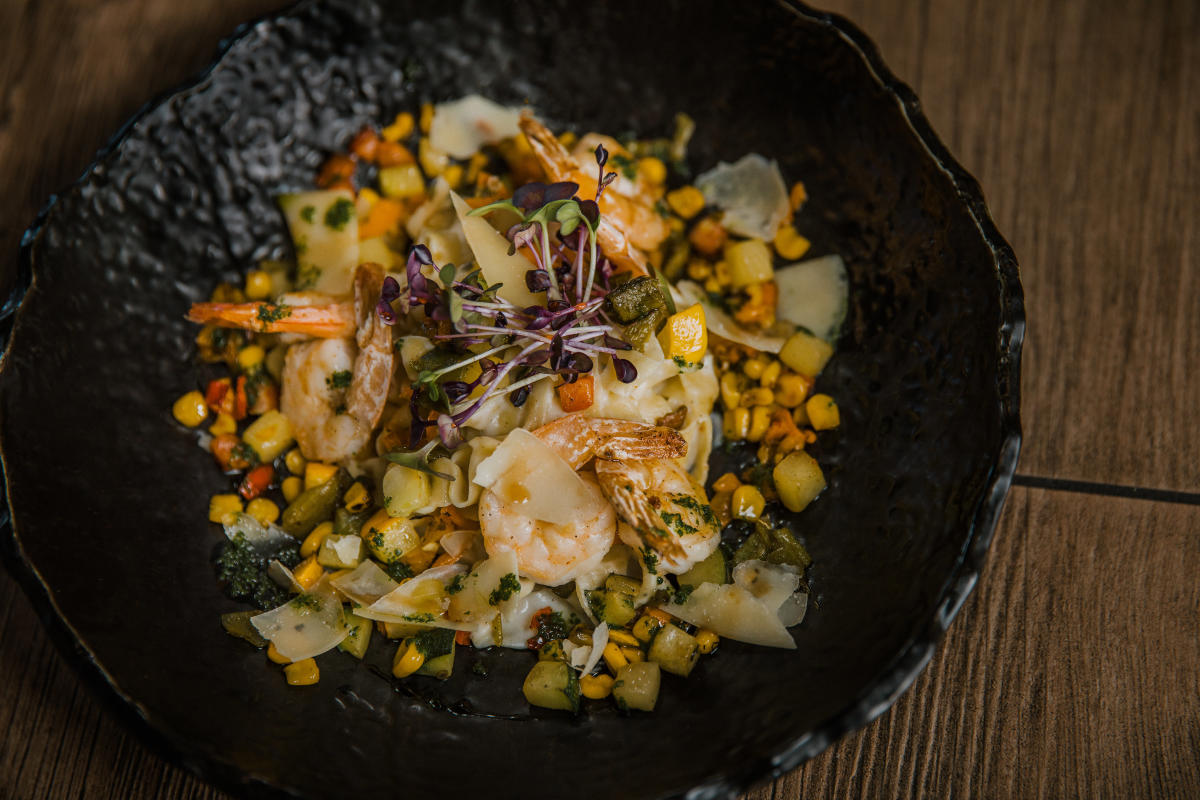 Photo by Level 5 
A few of the Native-inspired dishes on Level 5's menu include Blue Corn Bison Tenders with a chipotle apricot glaze; Chicken Tomatillo Chowder with queso fresco and blue corn crisps; and Rabbit Albondigas with salsa verde and manchego. Their entrée specials rotate and change weekly, as they feature only fresh, seasonal ingredients. 
Photo by Level 5 
Make sure Albuquerque is at the top of your foodie destination list! Find more dining options in ABQ right here.