If you're looking for a travel destination that your dog will love, then Albuquerque is hard to beat! There are many dog-friendly activities in the local area, ranging from beautiful hikes to fun dog parks. Here are five (more) of our favorites.
1. Hit the Trail
There's no shortage of dog-friendly trails in Albuquerque, so you're sure to find one that suits your fitness levels and preferences. Nothing beats exploring new places with your four-legged friend!
The Albuquerque foothills are a great place to get started. The Copper Trailhead provides access to numerous foothills trails and is easily accessible to the east of Tramway Boulevard, off Copper Avenue. There are also a number of other trail heads east of Tramway, from Copper to Spain and even further north heading toward the Sandia Peak Tramway. See a map here. 
Part of the Sandia Foothills Open Space, this vast expanse of sloped hills covers over 2,600 acres with an abundance of spectacular views. 
Make sure you bring plenty of water for yourself and your dog, as there are steep inclines and little shade. Be sure to always keep your dog on a leash and clean up any mess - a pet waste station with a disposal receptacle can be found at the trailhead.
As some trails can be steep, you may want to equip yourself with poles for descents on longer routes. It's also important to check the weather before you go, as hot conditions could make a hike unsafe for a dog.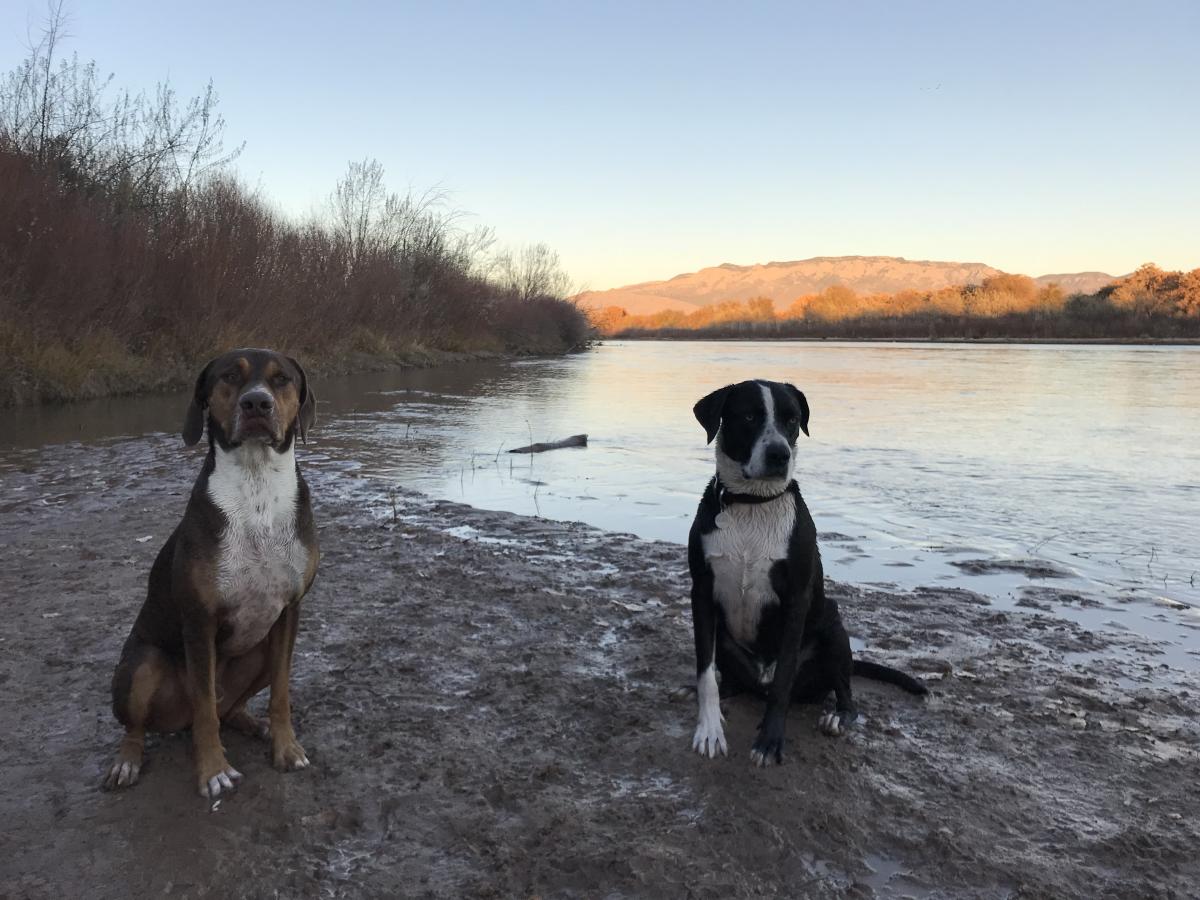 2. Let Off Steam at the Dog Park
Take a break from exploring the city and give your four-legged friend a chance to run off leash down at the dog park. 
As one of the country's most dog-friendly cities, Albuquerque has numerous dog parks throughout the city. Visiting a dog park on vacation is a great way to give your pet some time to play and take a break from accompanying you on your human activities. 
The Canine Skyline Dog Park is a great example. Located at 12700 Montgomery NE, this fenced dog park has great views of the mountains and is open 6 a.m. through 10 p.m. 
Running water is available on site, except in the wintertime when all city dog park fountains are turned off. It's worth noting that this park doesn't have separate areas for smaller/larger breeds, so if you have a nervous toy breed it may not be your best option. Be sure to abide by Albuquerque Dog Park Rules when visiting the city's dog parks.
Tip: While dog parks can be a lot of fun, not all dogs enjoy them. If your pet doesn't mix well with other dogs, or is nervous around strangers, then try one of the other options on this list.
3. Participate in a Scavenger Hunt
If you both enjoy taking part in fun activities and meeting new people, a scavenger hunt is an excellent way to make the most of your trip to Albuquerque. 
The Quirky Burque Scavenger Hunt is one of Albuquerque's numerous pet-friendly discovery experiences. Book online, receive your instructions and get started on a city tour solving clues with your pet. The tour starts at a local scenic spot and includes stops across the city. 
Thanks to this family- and dog-friendly game, you'll get to discover some of Albuquerque's rich culture while chatting with locals and having fun with a stimulating physical and mental workout. It's a great way to include your dog in your vacation activities and city exploration! 
4. Enjoy a Beer 
With so much to discover, it's only natural that you're going to build up a thirst. And where better to quench it than at the renowned Tractor Brewery?
As one of the top dog-friendly breweries in the country, Tractor Brewery is a great place to hang out with your pooch. 
With three locations in the city, all of which welcome dogs both inside and out, the company prides itself on employing animal lovers. Conscious of the fact that customers are happy when they can chill out with their pet, Tractor Brewery provides not only a warm welcome for your dog, but also water bowls, treats and even dog-related events. 
For humans, the craft beers, cocktails and food trucks make this a definite must-visit, not to mention the laid-back atmosphere. It's no wonder Albuquerque's Tractor Brewery venues are such a hit with both locals and visitors alike.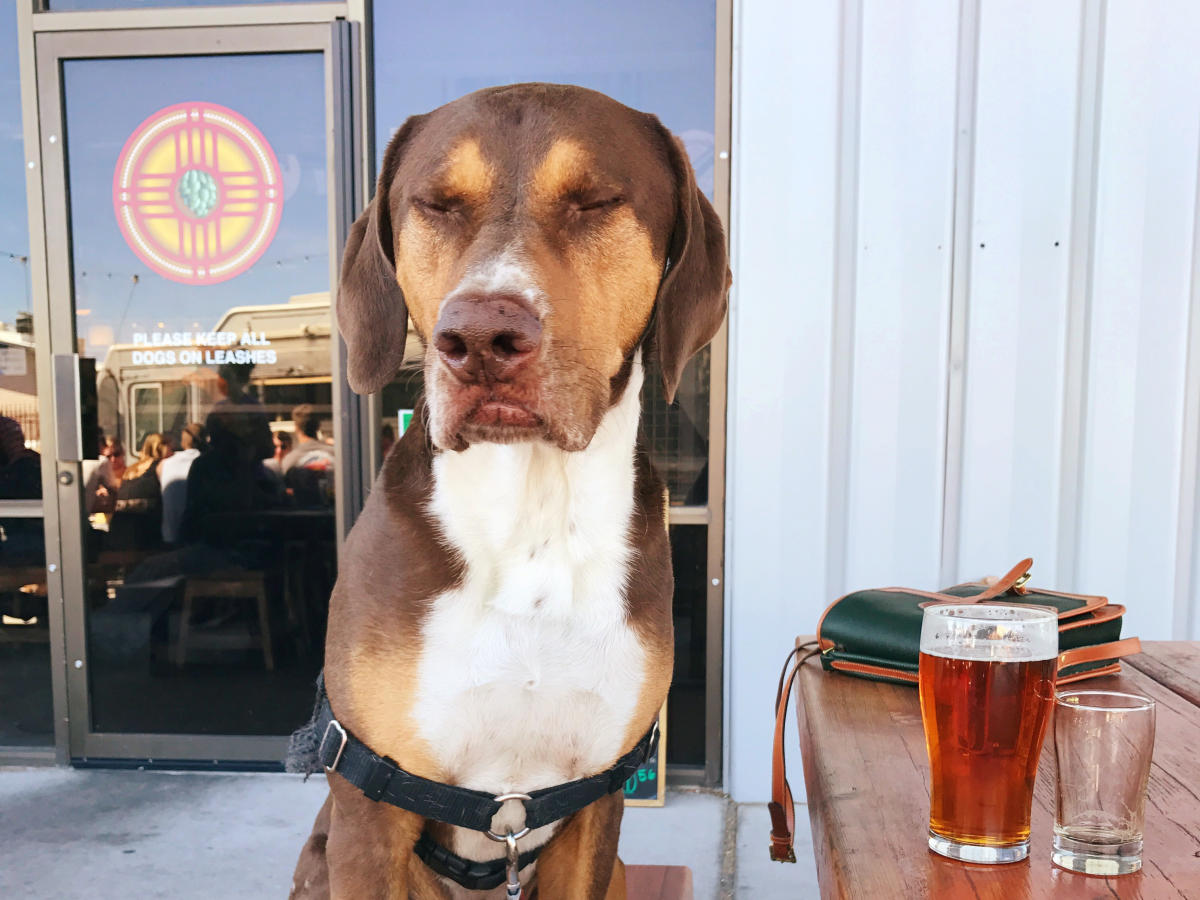 5. Stay Over at Hotel Albuquerque 
If you're planning an overnight stay, then the Hotel Albuquerque at Old Town shouldn't be overlooked. Renowned for its New Mexican hospitality, it's a special place to spend the night with your dog.
Located in Albuquerque's historic Old Town, the hotel is ideally situated and offers numerous services amidst luxurious settings for a one-of-a-kind experience. Thanks to Hotel Albuquerque's "Hospetality Package," your dog can also enjoy the finer things in life on vacation. 
This VIP (Very Important Pet) package at Hotel Albuquerque includes their standard pet fee plus numerous exclusive benefits that are worthy of even the most pampered pooch. The package includes the pet fee, pet waste bags, pet bed and bowls, helping you to travel light. Your dog will also enjoy sampling the Chef's Signature pet treats – a real delicacy!
Note: The exclusive "hospetality package" is limited to a maximum of two pets per visit and there is a supplement for a second dog on top of the initial fee. 
Conclusion
There's no shortage of fantastic dog-friendly locations, events and activities to enjoy in Albuquerque. If you hate the thought of leaving your dog with a sitter while you go on vacation, then Albuquerque is the ideal destination for your next dog-friendly vacation.