There's always something new to discover in Albuquerque, where centuries of rich, soulful culture meet modern innovation, and the Sandia Mountains meet the Rio Grande Valley under bright blue skies, filled with sunshine over 310 days a year. This high-desert destination offers so much to explore for every kind of visitor, from lovers of the great outdoors and art aficionados to seekers of vibrant, fresh flavors and fans of diverse culture and centuries of history. 
Explore the hottest openings, newest events and inspiring exhibits happening in Albuquerque in 2023 and get the scoop on exciting new developments coming to the city.
1. Experience 2023's Annular Solar Eclipse at the Albuquerque International Balloon Fiesta®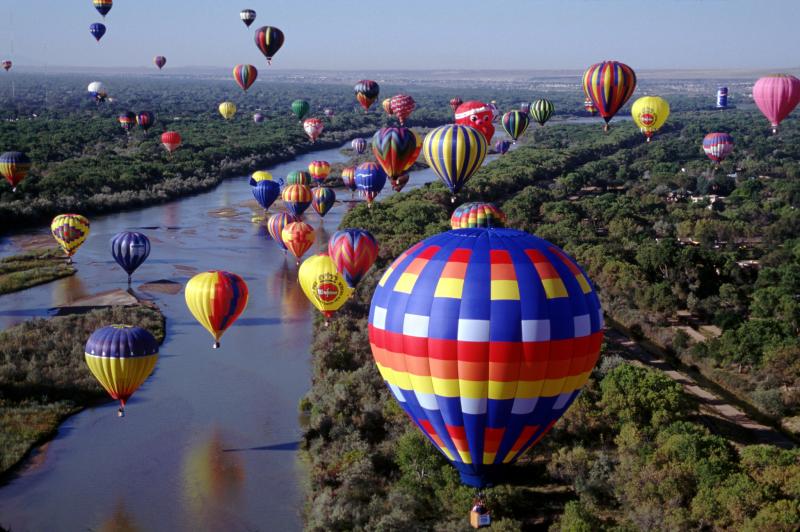 Photo Credit: Ron Behrmann
The countdown to the 51st Albuquerque International Balloon Fiesta is underway, with a very special astronomical twist in 2023. The world-renowned attraction is scheduled to occur Oct. 7-15, 2023—perfectly timed with 2023's annular solar eclipse. The eclipse will take place during the tail end of the Mass Ascension on Saturday, Oct. 14. Albuquerque will be in the eclipse's direct path, making for prime viewing conditions.
2. Renovations at the Albuquerque International Sunport
Visitors to the Land of Enchantment will soon be able to experience a real taste of Albuquerque as soon as they deplane, thanks to an ambitious modernization project now underway at the Albuquerque International Sunport. The first phase of the renovation, the relocation of the TSA screening checkpoint north toward the escalators, will be completed in 2023, with the goal of making it "the most enviable TSA experience in the country," says Manny Manriquez, Sunport Innovation and Commercial Development Manager. Future updates will include fresh local art installations, an open-plan food hall featuring eight local restaurants and a new "mini shopping mall" highlighting made-in-New Mexico products, as well as updated carpeting and seating throughout the Sunport.
3. New Flights to and from the Albuquerque International Sunport
The Sunport is expanding its reach to a wide variety of national destinations in 2023. Southwest Airlines will begin nonstop flights between Kansas City and Albuquerque on April 11, and is increasing the number of daily flights to Houston (Hobby), Las Vegas, Phoenix and Southern California (including Los Angeles and San Diego).
4. Try One-of-a-Kind Cuisine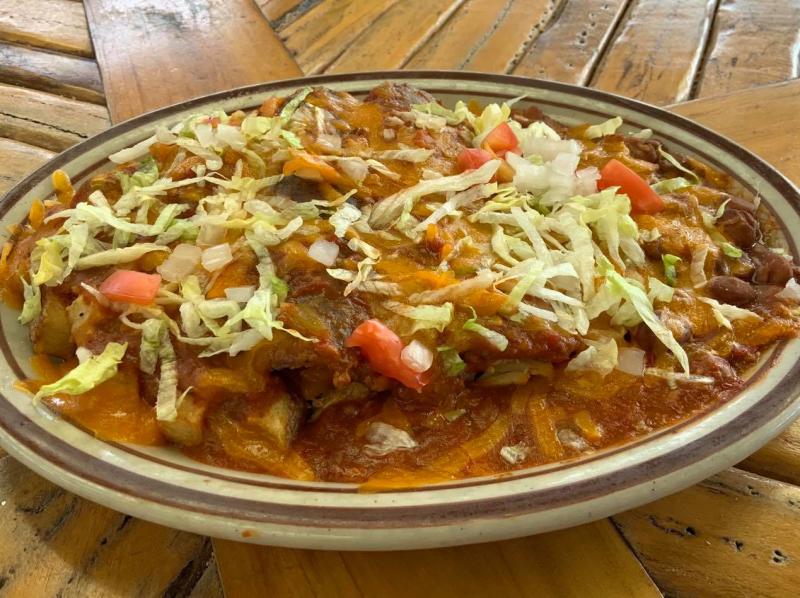 Photo Credit: Facebook
In this centuries-old city, it's easy to find traditional recipes that are easy to prepare but have been around for generations. Albuquerque's culinary scene is known for its mix of creativity, diversity and blend of cultural influences. Try some famous red or green chile at one of Albuquerque's many New Mexican eateries, or visit one of the city's award-winning breweries, wineries or distilleries. No matter your preference, Albuquerque has a wide range of cuisine that is sure to satisfy every taste and style.
5. West Central Route 66 Visitor Center at Nine Mile Hill
Part Route 66 museum, part event hub with panoramic views of Albuquerque and part community business accelerator, the new West Central Route 66 Visitors Center will open to the public in early 2023. The visitor center will serve as a welcoming space for travelers and locals alike to celebrate what makes the city so special. There's a lot to check out here, including cultural events and artisan markets in the outdoor amphitheater and marketplace, weekend car shows honoring the state's vibrant lowrider car culture, a taproom, a gift shop, 4,500 square feet of event space, and affordable drop-in office space for nonprofits and local small businesses.
6. New Australia and Asia Habitats at the ABQ BioPark Zoo
It's a time of growth and transformation at the ABQ BioPark! Construction on new state-of-the-art Asia and Australia exhibits is underway at the ABQ BioPark, and both habitats are scheduled to open in 2023. The new Asia exhibit area is transforming an undeveloped section of the ABQ BioPark Zoo into a new home for many Asian animals, including orangutans, siamangs and tigers. Work on the Australia area of the zoo continues and phase one is scheduled to open in 2023. It is called Australian Shores, which will bring little blue penguins and other seabirds to Albuquerque. The lorikeet walk-thru aviary will also open in 2023, allowing guests to see and interact with these colorful birds.
7. X Studio at Explora Opens to Bring STEAM to ABQ Teens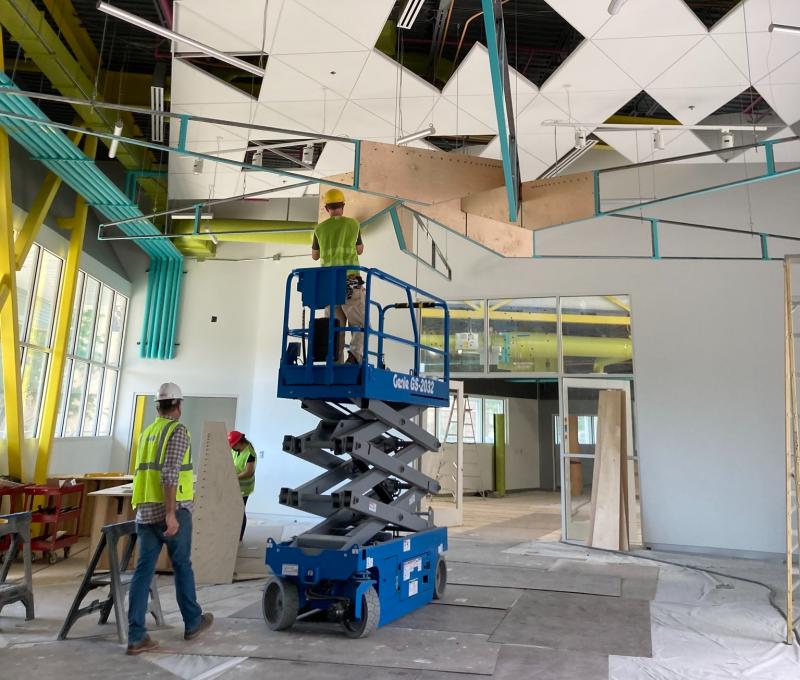 Photo Credit: Facebook
X Studio, opening in January 2023, is Explora's new 8,000-square-foot teen center offering the latest tools, technologies, makerspaces, workshops and mentors to bridge teens with the most creative STEAM (science, technology, engineering, arts, math) professional fields of their interests. Presenting a vast menu of options with free membership – from animation, music and film production to 3D printing and cosplay to welding, woodshop, podcasts, video game development and so much more — X Studio aims to make sure every teen's talent and ambition is invigorated. The center will also feature a teen lounge for gaming, socialization, learning mindfulness, getting homework help or simple relaxation.
8. Explore the Great Outdoors
With spectacular weather, four distinct seasons and wide-open spaces, Albuquerque's backyard is a natural playground. The city offers everything from hiking, biking, skiing and golfing to paddleboarding, horseback riding, rock climbing and birding. 
9. Downtown Storefront Activation Grant Program Inspires Downtown ABQ Renaissance
Albuquerque's Downtown Storefront Activation Grant Program, the effective economic recovery program working to increase the vibrancy of downtown Albuquerque, saw the first round of grant awardees launch successful openings or renovations in 2022. Recipients included gift boutique Flyby Provisions, Blue Door Pâtisserie, artisan cheese shop The Mouse Hole, Echoes Brewing Company, Dry Heat Comedy Club, Flamenco Works and more. 2023 will see another round of new restaurants and businesses in the area, including several new eateries.
10. New Businesses in Historic Old Town Albuquerque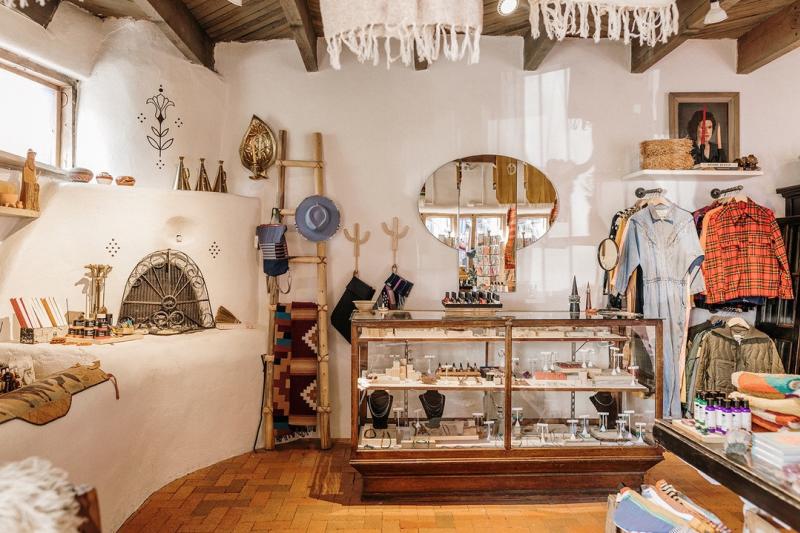 Photo Credit: Facebook
One of the most-visited attractions in Albuquerque, the city's oldest neighborhood continues to evolve while preserving its historic Southwest charm. Take a walking tour around Old Town, explore the more than 150 locally owned and operated businesses, and check out some fresh updates! Popular Southwest boutique Luna and Luz has relocated across the Plaza to a ground-floor adobe building complete with a kiva fireplace and more cleverly curated local goods than ever. Taking over the former Luna and Luz space in Plaza Don Luis is Enchanted Collective and Collective Coffee, part gift boutique, part pop-up headquarters for local vendors and part coffee shop. In more coffee news, a small-scale distiller and coffee roaster from Church Street Cafe owner Marie Coleman is slated to set up shop in Old Town directly east of Visit Albuquerque's Visitor Information Center.
11. Explore ABQ's Speakeasy Boom
There's a new nightlife scene in Albuquerque, and it comes with secret passwords and hidden entryways. That's right, speakeasies are alive and well in the city. Pull open a bakery "shelf" to step inside '20s-themed speakeasy Teddy Roe's behind M'tucci's Bar Roma; tap a golden banana to enter Hotel ZAZZ's newly open hidden vinyl and cocktail bar Z-Lounge off the hotel lobby; drop the code word in El Rey Liquors to get into the secret freezer entrance into Founders Speakeasy; or make a reservation at Vernon's Speakeasy to get the password to soften the bouncer and receive an escort behind the hidden bookcase. There are so many hidden discoveries to explore!
12. Acoma Pueblo Reopens Sky City Cultural Center & Haak'u Museum
While most Albuquerque-area Pueblos remain closed to outside visitors due to the COVID-19 pandemic, a few are reopening in 2023. The Sky City Cultural Center & Haak'u Museum is open each weekend (Friday, Saturday and Sunday) and offers a video Pueblo tour in the Ts'iKinuma K'aiya (Story Telling Room/Theatre), a gift shop where Acoma artists appear onsite showcasing their unique artwork (pottery, jewelry, textiles and more), and the Yaak'a Café, offering a diverse menu of Acoma traditional foods as well as contemporary American dishes prepared by tribal members. Currently, walking Pueblo guided tours are not being offered on top of the village mesa, but a return to the Pueblo guided tours is anticipated in spring 2023.
13. Discover the Pueblo of Jemez
Traditional dances are held throughout the year at Jemez, many of which are open to the public. The public is welcome to share in certain events, particularly the Nuestra Señora de Los Angeles Feast Day de Los Persingula on Aug. 2 (Pecos Feast of St. Persingula), and the San Diego Feast Day on Nov. 12. Additional events open to the public occur at various times throughout the year and into the Christmas Holidays. Information regarding these events can be obtained at the Walatowa Welcome Center at the Pueblo of Jemez. The Walatowa Visitor Center features the free Walatowa History Museum, trekking along the Red Rocks Trails (a 1.5-mile self-guided hike, permit required), and a curated gift shop featuring Jemez pottery, sterling silver and turquoise jewelry, embroidered woven cloths and local foods.
14. Check Out Newly Opened Shops
Many new shops and restaurants that opened in 2022 are great places to visit on your trip. Head to Los Poblanos' new throw-back cocktail bar and upscale shopping destination Town & Ranch. Located in downtown Albuquerque, Town & Ranch offers a range of classic and signature cocktails made with Los Poblanos new botanical spirits gin line. Alongside the tasting room, the shop at Town & Ranch offers a curated selection of edible provisions, apothecary products starring Los Poblanos lavender and handcrafted gifts. Offering over 40 award-winning international cheeses alongside artisan products from New Mexico, the Mouse Hole is the newest venture from the team behind fresh local eatery La Finca Bowls. Be sure to try the all-local cheese board featuring three New Mexico-made cheeses and an assortment of local condiments and breads. Love local food trucks? Head to the Eastside for a one-stop culinary tour, complete with grassy areas, shade sails, picnic tables and global food favorites. Check out Pacific Rim Food Park, which includes five food trucks, all Asian- or woman-owned. Open daily for lunch and dinner, Pacific Rim offers diners a diverse choice of dishes from Vietnam, Japan, South America, California and beyond.
15. Don't Miss Upcoming Openings
Avanyu Plaza, the growing business and cultural hub on the Indian Pueblo Cultural Center campus owned by the 19 Pueblos of New Mexico, will continue to expand in 2023 in the heart of Albuquerque. Wellness boutique Rainwater Wellness: Mind, Body, Spirit, is slated to open in the Spring of 2023 with spa services, a yoga studio and other healing-focused services that align with Native American values. Mama's Minerals, New Mexico's largest rock and bead store, and La Montañita, New Mexico's largest locally owned food co-op, will also open locations in Avanyu Plaza in 2023. These celebrated newcomers will join a vibrant roster of local restaurants at Avanyu Plaza, including 12th Street Tavern, Laguna Burger, Itality Plant Based Foods and Sixty-Six Acres.
16. Witness a Signature Albuquerque Event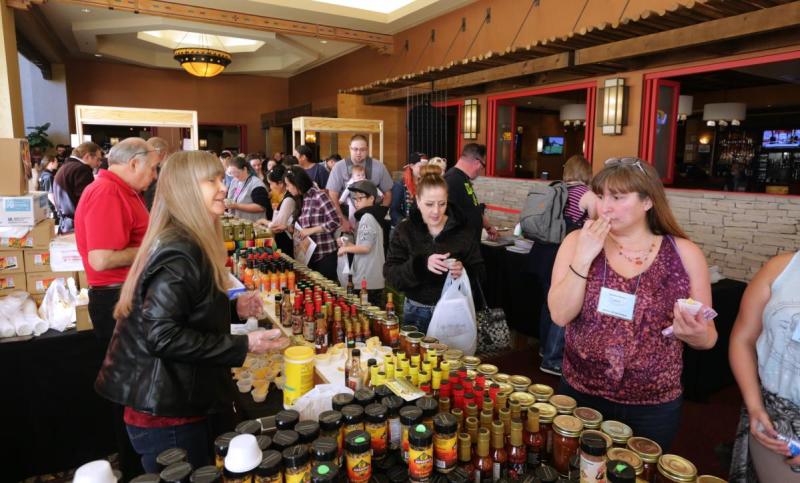 Plan a visit to Albuquerque during one of the city's many signature events, such as the National Fiery Foods & BBQ Show in March, Gathering of Nations Pow Wow in April, Festival Flamenco Alburquerque in June or Mariachi Spectacular in July, to name just a few! Visit the events calendar at ABQ365.org to find even more unique Albuquerque events.
17. Find Fascinating Science Exhibits
Explora Adult Nights return in 2023 and are a popular request for visitors who want to enjoy the innovative experiential learning center located in the heart of Old Town Albuquerque (without the kids). Each adults-only evening features a unique theme with related activities — from performances and guest lectures to art and science installations to hands-on science experiments with surprising materials. Guests also enjoy live music and popular local food. There will be six Adult Nights taking place in 2023. Additionally, 2023 brings the Science of Spirits to Explora, inviting visitors 21 and over to explore activities and exhibits in a whole new way with the return of a unique series of events: Science of Wine, Science of Beer and Science of Spirits. Take your tastebuds through a journey of some of New Mexico's favorite adult beverages while learning about the brewing and distilling processes, tasting notes and pairings, and science activities that you wouldn't expect!
The New Mexico Museum of Natural History & Science has a number of temporary exhibits, including:
●"Chocolate: The Exhibition" (through March 12). This traveling exhibition engages the senses and traces the evolution of chocolate from a small, bitter seed found deep in the rainforest to the continent-spanning delicacy it is today. Learn about the biology of the cacao tree, check out depictions of Mayan vessels that would have held a cacao-derived spicy drink and even barter using cacao seeds at a recreated Aztec marketplace.
●"Roving With Perseverance Roadshow" (through June 5). NASA's "Roving with Perseverance Roadshow" brings full-sized models of the Mars Perseverance Rover and Ingenuity Helicopter to museums around the country.
●"Nikon's Small World Exhibit" (March 28-April 30). This exhibit is the world's preeminent photographic competition for images taken through the microscope. Each year, the "Small World Exhibit" travels throughout North America at selected museums and centers for science. 
18. New Renovations and Developments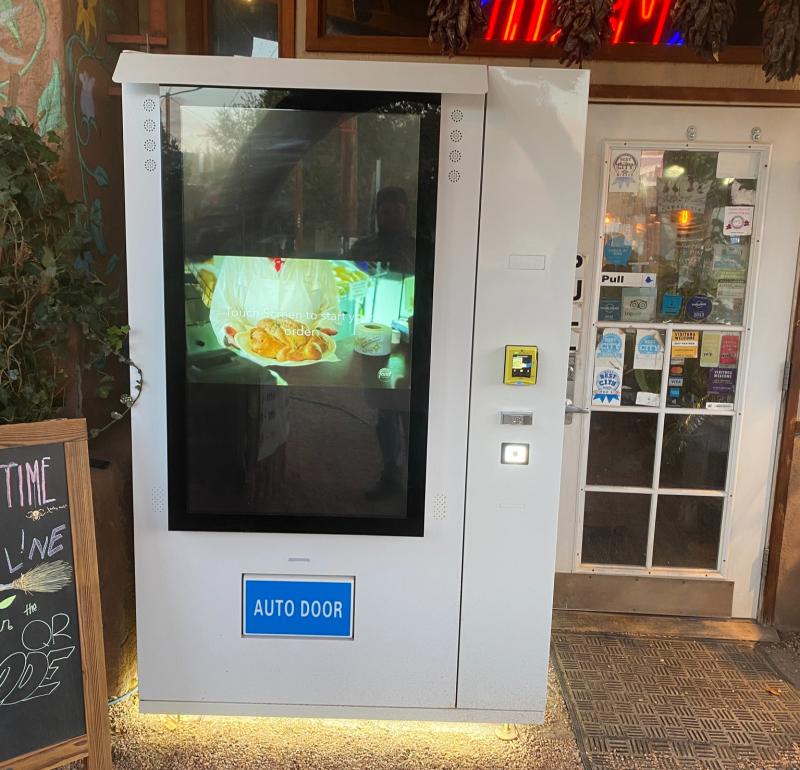 Photo Credit: Facebook
The first phase of the revitalization of the Los Altos Park is set to open by early summer 2023, which will include five new softball fields. Future updates will include a signature BMX pump track facility suitable for hosting regional and national competitions, a dog park, a tournament-regulation horseshoe court and a playground.
To satisfy your late-night sweets craving, check out the new "cookie ATM" at Golden Crown Panaderia. Purchase biscochitos, New Mexico green chile bread or empanadas at any time of day.
The Indian Pueblo Kitchen will include a teaching kitchen set to open late 2023/early 2024. It will offer exciting opportunities for students to learn Indigenous cooking techniques and restaurant operations in an engaging, collaborative environment.
The reimagined Imperial Inn in east Downtown is set to open by spring 2023 and will unveil refreshed guest rooms. At the entrance, visitors will be greeted by a coffee shop that doubles as the hotel's front desk. Seven micro-retail storefronts, a cocktail lounge, three local food vendors and a flower shop are all part of the project.
19. Explore Exciting Additions to Nob Hill
Albuquerque's Nob Hill neighborhood is on the rise. The Historic Lobo Theater has reopened as a lounge and event space and has been joined by a slew of new destination eateries and bars. Visitors to the area can now enjoy a sip at upscale casual wine bar Public House ABQ, dive into vegan burgers and loaded fries at popular food truck Lucky Goose's new brick and mortar (complete with colorful art made by pigs — literally), enjoy locally sourced food and a curated wine list at Central Bodega, bring a large group for cocktails and small plates at Gather and sister gastropub 3128 Social House, sample local liquors at 505 Spirits, and enjoy modern comfort food at Butter. Book a room at the colorful Hotel ZAZZ and enjoy a stay in Nob Hill to experience all the goodness the revitalized neighborhood has to offer.
20. Experience Authentic Flamenco
As the Flamenco Capital of North America, Albuquerque is the ideal place to experience this authentic, breathtaking artform. Combine a performance with a four-course, prix fixe dinner at Tablao Flamenco Albuquerque any weekend night, or visit Casa Flamenca's Tablao al Aire for an outdoor flamenco experience. Don't miss the largest flamenco event held outside of Spain – Festival Flamenco Alburquerque – in June. 
21. Browse Unique Art Exhibits
The Indian Pueblo Cultural Center has a wide variety of Native art to explore. From Jan. 20 to May 22, experience "Clay Line of the Red Willow People: A Showcase of Three Taos Pueblo Artists". This exhibition affords the opportunity to see Taos Pueblo at its finest through the eyes of three talented artists who were born and raised in the community. Don't miss these upcoming exhibits at 516 ARTS, Albuquerque's non-collecting contemporary art museum:
●"Artists as Knowledge Carriers" (Feb. 4–May 6). This exhibition features the work of art professors in higher education – including New Mexico State University (NMSU), University of New Mexico (UNM), Central New Mexico Community College (CNM) and the Institute of American Indian Arts (IAIA) – who are guiding emerging artists into the future. Their role is essential in cultivating critical and informed intellects in the realms of contemporary art and global culture. Highlighting the artistic production of these mentors reveals their unique visions, rigor, and dedication to their craft.
●"12 New Mexico Artists to Know Now" (June 3–Sept. 2). 516 ARTS will host Southwest Contemporary's annual "12 New Mexico Artists to Know Now," which provides a compelling snapshot of the state of contemporary arts across New Mexico. Whether these artists are at the peak of their craft, building upon cultural legacies, pushing the boundaries of their media, using materials in surprising ways or responding to timely issues, they show us the unique vision of artists propelling creative work forward across this state.
22. Take Advantage of 2023 Events
Plan your vacation around a meeting, convention or sporting event taking place in Albuquerque. The city will host the 2023 USATF Indoor Combined Events Championships in February, the 2023 NCAA Division I Indoor Track & Field Championships and Anime New Mexico in March, and many other meetings and events throughout the year. In November, the International Western Music Association's 2023 National Convention will take place in the city. For a full list of upcoming events, view the calendar at ABQ365.org.
23. Visit the Filming Locations of your Favorite TV Show or Movie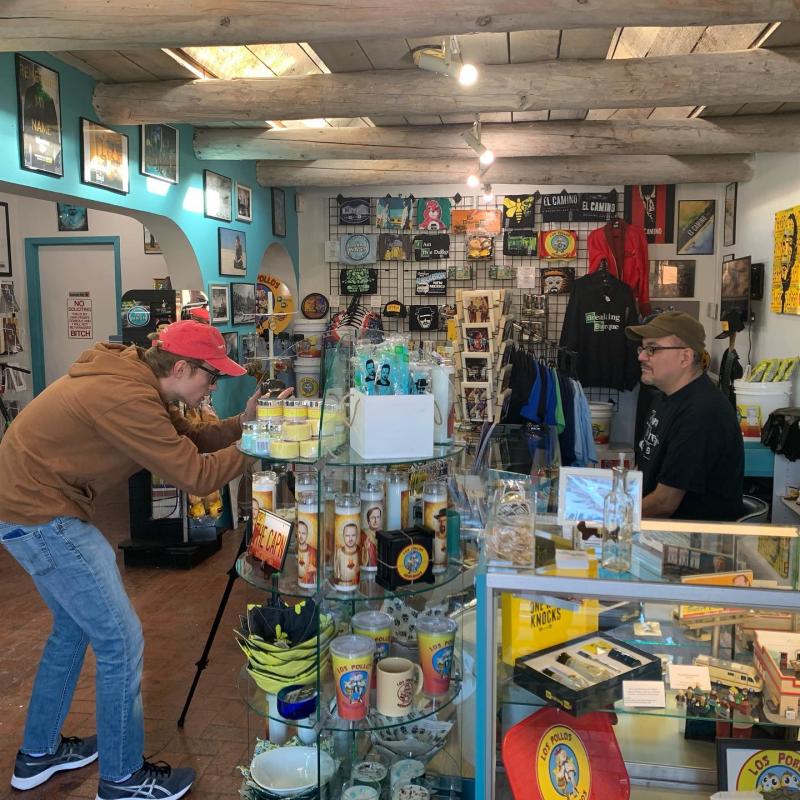 Photo Credit: The Breaking Bad Store
Explore filming locations you see on-screen in Albuquerque. With popular series like "Breaking Bad" and "Better Call Saul," there are numerous options to immerse yourself into their world, including taking a Breaking Bad RV Tour or visiting The Breaking Bad Store. Season 4 of "Stranger Things" recently filmed in and around Albuquerque as well. Explore Netflix's "Netflix in Your Neighborhood" to find filming locations for your favorite Netflix TV show or movie.