Albuquerque was a filming location for Season 4 of Netflix's "Stranger Things." The iconic Sandia Mountains serve as the backdrop for the Byers' new life in California, and a few ABQ businesses, homes, schools and parks are featured as well. The show's bingeable quality means many of us have already finished the new season and are hungry for more. While we anxiously await Season 5, immerse yourself in the lives of the characters with this guide for a "Stranger Things"-themed day in Albuquerque! 
Waffles for Breakfast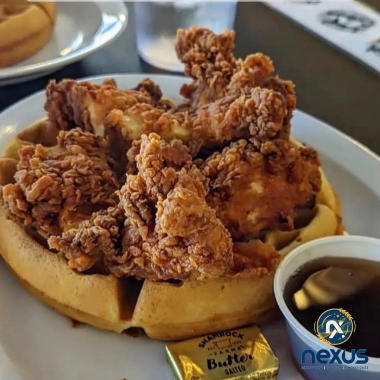 Image Source: Instagram 
Eleven loves Eggo waffles. Mike snuck Eggos down to El when she was living in his basement in Season 1. This presumably kickstarted her love for him, and for Eggos. However, like the good dad he is, Hopper tells Eleven she needs to eat some "real food," not just Eggos. Kickstart your adventure-filled day with chicken and waffles at Nexus Brewery, or the "Benitos" waffle at Tia B's, which comes with two eggs and green chile cheese sauce. We think these waffles would be Hopper-approved, and are sure to make him at least "halfway happy." 
Take Your Party on a Campaign at Empire Board Games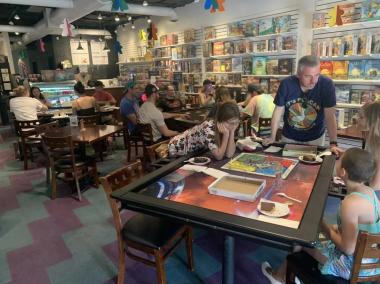 Image Source: Instagram
Mike, Will, Lucas and Dustin's experience with the game "Dungeons and Dragons" helps them navigate the world of the Upside Down. Although the jocks in Hawkins don't understand their passion for the game and are threatened by it, it's really an innocent game full of fun. It bands the boys together, and helps them make new friends, like Eddie, in the Hellfire Club. It also helps them bond with Erica, Lucas' witty little sister. You can try your hand at various fantasy games at Empire Board Games in Albuquerque, where hundreds of games are available to rent by the hour. It's the perfect bonding activity to get your party ready to fight those monsters. 
Prepare for BAT-tle at Fat Axe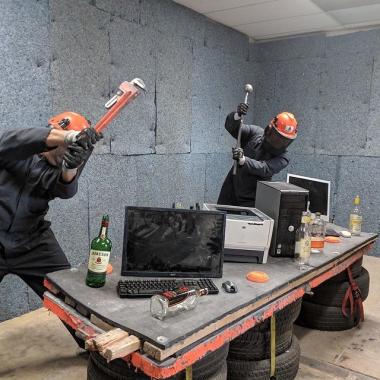 Image Source: Instagram
Now that you have your strategy down from campaigning, you can get your body ready to fight at Fat Axe. Fat Axe has a rage room, where you can destroy various types of rooms, including an office space, bedroom, kitchen or any other kind of room you want to destroy. It also has an area with targets where you can practice throwing axes, knives and throwing stars. Those monsters won't know what hit them! 
Fuel Up With Some Pizza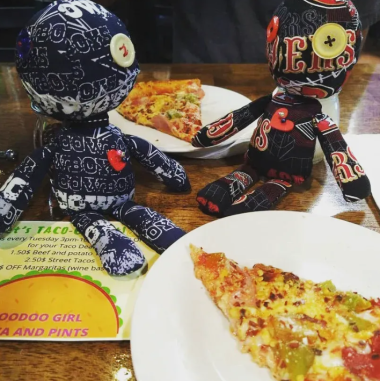 Image Source: Instagram
We may not have a Surfer Boy, but we do have a Voodoo Girl! Voodoo Girl Pizza & Pints has a variety of appetizers, pizzas, burgers, wraps and beers! You can settle the debate between Mike, Eleven and Argyle about whether or not pineapple belongs on pizza by trying the "Spicy Hawaiian Island," which features ham, pineapple and a hint of green chile. 
Expand Your Mind With a Salt Float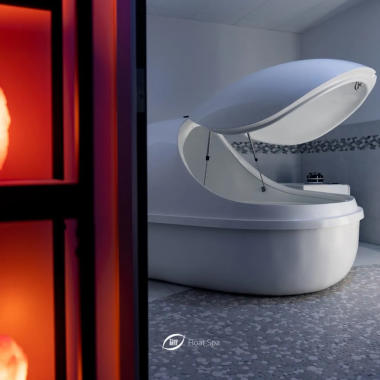 Image Source: Instagram
Eleven uses a sensory deprivation tank to strengthen her powers. You can try out a salt float here in Albuquerque, and see if it really does expand the mind! Betty's Bath & Day Spa features tubs with salt water filtration, which they say is good for your skin. True Rest Float Spa offers the type of sensory deprivation actually used by Eleven in the show, using over 1,000 pounds of Epsom salt in pods with 180 gallons of water! 
Check Out a Filming Location Featured on the Show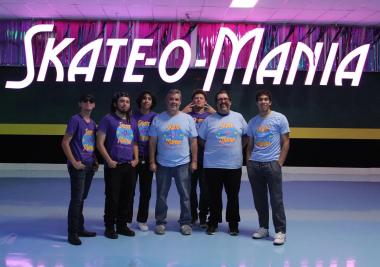 Image Source: Instagram 
Snow Park in Albuquerque's Northeast Heights takes on an eerie feel in the scene where Eleven explores Max's memories. In the show, the Snow Park arroyo is filled with young skaters, and the bridge is decked out with the turntable from the Snowball. Grab your skateboard and speaker and hangout at this park like Max! Local roller rink Skate-O-Mania is also featured in "Stranger Things," but the rink's name was changed to "Rink-O-Mania'' for the show. The rink was where Eleven was tormented by Angela and ultimately pushed too far, resulting in Eleven bashing Angela in the face with a skate. You should definitely check out this hip rink, as long as you keep your skates to yourself! 
Eat like a Cast Member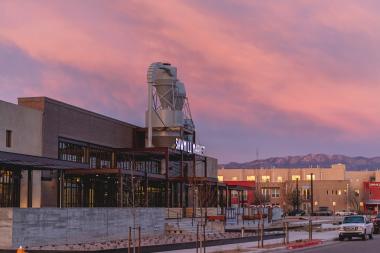 Image Source: Heritage Hotels & Resorts
For lunch or dinner, you should check out Sawmill Market, which was enjoyed by several members of the cast! In an interview with the MTV program "Songs to Blank To," Charlie Heaton (Jonathan) and Eduardo Franco (Argyle) discuss how they spent a lot of time at Sawmill while filming in Albuquerque. While there, they remixed the song "Creep" by Radiohead with lyrics about Sawmill, such as, "Red and green, La Flor Taco, have you tried the lemonade?" (The name of the restaurant is actually Flora, not La Flor, but Charlie and Eduardo are welcome back any time!)