A big astronomical event is happening on Oct. 14, 2023 – an annular eclipse – and Albuquerque is one of the best places in the United States to watch it. This special occurrence happens only once every year or two, and sometimes it is not visible from any part of North America. Making this year's eclipse even more special is that it will occur during the Albuquerque International Balloon Fiesta®. Read on to learn more, and make your plans now to head to Albuquerque for this rare experience. 
What is an annular eclipse?
According to NASA, an annular eclipse occurs when the moon passes between the sun and Earth, and the moon is at its furthest point from Earth. This creates a "ring of fire" effect where the moon doesn't fully cover the sun. Over 90% of the sun's surface will appear to be covered at peak annularity, according to Space.com. Because portions of the sun are always visible, it is important to wear proper eye protection when viewing an annular eclipse.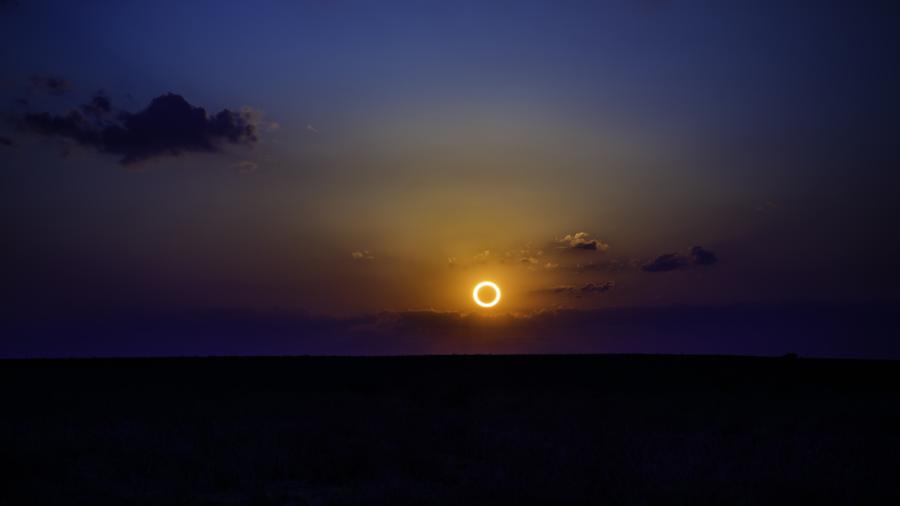 View of the May 2012 annular eclipse in New Mexico
The next annular solar eclipse will happen Oct. 2, 2024, with the "ring of fire" visible from the Pacific ocean and parts of South America.
Why is Albuquerque a great place to see it?
You can only see the full "ring of fire" effect along the path of annularity. Albuquerque will be directly in the eclipse's path on Oct. 14, 2023, meaning the moon will cross the middle of the sun. The partial eclipse will begin at 9:13 a.m. Annularity will begin at 10:34 a.m., and the eclipse will reach its maximum at 10:35 a.m. Albuquerque also offers great weather with high chances of clear skies to easily view the eclipse.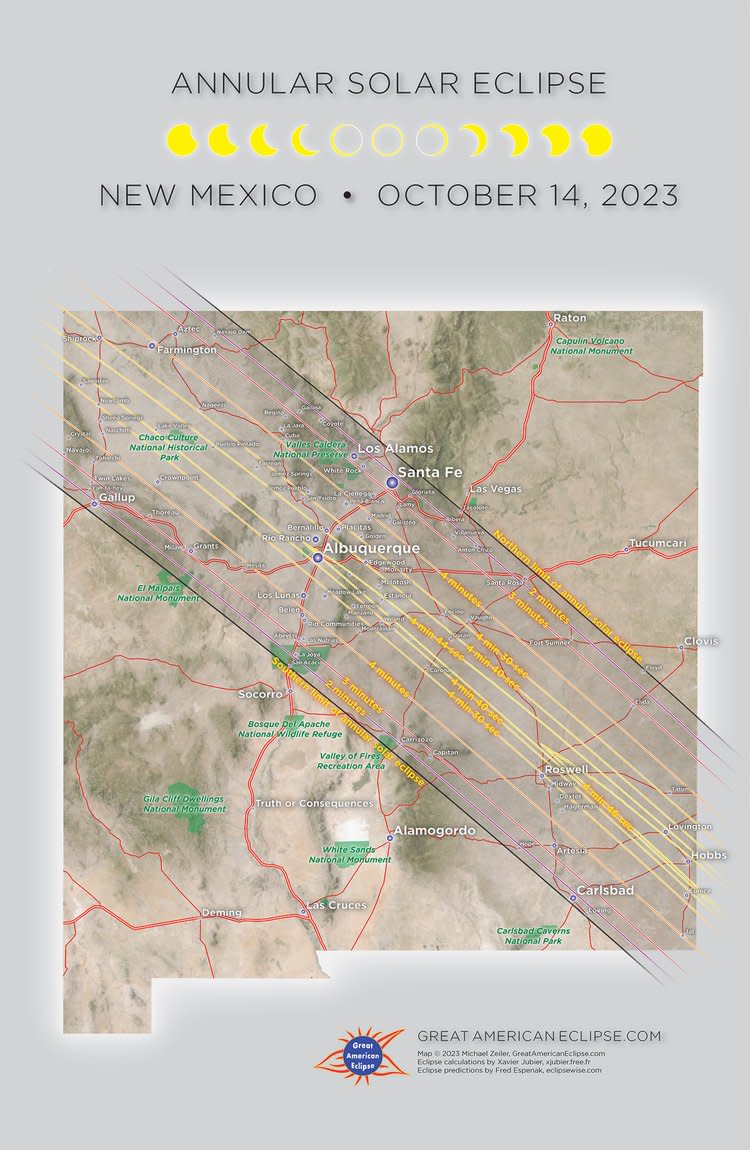 Image Credit: Michael Zeiler, GreatAmericanEclipse.com
Because the 2023 annular eclipse is happening at the same time as the Albuquerque International Balloon Fiesta®, you'll already be spending the day with your head turned toward the sky to watch hundreds of hot air balloons floating overhead. Balloon Fiesta will have special programming surrounding the annular eclipse. If you're planning to visit Albuquerque around Oct. 14, it's recommended you book your hotel soon. Rooms are expected to fill up quickly due to the Balloon Fiesta and the eclipse.