Music and Albuquerque go together like red and green chile. Soon, a new music venture featuring Albuquerque will reach millions of people. The second season of the TV series "Bands of Enchantment" wrapped up production in Albuquerque in September and will air on PBS beginning in February 2023. In New Mexico, "Bands of Enchantment" will air on Saturdays, starting Feb. 4 at 4:30 p.m. on KNME (NMPBS). For PBS stations outside of New Mexico, check your local listings. Episodes can also be viewed online. Each of the 10 half-hour episodes will feature musical acts from across the country. Visit Albuquerque was one of the project's sponsors, and I was lucky enough to attend a couple of the concerts to get a sneak preview of the upcoming season.
The performers featured on "Bands of Enchantment" span a wide range of genres, from folk and rock to blues and alternative. Each musical act performed at the iconic Rail Yards in the historic Barelas neighborhood of Albuquerque. The set featured a large painting that depicted the Downtown Albuquerque skyline, and the artists stood in front of a large Zia symbol under a light-up Albuquerque sign. Each band also recorded an acoustic performance at a variety of locations around Albuquerque, such as the KiMo Theater. Those segments will be included when the episodes air, but the acoustic sessions were not open to the public.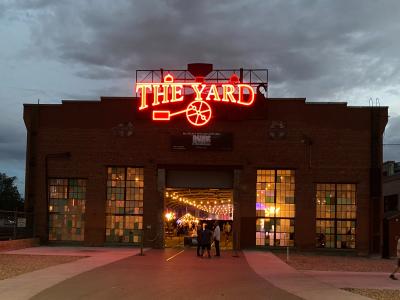 I attended a concert by Flor de Toloache, an all-female mariachi band based in New York City. Founded in 2008, this Latin Grammy-winning ensemble includes musicians from Mexico, Puerto Rico, Cuba, Colombia and the United States. The audience was extremely excited to see Flor de Toloache. It was a packed house, and the atmosphere was electric. The best part of their performance was their voices.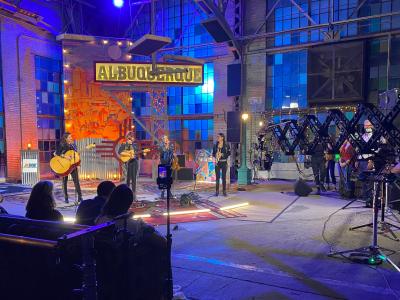 I was floored at the sheer talent these women possess. Their voices carried throughout the Rail Yards, surrounding everyone with their unique brand of mariachi. It was impossible to not get caught up in their music, whether that be with some foot tapping and head nodding or outright dancing.
Filming for television is a little different than attending a regular concert.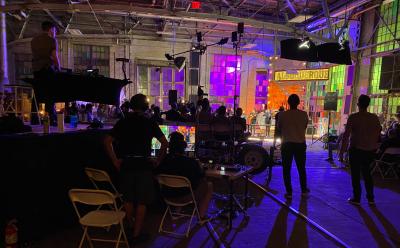 A lot of recording equipment and camera operators moved around the set. After the band performed all of the songs, the crew had to re-shoot a few that had too much ambient noise (one of the dangers of filming near the train tracks) or to get additional angles of the performers and audience. After their set wrapped up, the audience cheered for an encore until Flor de Toloache sang an unplanned encore song to wrap up the night.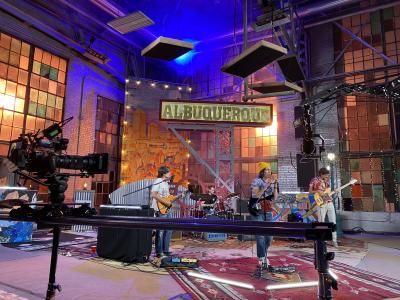 On another night, I saw the French Cassettes perform. From San Francisco, this indie-rock band focuses on harmony-driven pop with catchy melodies. It was another fun show. This time around I got a seat on one of the couches directly behind one of the cameras. It was fascinating to see how the cameras operated and observe which shots the operator was focusing on.
The music itself was right up my alley. The rest of the audience seemed to enjoy it too, cheering loudly and dancing along.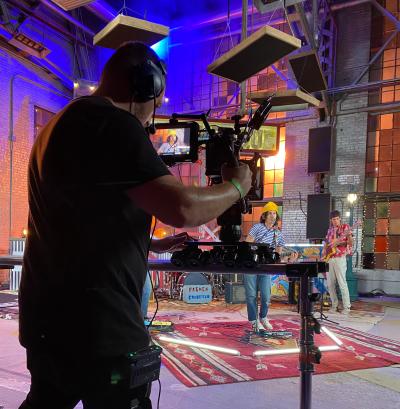 At the end of their set, everyone got up and started dancing. I ended up directly in front of the band. I'm not sure how I feel about my terrible dance moves being broadcast to people across the country, but I had a great time. I loved the French Cassettes' music so much I pulled up their latest album on my phone to listen to on the drive home. I'm thrilled to have discovered two new, incredible bands, and I can't wait to discover even more when all the "Bands of Enchantment" episodes air.
Season two of "Bands of Enchantment" will begin airing in late January 2023 on PBS, enhancing Albuquerque's reputation as a city that embraces live music of all genres. Episodes will also be available on streaming services.