Albuquerque is home to some of the best views. What better place to enjoy the beautiful landscape than a rooftop bar? With a few different options to choose from, you're sure to find the perfect place to sip on a cocktail while looking at the majestic sights Albuquerque has to offer.
Apothecary Lounge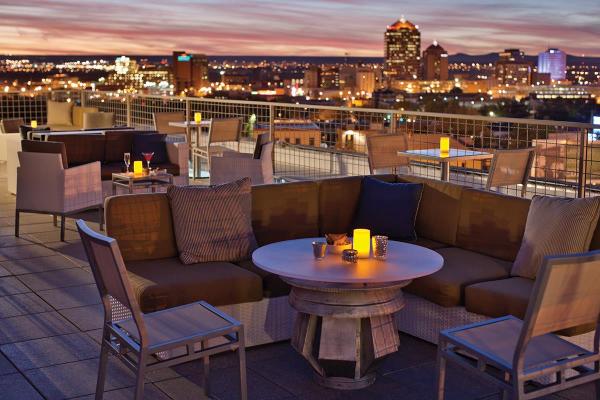 Located on the roof of Hotel Parq Central, Apothecary Lounge offers stunning views of the Sandia Mountains to the east and Downtown Albuquerque to the west. The Lounge specializes in Prohibition-era classic cocktails. If that's not your style, try one of their many flavored bitters – including Aztec chocolate and rhubarb – to take your drink to another level. Sample some of their small plates while you're there too.
Go-to drink: Try the Apothecary Lounge's spin on the Cobra Rye, a 19th century pharmaceutical drink featuring rye whiskey, honey and spices.
Level 5 Rooftop Restaurant & Lounge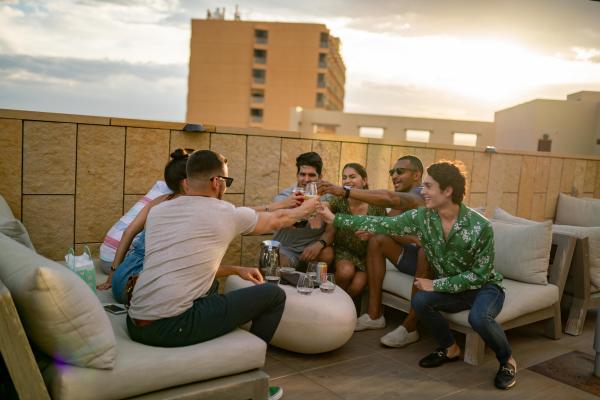 Level 5 serves up not just delicious drinks but tasty meals as well. Located on the fifth floor of Hotel Chaco, you'll be able to see the Sandia Mountains and parts of Historic Old Town from your seat. Head to Level 5 for brunch, when you can enjoy New Mexico lavender and honey ricotta-filled crêpes or some classic huevos rancheros while sipping on a mimosa. Stop in for dinner to dine on zucchini enchilada salad or winter pavlova with one of their signature cocktails. Reservations must be made in advance, and hotel guests receive priority status.
Go-to drink: Try the Botanist, a concoction of gin, house-made kombucha, juniper and thyme.
Seasons Rotisserie & Grill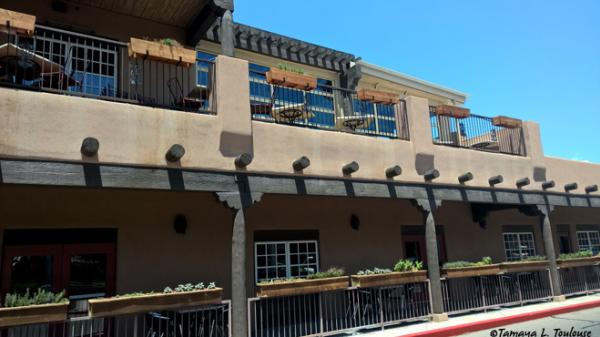 Overlooking Historic Old Town, Seasons Rotisserie & Grill is the perfect place to go for steak and fresh seafood and a delicious cocktail. The family-owned restaurant and rooftop bar gets many of its ingredients locally and sustainably. Get unique dishes like manchego and red chile ravioli to pair with a long list of local beers on tap and a number of signature drinks.
Go-to drink: Try the Dalmation, a mix of roku Japanese gin, grapefruit, lime and black pepper syrup.
Ibiza Lounge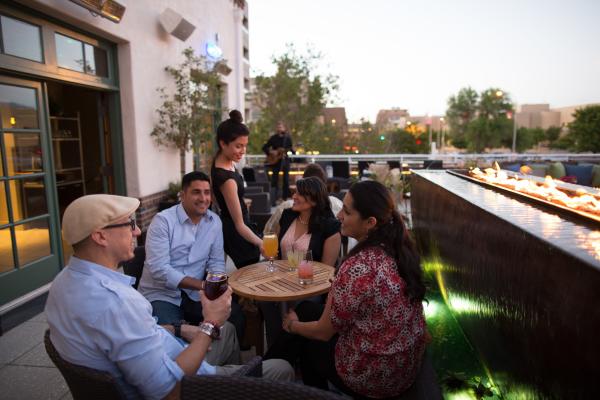 Head to the roof at Hotel Andaluz in Downtown Albuquerque to find Ibiza Lounge. The craft cocktails here are delicious and refreshing. Nibble on a selection of favorites from the restaurant downstairs, MÁS - Tapas y Vino.
Go-to drink: Sip on some frosé, the perfect balance of frozen rosé.
Bien Shur Rooftop Lounge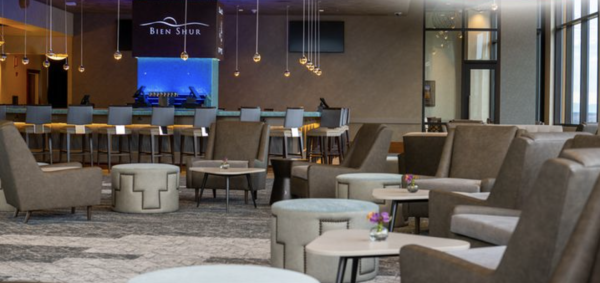 Photo Credit: Facebook
Head to the roof of Sandia Resort & Casino to find Bien Shur Rooftop Lounge. Open on Fridays and Saturdays, it's the perfect spot to take in the magical view of the Sandia Mountains while enjoying some local wine or beer. Appetizers are also available, including piñon-crusted New Zealand lamb lollipops and vanilla bean crème brulee with biscochitos.
Go-to drink: Sip on a Sandia watermelon cider while looking at the Sandias.
Vintage 423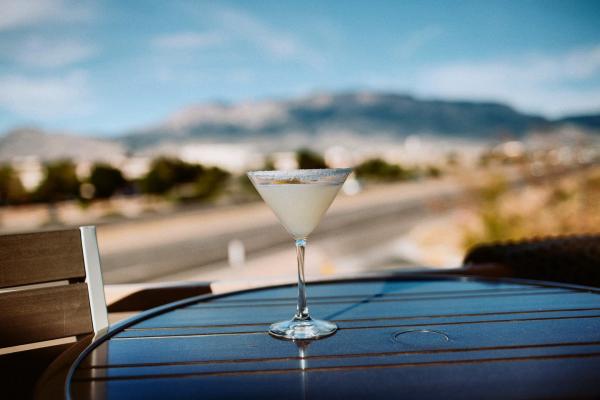 Photo Credit: Facebook
Vintage 423 is one of the best fine dining spots in Albuquerque. Located on the Eastside, its rooftop bar will give you a stunning view of the Sandia Mountains. If you stop in for lunch or dinner, choose from a full menu including Dos XX beer-battered fish and chips and Chilean sea bass with green chile risotto. For a more casual experience, sit at the bar to sip on a cocktail and dine on one of the many appetizers offered. Be sure to check the dress code before you go!
Go-to drink: Try one of Vintage 423's signature margaritas, including a jalapeño pickle margarita, featuring tequila infused with jalapeños and pickles and pickle juice.