Executive Chef Marc Quiñones' energy is palpable. As soon as you step foot in Level 5, the restaurant at Hotel Chaco in Old Town Albuquerque, it's clear that it's a special place with a talented executive chef leading the charge. Chef Marc is the embodiment of what it means to be a proud New Mexico resident representing Albuquerque at a high level. He's only been in charge at Level 5 for about four months, but he's already hit the ground running.
Originally from the Bronx, Chef Marc moved to New Mexico as a teenager with his mother. He later studied culinary arts at Le Cordon Bleu in Scottsdale, Arizona. Since returning to New Mexico, Chef Marc has worked at a handful of restaurants, most recently a six-year stint at MÁS - Tapas y Vino at Hotel Andaluz. He took over as Executive Chef at Level 5 in March 2023, and feels blessed to have a platform to showcase local cuisine.
"We want to tell the story of New Mexican cuisine at its best," Chef Marc said. "This platform matches what the team brings to the table in terms of the food and having a chance just to tell our story and to tell the story of our farmers, our grandmothers and grandfathers and our ancestors and to just really represent New Mexico at its best."
Level 5 has contemporary and modern cuisine, with a hyper-seasonal menu that changes between and within seasons. From Chef Marc's signature pork belly to his award-winning New Mexico-spiced duck-fat fried oysters, the New Mexican inspiration is clear. 
"We're going to do what feels right and what feels New Mexico here," Chef Marc said.
His current favorite dish on the menu is the asparagus calabacitas, a summer squash dressed with New Mexico cheddar cheese, red chile and lime. While that may seem like a simple dish, it is anything but.
"Calabacitas is not just a $5 side item," Chef Marc said. "It really could be a feature attraction … it shows, 'Hey, we treat our vegetables the same way we treat our Chilean sea bass.'"
While the colorful and elegant plating is gorgeous, you'll also want to look at the plates themselves. Level 5 uses local pottery, plating ingredients from New Mexico farmers and even the garden at Hotel Chaco on New Mexican dishes. It's the attention to detail from farm to table that shows how Chef Marc cares about telling the New Mexican story from start to finish. By presenting New Mexican cuisine at an elevated level, he hopes to encourage people to visit Albuquerque and dine at the mom-and-pop restaurants serving traditional New Mexican cuisine.
"I just want to tell the story of the food of our people," Chef Marc said. "It's that simple."
He's getting the chance to tell that story on multiple levels. In June 2023, Chef Marc traveled to Houston to create a two-night guest chef dinner at Amrina, Eater Houston's Restaurant of the Year. He's also appeared on the Food Network multiple times, from "Cutthroat Kitchen" to "Chopped." He competed in the "Great American Seafood Cookoff" on PBS twice. But his favorite? Competing on season 19 of "Hell's Kitchen."
"The energy, the excitement, the tenacity of the competition … it was hellish, what can I say? It really was," Chef Marc said.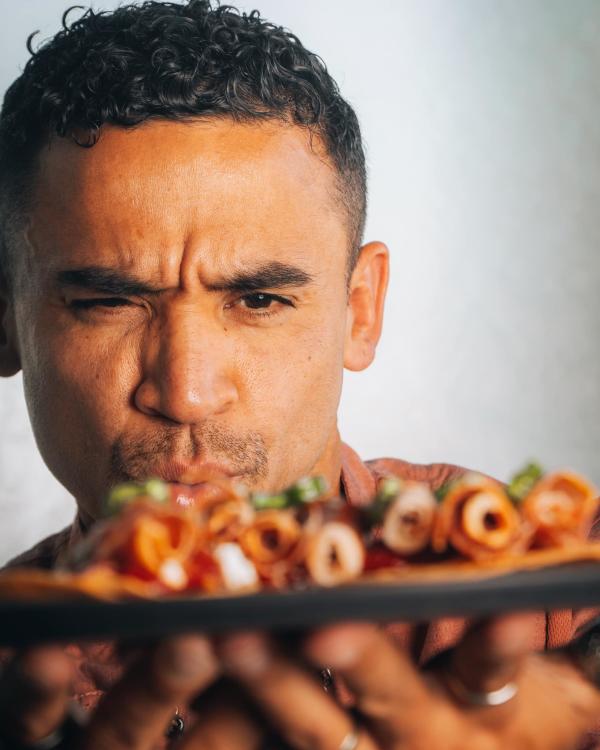 Photo Credit: Instagram
Looking to the future, Chef Marc is excited to evolve the way people think about New Mexican cuisine and to keep putting Albuquerque on the map as a great food destination.
"You hear a lot about New York and LA and Chicago and Denver, and now Phoenix, and here we are in Albuquerque," he said. "Now let's be world-class."
But Chef Marc knows who to thank for all his success.
"Thank you to Albuquerque, like truly, thank you," he said. "I wouldn't be here without Albuquerque."