New Mexico is nicknamed the Land of Enchantment for a reason. Stunning mountains, vast deserts and meandering rivers can all be found here. What better way to explore New Mexico's beautiful landscape than on horseback? I headed out to The Stables at Tamaya to go on my first-ever horseback ride.
The Hyatt Regency Tamaya Resort and Spa is nestled near the banks of the Rio Grande in Bernalillo, New Mexico. Located on Santa Ana Pueblo land, the resort itself offers stunning views and a sense of being away from the hustle and bustle of normal life. Even though I was there for only a few hours, and spent most of that time outside on a horse, I couldn't help but be impressed at the beauty of the resort, and started mentally planning a weekend getaway.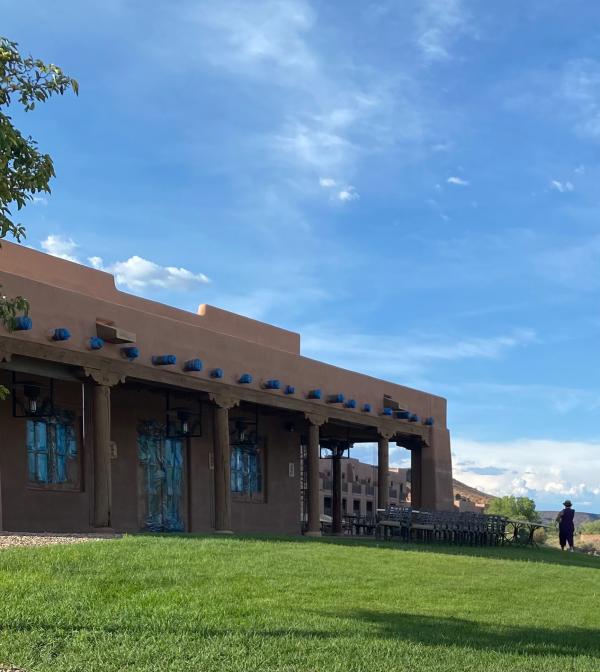 Back to the horses. It's a short ride along giant rock formations to the west and cottonwood trees and, in the distance, the Sandia Mountains to the east to get to The Stables. It's a great opportunity to check out some of the scenery without worrying about steering a horse in the right direction.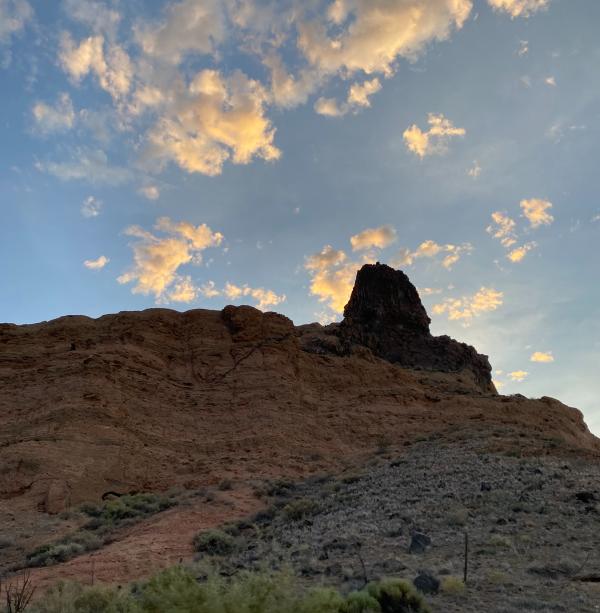 Once I got suited up in my riding helmet, it was time to meet the horses. There are a few other animal friends hanging out near the area where riders mount their horses. Take a minute while waiting for other riders to greet the donkeys, goats and other creatures at The Stables. When it was my turn to hop on, the wranglers brought over my horse, Negative Ten. The name was given to her by a young child, and in the spirit of rebranding, Tamaya has been working on calling her Positive Ten. Whether she's negative or positive, she was a very sweet (and mostly well-behaved) horse. Many of the trail horses are rescued horses who needed a job to fulfill. The Stables is home to the Tamaya Horse Rehab Non-Profit, an organization started about a decade ago that helps train and rehome rescue horses. Many of those rehabilitated horses go on to work at the trail-riding business at Tamaya.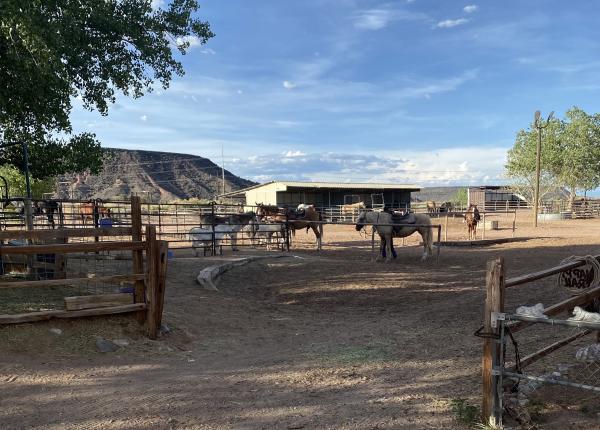 After my colleagues and I were ready to go, our wranglers hopped on their horses and we were off. The Stables offers 90-minute group rides and customized, private rides that last 60 minutes, 90 minutes or a two-hour lesson and trail ride combination. It was an intimate and personal experience being on a ride with myself and two others, along with our two knowledgeable wranglers, Katie and Jasper. They led us into the cottonwood bosque, or riverside forest. The summer heat was still quite prevalent, even at sunset, but with the shade of the trees during the hottest part of the ride, it was perfectly pleasant.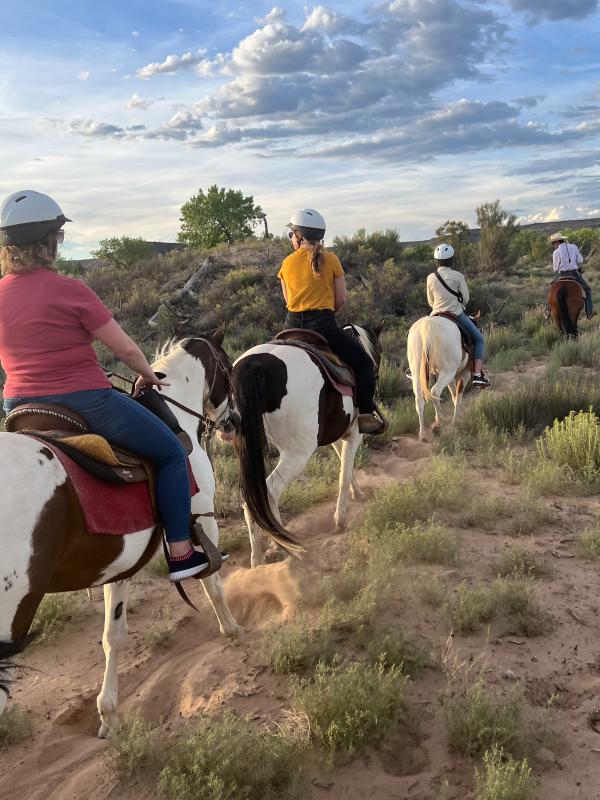 I'll be honest – I wasn't completely paying attention to what our wranglers were saying during the first part of the ride, as I was concentrating on how to actually ride a horse. After a few minutes, a couple accidental gallops and some helpful advice, I felt pretty confident in my riding abilities and started paying more attention to the scenery we were riding through. The Santa Ana Pueblo grants Tamaya special permission to ride horses through the land, so we were the only people out there. It was serene to enjoy such a uniquely New Mexican landscape like the bosque at a beautiful time of day in a new, exciting way.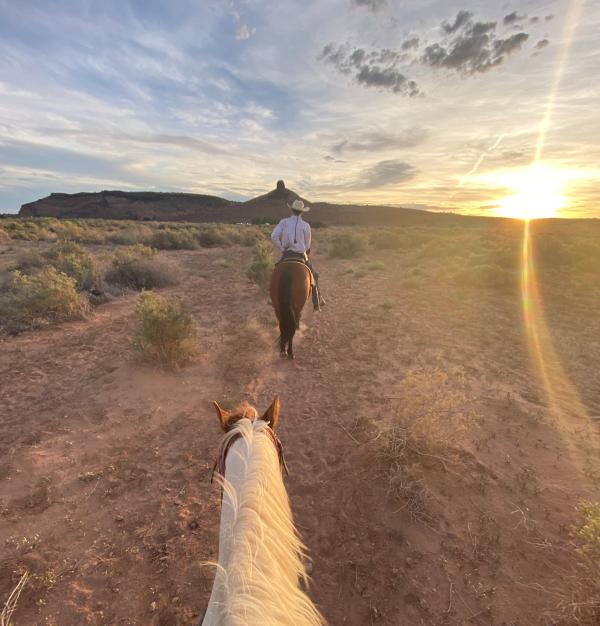 But what really made the ride special were the wranglers. From entertaining anecdotes about animals spotted during previous rides to fun facts about the land, it was a joy to ride with Katie and Jasper. They answered every question thrown their way. They ensured that the experience wasn't just about the majestic surroundings – it was a learning experience too.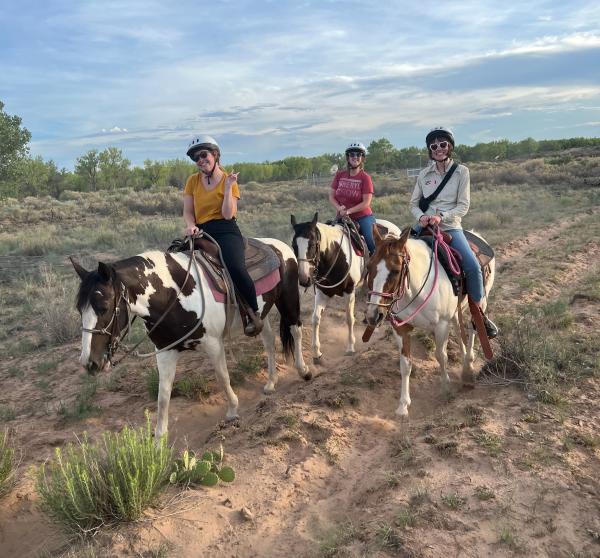 After arriving back at the stables just as the sun was sinking behind the horizon, it was time to dismount and attempt to walk off the saddle soreness. A couple minutes and a couple laps later, I was feeling better – or at least able to walk to my car. Despite my initial trepidation, the adventure was an overwhelmingly positive ten, and one I'll remember for a long time.