The holidays are a great time to enjoy cooking a recipe and sharing it with your loved ones. Indian Pueblo Kitchen shared this recipe for posole, a spicy corn stew traditionally made with pork that is common for New Mexicans to eat during the holiday season. Indulge in a simmering bowl to warm you up this winter!
Posole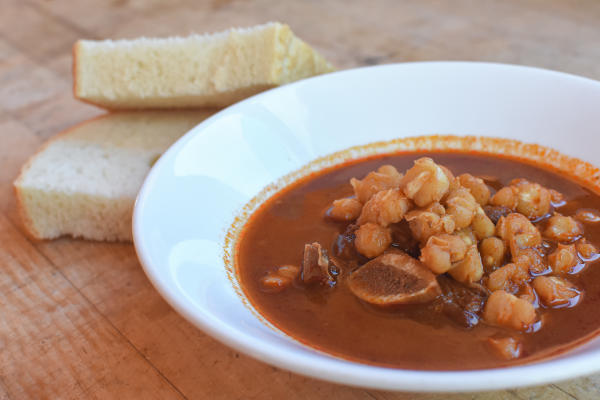 Courtesy: Indian Pueblo Cultural Center/Indian Pueblos Marketing, Inc.
2-pound bag of white hominy
2 pounds pork, cut into 1-inch cubes
4 cloves of garlic
3 bay leaves
1 teaspoon of cumin  
2 tablespoons dried Mexican oregano
1 pound of red chile pods
Dash of salt
2 tablespoons oil
Boil 3 quarts of water, remove stems and seeds from red chile pods. Add chile to water and let reduce for an hour. Place pods into a blender, along with 2 cups of liquid from stock, and puree well.
Pour chile puree into a pot with remaining water, and add the white hominy. Cook for 45 minutes on low heat.
Brown the pork, garlic, bay leaves, cumin and oregano with two tablespoons of oil in a saucepan for at least 5 minutes.
Add pork and spices to the pot of boiling chile puree and hominy.
Let mixture simmer for 35 minutes on low heat until pork is soft.