You might not think the dry, desert climate of Albuquerque and an ice hockey team go together. The New Mexico Ice Wolves are here to prove you wrong. First started in 2019, the Ice Wolves are a junior hockey team made up of young men hoping to play NCAA Division I hockey and beyond. I recently went to my first Ice Wolves game as the team took on the Corpus Christi IceRays at the Outpost Ice Arena in Albuquerque.
I am by no means a hockey expert. I know enough to follow the basics of a game,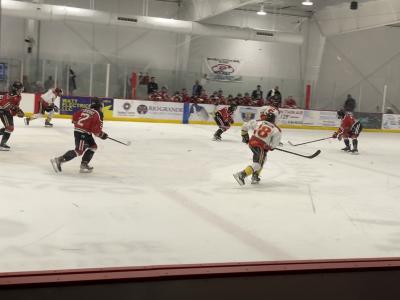 but I am unfamiliar with the more complex rules and penalties. Turns out you don't need a deep understanding of hockey to enjoy the game. I had a seat in the middle toward the center of the ice that gave me a great view of the game. Most of the seating is on the bleachers, but there are some chair seats available. If you prefer to move around, rent some blades and skate around the other rink at Outpost. Where the two rinks connect, you can watch the Ice Wolves game from the ice.
And it was a great game. The pure athleticism of the players amazed me. I can barely stand upright on ice skates, much less skate circles around other players. The game was fast-paced and exciting from beginning to end. I was unprepared for the first goal scored by the Ice Wolves. The stands erupted into cheering, and small stuffed wolves rained onto the ice as fans threw them.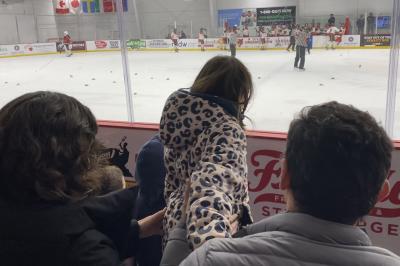 The fans were what struck me the most. I've never experienced a crowd that was as warm and supportive as the one at the Ice Wolves game. Those sitting around me were incredibly nice and cheered loudly every time the Ice Wolves made a good play. I was also pleasantly surprised by the wide range of people in attendance – from high schoolers and young couples to grandfather, son and grandson sitting near me. It's clear anyone and everyone can enjoy an Ice Wolves game.
During one of the intermissions – during which fans were entertained with games like Purse Search and Chuck a Puck – I headed over to Chilly's Pro Shop, where you can find skating and hockey equipment along with a selection of Ice Wolves merch.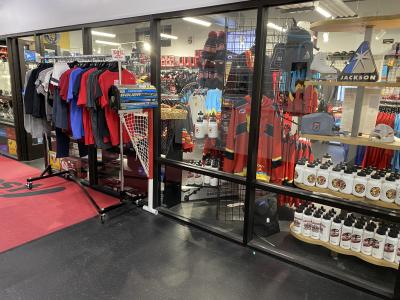 I spotted stylish sweatshirts, water bottles and even bucket hats. There is also a concession stand outside the rink, serving typical sporting event fare, including slushies (which I personally think are way too cold to drink during an already chilly hockey game).
After six thrilling goals from the Ice Wolves, they beat the IceRays 6-2. I was pleasantly surprised by how much fun I had, and I can't wait to attend another game. Cheering on the New Mexico Ice Wolves is a great way for spectators to enjoy winter sports in the high desert.