Executive Chef Bryan Romero has always had an eye for art and a desire to create. He's been making art – and food – for years.
"As a kid, my parents would have me cook," Chef Bryan said. "Every Thursday my dad would print out a recipe from Food Network and I would have to cook for my siblings."
His first job was at Long John Silver's, where he started to gain some knowledge of food. Chef Bryan worked at a few other places before getting a job at Bien Shur Rooftop Restaurant & Lounge at Sandia Resort & Casino. He took advantage of tuition reimbursement from the Sandia tribe to help pay for culinary school at CNM.
"As long as my grades were above a 3.5, then they would pay me back," Chef Bryan said. "It was huge motivation to basically go to school for free."
After his stint at Bien Shur, Chef Bryan brought his skills to the kitchen of Crowne Plaza and the Ranchers Club of New Mexico. He was drawn to the property because of the Ranchers Club restaurant.
"At that time I hadn't had a lot of experience with bison meats or lamb meats or things like that," he said. "The restaurant is very unique in itself and I think it's just a cool story to be able to tell … by presenting modern food in such an environment."
The environment of the Ranchers Club harkens back to an old-time ranch house, with saddles and Western art hung on the walls and plush leather upholstery.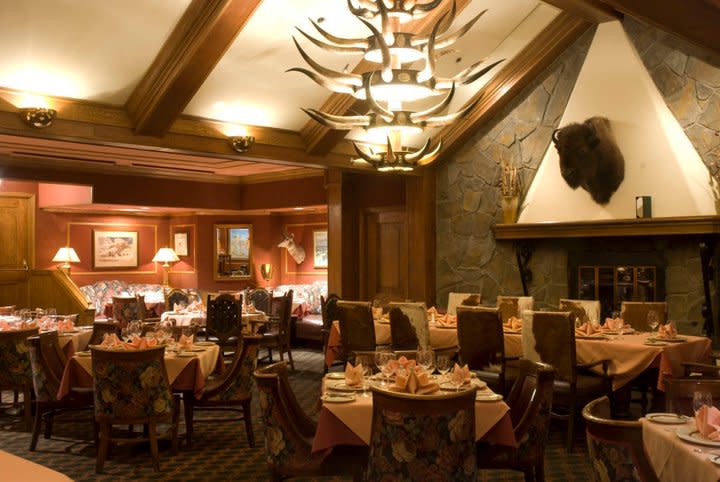 Photo Credit: Facebook
Ranchers Club is beginning to open back up, taking reservations for the holidays. The restaurant specializes in all kinds of meat, including game. The meat is cooked on a wood-fired grill, infusing a unique flavor.
Chef Bryan is also in charge of the other restaurants on Crowne Plaza's property, including the Cantina. There are a few rotating specials you'll find on the menu, including the "Never been a natural, all I do is try, try, try." The dish features a New Mexico tenderloin filet paired with bone marrow demi-glace, whipped garlic potatoes and red chile onion rings. Many of Chef Bryan's creations are named after songs that resonate with him, including this dish, named after lyrics in the Taylor Swift song "mirrorball."
When you dine at one of the Crowne Plaza restaurants, you may be surprised when everyone's meal comes on a different plate. Some have been thrifted, others gifted.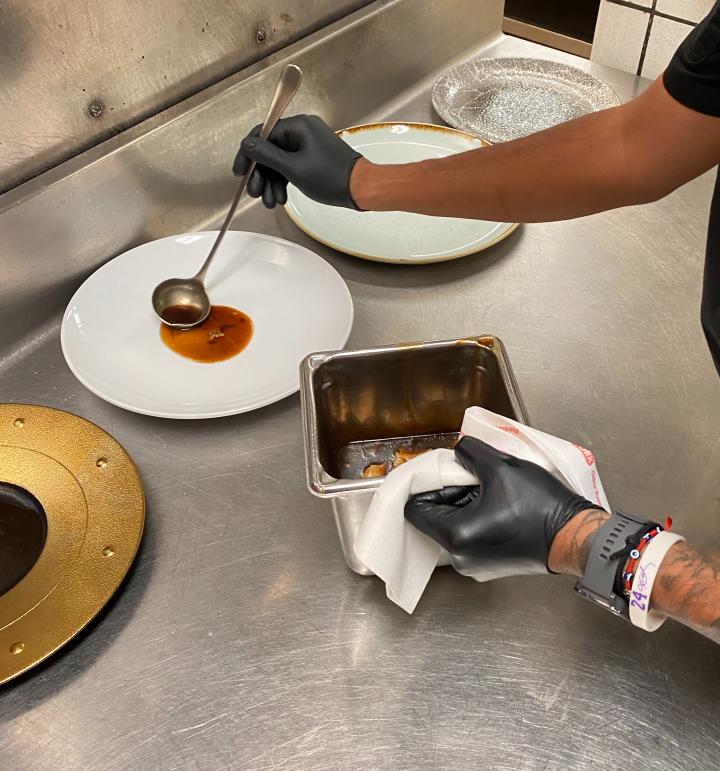 "It's another form of expression," Chef Bryan said. "More than a chef, I like to think of myself as an artist."
In the long-term, Chef Bryan wants to combine his love of food and art.
"I would like to be able to open up a restaurant that is more like art, community and theater even," he said.
Until then, Chef Bryan will be merging art and cuisine at Crowne Plaza.
"Being born and raised here [in Albuquerque], I love it," he said. "I never thought that being a chef would be this fun coming into it."