Albuquerque boasts some of the most diverse cultures in the country – well-known as a melting pot of Native American, Spanish and Mexican heritage and community.
­­­­Nearly half of New Mexico's population can trace their roots to Latin American or Hispanic origins, and this rich, vibrant culture is prevalent throughout Albuquerque.
In collaboration with the Albuquerque Hispano Chamber of Commerce, we've put together a weekend itinerary that will allow visitors of all backgrounds to honor and celebrate the heritage and traditions of Albuquerque's Hispanic community.
The following two-day guide explores historic and modern Hispanic and Mexican culture throughout Albuquerque's unique neighborhoods.
Day One: Explore the New and the Tried and True
A New Mexican Lunch
Once you've arrived in Albuquerque, stop for lunch and try some authentic New Mexican food.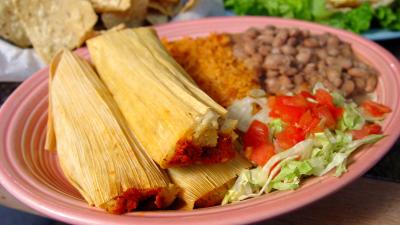 New Mexico and Albuquerque are known best for their unique cuisine, featuring a fusion of Spanish, Native American and Mexican ingredients and techniques. A New Mexican meal, smothered in red or green chile, is a must on any Albuquerque itinerary.
Albuquerque has endless options when it comes to our food, but here are a few local favorites to choose from:
Nestled in the cottonwoods of the North Valley, El Pinto Authentic New Mexican Restaurant is a must-try for beautiful scenery and atmosphere along with your New Mexican lunch. Order your meal "Christmas" style to try both their red and green chile.
El Modelo is a tried and true local favorite, and a great spot for truly authentic New Mexican and Mexican food – try the tamales or huevos rancheros, and finish any meal with a warm sopapilla and honey!
Voted Albuquerque's favorite New Mexican restaurant four years in a row in the Albuquerque Journal, Sadie's of New Mexico is another delicious option for some spicy dishes.
Explore Historic Old Town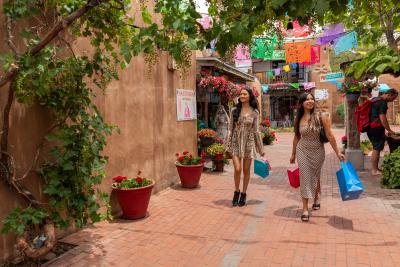 After lunch, head over to Historic Old Town to walk and explore Albuquerque's oldest neighborhood. More than 300 years after its founding, it remains a center for culture, architecture, shopping, art and cuisine. Walk along the many side streets, for some afternoon shopping, exploring, traditional Pueblo-Spanish architecture, and Hispanic history.  
Old Town was established in 1706, when a group of Spanish families settled here, not far from the Rio Grande. The settlers organized their new town in the traditional Spanish colonial way, with a central plaza anchored by a church. Despite centuries of change, Old Town has retained its charming, walkable character.
Learn more about Old Town's Hispanic connections and history here.
Grab a Coffee at a Colombian-Owned Shop
If exploring Old Town has worn you out, stop at Villa Myriam Coffee or The Brew, both Colombian-owned and founded.  
Taste Albuquerque's Spanish Side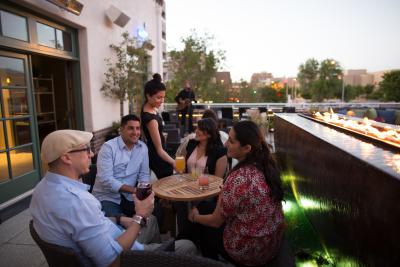 Head downtown for dinner at MÁS Tapas Y Vino where you'll experience a modern twist on classic cuisine. Enjoy the restaurant and tapas bar inside Hotel Andaluz for tapas and dishes inspired by the bold flavors, rich history and exuberance of Spanish cooking. The award-winning restaurant offers fresh and locally sourced foods and high quality ingredients.
After dinner, go upstairs to Ibiza Rooftop Bar to indulge in some specialty cocktails. 
Catch an Evening Show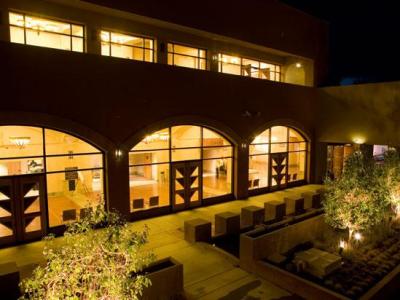 Still looking for something more after imbibing at Ibiza? Catch a concert, show or performance at the National Hispanic Cultural Center. See a schedule of upcoming performances here.
Stay the Night at the Historic Hotel Andaluz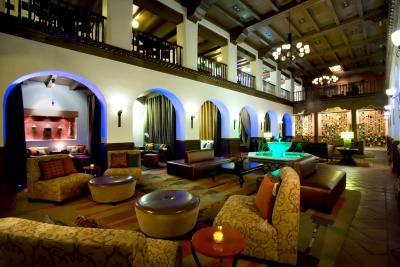 Hotel Andaluz (short for Andalucian) was placed on the National Register of Historic Places in 1984 and has been meticulously restored and updated, with an atmosphere inspired by Spain's architecture and passionate culture.
Day Two: A Day of Hispanic Art  
Have Breakfast at Barelas Coffee House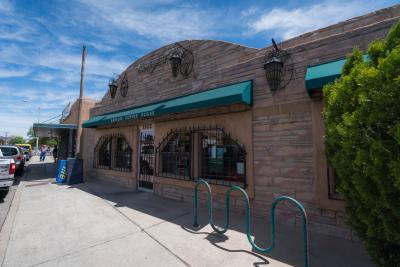 Head to Albuquerque's South Valley for an authentically New Mexican breakfast at Barelas Coffee House. You're guaranteed to get a breakfast that any local would love - and a homemade experience to match. Get a breakfast burrito smothered in green or red chile and you won't be disappointed!
Explore Albuquerque's Impressive Hispanic Art Scene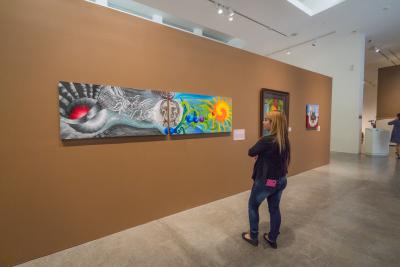 As the first colonists entering New Mexico, Hispanic artisans and craftsmen brought art forms that still greatly influence modern artists today. Hispanic art often reflects a fusion of indigenous Spanish, Mexican, African, North American and religious influences.
Spend the morning exploring one or more of Albuquerque's renowned museums featuring artwork from Hispanic artists from around the world, or check out some more contemporary examples of Albuquerque's Hispanic and Mexican art scenes:
Try One More Local Favorite for Lunch
Have lunch at Cervantes Restaurant and Lounge, Padilla's Mexican Kitchen or Monte Carlo Steak House.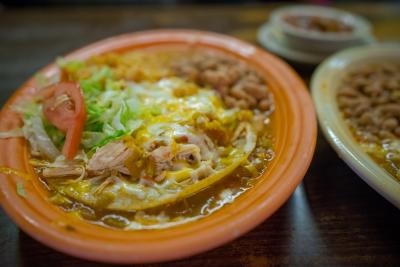 The founder of Cervantes Restaurant and Cervantes Food Products is a descendent of Spanish immigrants who first settled in the Albuquerque area more than 200 years ago. Head to Cervantes for a traditional kitchen that has been serving fresh, authentic New Mexican food for more than 30 years.
Padilla's Mexican Restaurant is known for their burritos, enchiladas, sopapillas and their casual location. The no-frills atmosphere only leaves more room for delicious food!
If you're in the mood for something a little meatier, head to Monte Carlo Steakhouse for their famous steaks and green chile cheeseburgers. An old favorite on Route 66, you won't be disappointed with the food here.
Find Your Perfect Souvenir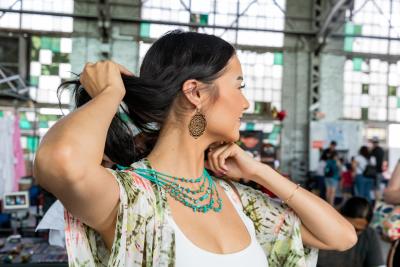 After a day of exploring unique museums and awing over Hispanic works of art, do a little shopping and take home a piece of your trip and all you've learned about Albuquerque's Hispanic heritage.  Make a stop at Duran's Central Pharmacy or some of the locally owned shops in Old Town for some unique and fun shopping options. The gift shops at the National Hispanic Cultural Center, Albuquerque Museum, and the South Broadway Cultural Center are also great places to buy Hispanic art. The store Masks y Mas in Nob Hill is another great place to purchase art from featured Hispanic artists.
Experience Flamenco in Albuquerque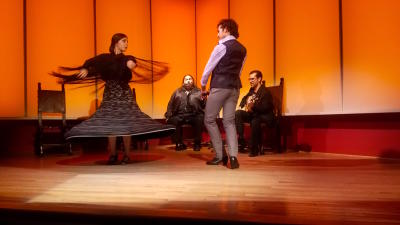 The National Institute of Flamenco in partnership with Heritage Hotels & Resorts offers an intimate performance space designed exclusively to feature the artistry of Flamenco at Hotel Albuquerque at Old Town. The Tablao at Hotel Albuquerque features artists of the highest caliber, and serves authentic Spanish food and regionally-inspired fine wines and spirits. For another unique flamenco experience, check out the Tablao al Aire at Casa Flamenca. This outdoor performance space hosts special guest artists from Spain.
Looking for even more?
Plan your weekend around one of Albuquerque's many cultural events:
Annual Christmas Eve Luminaria Tour | December
Mariachi Spectacular De Albuquerque | July
The New Mexico State Fair, where you're sure to see live Folklorico dances, Hispanic art, performances and much more | September