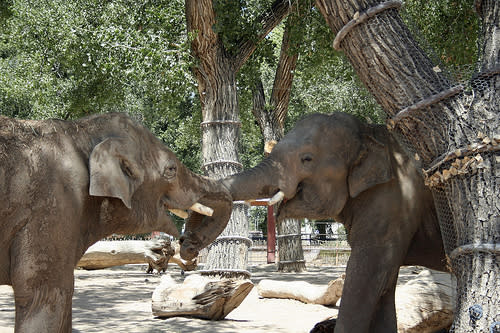 ALBUQUERQUE, NM— The ABQ BioPark Zoo is now home to one of the largest elephant exhibits in the United States. The opening of the Bull Barn makes the entire enclosure over five acres. BioPark guests can explore this behind-the-scenes area during a special open house from 10 a.m. – 2 p.m. on Saturday, August 27 as part of Elephant Conservation Day.

The new Bull Barn is an innovative design, at 11,732 square feet with deep sand floors in two large "bedrooms" and custom-built husbandry features in the bathing area. The design includes automatic hay feeders that drop hay when keepers are not there, as well as puzzles for enrichment.

"This barn is incredible because there's so much space for the elephants." said Rhonda Saiers, Senior Zookeeper. "We love the deep sand because it's a great interactive surface for the bulls. They can dig and push the sand into hills. We can even bury enrichment for them to find."

Media Opportunity: Media are invited to preview the Bull Barn in advance of the public open house. Please contact us to schedule an appointment.

The two resident bulls, Albert (12 years old) and Samson (13) will grow to eleven feet at the shoulder and weigh 10,000-12,000 pounds at maturity, around 25 years of age. The Bull Barn is built especially for these large, strong animals. Caring for adult bulls is an important part of the BioPark's work to strengthen the North American population of elephants and our efforts to support elephant conservation worldwide.

Elephant Conservation Day is also a celebration of Daizy the elephant's 2nd birthday. From 10 a.m. – 2 p.m., guests can enjoy discovery stations, food, entertainment, crafts, birthday cake and much more. Daizy will be sung to as she receives her birthday cake at 1 p.m. The event is sponsored by AM 1240 JENNiRADIO.

Activities are included with regular admission. The BioPark is an accessible facility and a division of the City of Albuquerque's Cultural Services Department. Contact the BioPark at 311 locally, (505) 768-2000 (Relay NM or 711) or visit http://www.cabq.gov/biopark.

Caption: Elephant bulls tussle. Photo courtesy of ABQ BioPark.