ALBUQUERQUE – Visitors to the 2009 New Mexico State Fair will notice several major improvements throughout the grounds, including a completely renovated and remodeled Villa Hispana and newly resurfaced Midway and Food Court areas. Last year, Expo New Mexico finished the second phase of renovation at Indian Village, which was all new for 2008. The 2009 New Mexico State Fair runs from Friday, September 11 through Sunday, September 27. Villa Hispana will be rededicated on Hispanic Heritage Day, Sunday, September 13 at noon.
"While we're constantly making major infrastructure improvements like the new water lines that have been going in over the last several months, we wanted to focus our efforts this year to some improvements that would be visible and really matter to Fairgoers," said State fair General Manager Craig Swagerty. "Villa Hispana was in dire need of a facelift, so we gave it that and, much more. What we'll have when it's finished in another couple of weeks will rival any outdoor venue in the state."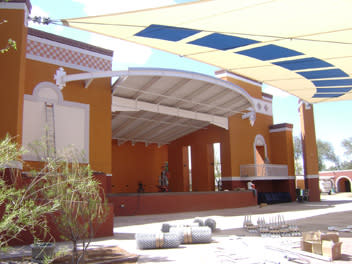 Improvements and renovations to Villa Hispana include:
Improvements:
- new professional outdoor performance stage.
- covered seating area for 600
- new permanent dressing rooms and office
- new landscaping and site lighting
- bus and trailer parking
- fire protection system for safety
- complete wheelchair access throughout the village
Renovations:
- new stucco
- new roofs
- new ceilings and lights in vendor spaces
- new storefront doors for vendors
- new power and lighting
-more-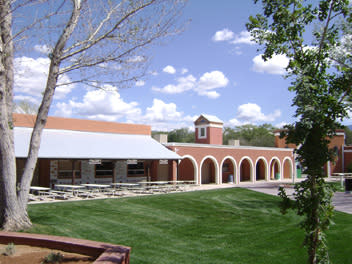 The base contract for the Villa Hispana project is with T.A. Cole at approximately $1.5 million. Total cost of the project including all equipment, fixtures, furnishings and other renovations is estimated at $2.3 million.
In addition to the Villa Hispana project and the resurfacing of major pedestrian areas of the Fairgrounds, Expo New Mexico has also invested considerably in infrastructure, the repaving of several sidewalks throughout the grounds landscaping and beautification projects, and building reparations (Fine Arts Gallery, Hispanic Arts Building, Manuel Lujan Complex, etc.).
"We really want to make the Fairgrounds as inviting and hospitable as possible," Swagerty continued. "We can't upgrade everything at once, but with a brand new Indian Village and Villa Hispana, we're a long way toward our ultimate goal."