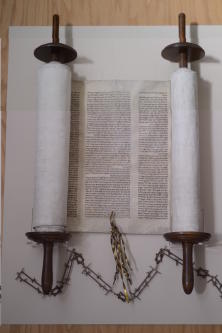 ALBUQUERQUE - A Czechoslovakian Torah from the Czech Memorial Scroll Trust & Museum in London is on display at the Holocaust & Intolerance Museum of New Mexico as part of an educational initiative promoting peace.
The Torah is one of 1,564 Scrolls, and other Jewish artifacts, salvaged from historic Czech synagogues left destroyed and deserted following the Nazi invasion during World War II.
In 1942, members of Prague's Jewish community devised a way to bring the religious treasures from the deserted provincial communities to the comparative safety of Prague. The Nazis were persuaded to accept this plan and more than 100,000 items were sent to the Central Jewish Museum in Prague. Among them were hundreds of Torah Scrolls. Each was meticulously recorded on a card index by the museum's staff with a description of the Scroll and the place from which it came. 
In 1964, the Torah Scrolls were transferred to Westminster Synagogue in London. After months of sorting, examining and cataloguing each Scroll, the task of distributing them began with the aim of returning them to Jewish congregations worldwide. The Memorial Scrolls Trust was established to carry this out. Over the years the racks have grown vacant as one Scroll after another is restored to its rightful place in Jewish life. Currently, there are about 1,400 Scrolls housed all over the world. 
Now the only Scrolls available for distribution are those that are returned for a variety of reasons. Congregation B'nai Israel in Albuquerque obtained its Torah several years ago and has agreed to lend it to Holocaust & Intolerance Museum of New Mexico. The Torah will be the centerpiece in a curriculum aimed at educating young people about the Holocaust and combating hatred. 
"This is a way to remind ourselves as to what happened," said Congregation B'nai Israel President Harvey Buchalter. "This is a Torah that once served a congregation that is no more. We've reclaimed some part of Czech Jewry that goes back 2,000 years." Museum official agree. 
"If we do not learn from the inhumanities of the past and present, these brutal injustices will continue worldwide," said Jerry Small, museum co-president. "People, especially young people, must not only be aware of this, but also understand it and become active in promoting peace." 
The Torah and curriculum will be available until April 2013 at the New Mexico Holocaust & Intolerance Museum at 616 Central Ave. SW, in Albuquerque. Museum hours are 11 a.m. – 3:30 p.m. Tue – Sat. For more information call (505) 247-0606, or visit www.nmholocaustmuseum.org.
The Holocaust & Intolerance Museum of New Mexico is a beneficiary agency of the Jewish Federation of New Mexico.