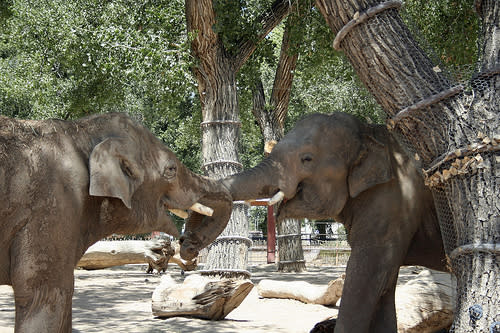 ALBUQUERQUE, NM— Daizy the Asian elephant is turning 2 years old! You're invited to celebrate with us at Daizy's Birthday Bash, a part of Elephant Conservation Day on Saturday August 27, from 10 a.m. to 2 p.m. Enjoy hands-on discovery stations, food, entertainment, crafts, birthday cake and much more.
Take a behind-the-scenes tour of the new Elephant Bull Barn during a special open house. Learn martial arts moves from the bull elephants and yoga from local instructors. Watch Daizy as she explores the yard searching for her birthday presents. Guests will also sing happy birthday to Daizy as she receives a custom-made birthday cake.
"Daizy is one of our guests' favorite animals," said Megan Lanigan, Zoo Education Coordinator. "We're planning a birthday celebration that is fun and provides many chances for guests to discover and learn more about our favorite pachyderms."
As part of Elephant Conservation Day, stations throughout the zoo will teach guests elephant facts and green actions to help preserve these gentle giants and their habitat. Zookeepers also will answer guests' questions about Asian elephants and the BioPark's herd.
Daizy's Birthday and Elephant Conservation Day are sponsored by 1250 AM JENNiRADIO.
Daizy was born on September 2, 2009. She is the second elephant born at the Zoo. Her mother, Rozie, was born at the Zoo in 1992.
The BioPark is an accessible facility and a division of the Cultural Service Department, City of Albuquerque, Richard J. Berry, Mayor. For more information, visit www.cabq.gov/biopark
or call 311 locally or (505) 768-2000 (Relay NM or 711).

Caption: (From left) Daizy and her grandmother Alice. Photo courtesy of ABQ BioPark