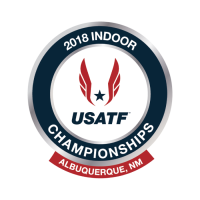 Media Contact:
Brenna Moore/Visit Albuquerque
Office: (505) 222-4349
Moore@VisitABQ.org   
                                 Tickets now on sale for this world-class championship event 

ALBUQUERQUE, N.M. – (Feb. 1, 2018) Albuquerque is looking forward to welcoming the 2018 USATF Indoor Championships, Feb. 16-18 at the Albuquerque Convention Center. This event is estimated to bring more than $440,000 in direct spend and over 400 athletes to the city.

"Albuquerque is honored to host the 2018 USATF Indoor Championships," said Tania Armenta, President & CEO of Visit Albuquerque. "Our more than 310 days of sunshine, high altitude and state-of-the-art facilities, including our indoor track, make Albuquerque the perfect setting for an event of this caliber, and we welcome these world-class athletes—and their coaches, families and friends—to our city and wish them the best of luck." 

Vying for spots on Team USATF at the 2018 IAAF (International Association of Athletics Federations) World Indoor Championships, elite athletes will compete on the convention center's newly resurfaced indoor track beginning with multi-events on Friday, Feb. 16 and followed by two full days of competition from Feb 17-18.

Tickets for the championships are now on sale through UNM Ticketing Services, and the complete schedulecan be found on the USATF website.

USA Track & Field has held a long-standing tradition of producing some of the best athletes in the world, and they will be showcased at this year's USATF Indoor Championships—as well as televised nationally.
Join the conversation with USATF on Twitter, Instagram, Snapchat and Facebook using the hashtag #USATF.

About Visit Albuquerque 
The mission of Visit Albuquerque is to stimulate economic growth by marketing Albuquerque as a visitor and convention destination. For more information, go to www.VisitABQ.org, www.Facebook.com/VisitABQ or www.Twitter.com/VisitABQ.

About USATF
Based in Indianapolis, USA Track & Field (USATF) is the National Governing Body for track & field, long-distance running and race walking in the United States. USATF encompasses the world's oldest organized sports, the most-watched events of Olympic broadcasts, the No. 1 high school and junior high school participatory sport and more than 30 million adult runners in the United States.
###