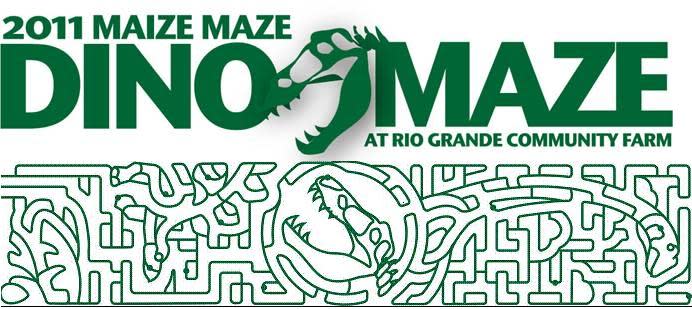 Albuquerque, NM–The New Mexico Museum of Natural History and Science in partnership with the Rio Grande Community Farm and the City of Albuquerque Open Space announce the 14th Annual MAIZE MAZE "DINO MAZE."

Come explore a 7-acre "DINO" corn maze at the Rio Grande Community Farm, go on a "DINO HUNT," see life-size dinosaur tracks, and dig for fossils. All new activities this year include a Haybale Labyrinth, Dinosaur Nest and Eggs, Petting Zoo, Family Photos, and a Pumpkin Patch in October. Open daily in September and October, the Maize Maze attracts thousands of visitors to Rio Grande Community Farm. The corn grown through the summer reaches a height of 6 feet or greater; then, the maze is created using GPS technology to cut precise paths. This year the maze design includes a giant sauropod, "stegosaurus," and "T. rex!"
Proceeds from the Maze fund Rio Grande Community Farm programs that support education, wildlife, and our community. As a special promotion, visitors to the Maze will receive a coupon for 50% off admission to the Planetarium at the New Mexico Museum of Natural History & Science. The 14th Annual MAIZE MAZE "DINO MAZE" Grand Opening is September 3rd at 9 a.m.!
2011 Program Schedule
Maize Maze Hours
MON-THU 9AM – 3PM, FRI-SAT 9AM – 9PM, SUN 9AM - 6PM

Affordable Ticket Prices
KIDS (3-11) $5, ADULTS (12 and up) $7, Under 3 are Free
Location
Los Poblanos Open Space along the north side of Montano Road NW about halfway between Fourth Street and Coors Boulevard in the North Valley.
New Family Activities
Corn Maze and Dino Hunt
Explore a 7-acre "dino" corn maze and play an all new Dino Hunt game developed by the New Mexico Museum of Natural History & Science.
Dino Activities
Run through the haybale labyrinth and play in all the dino activities developed by the New Mexico Museum of Natural History & Science.
Pumpkin Patch
Come out every weekend in October to find your perfect pumpkin.
Petting Zoo
Valley Flowers Farm will have their farm animals every Sat 9 a.m.-1 p.m. and Sun 1 p.m. – 6 p.m.
Kids Story Time
Bookworks book store will host a children's story time each Saturday at 10 a.m.
Family Photos
A special family photo mural painted by Ann Marie Eastburn allows you to get your picture with a dinosaur.
Fresh Produce and Food Vendors
Our RGCF organic farm stand and food Vendors every weekend. Come get your freshly picked produce and enjoy 100% fruit smoothies, natural beverages and snacks by Dynamic Organix, LLC.
Special Events
GRAND OPENING – SEPT 3rd AT 9AM
Be the first through the maze and explore
the many new farm activities. Open until 10 p.m.
MOONLIGHT MAZE – SEPT 9th & 10th and OCT 14th & 15th
Explore the maze by the light of the moon.
Open until 10 p.m.
STARLIGHT MAZE – SEPT 24th & OCT 29th
Night-sky telescopes with Albuquerque
Astronomy Society. Open until 10 p.m.
HAUNTED MAZE – OCT 29th – 31st
Wear your costume for a scary good time.
Open until 10pm
Learn more at www.riograndefarm.org