#vanlife
If you use Instagram, chances are you've come across this hashtag. #Vanlife is so popular that The New Yorker recently wrote an extended profile of the hashtag and the social-media celebrities driving its success. In short, #vanlife depicts Volkswagen van or bus drivers/dwellers taking their beloved vehicles all over America--documenting a life of minimalist, anti-materialist freedom.
For Burqueños, the notion of a hashtagged van existence might seem perplexing. After all, we've been living a van life for decades, no Instagram account needed! Anyone driving around town has probably noticed the abundance of VW buses and vans, representing all colors of the rainbow and all stages of dilapidation. The models vary too: everything from 1950 split-window buses to 1991 Vanagons.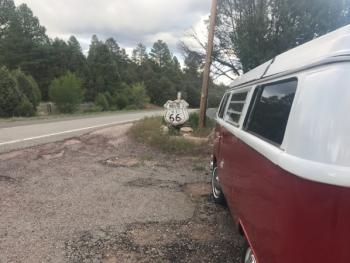 New Mexico's dry climate is ideal for VW buses and vans, preventing the rust that would materialize in more humid regions. Additionally, VWs are great vehicles for one of New Mexicans' favorite pastimes: camping. The Westfalia Camper, for instance, has a sink, water storage, a folding table, cabinetry, and more amenities for those who particularly enjoy the outdoors when there are a few added comforts.
More than the suitable conditions, though, what makes classic VWs a perfect fit for Albuquerque is not climatological but cultural. Albuquerque was a countercultural hub in the '60s, and VW buses and vans embody the conviction that it's all good, man. ABQ may not be at the geographic midway point of Route 66 (that's Adrian, Texas), but symbolically, we are the epicenter of the Mother Road, hometown of carefree driving, mindful living, and steering toward your own destiny.
ABQ VW Tips
If you need help or guidance on your VW, a great resource is the Albuquerque Air Alliance / Rt. 66 Air-Cooled VW Club. The club (no dues required) has about 35-40 members and meets once a month. Albuquerque also has several mechanics who are VW experts, including R & Z Automotive Service Center and Anton's Auto Haus.
Interested in buying a VW? Albuquerque Air Alliance president Myron Hill recommends checking out Craigslist and thesamba.com. Look beyond Albuquerque on Craigslist--to cities like Phoenix and Denver--to be sure you're not missing out on any great vehicles.
The VW is best enjoyed to the music of the Grateful Dead and the Zombies...or any '60s psychedelia, really.
If you take a VW camping, make sure the campground you're planning to use has suitable parking, not just tent camping. Bring blankets, and always keep spare parts on hand.
There are few rules in the Volkswagen world, but there is a general principle: Buses and vans need names. Some of the VWs Myron has known are the Sweetpea, Marvin the Martian, the Dharma Bus (inspired by the television show "Lost"), and our personal favorite: the silver-and-cherry-red Lobo Bus.
Finally, it really is about the journey, not the destination. Part of the charm of OG van life is its unpredictability--you never know when you'll end up on the shoulder of I-25, waiting for a miracle.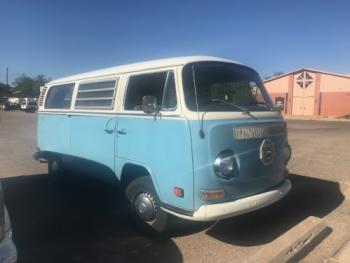 Pimp My VW
VW owners are constantly working on their vehicles. Beside mechanical fixes and general upkeep, some VW owners personalize their vehicles, for instance by adding funky décor. Some lower their buses--a.k.a. "slam it"--while others return the vehicles to what they would have looked like originally. Still others leave their vehicles just as they found them; those VWs are called survivors.
Thank you to the Albuquerque Air Alliance for providing your expertise for this article!