The Mali-Mish family is pretty darn busy. You can find them traveling all over the country in their Airstream and blogging about it on their fun site, www.MaliMish.com. We had a chance to catch up with the family and hear more about their trip to the 2013 Albuquerque International Balloon Fiesta. Take a look at the interview with Dan (the father of the family) below ...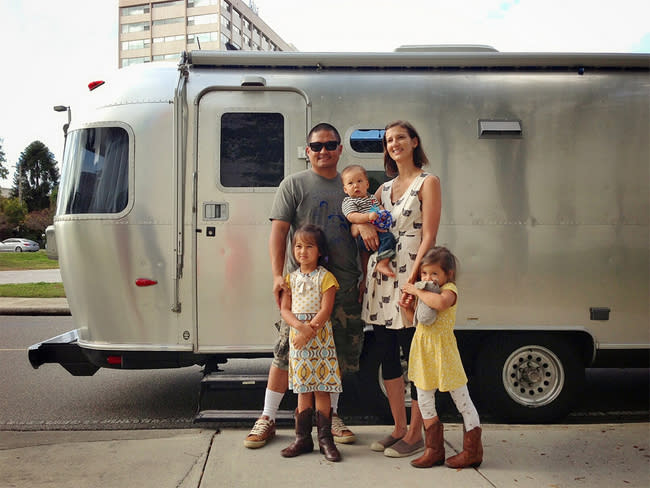 Traveling with three kids under the age of seven has to be an adventure. What made you decide to travel across the country in an Airstream? How far have you traveled?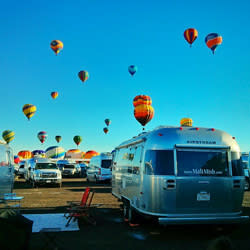 Having children is actually one of the main motivations of traveling for us. We've traveled in the past but have never been the road tripping type until we had kids. After having children, we realized that air travel is just very inconvenient and didn't allow us any flexibility to make last minute changes. Also we lost a family pet a little earlier than we had expected which got us to think how our time can be short and we had to make the most of it. We started out with a much smaller trailer called the T@B when we just had 1 child. The T@B dealer we visited also happens to be the Airstream dealer so we got our feet wet looking at them. Once we knew we liked the lifestyle and knew that we would have more children, there was no other brand we considered. So far we have traveled about 50k miles in the last 5 years. We have gone as far north as Alberta Canada and as far south as Key West Florida. 
Many people - Albuquerque locals included - have no idea that over 200 Airstreams came from all over the country to attend the 2013 Balloon Fiesta. Can you tell us a little bit about why you decided to come here?
The Airstream club that organizes the event has actually been doing it for many, many years. It was our first event of this size with them and it is one that we have wanted to participate in for awhile. We came for the Balloon Fiesta in 2011 but we did not join the group mostly because we were not aware of it and secondly because we wanted to have some flexibility with coming and going when we wanted to. After knowing it was an event we enjoyed, we joined the group during our last visit. Now I would not do it any other way.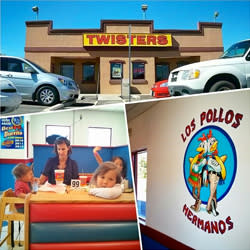 Thoroughly enjoyed your Breaking Bad location tour shots. Was the city what you expected after watching the show?
The Breaking Bad location visits were a blast. It was sort of perfect timing because the show had just ended and everything was so fresh on our minds. We loved that all of these places are shot on location and not always on a sound stage. The fact that the story was actually based in Albuquerque and it was not doubling as some other city in the show as great. We have visited ABQ two other times and hearing them talking about places like Tinkertown on the show was very special. 
We noticed that you checked out some family-friendly spots around town outside of the Fiesta (ABQ BioPark's Botanical Garden, Gardunos, etc.). Any favorites?
The Botanical Garden was great. We also really like Tinkertown. It is one of those quirky places that don't always attract the mainstream tourists but has such an interesting story to its origin is the thing we like most about it.

Now that you've been to Balloon Fiesta twice, have any advice for families considering Albuquerque for a getaway (over Balloon Fiesta or anytime)?
ABQ is a great spot to visit and it definitely has a lot of offer besides the Balloon Fiesta. Old Town is always a cool place to walk around and with just a short drive you can be up in the snow during winter in the Sandia Mountains. That is one thing I think most people who haven't been to Albuquerque don't think about. The food is great and the city in general is very family oriented which is a big plus for us.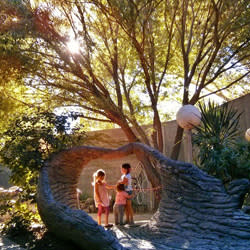 Where to next?
We are currently spending most of our time along the California coast and along the southern portion of the Arizona to escape the polar vortex. We don't know yet exactly where else 2014 will take us but this is sort of par for the course. We like to let the opportunities present themselves and it is always an adventure.
More about the family
This fun family of five spends their time traveling and seeing the country in their Airstream trailer. They started the blog back in 2007 when their oldest, Ava, was just 9-months old. Since then, they've traveled across the country and expanded their family (with the additions of Mila and Luka). They spend an average of 9 months on the road each year. Learn more about the family and follow their adventures at www.MaliMish.com.
All photos courtesy the MaliMish_Airstream Instagram account.