One of Albuquerque's most famous staple ingredients is the chile pepper. It comes in two forms – green, a roasted, peeled, seeded and chopped pepper that is either used as-is or made into a chunky sauce; and red, a pureed sauce made from the matured chile that becomes dry and red. Locals take this flavorful ingredient very seriously and put it on or in everything they can imagine. We've rounded up a list of several delicious dishes that feature chile in unique, unexpected ways that you can find only in Albuquerque! 
Green Chile Croissant from Burque Bakehouse
Flaky, buttery, spicy goodness! Your to-go breakfast just got upgraded with this mouthwatering delight that brings New Mexico and France together in one harmonious, one-of-a-kind pastry. Pair it with a frothy, milky latte to cut the heat if you're new to spicy foods.
Green Chile Sushi at Japanese Kitchen
This sushi and Japanese food restaurant serves up what is called a Green Earth roll. This delightful anomaly features strips of green chile tempura alongside avocado, cucumber, asparagus, spinach and shrimp, rolled up with white rice and soy paper, and topped with a creamy green chile sauce to make a truly unique and delicious sushi roll that you won't find anywhere else. 
Green Chile Biscochito Truffle from Eldora Chocolate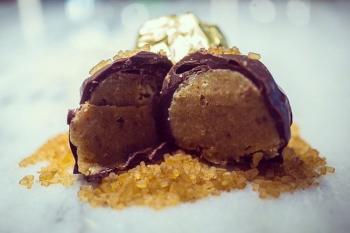 Need we say more? This dark chocolate-coated truffle brings together some of the most authentic flavors of Albuquerque into one delectable bite-sized morsel. As an added bonus, this local chocolatier makes all of their chocolate with a responsibly-sourced, "bean-to-bar" method, ensuring that when you take a bite of their treats, you are tasting the real deal! 
Red Chile Pork Ribs from El Pinto
One of Albuquerque's most iconic and beloved New Mexican food restaurants in the beautiful North Valley serves up a rack of ribs unlike any other. The pork ribs are smothered in a coarse red chile rub and then slowly roasted to perfection and can be ordered by either the full or half rack. The tips of your fingers will certainly be stained with evidence of the delectable dish afterwards!  
Green Chile Turkey Sausage from Slate Street Cafe
This hip cafe offers its delicious green chile turkey sausage alongside some country fresh eggs and a side of white cheddar hash browns. You can add some kick to any breakfast plate you desire for just $3! 
Green Chile Cheese Loaf and Green Chile Pizza Crust from Golden Crown Panaderia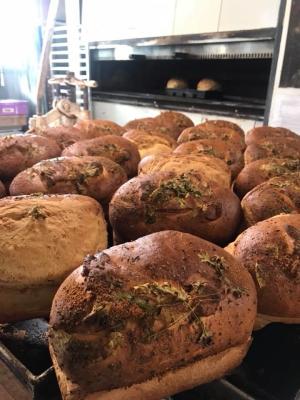 This restaurant and bakery knows all the best ways to add green chile to its dough. Order a loaf of the green chile cilantro bread to take home and enjoy a memorable sandwich or piece of toast every day of the week. If you are a novelty pizza-lover, try a freshly-baked artisan pizza atop the green chile pizza crust, because after all, green chile doesn't have to be just a topping! 
Green Chile Ranch from Dion's Pizza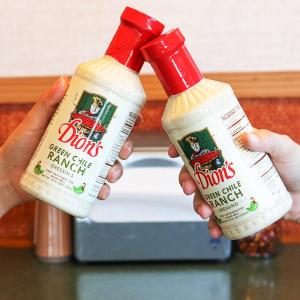 Ask a local how they feel about local staple and we can guarantee the response won't be lackluster. The original ranch from Dion's has been a cult classic for decades and when they released the green chile ranch several years ago, they nearly broke the internet! This dressing goes great on any salad and provides the perfect dip for your pizza crust at the end of any slice. The chunks of green chile give it a unique texture! While this tasty commodity can be found outside of the city, Albuquerque is most certainly its birthplace. 
Red Chile Dark Chocolate Bar from Chocolate Cartel
The flavor profile of red chile pairs excellently with dark chocolate, and the Chocolate Cartel makes a big bar that pairs the two together perfectly. Serve this with a cup of coffee in the morning or a big glass of milk in the evening and you're in for a boldly-flavored treat! Pro tip: use this chocolate bar to wow your camping buddies with an out-of-this-world s'mores experience around your next campfire. 
Red and Green Chile Wings from Ten 3
This spicy and flavorful rendition will take your expectations of chicken wings to new heights - literally! This restaurant and bar sits at 10,300 feet above the city of Albuquerque and offers fantastic views to accompany the quality food and drink. Take a ride up the Sandia Peak Aerial Tramway to the top and check off two bucket list items in one! It's always an added bonus when the dish fulfills your red and green chile craving. 
Green Chile Apple Pie from The Range Cafe
Did you know that baked apples and green chile pair together perfectly? Dessert gets a share of the spicy pie with this deliciously baked combination of the two, carefully-crafted, and baked with love by a local cafe and bakery. Order it a la mode for a cool, creamy treat to tame the heat.