The summer season in Albuquerque is bustling with things to do. Whether you're looking for family-friendly activities, a day trip, or new ways to get some exercise, here are 10 summer activities that local Burqueños love!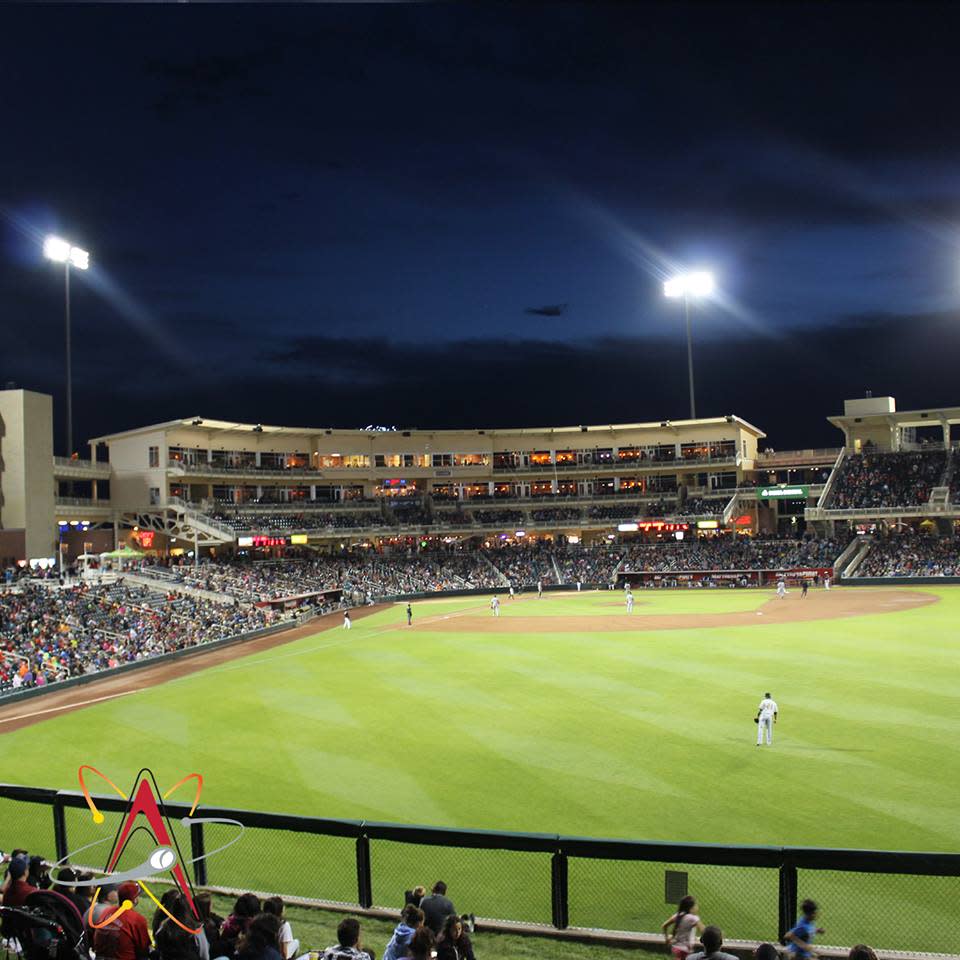 Root for the Home Team at Isotopes Park
No summer in the Duke City is complete without at least one night at the ballpark, cheering for the Albuquerque Isotopes (photo right). This is the first year the 'Topes are batting as a Colorado Rockies affiliate, so there are many new faces on the diamond. The majority of home games at Rio Grande Credit Union Field at Isotopes Park have a themed promotion associated with it, from free sunglasses to retro jerseys. Click here for the 2016 promotional schedule. Look for fireworks after a dozen home games. Plus, check the calendar for special events like Bark in the Park, when dogs are welcome in the grass seats.
Groove at Zoo Music & Summer Nights
Grab your picnic basket and blanket, and find a spot in the grass for Zoo Music and Summer Nights, the summer concert series at the ABQ BioPark Zoo and Botanic Garden on Thursdays and Fridays throughout the summer. Love outdoor live music? Check out this full list of live music and concerts in Albuquerque.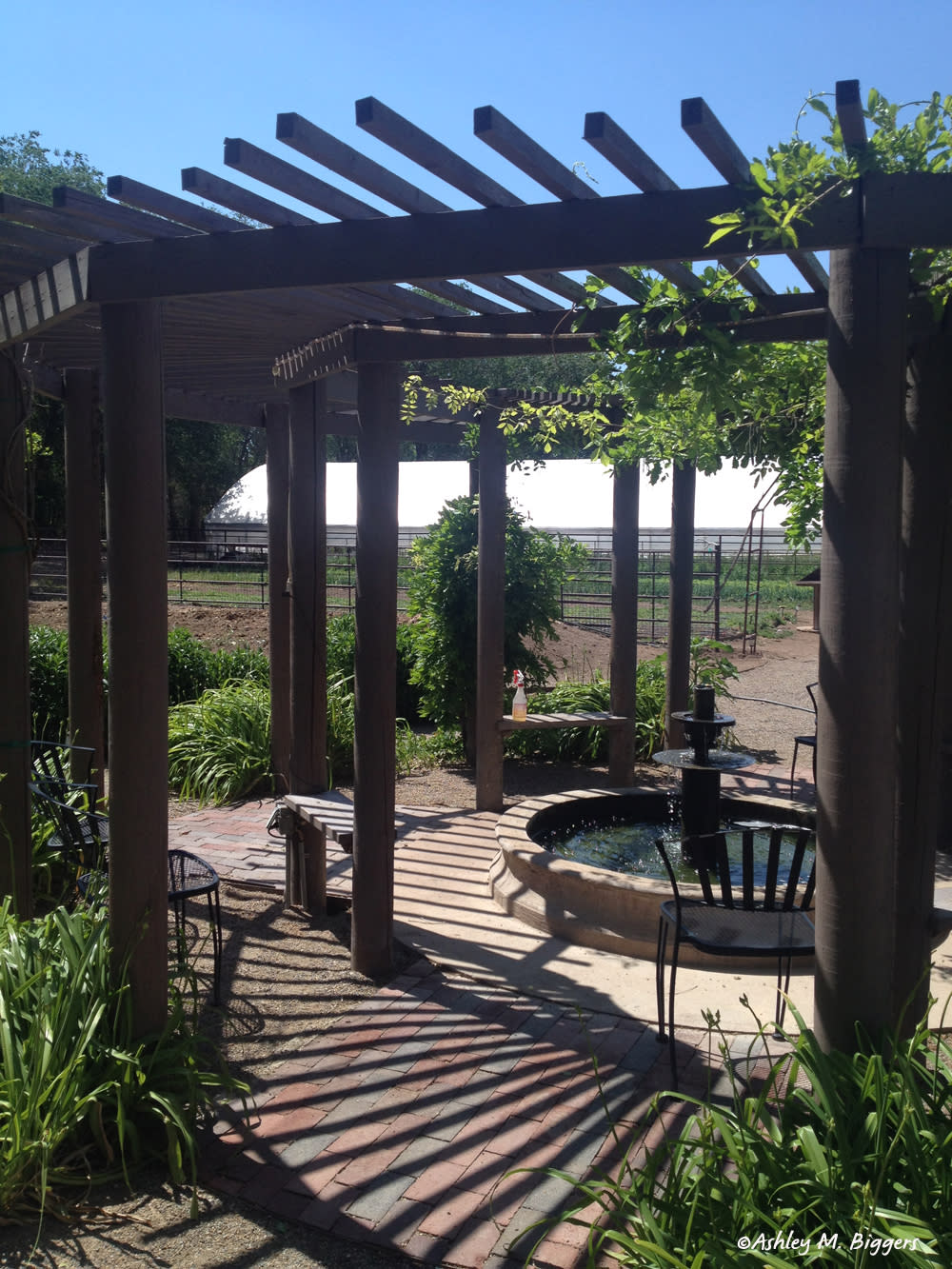 Pedal to Bike-In Coffee
This coffee shop is off-the-beaten path...literally! It lies just off the Paseo del Bosque Multi-Use Trail at Old Town Farm (photo left). But enjoying a cup of Joe or a "scookie" (a combination scone/cookie) comes with one caveat: you have to arrive here on bike. So, enjoy a beautiful ride before kicking back next to the spinach patch with your morning smoothie, which may feature some fresh-from-the-field ingredients. For more information about cycling in Albuquerque, check out this post from our ABQ365 blog archive. 
Cruise Route 66 Summerfest
You may have driven along Route 66 (aka Central Avenue), but it's rare you can walk down the Mother Road browsing craft booths, nibbling on food truck fare, and listening to tunes from nationally-recognized musicians. It all comes together at this neighborhood 'fest, held annually in mid-July. In 2016, Nob Hill is celebrating 100 years and Route 66 turns 90, so expect the party to be extra special in Albuquerque on July 16.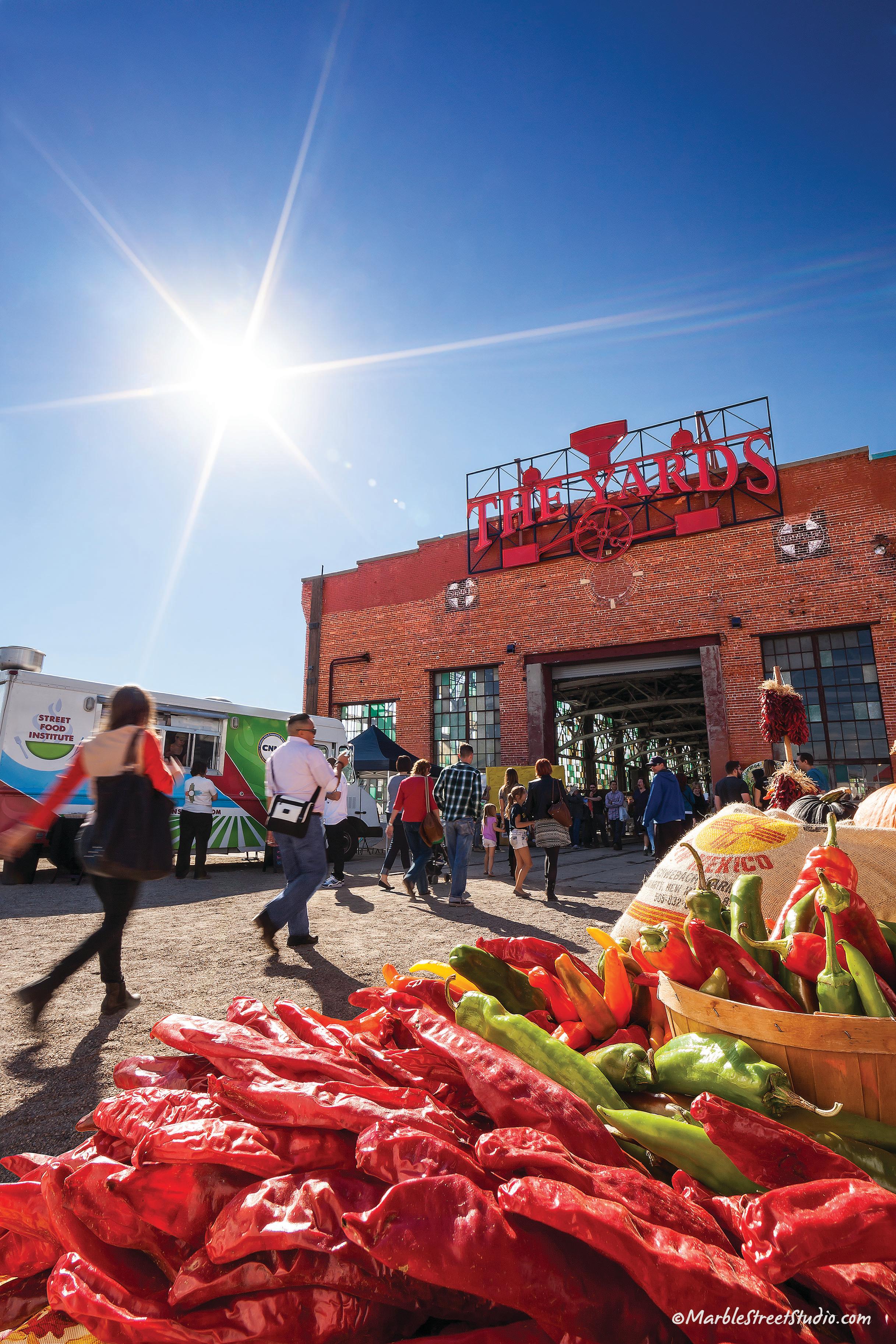 Shop the Growers Markets
During this season, more than a dozen markets crop up in the city. They are the perfect places to pick up fresh salad greens, tomatoes, peppers, and more unusual veggies (kolrabi? dragon beans?); prepared foods, such as pies and soups; and handmade crafts, from soap to belt buckles. The city's two most popular are the Downtown Growers Market, held on Saturdays at Robinson Park and on Wednesdays on Civic Plaza; and the Rail Yards Market (photo right), held Sundays in the Barelas Neighborhood. Check out a full list of growers markets around the city here.
Paddle The Rio Grande
Walking along the paths beneath glittering cottonwood leaves-and the shade they provide-is one way to cool off come summer, but if you're craving waves, you can take to the waters of the Río Grande. Quiet Waters Paddling Adventures, Southwest Wind Sports, New Mexico River Adventures, and New Mexico Kayak Instruction rent kayaks and stand-up paddle boards, the perfect vessels to navigate the Rio Grande's currents. If you need more instruction before dipping your paddle in, each outfitter also offers guided trips. More information on water adventures in the Albuquerque area in this post from our blog archive.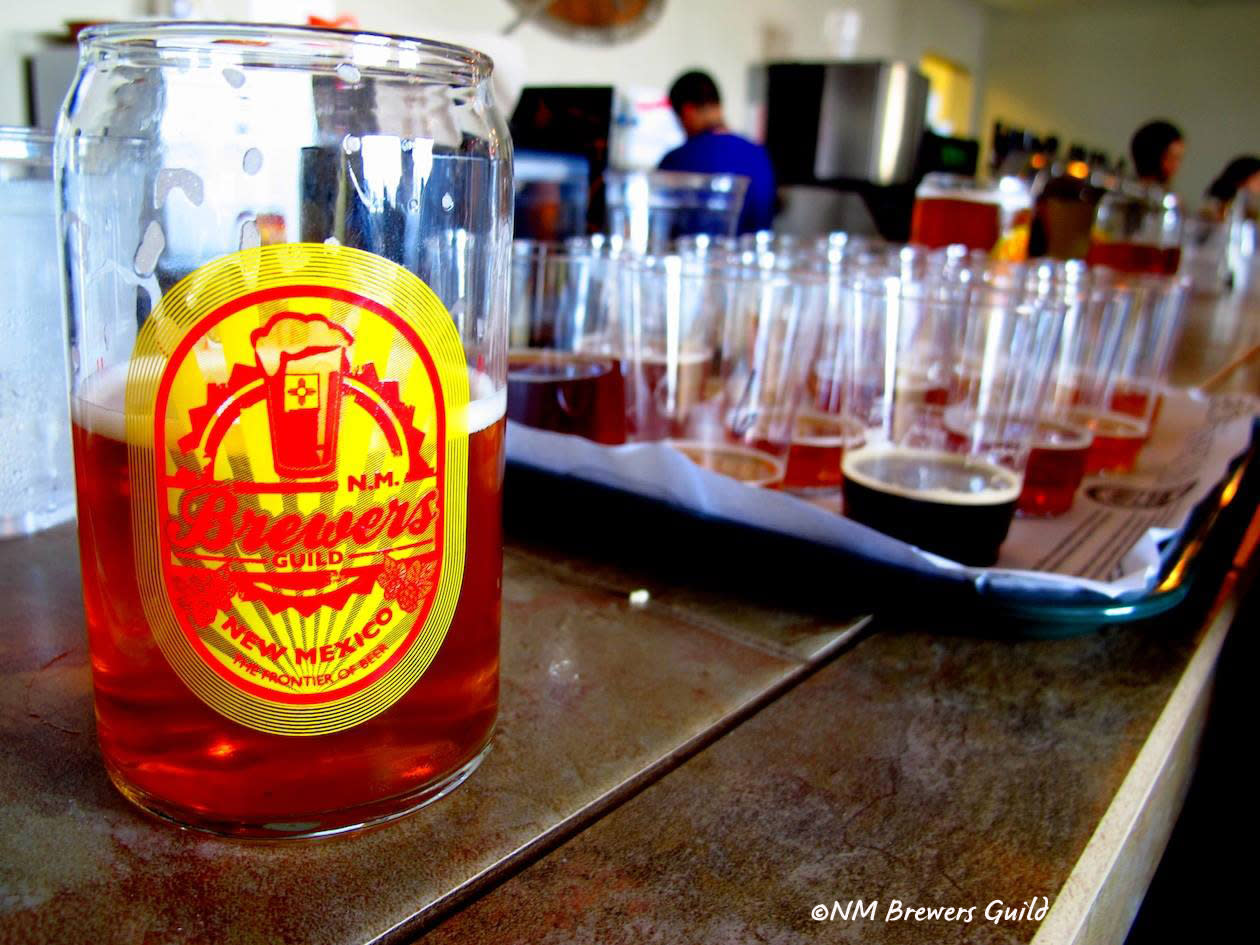 Judge the IPA Challenge
Albuquerque has an outsized share of award-winning brews. But official judges dubbed them all. You yourself can vote for the state's best suds in the New Mexico IPA Challenge, organized by the New Mexico Brewers Guild, which makes three stops across the state in July. The 2016 Albuquerque event takes place July 9 at Rio Bravo Brewery (photo left). After the judges complete the taste testing, votes are tallied and the best IPA in the state is named. The winner takes home bragging rights-at least until next year's challenge. 
Dance at the "Under the Stars" Concert Series
Love to hear jazz and the blues? Love to merengue? These music genres blast full force in the Under the Stars concert series. Held Friday and Saturday evenings from May through August at the Albuquerque Museum out door amphitheater, this concert series features outstanding local and regional acts, from the Latin fusion of Nosotros and Son Como Son, to the dirty jazz of Le Chat Lunatique.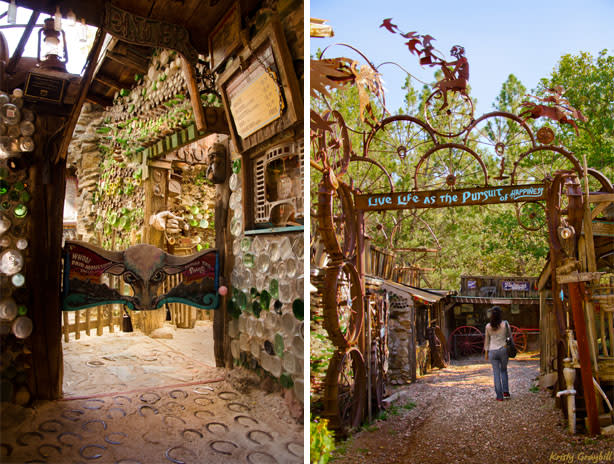 Road Trip to Tinkertown Museum
This quirky destination in Sandia Park (photo right), accessed via a short and scenic drive through the Sandia Mountains along the Turquiose Trail, is a testament to an artist's creative vision. Ross Ward spent more than 40 years hand crafting the animated wooden figures in the 22-room museum. Inside, with the insertion of a quarter, tableaus of Old West towns and circuses spring to life as one-man-band Otto plays a tune. This kid-friendly museum is open April through October, so summer isn't just the best time to visit, it's the only time to do so. Take a friend or the whole family and make a day trip out of it!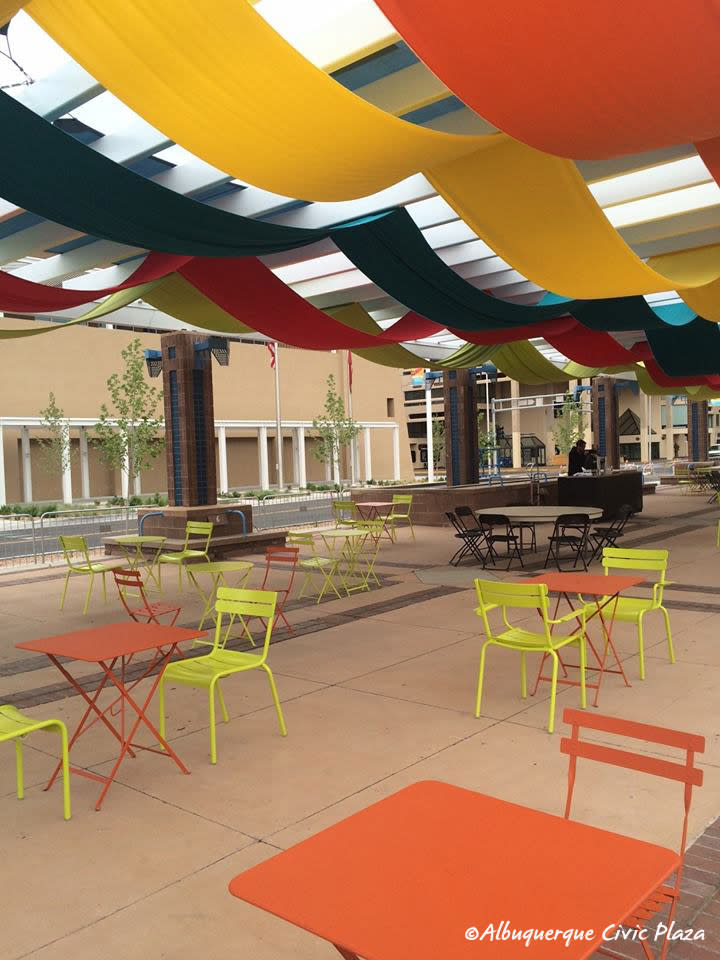 Check out ABQ Food Fridays and Movies on the Plaza
These events have quickly become locals' favorite way to kick-off the weekend (photo left). The night begins at 4 p.m. with ABQ Food Fridays, a pop-up food and craft beer event, with entrees for $10. At 8 p.m., cinephiles and foodies will gather for a free movie on Civic Plaza or a free Shakespeare performance, depending on the schedule that week. Check out this full list of Civic Plaza events for all the details. 
Use the hashtags #ThingsToDoABQ and #ABQevents to join the conversation about things to do in Albuquerque on social media, and subscribe to our ABQ365 email newsletter by clicking below!