Albuquerque may be known for its 310 days of pure sunshine, but when the sun sinks low over the west mesa, the Duke City comes alive. Just as diverse and exciting as the rest of the city, Albuquerque's night life brings a new experience every weekend. Sophisticated and relaxing lounges, live music from local bands and fascinating hole-in-the-wall spots make up the nightscape.
Of course, it is important to enjoy these fun spots by drinking responsibly and securing a safe ride home by designating a driver or by using Uber or Lyft.
Apothecary Lounge at Hotel Parq Central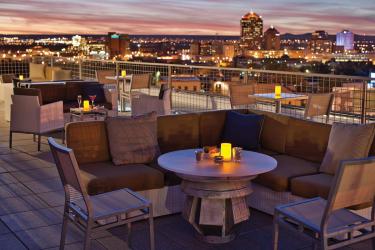 Starting Downtown? Apothecary Lounge, located on the rooftop of Hotel Parq Central, offers panoramic views perfect for taking in the gorgeous sunsets Albuquerque is known for. Grab a bite to eat with a small plate that showcases fresh produce, cheese and meat from around the region. Pair with a local brew, glass of wine, or be daring and try one of Apothecary Lounge's specialty cocktails inspired by the mysterious spirits that were served in speak-easies during the Prohibition – like the Pisco Sour (pisco, egg white, simple syrup, fresh lemon juice and angostura bitters) or the The Sazerac (Rye Whiskey, Peychaud's bitters, simple syrup and an absinthe glass rinse).
Mezcal Tequileria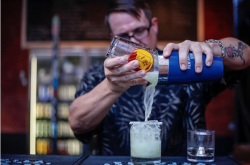 For a hip, unique experience head to Mezcal Tequileria. Although it may look like an intact building from the outside – this eclectic spot is actually fully open to the beautiful New Mexico sky! Exposed brick walls accented by live vines and plants give the illusion that you just walked onto the coolest patio in town. Take your pick from over 70 different types of tequila, then choose a comfy nook booth to hide away in while listening to a local band. Mezcal Tequileria is also known for its fun theme nights – get in your feelings with Drake Night, flash back to big hair and bright colors for 90's Night, or reminisce about the old Kanye on "FriYe" night.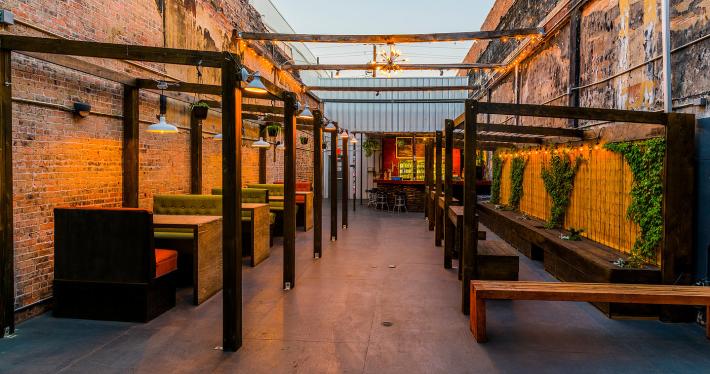 Sister Bar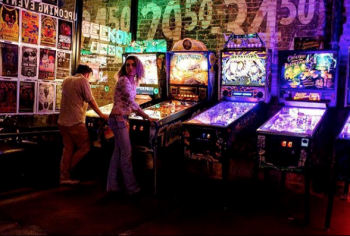 Sister Bar has all the makings of the perfect dive bar seen in films - except way cooler. Every trip to this bar offers something new, like ever-changing daily cocktail specials with names like Yassss Queen (gin, ya pear, lemon, mangosteen fruit and lemongrass simple syrup) and Do I Dew (gin, fresh honeydew, cucumber, lemon and rose water). Pocket change weighing you down? Look no further than the classic arcade games and pinball machines scattered throughout the bar. Every weekend offers a unique line-up of live music, which can range from metal bands to DJs, punk bands to MCs and everything in between. Pro-Tip: don't miss out on the legendary Saturday & Sunday brunch menu.
The Sandbar Brewery & Grill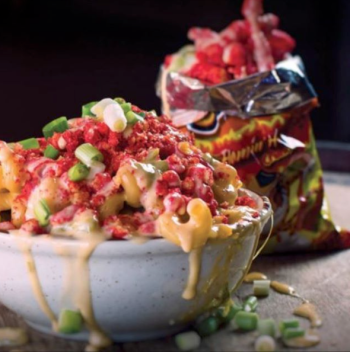 There might not be a beach in Albuquerque, but there is beach volleyball at The Sandbar Brewery & Grill. This huge bar, coming in at a whopping 12,000 square feet, has a little something for everyone. Get competitive with a group of friends at one the many sand volleyball courts, play a game of giant jenga or giant cup pong. Head inside to play some pool or get your groove on at the huge dancefloor. Worked up an appetite? Sandbar has you covered with its signature Hot Cheeto Mac and Cheese, or delicious Tequila Lime Crispy Shrimp Tacos. Have your dessert and drink it too with an order of Berry Me in Prosseco – two scoops of vanilla bean ice cream with seasonal mixed berries, all swirled together with Ruffino Prosecco and served in a mason jar, of course.
Uptown Funk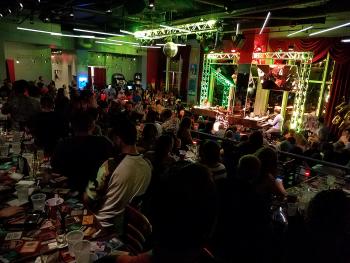 Albuquerque's only dueling piano bar, Uptown Funk, is the place to be if sing-alongs are your thing. Two grand pianos face-off every night, with the musicians competing to see who can perform the most audience requested tunes. From Uptown Funk by Bruno Mars to Tiny Dancer by Elton John or even Ice Ice Baby by Vanilla Ice– these piano players can play it all. Specialty cocktails are cleverly named after some of the pianist's favorite songs to play, like Piano Man (Gin, muddled cucumber, lime juice with tonic water) or Drops of Jupiter (rum, Hypnotiq Liquer with a splash of pineapple juice). Or, ask about the secret drink menu, you might find a new favorite! If singing along to all the hits has you hungry – Uptown Funk allows its patrons to bring in their own snack food or call in an order from the bar's next-door neighbor; Ruth Chris' Steakhouse.