With its warm, temperate desert climate and beautiful scenery, Albuquerque is a welcoming destination for vacationers of all types, including golfers. The weather is almost always perfect for golf (if a little on the warm side during the summer), and there are numerous excellent courses to explore. 
When you're traveling for a golf trip, it's a good idea to consider shipping your clubs to the hotel or golf course ahead of time so you don't risk the airline losing them. If you do check your clubs with your baggage, make sure you arrive plenty early and use a sturdy traveling bag. Late check-ins with golf clubs usually result in the clubs arriving a day or two late!
I've traveled for golf often enough that I've got my packing down to a science. The extra weight and expense of bringing several dozen golf balls along isn't worth it: bring a dozen and plan to buy more at your destination if need be. Definitely bring two pairs of golf shoes, especially if you're going to a hot destination. Alternating pairs will prolong shoe life and provide plenty of drying time between rounds. Bring good sunscreen, extra socks, synthetic sweat-wicking golf shirts, a wide-brimmed sun hat, a spare golf glove, and plenty of singles to tip the bag handlers at the course.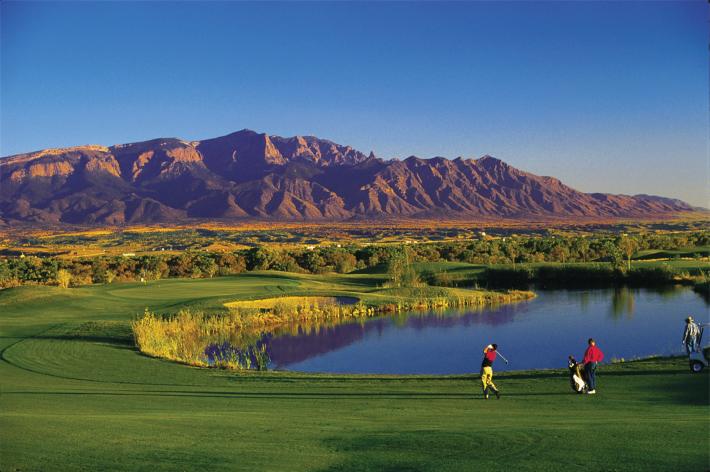 Here are some of the finest golf destinations in and around Albuquerque:
1.    University of New Mexico Championship Golf Course
The Championship Golf Course at the University of New Mexico is consistently ranked among the top public places to play in the country and frequently enjoys a ranking of #1 course in New Mexico, depending whom you ask. It has hosted numerous NCAA national championship tournaments and luminaries like Phil Mickelson and Tiger Woods competed on the course during their college days.
The 7200+ yard course plays a little shorter thanks to the thinner air at altitude, and the majestic wide fairways and dramatic elevation changes make for memorably long drives. With desert flora and evergreens dotting the fairways and lightning-fast greens, it's a fantastic golf course you'll want to keep playing.
2.    Arroyo del Oso Golf Course
If only every city had a municipal golf course this good. With 27 holes available to keep things fresh, this facility is nestled in Bear Canyon in the north part of Albuquerque. It takes great advantage of its location, crossing the Bear Canyon Arroyo (a deep gully that fills with water during flash rainstorms) several times during the interesting routing through beautiful landscapes. With weekend rates under $35, it represents one of the best bargains anywhere. 
The course isn't particularly difficult, so it's great for recreational golfers, beginners and high handicappers. Scratch golfers will relish the many birdie opportunities, and everyone will appreciate the views.
3.     Puerto del Sol Golf Course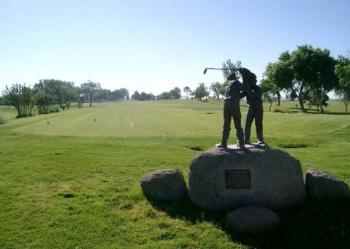 A perfect course for a quick nine-hole round if you're short on time, Puerto del Sol has wide, straight fairways and big, receptive greens. It's perfect for the afternoon of your arrival in Albuquerque, as it's just nine holes and it features a lighted driving range for more loosening up. For under $20, it's a great way to warm up for a week full of top-tier golf.
4.     Isleta Eagle Golf Course
Isleta Eagle Golf Course couldn't be more different than Puerto del Sol. The crown jewel of the majestic Isleta Resort and Casino, the golf course is a true destination course. With impeccably manicured conditions and brilliant landscaping under neverending skies, Isleta is one of the most inviting and stunningly gorgeous desert golf courses in the country.
Winding its way along the banks of the Rio Grande and three natural lakes, Isleta blends perfectly into the desert forest habitat that flourishes near the river. The dramatically undulating greens and links-esque fairways with their quirky, unpredictable mounds harken back to the best courses from golf's early days in Scotland.
5.     Sandia Golf Club
When you're playing at elevation, the ball travels farther. And you'll need every bit of that extra length at the gigantic, 7752-yard Sandia Golf Club, the longest course in New Mexico. Beginners need not worry, however; there are other tee boxes available, and the course is forgiving enough for all levels but challenging enough that you'll need to bring your best stuff. 
Everything is big at Sandia, from the golf course to the amazing resort casino that looms over the massive 10,000-square-foot putting green. With beautiful views of the Sandia mountains in the background, Sandia Golf Club is an unforgettable golf experience.