If you have a sweet tooth, you're not alone. Not only are sweets a frequent preference among people, but the sweet tooth is common across the animal kingdom. (A big exception? Cats!)
Fluffy may prefer her Purina, but the rest of us can revel in the delights of chocolates and candies and cakes. Albuquerque visitors and locals are particularly in luck--the city has sweet treats galore. Our dedication to gustatory rewards is so extreme that Albuquerque even hosts an annual Southwest Chocolate and Coffee Festival, held at EXPO New Mexico, the New Mexico State Fair grounds. Below are some of our favorite spots for irresistible sweet delights.
Frozen Treats
On hot desert days, nothing beats a refreshingly cold treat. Nitro Fog Creamery, located in great hang-out spot Green Jeans Farmery, has creamy, smooth, utterly delicious nitrogen ice cream. Try the peppermint chocolate, with local organic mint and shaved chocolate. Or drop by Frost Gelato, with two Albuquerque locations and rows and rows of flavors, some classic, some excitingly original. Frozen yogurt fans have several options around town, including Olo Yogurt Studio, Yay Yogurt and Menchie's Frozen Yogurt.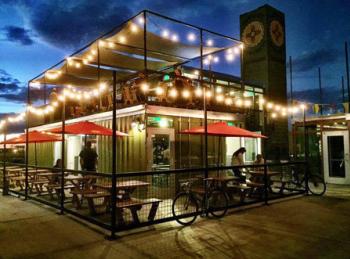 A quintessential local frozen treat is the paleta, a Mexican pop that can be fruity or creamy. Pop Fizz's all-natural paletas are out of this world; you can either visit their location next to the National Hispanic Cultural Center or track down their popular food truck. Other top recommended spots are the new Paleta Bar and Paleteria Michoacana de Paquime, which will be familiar to "Better Call Saul" fans as the place where Hector Salamanca operates his business.
Cookies
New Mexico was the first state to adopt a state cookie, appointing the biscochito to its official role in 1989. First brought to New Mexico by early Spaniards, the biscochito is an anise- and cinnamon-flavored cookie with particular importance during celebrations and the Christmas season. Celina's Biscochitos are lovingly handmade, based on the recipe of co-founder Celina Aldaz-Grife's Grandma Maggie. In addition to the traditional biscochito flavor, Celina's offers creative takes such as green chile pecan and cocoa chocolate chip. Golden Crown Panaderia's biscochitos are also must-try, including their blue corn biscochitos that use blue corn flour from Isleta Pueblo. Other Golden Crown sweets include New Mexico wedding cookies, and you can also get breads, pizzas and sandwiches at this neighborhood bakery.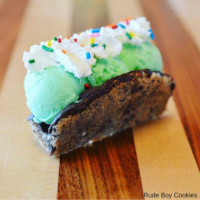 Another fantastic ABQ spot is Rude Boys Cookies, a locally owned favorite with original-recipe, baked-from-scratch cookies plus ice cream and New Mexico's only milk bar. Its name is a tribute to ska music; the Rude Boys team couldn't be nicer.
Cakes, Pies and Cupcakes
Cake Fetish won the Cooking Channel's "Sugar Showdown" for a reason. With cupcakes that are not only mouthwatering but funny--the mocha buttercream Sleepless in Albuquerque, the pink vanilla Drama Queen--and cakes of all sorts, including wedding cakes and gender-reveal cakes, it's impossible not to be euphoric after a visit.
We also adore the award-winning Gold Rush Cupcakes, which is near the Convention Center--a big plus for convention attendees. Its eponymous cupcake, the Gold Rush, is made with edible gold glitter and sanding sugar, or you can preorder it with edible 24k gold. (Please give the Gold Rush team at least two weeks' advance notice.)
For pies, you really can't go wrong at the New Mexico Pie Company or Flying Star. There wouldn't be a Pie Town, New Mexico, if we didn't know something about pies around here!
Chocolate and Candy
The Candy Lady has been beloved in New Mexico for 30+ years. Caramels, fudge, toffee, chocolate-dipped strawberries and so much more make this spot a place you could spend days in. The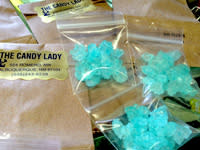 Candy Lady may be sweet, but she has a naughty side too: The Candy Lady developed the rock-candy formula used as Walter White's blue meth on "Breaking Bad," and a NSFW section of the store is a great place to shop for bachelor and bachelorette parties. Buffett's Candy (no relation to Jimmy, but there is a relation to Warren) is another sugary paradise, with piñon candies and nuts as local specialties.
The ChocolateDude abides at his Nob Hill shop, which has all sorts of delectable caramels, truffles, other chocolates and epic caramel apples, amid decor that will make you nostalgic (a VW bus countertop, paintings of Jerry Garcia and Bob Marley). Find a wealth of artisan chocolates at Joliesse Chocolates, whose owners follow the French tradition, with a New Mexican magic touch. The results are true art, although their beauty doesn't mean you shouldn't eat them (you should). The Chocolate Cartel, founded by master chocolatier Scott J. Van Rixel, is another place for exceptional fine chocolates, using fair-trade Venezuelan chocolate and offering delectable flavors no matter what you order.