Sochi is not the only place where Olympic athletes are competing this weekend. If you are looking to see some of the country's best athletes compete but forgot to book your flight to Russia, you are in luck. The 2014 USA Track & Field Indoor Championships kicked off on Friday at the Albuquerque Convention Center and will be running all weekend. Tickets start at just $10.
What to Expect:
This is the world's oldest indoor track & field championship and features the nation's top track & field athletes. The athletes will be earning championship titles, as well as competing for the opportunity to represent Team USA at the IAAF World Indoor Championships to be held in Sopot, Poland on March 7-9, 2014.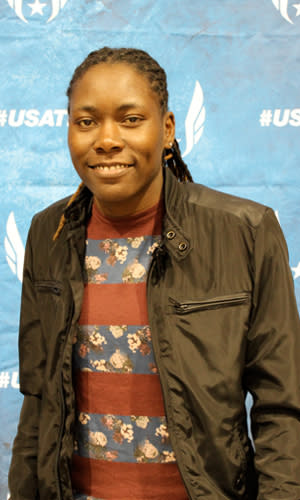 A snapshot of some of the Olympians competing in this year's championships:
Aries Merritt - Men 60m Hurdles
Dee Dee Trotter - Women 400m
Bernard Lagat - Men 3000m
Erik Kynard - Men High Jump
Tim Seaman - Men 3000m Race Walk
Maria Michta -Women 3000m Race Walk
William Claye - Men Triple Jump and Men Long Jump
Jenn Suhr -Women Pole Vault
Mary Cain - Women 1500m
Brittney Reese: 
We had a chance to catch up with a very familiar face in USA Track & Field on Friday, Olympic Gold Medalist and two-time USA Indoor Champion, Brittney Reese. The long jumper is not competing in this year's Indoor Championships stating that she's taking a break to refocus. 
"I'm here for motivation, inspiration and to cheer on my fellow athletes," Reese said in an interview on Friday. She is also representing the U.S. Olympic Training Center in Chula Vista, Calif. where she currently trains. 
Reese, a former basketball player, took up the long jump in high school and has been jumping professionally for seven years. She was quoted in an Ole Miss press conference on how she got started in the sport:
"It was my coach back at home. It was basically just a bet. I was already on the track team, I was on the 400 relay team. It was a bet to see who could jump the furthest. He offered the winner coke for whoever jumped the furthest, and I jumped the furthest and got the coke."
Her resume is extensive: five-time USA Outdoor Champion, three-time World Outdoor Gold Medalist, two-time USA Indoor Champion, two-time World Indoor gold medalist. And in 2012, Reese found herself at the top of the podium at the London Olympics, the first American woman to win the Olympic long jump title since Jackie Joyner-Kersee in 1988. 
Reese is also newly certified as a Level 1 Track & Field Coach. Even with all of her accomplishments she happens to be a very down to earth person, stating her location to be "In A Sandpit Near You" on her Twitter profile. 
The long jumper plans to compete in the 2016 summer games in Rio, and possibly a couple of years after that. "I have three years left in me at least," she said Friday. "Well, three or four."
Let's hope it's four. 
See the schedule for the 2014 USA Track & Field Indoor Championships here.