Earlier this fall, the city of Albuquerque got a couple of very visible new additions to its public art collection for Downtown. In conjunction with the exhibition produced by 516 ARTS called Heart of the City, which explores the urban environment through a variety of arts collaborations and projects, two newly commissioned murals are now visible to downtown-goers and arts-afficionados alike.
Los Angeles-based artist, Aaron Noble, was in Albuquerque for close to 7 weeks to complete Quantum Bridge, a monumental 180-foot masterpiece on the south and east-facing walls of Warehouse 508. Noble says, "Quantum Bridge embodies my response to the interests and challenges of the young artists of the Warehouse 508 mural program. It is a semi-abstract time travel epic with aesthetic roots in comics, graffiti and Hip-Hop."
Working with youth apprentices from Warehouse 508's Mural Arts program on everything from conceptual approach and design elements to painting techniques, participants were immersed in all aspects of mural painting-including its myriad challenges. During the final push prior to the official dedication ceremony, the crew braved sub-zero temperatures and less-than-optimal conditions, even working late into the night to see to the mural's completion.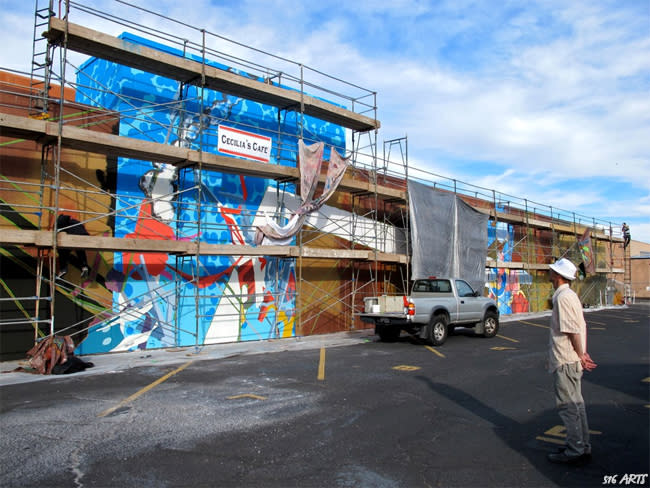 Aaron Noble taking a moment to examine the progress (approximately Day 13) © Aaron Noble, Artist and The City of Albuquerque, 2013. More images showing the lifecycle of Quantum Bridge here.
 Detail of the superb brushwork on the "Energy Cube" © Aaron Noble, Artist and The City of Albuquerque, 2013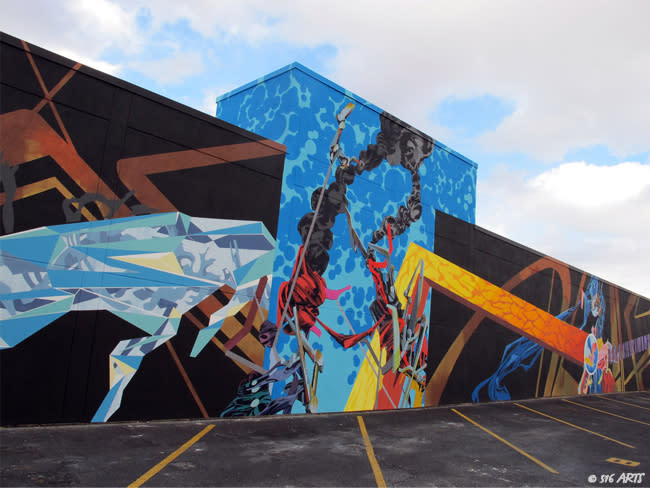 Quantum Bridge © Aaron Noble, Artist and The City of Albuquerque, 2013
As an additional component to Quantum Bridge, Noble also produced 4th Chamber, an indoor, portable mural (currently on view at 516 ARTS) with the help of lead apprentices Noah de St. Croix, Roberto Reyes and Faustino Villa. In contrast to Quantum Bridge which was done entirely with brushes, 4th Chamber was painted almost exclusively in aerosol by de St. Croix, Reyes and Villa with Noble completing the large-scale painting with his signature detailed brushwork. Upon conclusion of Heart of the City, this piece will become part of the City of Albuquerque Public Art Program's permanent collection - whose final destination could include the newly remodeled Albuquerque Convention Center. Quantum Bridge and 4th Chamber were sponsored by the City of Albuquerque's Public Art Urban Enhancement Trust Fund Program, 516 ARTS and Warehouse 508.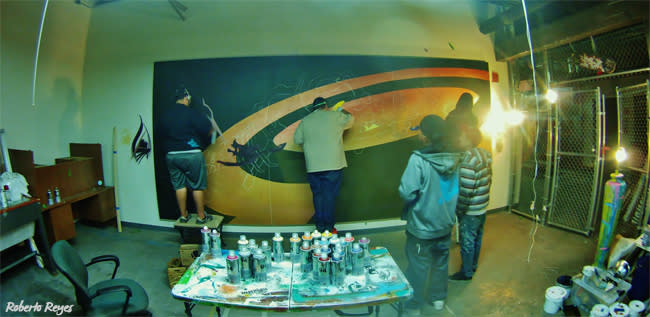 Warehouse 508 lead apprentices from left: Roberto Reyes, Faustino Villa and Noah de St. Croix working on 4th Chamber; photo courtesy of Roberto Reyes. See more of images detailing the creation of 4th Chamber here.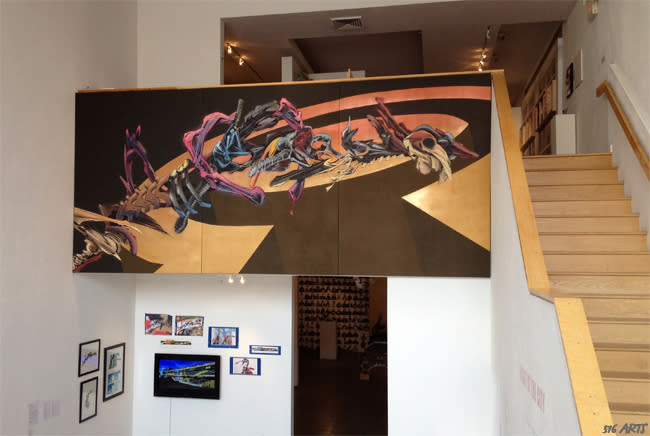 4th Chamber on view at 516 ARTS for Heart of the City. © Aaron Noble, Artist and The City of Albuquerque, 2013
Five blocks to the south you'll find the second new and inspiring mural, Signs of the Times, led by Albuquerque-based artist Larry Bob Phillips painted with a group of Central New Mexico Community College students that draws inspiration from both traditional hand-painted signs and also Albuquerque's legacy with historic Route 66. The triptych mural on the east-facing wall of the Century 14 Theater Building (1st St. between Central and Gold) offers a whimsical look at Albuquerque's skyline from its historical landmarks to the more iconic, architecturally-inclined, neon signage of Central Avenue and beyond.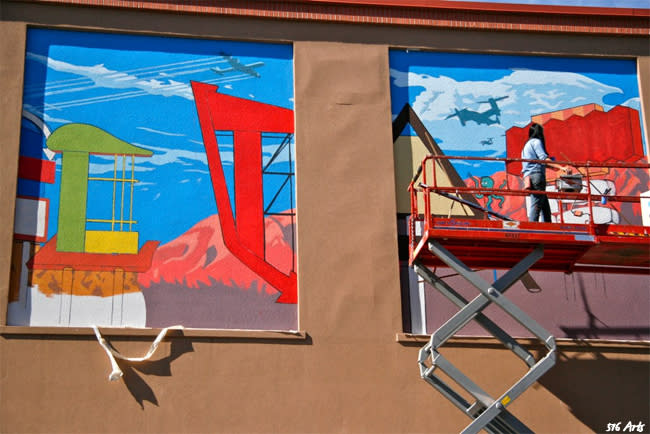 CNM student Kimberly Crawford prepares to do some lettering on Signs of the Times.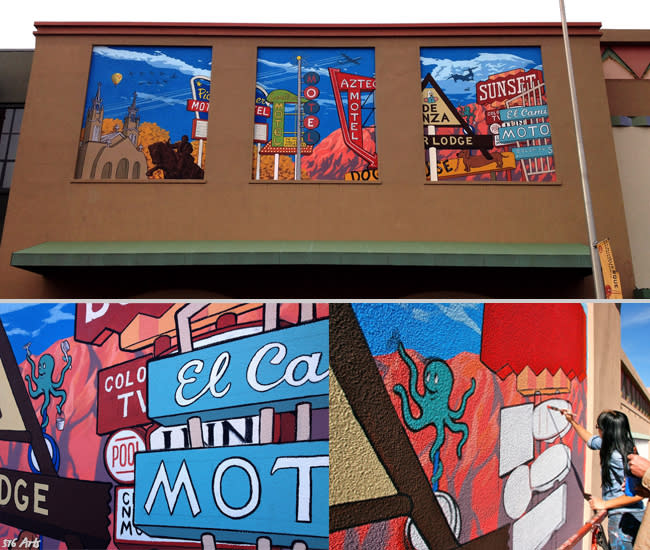 Clockwise from top: Sign of the Times; Artist Larry Bob Phillips and Kimberly Crawford working on some details; Signage detail. More images here. 
Taking the history of Albuquerque into account with their corresponding gallery installation, the artists looked more specifically at Downtown as the historically significant crossroads of Route 66 and the Camino Real. The signage in the gallery is a further investigation of both the place names that would have been accessible via these important roads and the craft of hand-painted signage before the advent of mass-produced vinyl lettering.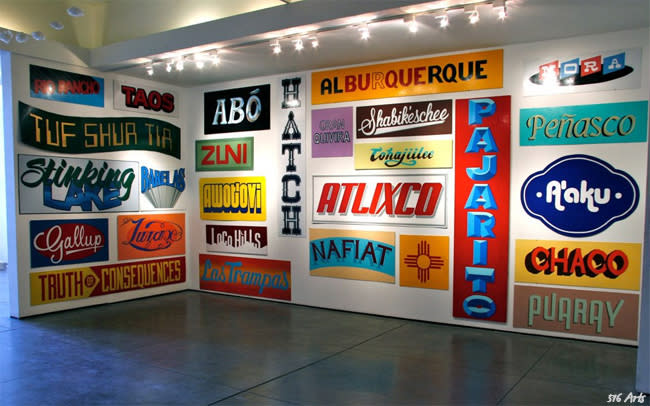 Signs of the Times currently on view in Heart of the City
516 ARTS is an independent, nonprofit arts and education organization operating a museum style gallery in the center of Downtown Albuquerque at 516 Central Avenue between 5th and 6th Streets. 516 ARTS offers adventurous programs that address current issues in world culture, presenting innovative and interdisciplinary exhibitions, events and educational activities in a variety of art forms, including visual and literary arts, film/video and music. The current exhibition, Heart of the City is on view through May 3.