Albuquerque's history will be accessible in a whole new way this coming March. The Albuquerque Museum of Art & History will open an interactive experience called Only in Albuquerque on March 3, 2015 that gives museum-goers an opportunity to engage with our city's rich history through interactive presentation.
The museum is referring to Only in Albuquerque as a history gallery, as it will be more of an experience than an exhibit. In addition to presenting community stories, there will be lots of hands-on opportunities to learn. From making your own family Coat of Arms to electronically sending a Route 66 postcard to a friend, the exhibit promises to engage.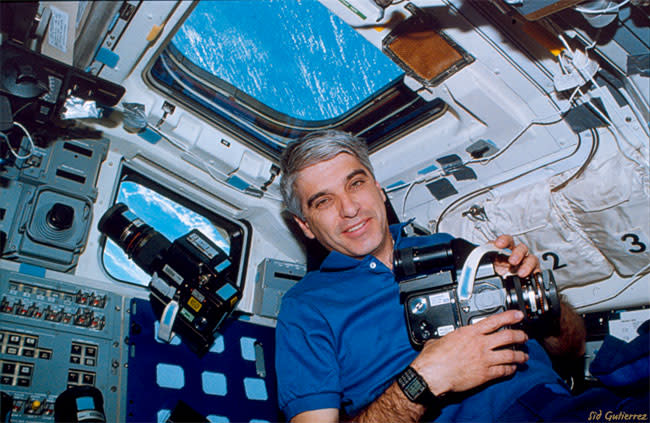 Photo: Col. Sid Gutierrez in Space Shuttle Endeavor, 1994, courtesy of Sid Gutierrez
What to expect
Only in Albuquerque is comprised of four galleries that all connect to a central gallery entitled, Our Land. The galleries are designed to provide visitors with a layout that reinforces the exhibition's central theme: different cultures, interacting with each other in a unique geographic setting, having developed shared characteristics found only in Albuquerque and the Middle Rio Grande Valley. The museum has also developed an art App to guide visitors along the way. 
   Our Land
Our Land is the heart and soul of Only in Albuquerque. This central gallery features a floor map of the Rio Grande Valley, with access points to the four galleries: Spirited, Courageous, Resourceful and Innovative. Visitors are able to use their smart phones for enhanced features showcasing additional photos, videos and maps.Want to know more about Route 66? A hotspot near the volcanoes will send you to Nine Mile Hill and Central Avenue! 
   Galleries
Each of Only in Albuquerque's four galleries is accessible from Our Land, and feature a unique theater experience, childrens' animated storybooks, and a work from the art collection that speak to that particular sub-theme. The galleries are as follows:
Spirited - Browse through menus at the Little House Cafe and experience a Matachines Dance in Bernalillo. 
Courageous - Discover how Navajo Code Talkers used the Dine language to communicate battle conditions during World War II. 
Resourceful - Compare the clothing of three witnesses to a watershed moment in our history - an officer from Coronado's army, a Mejican (Aztecan) Indian ally, and a Tiwa-speaking Pueblo leader from 1540.
Innovative - Watch a carreta (a two-wheeled cart for transporting trade goods) assemble itself, without a single nail.
Many years of redesign, construction, story development and fabrication have gone into Only in Albuquerque to present a work to the public that is at once interactive, engaging, fun-filled and educational. As the museum's communication's director, Meaghan Cavanaugh, puts it: "This gallery experience is unique because of the high level of interactive possibilities. We really want our visitors to engage and become part of the experience themselves!"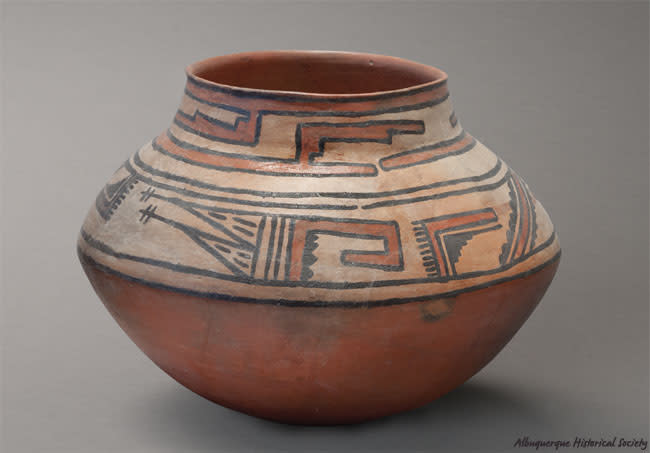 Photo: Rio Grande Glaze Polychrome jar, Tonque Pueblo, c. 1490 | Gift of Dick Bice via the Albuquerque Historical Society | PC1974.33.9