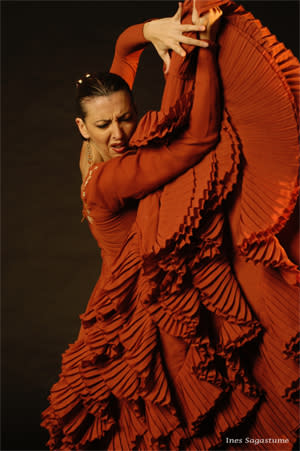 Of the many cultural experiences that make up the rich heritage of New Mexico, the art form of flamenco has a mysterious and deeply rooted connection to the history of this state...
Intoxicating in its fusion of ardor and refined skill, it was observed by Alexander Dumas in the late 1800's as, "a poem, interpreted not only with the feet, but with the eyes, the hands, and the entire body."
The oldest forms of flamenco were born in the forges of Andalucía, Spain in the late 1700's, among the poor laborers of an oppressed people; the Gypsies of Spain. Using whatever materials were available for instruments and for keeping time, the Gypsy blacksmiths and their families created the core of what has become the entrancing art form we now call flamenco.
Mysterious and elusive, flamenco teaches you how to be unashamed of showing deep feelings of joy and pain and astounds anew every time it is experienced.
It is an incredible gift that flamenco ventured out of the privacy of Gypsy homes and neighborhoods to risk itself among the prejudices of early Spain, the dictatorship of Franco, and the mass-producing, diluting nature of the modern world.
Today, flamenco can be found in various places throughout the globe such as the Teatro de Champs Elysees in France, the Lyric Theater in London, the National Theater in Tokyo and New York City's Kennedy Center.
In New Mexico, flamenco is even more infectious. Here, flamenco exists as deeply rooted, familial knowledge and culture that permeates the entire character of its surroundings; the only place this is so, outside of Spain.
Eva Encinias Sandoval, a professor of dance at the University of New Mexico, has been essential to the survival of flamenco in New Mexico. Taught by her mother, Clarita Garcia de Aranda, Encinas Sandoval began building a 4 level flamenco program at the University of New Mexico in 1976. This idea then developed into a full program of study, making this University the only place in the world where one can pursue a degree in dance with a concentration in flamenco.
In 1982, Encinias Sandoval founded the National Institute of Flamenco with the purpose of bringing flamenco to the greater community, focusing greatly on children's programming.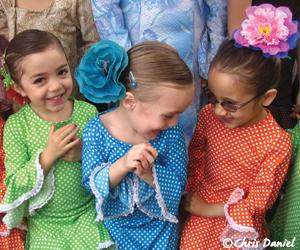 Today, many of the children who began studying with her at an early age are now part of Yjastros: The American Flamenco Repertory Company, and generations of families continue to study with her. In 1987, she established Festival Flamenco Internacional de Alburquerque, which hosts only the most accomplished flamenco artists from Spain. It has been in existence for over 25 years and features 7 days and nights of incomparable workshops and performances. Finally, in 2010, the Institute opened a public charter school dedicated to an education in fine arts with a large concentration in flamenco study.
Tragically, in the midst of all of this incredible work, at approximately 4:20pm on December 18, 2013 the National Institute of Flamenco's home of 15 years at 214 Gold Avenue SW in Albuquerque, New Mexico was completely destroyed in a devastating fire. The incident came to a head furiously and unexpectedly within a matter of minutes and the building and everything inside it was lost. Thankfully, everyone in the building retreated to safety and no one was injured.
For over 30 years, Encinias Sandoval has made it her mission to integrate flamenco and its values into the community of Albuquerque in as many vehicles as possible and has thus created a valuable educational synergy of public school, higher learning, and community engagement.
Out of this fire, the Institute is poised to enter into one of its most promising chapters.
To make a donation of time, goods, or funds, please visit the National Institute of Flamenco's Facebook page at facebook.com/nifnm or their website at nifnm.org.