July 18-22, spirited athletes from around New Mexico and beyond will gather in Albuquerque to compete in the New Mexico Senior Olympics 2018 State Summer Games. During the games, senior athletes, both men and women over the age of 50, compete in 18 different sports categories ranging from pickleball to tennis, and track and field to volleyball.
2018 is an important year for the New Mexico Senior Olympics, as athletes will be able to qualify for the 2019 National Senior Games presented by Humana, to be held right here in Albuquerque in June, 2019. 
Athletes and spectators alike will enjoy the rich culture and heritage of Albuquerque while soaking in the sunshine during the 2019 games.
Each of the talented athletes competing in the upcoming State Games has a unique and intricate story to tell.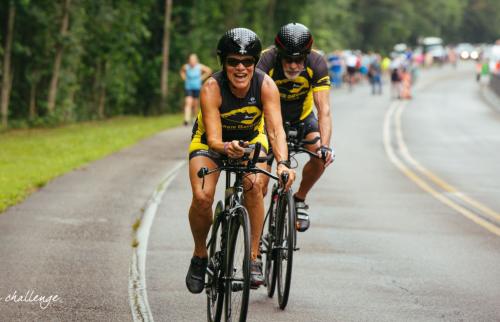 Meet ten of the dedicated competitors playing in the 2018 State Summer Games:
Vernon Asbill
Age: 73
Hometown: Artesia
Event: Golf
A former teacher, coach a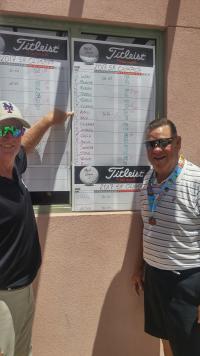 nd superintendent of schools for Cloudcroft and Carlsbad, Vernon Asbill has been perfecting his golf game over the course of 30 years. He also served eight years in the New Mexico State Senate District 34, which allowed him an opportunity to travel New Mexico and golf on each of the state's 81 courses -- except for one. He has yet to enjoy the links at Whispering Winds Golf Club at Cannon Air Force Base. Those decades of practice have resulted in gold medals in 2016 and 2017 in the New Mexico Senior Olympics, with scores of 68 and 75 respectively.
While Asbill played football and other sports growing up, he is the only one in his family who ever played golf. He first caught the bug when he was a coach and taught golf techniques. Asbill jokes that his wife of 51 years, Kate, thinks he lives on the golf course since he retired from academics and the State Senate. Really, he protests, he only plays golf four days a week. He golfs with a group of 12 to 15 other dedicated senior athletes in Artesia.
Maytha Chavez
Age: 69
Hometown: Pueblo of Laguna
Event: 50 yard backstroke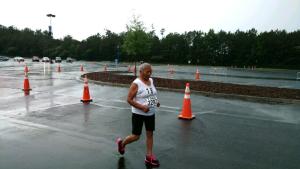 After winning 9th place in the 5000 meter race walk during the 2017 Senior National Games in Birmingham, AL, Maytha Chavez injured her knee. Instead of allowing this injury to interrupt her life-long fitness routine, she simply changed sports and started swimming. So during the New Mexico Senior Olympics State Summer Games, Maytha will be competing in the 50 yard backstroke. "I like swimming. It's very therapeutic," said Maytha. Her goal is to qualify in the backstroke for the 2019 National Senior Games in Albuquerque. 
She and her husband have been learning the proper swimming techniques together. For most of their marriage, the couple has played sports together and trained to stay in shape, including competition in the race walk, doubles shuffleboard and slow pitch baseball. Maytha, a retired accountant, said she played volleyball, basketball and softball in high school and as an adult, has remained active. Maytha is hoping the switch to swimming allows her injured knee to heal, so she can get back to running and the race walk soon.
Marie Cordero
Age: 62
Hometown: Pueblo de Cochiti
Events: Bowling, Horseshoes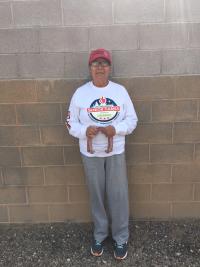 Marie Cordero can hardly remember a time when she wasn't participating in some sport or another. "I've been athletic all my life. I come from a very sports-oriented family," said Marie, whose 6-year-old granddaughter is carrying on the family tradition by playing spring T-Ball. 
Growing up, Marie said she was the pitcher on many softball teams, participated in bowling leagues and played basketball. When she turned 50, she brought her game to the New Mexico Senior Olympics and hasn't stopped moving since. Since 2009, she has participated in five National Senior Games, winning a Silver Medal in horseshoes in 2017 in Alabama and a Bronze Medal in the same sport during the 2015 National Senior Games in Minnesota.  She has also won Silver and Bronze Medals in doubles and singles in bowling. For her, the key to both events is simple: "Good aim."
Dennis Diaz
Hometown: Las Cruces
Age: 60
Events: Shot Put, Discus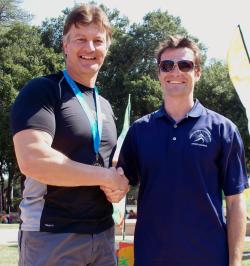 The congregation at Mesilla Park Community Church in Las Cruces, might be surprised to learn their senior pastor, Dennis Diaz, holds an unbroken national record in shot put at the 2009 National Senior Games with a 52.41 meter throw. He is also an inductee into the New Mexico State Sports Hall of Fame for discus and shot put. Then again, the congregation may already know – Dennis' nickname is "Big D" and he has the build and demeanor of a life-long athlete.
Early on in life, Dennis' natural talent in high school track and field earned him a scholarship at NMSU where he competed at the conference level. Later, while in seminary, he briefly gave up field events but when he took up the ministry with Athletes in Action/Campus Crusade for Christ he returned to sports. For 11 years he was on the track team, eventually competing in Europe. In 1993, he became the youth pastor at Mesilla Park Community Church and began coaching field events with his former NMSU coach.
Dennis said the key to success in shot put and discus is mastering the techniques of throwing. "It's very technical. It's really not the stronger athlete who wins," Dennis said. "When it's done right it's very graceful. Done wrong, it looks as clumsy as falling down."
Lloyd Ferran
Age: 68
Hometown: Española
Events: Singles Racquetball, Doubles Racquetball, Horseshoes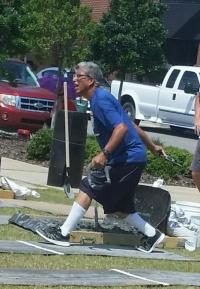 Like many senior athletes, Lloyd Ferran, didn't have time for sports while he was working full time. For decades, Lloyd worked as a miner and later as a federal mining inspector, constantly on the road to inspect mines for safety. When Lloyd turned 50, he took up racquetball.
"When I first started, I got beat so bad. I lost every match. It took three years, but I'm competitive now," said Lloyd recently.
Competitive indeed. During the 2017 National Senior Games in Birmingham, AL, Lloyd took 4th place in the men's singles racquetball competition in the 65-69 age group. He is also ranked by the USA Racquetball association and took a bronze medal in singles horseshoes at the National Senior Games. At the state level, Lloyd has been active in Senior Olympics, since 2008, playing a wide range of sports and recreational activities, including softball pitch distance, frisbee accuracy and basketball three-point. He said he plays any event that relies on a keen eye, and credits his good aim and skills in racquetball and horseshoes to his high school baseball career. "I used to be a pitcher in fast ball. It was pretty natural to me," Lloyd said.
Kathy Foucar
Age: 68
Hometown: Albuquerque
Events: Triathlon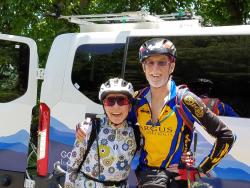 Kathy Foucar remembers the exhilaration she experienced in 2006 when she completed her first triathlon. "I caught the bug," she recalls. Since then, she hasn't stopped training for the grueling swim, bike and run event with the New Mexico Senior Olympics.
Kathy's husband is also an avid triathlete and the couple enjoys training together. Between early morning lap swims, outdoor runs and bike rides, mixed in with indoor spinning, the couple trains hard nearly everyday. In 2017, she earned 2nd place in the women's triathlon in the 65 to 69 age range at the National Senior Games in Birmingham, AL. The couple's goal for 2018 State Summer Games is to each qualify for the 2019 National Senior Games in Albuquerque.
Lillian Jaramillo
Age: 70
Hometown: Pueblo of Isleta
Events: Shuffleboard Singles, Shuffleboard Doubles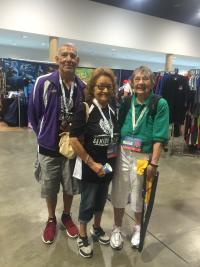 In 2013, when Lillian Jaramillo retired from teaching special education she took up shuffleboard for recreation. Five gold medals later, she hasn't stopped. Last year at the National Senior Games in Birmingham, AL she and her 20-year domestic partner and fellow shuffleboard enthusiast, Jose Martinez, won the gold medal in Doubles Shuffleboard, beating the team from South Carolina by one point.
"It was really a challenge. That time it was like playing on ice," Lillian recalls. "Every place you go, you have to relearn the mat. They're all different. What we try to do is go ahead and practice on the court," before competition, she said.
She explains the four simple steps to winning gold: Lots of practice, determination, luck and patience. Oh and a good sense of strategy.  As she prepares for the New Mexico Senior Olympics State Summer Games she trains twice a week, playing back to back games.
 
Diane M. Mueller
Age: 83
Hometown: Albuquerque
Events: 200 yard Fly, 100 yard Fly, 50 yard Fly, 400 yard individual medley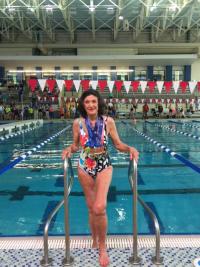 Diane M. Mueller grew up less than a block from the shore of Lake Michigan and used to swim every day as a teenager during her lunch break from a lakeside refreshment stand. But she didn't start swimming competitively with New Mexico Senior Olympics until a decade ago when she retired as an attorney. When decided to compete, she specialized in one of swimming's most challenging stokes – the butterfly, now just called the fly. Diane says the loves the stroke that many swimmers find exhausting "I like the rhythm of it," she said.
Last year, in the National Senior Games in Birmingham, AL, she won gold medals in the 200 yard Fly and in the 400 yard individual medley. She has also competed in Masters Swimming competitions but she never misses the Senior Olympics competitions. In the small world of New Mexico seniors swimming, she has made good friends and met interesting people. Routinely, she said younger swimmers will call her a "role model" for her dedication to her sport and life-long fitness. For Diane, swimming is more than exercise, it's almost meditation. "It isn't just your body. It's your mind and your spirit," she explained.  
Mario Quintana
Age: 70
Hometown: Silver City
Events: 8 Ball Pool, Basketball Free Throw, Basketball 3 Point Shot, Shot Put, Discus, Javelin, Huachas, Soccer Kick, Softball Throw, Standing Long Jump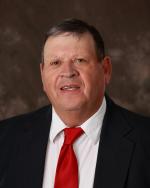 For Mario Quintana, New Mexico Senior Olympics is a family affair. He and his three brothers all compete in Senior Olympics, often against each other. His wife, Elva Quimby, is also active in senior sports, including swimming, shuffleboard and huachas (an indoor version of horseshoes played with metal washers thrown on a tilted peg board).
If it's a sport or a recreational game, Mario plays it and so do his brothers. In addition to competing at the State level in the Senior Olympics State Summer Games, his goal is to qualify for next year's National Senior Games in Albuquerque.  He has been competing in the Senior Olympics since 2009 and in 2014 was awarded Golden Male Athlete of the year for his dedication to fitness and exercise. While he participates in many sports,  of his favorites – and a favorite of his family – is huachas. "It's a great game, very challenging," said Mario.
Name: Brad Winter
Age: 66
Hometown: Albuquerque
Event: Pole Vault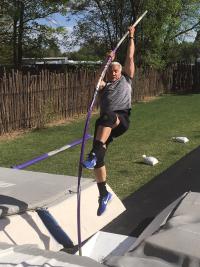 Albuquerque City Councilor Brad Winter has been pole vaulting for 50 years and he still loves every jump. "It's just fun," he said.  At age 10, Brad recalls building a makeshift runway and landing mats with his buddies in the backyard.  "When we were kids we used broom sticks and bamboo poles. We would spend hours," he said of his childhood. 
He continued the sport throughout high school, winning the 1970 Boys Track & Field State Championships in pole vault with a 14-foot jump. He went on to the New Mexico Junior College in Hobbs, where he helped his team win the 1971 National Track & Field Championship. In 2016, he was inducted into the school's Hall of Fame.
Throughout his 20-year career as a teacher, coach and school administrator as well as a City Councilor,  he continued to pole vault competitively at the state and national level. In the New Mexico Senior Olympics, he has won two gold medals in his age groups, and a Silver Medal in the National Senior Games. He stays extremely active – pole vaulting twice a week, hitting the weights four or five times a week and walking with his wife. This year, his goal is to qualify for the 2019 National Senior Games in Albuquerque.