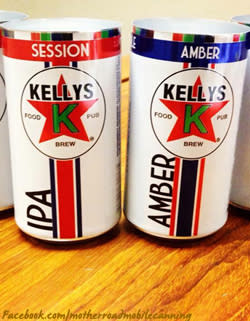 Since 1999, Kelly's Brew Pub in the Nob Hill district of Albuquerque has been an iconic landmark for locals, visitors and craft beer lovers. Kelly's started this mission by successfully converting the 1930's Jones automotive dealership into a brewery with an exceptional kitchen offering pub classics and New Mexican favorites. They also built the largest, and arguably most desirable outdoor dining experience along Central Avenue. Everyone who has driven Rt. 66 in Albuquerque knows about Kelly's.
Now Kelly's has reached another historic milestone, becoming the first Brew Pub in New Mexico to can their beer, and in doing so has helped another emerging Albuquerque business get up and running. With a perfectly fitting name, Mother Road Mobile Canning is the brainchild of David Smidt, whose new enterprise is capitalizing on the explosive growth of the craft beer industry. The company is a response to the increasing demand for craft beer in cans.
Mother Road Mobile Canning has made it possible for smaller operations to consider the option of packaging their beer, by bringing the canning line directly to the customer. This means a brewpub can focus on manufacturing beer without taking on the substantial capital investment or giving up significant space to install a canning or bottling line. Cans are easier to store, cheaper to package and more readily recycled, making for a very compelling value proposition.
Not only will canning their beer increase brand awareness and distribution potential, there will also be a need for Kelly's to expand their production capacity. The addition of cans will necessitate the purchase of a larger brew house. Increased production means more jobs, and the economic impact of craft brewing will continue to bloom. Mother Road Mobile Canning might just be the first in a category of businesses cropping up to support the ongoing growth of the beverage industry.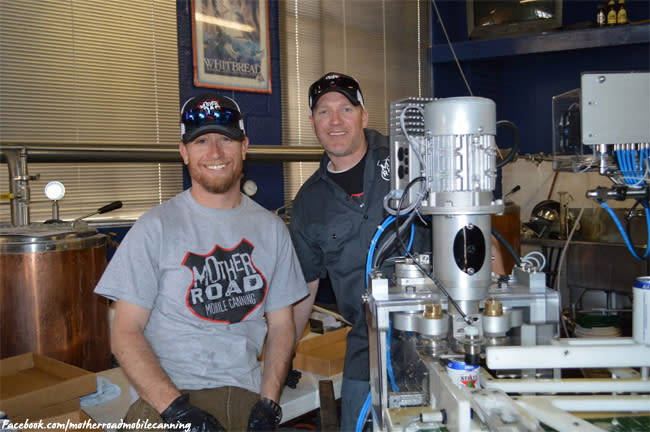 In the coming months, Mother Road will be working with other local breweries and cider producers on canning their beverages, but today belongs to Kelly's. Their brand has been gracefully transferred into their can design, with the perfect blend of Rt. 66 nostalgia and a racing stripe that leaves this writer with a thirst for their classic IPA and Amber.
Kelly's cans are commercially available starting today in both their Amber and IPA beers. Find them at Kelly's or at stores with a quality craft beer selection.