Last week, I had the opportunity to visit the Indian Pueblo Cultural Center (IPCC) for the first time. It was fantastic, and I can't wait to spend more time there.
Travis Suazo, executive director of IPCC, was kind enough to show me around. One of the new exhibits he showed me, which opened on January 31, was a beautiful collection of Depression-Era Thunderbird mosaic jewelry from Santo Domingo Pueblo.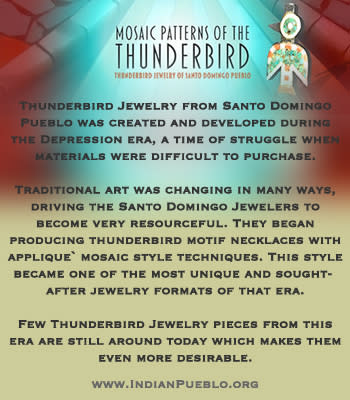 The Mosaic Patterns of the Thunderbird collection is made up of colorful necklaces, pendants and earrings. What's interesting is that since they are from the Depression Era, when most people didn't have extra money, many of the pieces are made from found materials - pieces of tire rubber, battery casings, and broken records, which were turned into works of art.
The collection was donated by Martine Lovato, a Santo Domingo jeweler, on behalf of his wife Rita Levine Lovato. There is a lovely, and quite captivating, photo of the two of them included as part of the exhibit. It's clear by the looks on their faces that they are deeply in love and enjoy being together.
Rita was a collector of Native American jewelry, and long before she met Martine, she bought a necklace that he had designed. She admired the necklace, so much so that she tried to get in touch with Martine so that she could meet him and discuss his craft. For years, she wrote him letters that went unanswered.
Finally, she decided to visit Santo Domingo Pueblo and try to meet Martine in person. She started approaching anyone she saw and asking, "Do you know where Martine Lovato lives?" Surprisingly, one person she came upon was Martine's sister. The sister agreed to introduce the two.
Martine and Rita had a courtship that lasted several years before they decided to get married. Their love for one another was truly amazing. The Lovatos were only married for nine short months before Rita sadly passed away in 2006.
Rita loved jewelry and deeply loved Martine. It was her wish that her entire collection go to a museum where it could be shared with others. I think it's a beautiful way for Martine to keep her memory alive.
The exhibit runs through July 11, 2014. So grab someone you love and take them to see it! 
Happy Valentine's Day!
Credits on all images: Indian Pueblo Cultural Center