Whether you prefer your yoga with a view or with a margarita, there are some great places to get your Downward Dog on in Albuquerque. Check out one of these fun options: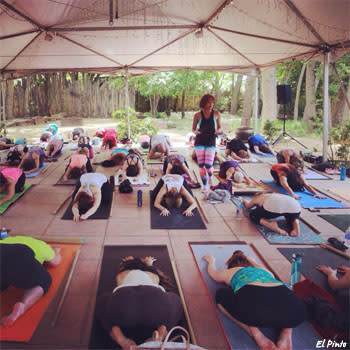 1. Sunday Yoga & Margaritas in the Park at El Pinto
Sunday yoga just started at El Pinto Restaurant and New Mexican Salsa Company and it's already packed. Instructors rotate weekly from popular studios around Albuquerque and class participants can enjoy an hour long session for a small $5 donation. If you stay for brunch (and a margarita!) you'll receive a $10 discount. The class is open to all levels. Of course, the restaurant serves other beverages including pH balanced, ionized water, for those that don't want to start their Sunday Funday too early.
Sunday Yoga & Margaritas
When: 9-10am AND 10-11am Sundays through the summer
Where: El Pinto Restaurant - 10500 Fourth Street NW 
Cost: $5 suggested donation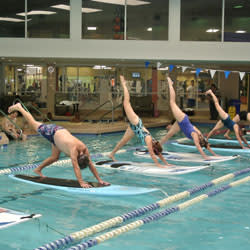 2. SUP (Stand Up Paddle Board Yoga) with SOL Board Sports
If you're looking to walk on water, this is about as close as you're going to get. Paddle board yoga takes traditional yoga and adds a balance requirement that will make your abdominal and back muscles work in different ways.  There are a couple of class options around town including the one hour lessons at SOL Board Sports. No experience is necessary and there are no age requirements - you can expect to be introduced to a variety of levels of yoga poses. Or, if you'd prefer, you can rent a board and practice for yourself on the river.
Paddle Board Yoga
When: Wednesdays, 7-8pm
Where: West Mesa Aquatic Center
Cost: $25 for single class with a reservation; $120 for a package of six classes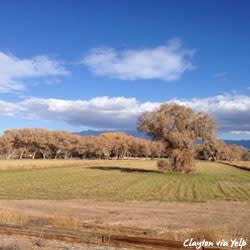 3. Yoga with a View 
If you haven't been out to the Open Space Visitor Center on Albuquerque's west side in a while, Yoga with a View may be just the excuse to do so. The 90-minute indoor class from instructor Jenny Dominque welcomes all levels and looks out over the beautiful fields of the Open Space. If you'd like to enjoy the outdoors beforehand, Jenny leads a half an hour seated meditation session before the class starts. 
Yoga with a View at Open Space Visitor Center
When: Sundays 9-10:30am (come early for the outdoor meditation session from 8:30-9am)
Where: Open Space Visitor Center - 6500 Coors Blvd.
Cost: First class is $5, and the drop-in rate is $15 after the first class. Discounted packages are also available.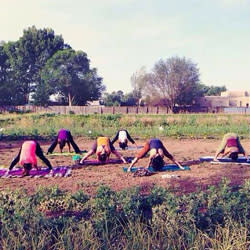 4. Yoga in the Field
Get your nature on at the Sol Harvest Farm (behind Farm & Table restaurant) during Yoga in the Field, brought to you by Orange Yoga. Bring a mat and meet on the yoga deck for this fun class. Rather practice on the grass vs. the dirt? No problem. Orange Yoga offers classes at Montgomery Park (near the tennis courts) on Sundays at 11am and Thursdays at 6pm.  
Yoga in the Field
When: Wednesdays 6-7pm
Where: Sol Harvest Farm (behind Farm & Table Restaurant) 8917 4th Street NW
Cost: $10